Christmas is here and one of my favourite activities is to make edible gifts for everyone. So this year I decided to make my chocolate and tahini granola as it is so popular. I always make a big batch, enough for presents as well as breakfast during the holidays. OK then, let me show you how to make granola.
Jump to: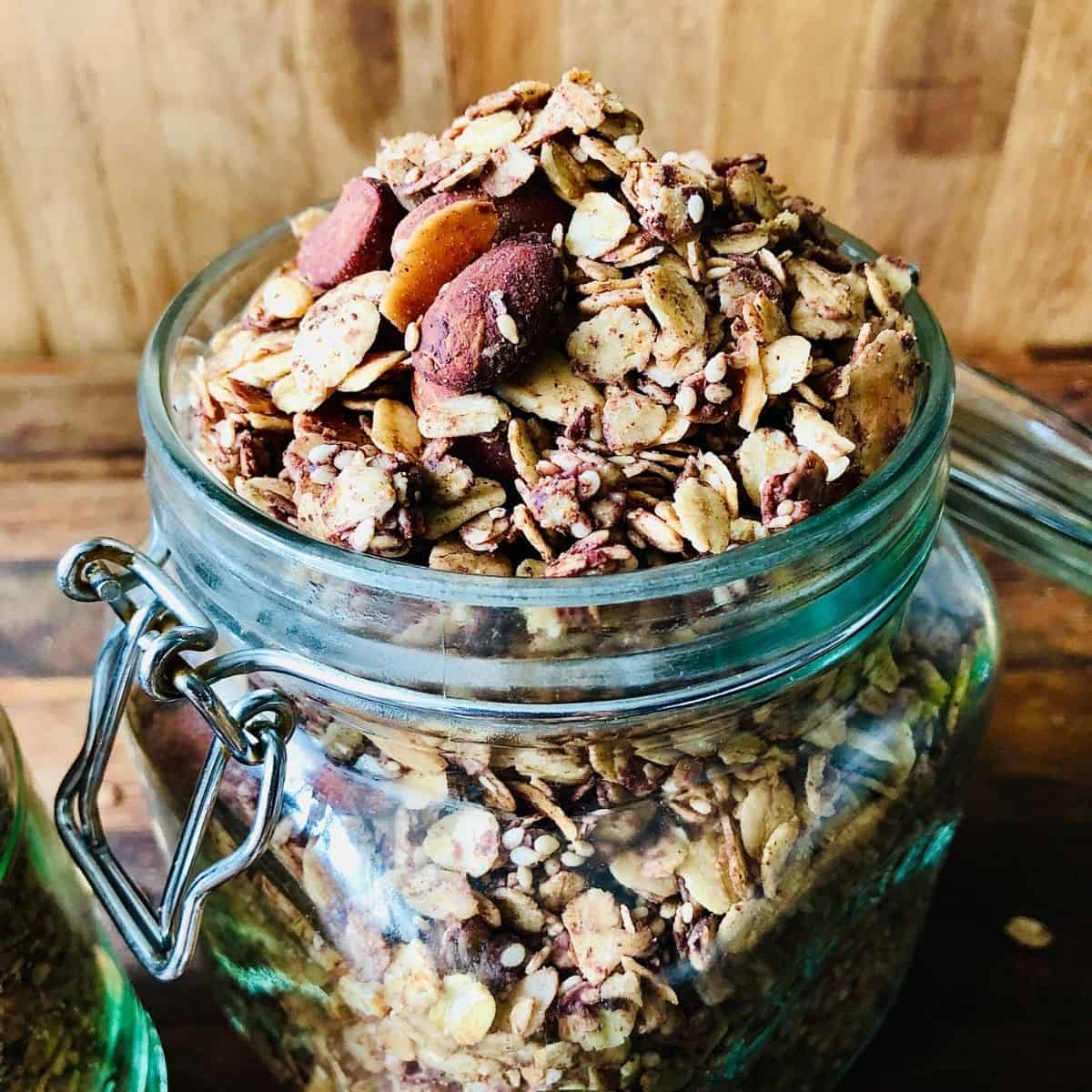 It is quite easy to make granola at home. There is something very satisfying about mixing together all the healthy nuts and seeds. The great thing is you can also control the amount of sugar that goes in. I give you one granola recipe here, but you can be creative with the ingredients once you have mastered the basics.
Lets take a brief look at the anatomy of the grenola. Essentially, granola consists of two parts - the dry ingredients and the wet ingredients. For the dry ingredients you can use any type of oats, nuts and seeds. With regard to the wet ingredients, you need an oil, a sweetener and flavouring if you want.
In this recipe, the dry ingredients are oats, sesame seeds, flaked almonds, whole almonds, and melon seeds. The wet ingredients are tahini and coconut oil. A flavour addition comes with the chocolate
How-To Video
Here is a video guide to making chocolate and tahini granola.
📖 Recipe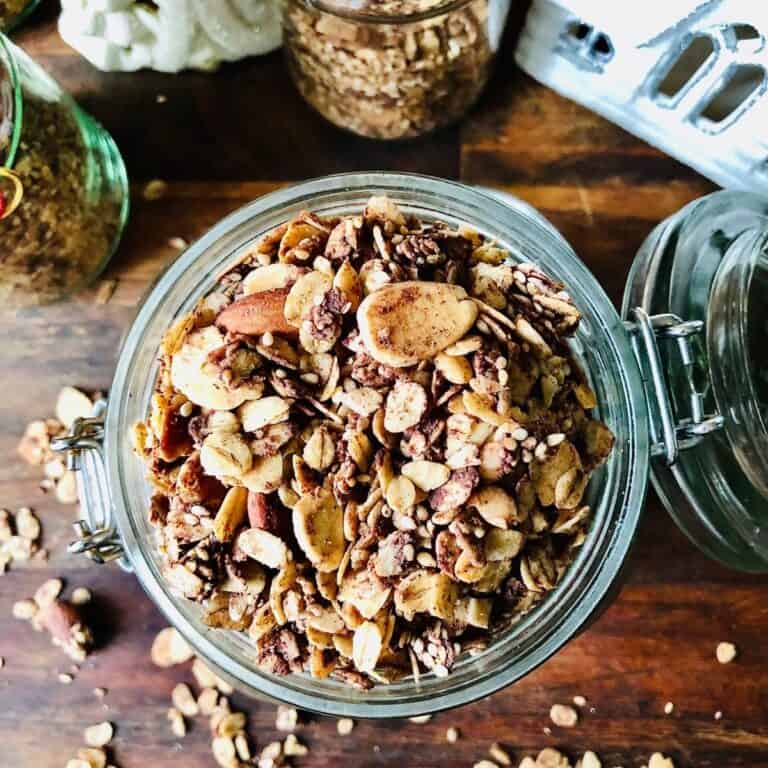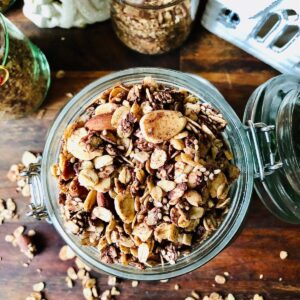 Chocolate And Tahini Flavoured Granola
Homemade granola recipe. Packed with healthy nuts and seeds.
Ingredients
640

gms

Jumbo oats

125

gms

White sesame seeds

100

gms

Flaked almonds

150

gms

Whole almonds with skin on

40

gms

Melon seeds ( Char Magaz )

10

gms

Cinnamon powder

5

gms

Sea salt

100

gms

Coconut oil

75

gms

Tahini

90

gms

Dark Chocolate 84%
Instructions
Pre heat the oven to 180ºC

In a bowl add the oats, almonds, sesame seeds, salt, cinnamon powder and melon seeds.

In a another bowl mix the coconut oil and tahini.

Add the coconut / tahini mix to the bowl containing the oats and seeds and give it a good mix. Turn over the oats, nuts and seeds from the bottom making sure everything is mixed throughly. The mix will be wet but not soaking wet.

Transfer the mix on to a baking tray and bake in the oven for 30 minutes.

Check on the granola after 15 minutes. If it is getting too toasted and brown, then take the tray out and give it a mix and return to the oven.

Once toasted, leave to cool for five minutes and add the broken down pieces of chocolate. Mix well as it melts.

The end result may result in clusters of granola and that is good.

Once cooled down completely, transfer into airtight jars and store.
Chocolate And Tahini Granola Recipe Notes
Using jumbo oats instead of porridge oats is better as the jumbo oats retain their shape. Porridge oats are thinner and tend to get over soaked with the liquids. They become too crispy after cooking as well.
You can add maple syrup if you want your granola to be sweet. Just mix it in with the liquids. I do not recommend honey as honey can be toxic when heated and it looses its nutrient benefits.
The choice of seeds and nuts is entirely up to you. Just make sure the quantity of seeds and nuts are not greater than the quantity of the oats.
Coconut oil works best with granola, at least for me. It is a healthy oil. You can also use olive oil. I personally wouldn't recommend using vegetable of sunflower oil.
Homemade granola can store for up to three months if kept in an airtight container. If it gets a bit soft with time, you can always but it on a tray and roast it for ten minutes or so in the oven to make it crispy again.
I also have an orange blossom flavour granola for you to try.
Fancy a sweet topping for your granola? Try my crab apple butter.