This lovely little breakfast idea is like french toast, but it is savoury, and the batter is gram flour instead of eggs and milk. This bread pakora recipe never fails to invoke memories from my childhood. The taste and smell transport me straight back to breakfast before school. The sense of smell can evoke intense and vivid memories. This recipe reminds me of the carefree days of my childhood when life was simple.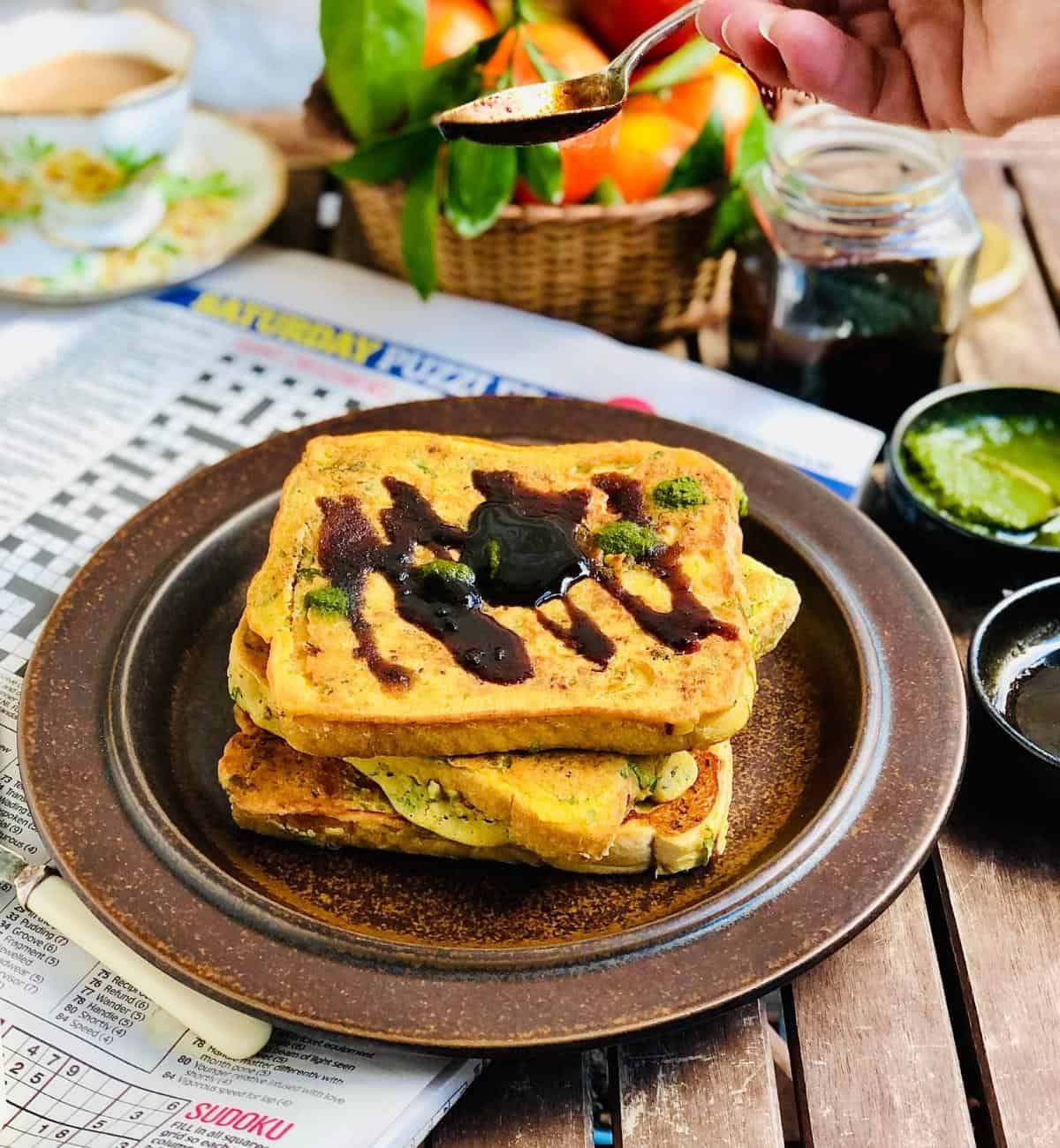 This bread pakora or battered bread is a surefire choice for a quick breakfast or snack. The key ingredient in this recipe is gram flour. Gram flour is a versatile ingredient; you can turn it into a cake, pancake, sauce or even something like paneer or tofu. Because of its versatility, it has a permanent home in my store cupboard. I highly recommend you let it take up residence in your cupboards too! If you are team savoury, this recipe will soon become your go-to because it's so easy with a minimum of ingredients.
Here are my other gram flour recipes: Palak paneer with gram flour tofu; Homemade gram flour paneer;Jimmikand in gravy; and Kadhi.
Also, why not try my other savoury breakfast recipes? Buckwheat pancakes with vegan cream cheese and avocado or dalia upma.
Another recipe idea to upgrade some slices of bread into a tasty treat is my bread and butter pudding with feta and pesto
Right then, let's cook.
Jump to:
Ingredients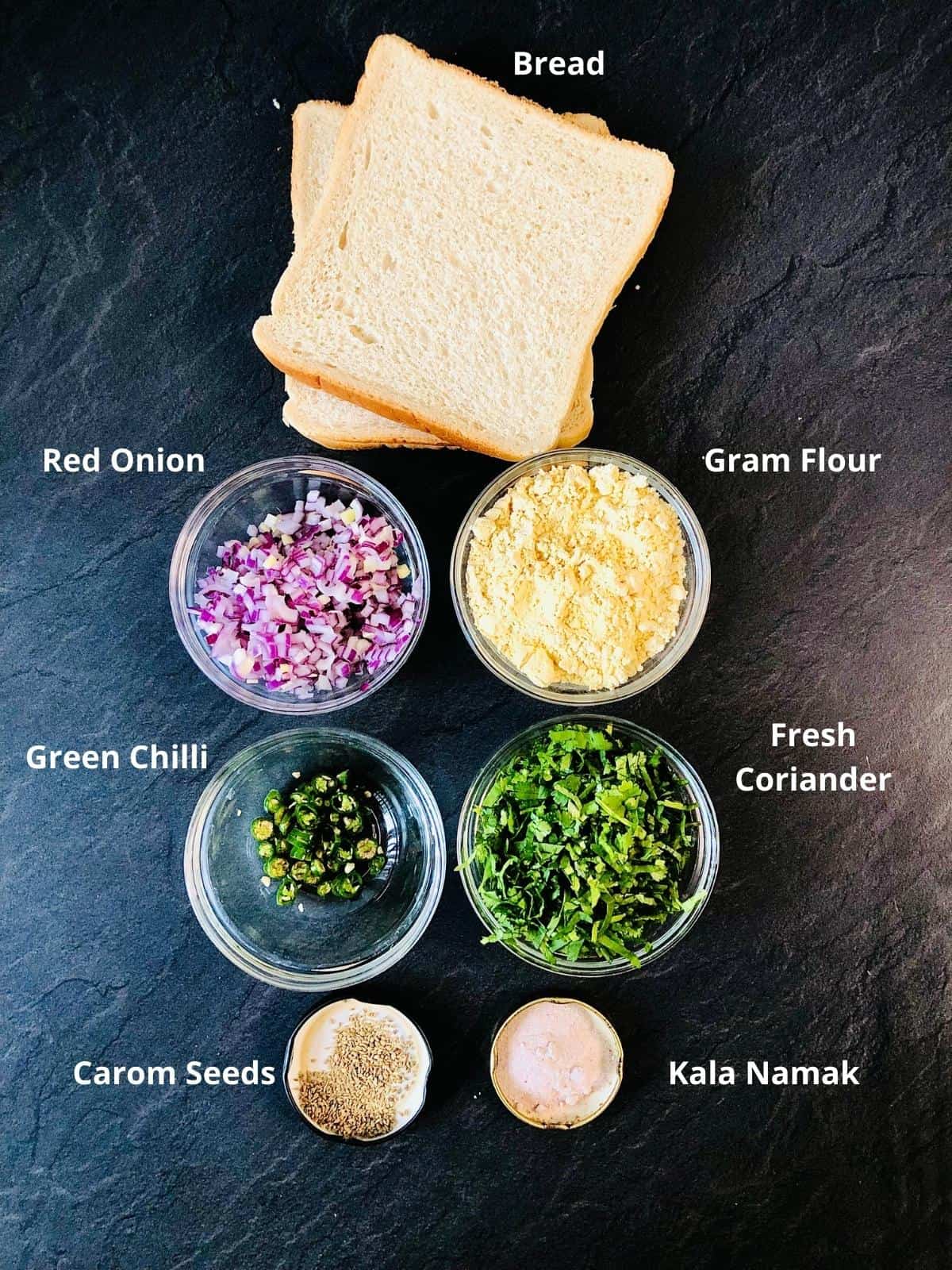 Gram flour
White bread slices
Fresh coriander
Carom seeds
Kala namak
Red onion
Olive oil
See the recipe card for quantities.
Instructions
This bread pakora recipe is quick and easy.
First, prepare your ingredients. Finely chop the red onion and green chillies, and fresh coriander stems. Roughly chop the coriander leaves.
Then make the gram flour batter. Slowly mix the water with the gram flour in a bowl and whisk to a smooth batter. The consistency of the batter is a slightly thinner version of the pancake batter.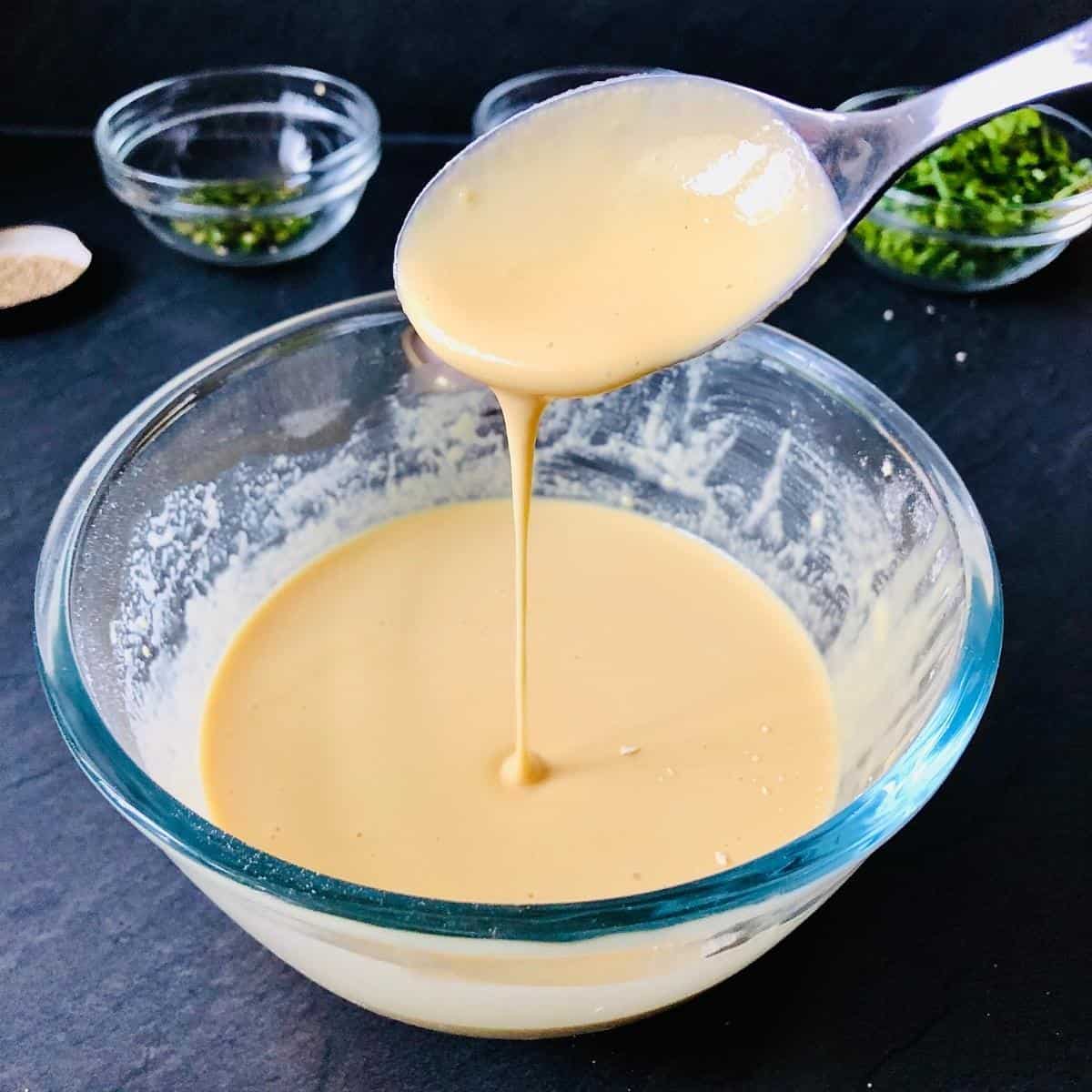 Add the red onion, green chilli, fresh coriander, carom seeds and kala namak to the batter and mix thoroughly.
Brush a frying pan with oil and heat over medium heat.
Take the slices of bread and thoroughly coat both sides with the batter.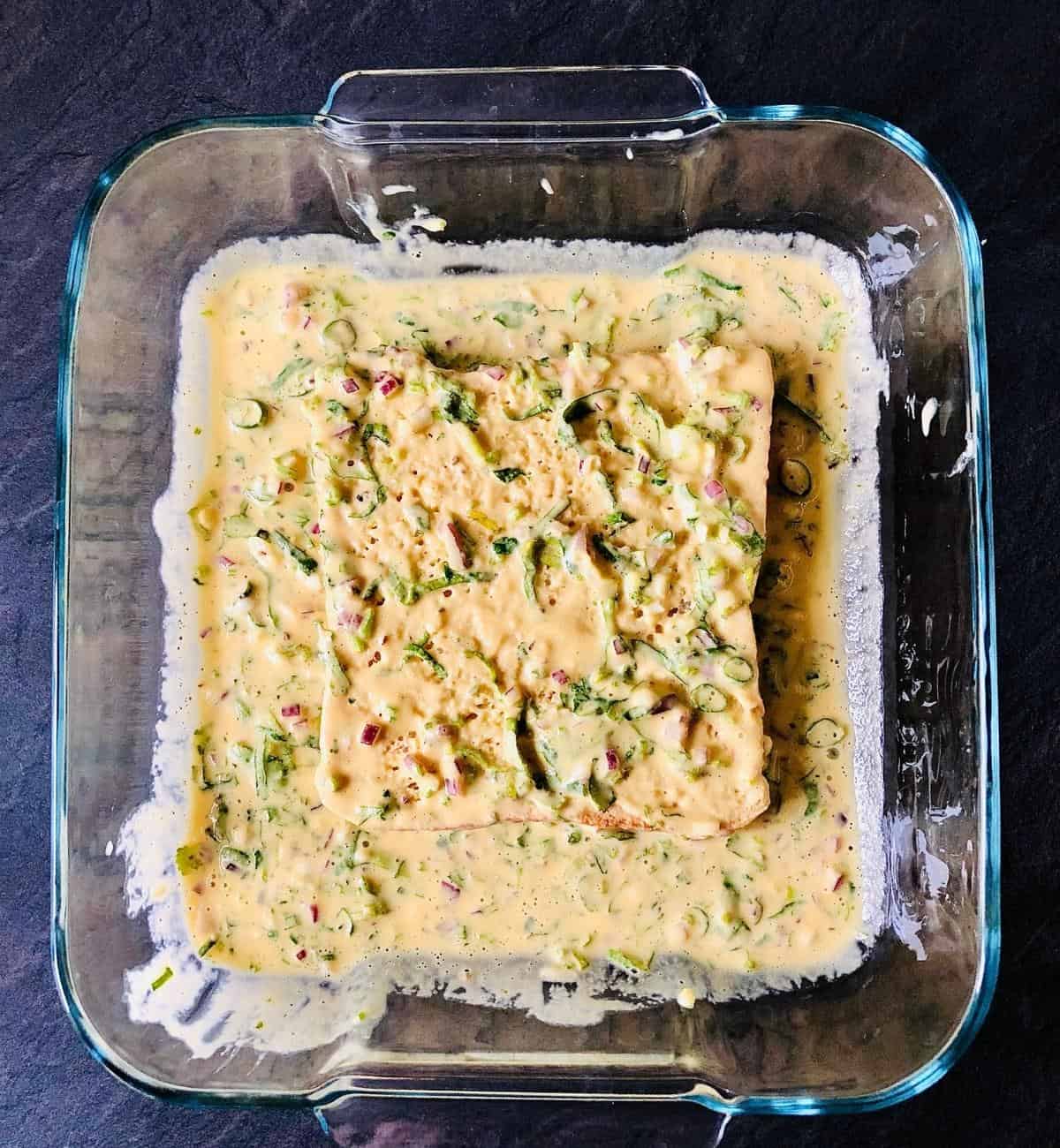 Transfer the coated bread to the hot frying pan and fry until golden brown (about one or two minutes). Flip the bread and fry the other side for a minute or two.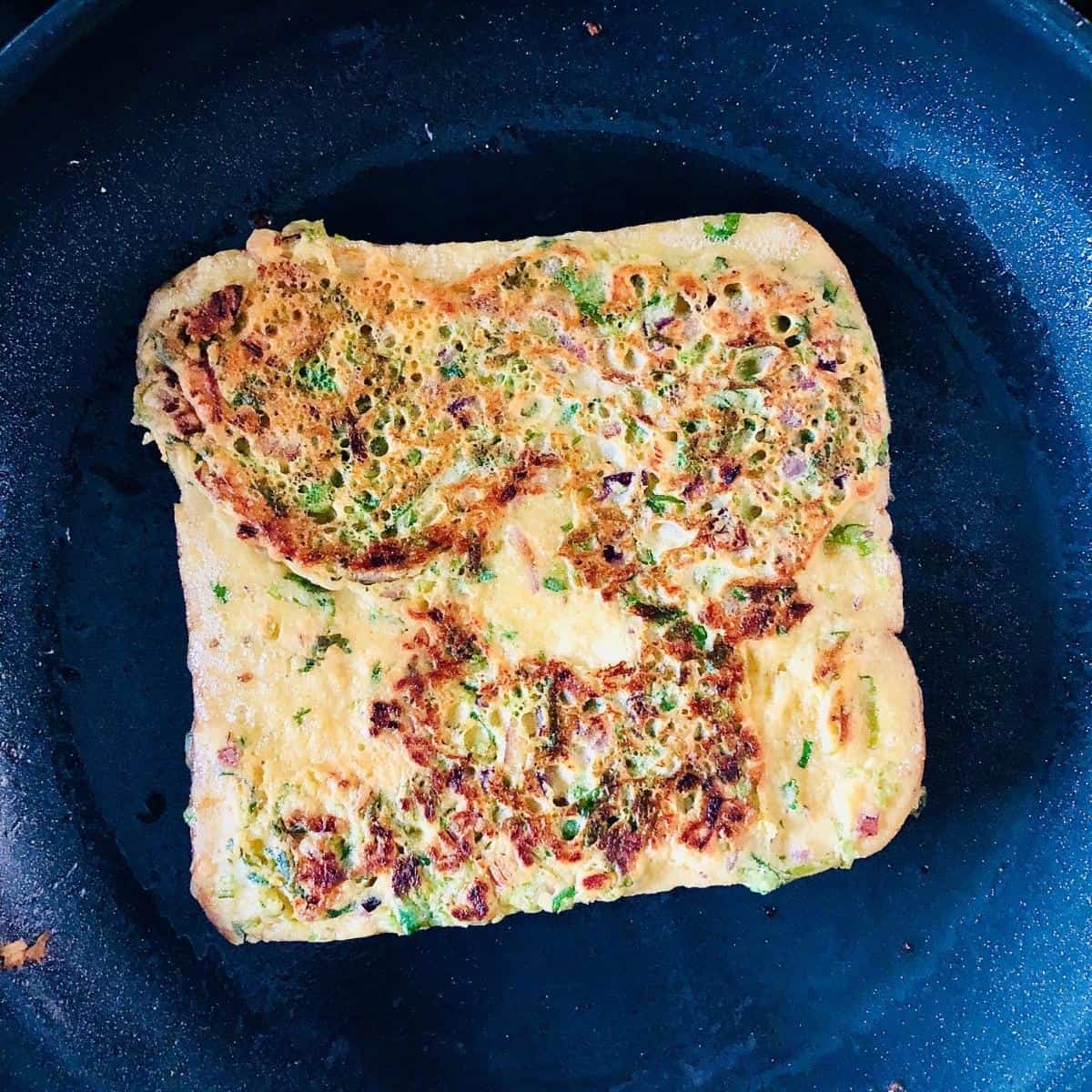 Repeat the above with the other coated bread slices.
Serve with ketchup or sonth chutney. This chutney is tamarind, dry ginger and jaggery chutney.
How To Video
Here is a video guide to making your bread pakora recipe.
Substitutions
This Gram flour battered bread is a blank canvas. You can put your stamp on it by choosing the herbs and spices you wish to add. I have used red onion, coriander and carom seeds to flavour it.
I have used white sliced bread, but you can use any sliced soft bread.
Gram flour and chickpea flour are similar but not the same. For this recipe, you can replace the gram flour with chickpea flour. Be careful when adding water; otherwise, you may have a very thin batter. The batter must be a coating consistency, so it shouldn't roll off the spoon easily. It is similar to a pancake batter, only a bit thinner.
If you do not have carom seeds, you can replace them with cumin seeds or powder. If you have neither, you can use oregano; the flavour is similar to carom seeds.
Equipment
As always, I highly recommend using a digital scale for measuring.
Storage
These battered slices of bread can be kept in the fridge for up to three days in an airtight container. They can be eaten cold or reheated in a frying pan.
I do not recommend freezing.
Top tip
To ensure that the gram flour batter has no lumps, don't add the water all at once. Gradually add the water between whisking until no dry bits of flour are left and you have a smooth batter.
If you end up with lumps, pass through a sieve to remove the lumps.
📖 Recipe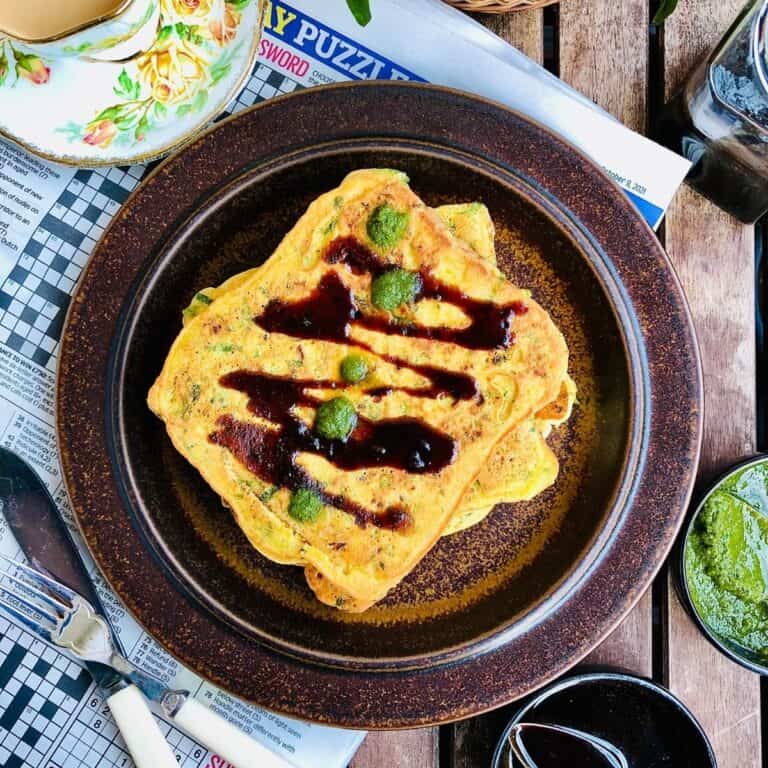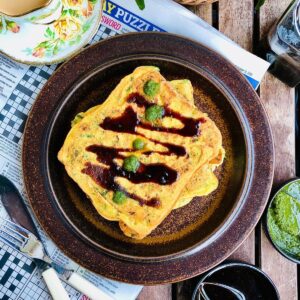 Bread Pakora Recipe
Gram flour battered pan fried bread slices
Ingredients
4

White bread slices

150

gms

Gram flour

180

ml

Water

50

gms

Red onion

2

Green chilli

¼

teaspoon

Carom seeds

1

teaspoon

Kala namak

25

gms

Coriander

2

tsp

Olive oil
Instructions
In a bowl add the gram flour and slowly add the water and whisk into a smooth batter.

Finely chop the red onion and green chilli.

Finely chop the coriander stems and roughly chop the leaves.

Add the chopped red onions, chillies, coriander, Kala namak and carom seeds to the gram flour batter and mix thoroughly.

Heat a frying pan ( preferably non-stick) over medium heat and brush with oil.

Dip the bread into the batter and coat both sides. Transfer the coated bread into the hot frying pan and fry for about a minute or two until golden brown, then flip to fry the other side.

Repeat with all the other slices.

Serve hot with coriander and sonth chutney (tamarind, jaggery and dry ginger) or by itself with tomato ketchup.
Food Safety
In a professional kitchen, food hygiene and safety is a top priority, and from the very beginning of training, I practised good habits and routines. Of course, it is also very, very important to practice good food hygiene and safety at home. Here are some fundamental practices to adopt in the kitchen
Wash your hands regularly while preparing, handling and cooking food
Wipe down counter tops and high contact points regularly
If you cook meat and fish, do not use the same utensils on cooked food, that previously touched raw meat. Use separate chopping boards for meat and fish. Wash your chopping boards immediately after use.
Thoroughly cook food to a minimum temperature of 165 °F (74 °C)
Don't leave food sitting out at room temperature for extended periods (more than 2 hours)
For more details of food hygiene and safety in the home, visit the UK Government's Food Standards Agency webpage.