In this post, I am sharing with you a secret family recipe! This is a generational family favourite called jimmikand, also known as rasaje (recipes, vegetables and pots and pans change names as you travel around India, which can be a little confusing to the those not familiar with Hindi.) This gram flour recipe is gluten free and I have made it vegan. Its light, flavourful and at the same time comforting and warming.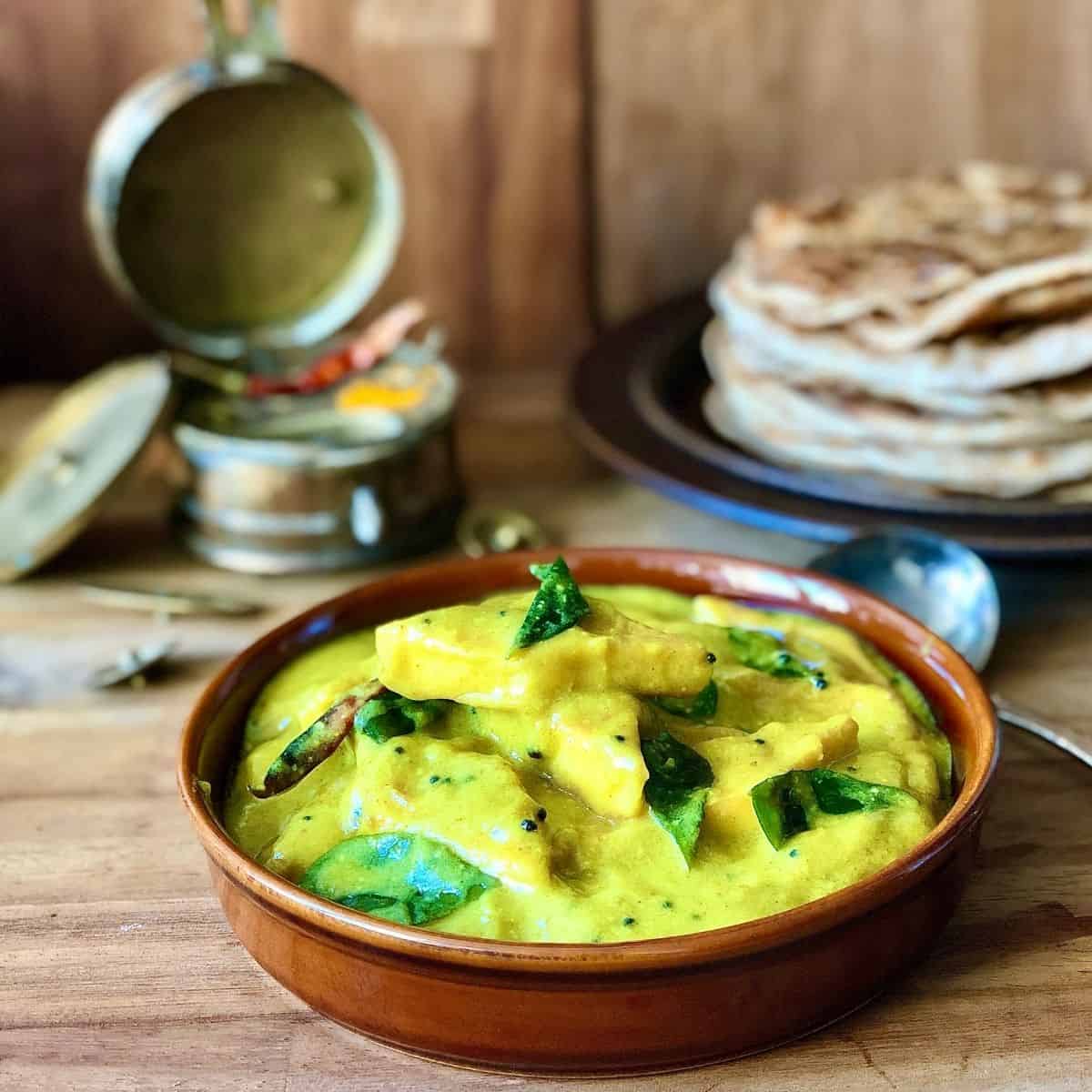 To many, mention Indian food and the word that immediately comes to mind is curry. This plants a certain picture in the mind and may actually prevent an appreciation of the diversity and richness of Indian cuisine. Even though this dish looks like a curry, I ask you to put that word out of your mind!
Gram Flour - A Must-Have Ingredient For A Variety Of Dishes
So what is jimmikand or rasaje? Jimmikand is made by mixing gram flour, yoghurt and water, which is then cooked in a pan and finally poured into a tray to set. The texture of this mix, once set, is quite similar to silken tofu or paneer.
The Jimmikand is then added into a gravy made with the same ingredients - gram flour and yoghurt flavoured with tempered spices (cooked in oil to release the flavour) such as mustard seed and asafoetida.
Jump to:
Ingredients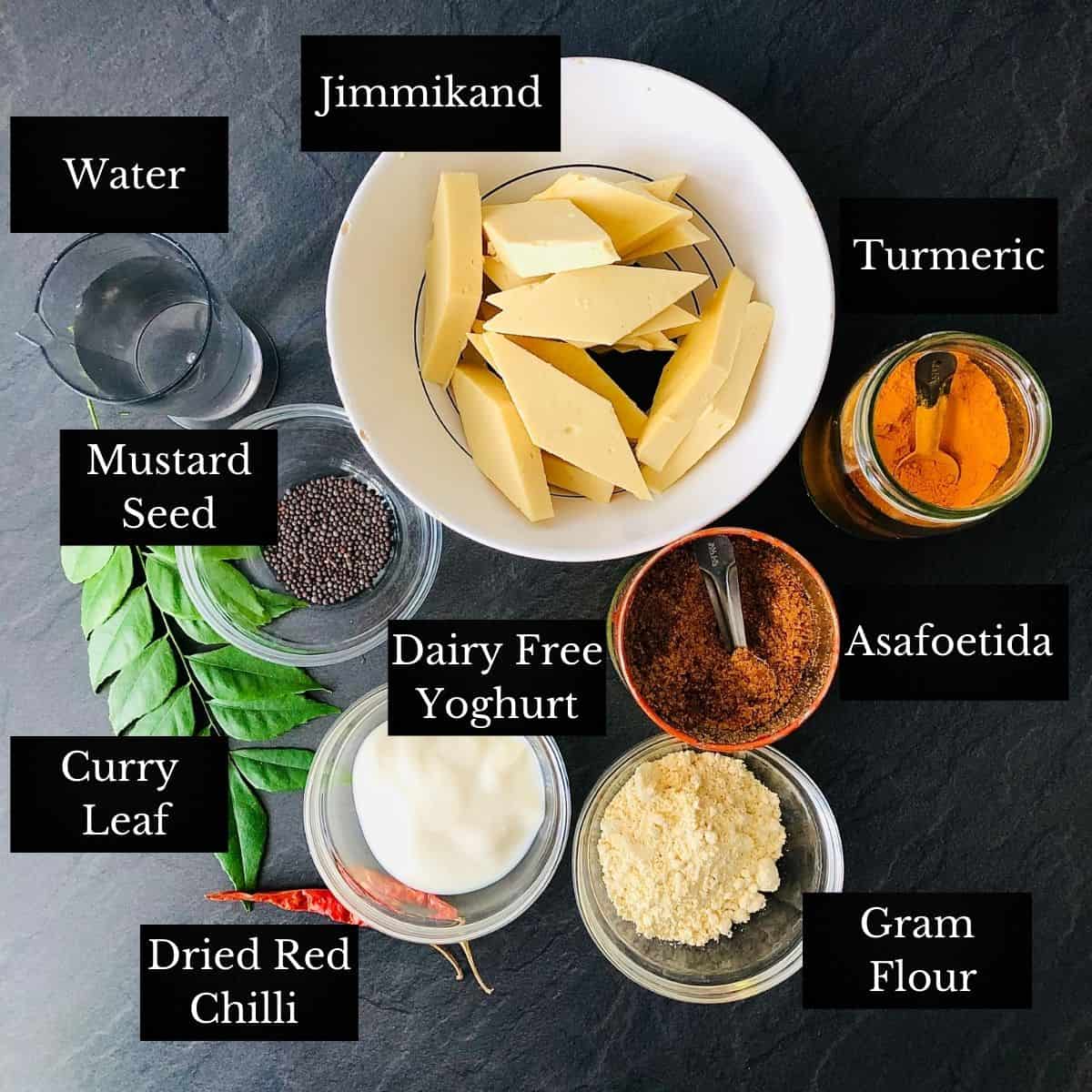 Gram flour
Dairy free yoghurt
Water
Black mustard seeds
Mustard oil
Dried red chilli
Asafoetida
Kala namak
Turmeric
Fresh Curry leaves
Instructions
First of all, you will need to make the jimmikand gram flour paneer/tofu. This can be a great tofu / dairy paneer alternative in many recipes if you want to avoid soya and dairy. So it is a good basic recipe to learn. Please go to my gram flour paneer recipe for instructions on how to make it.
To make the gravy, first add the gram flour and yoghurt into a bowl and mix until it is smooth in consistency.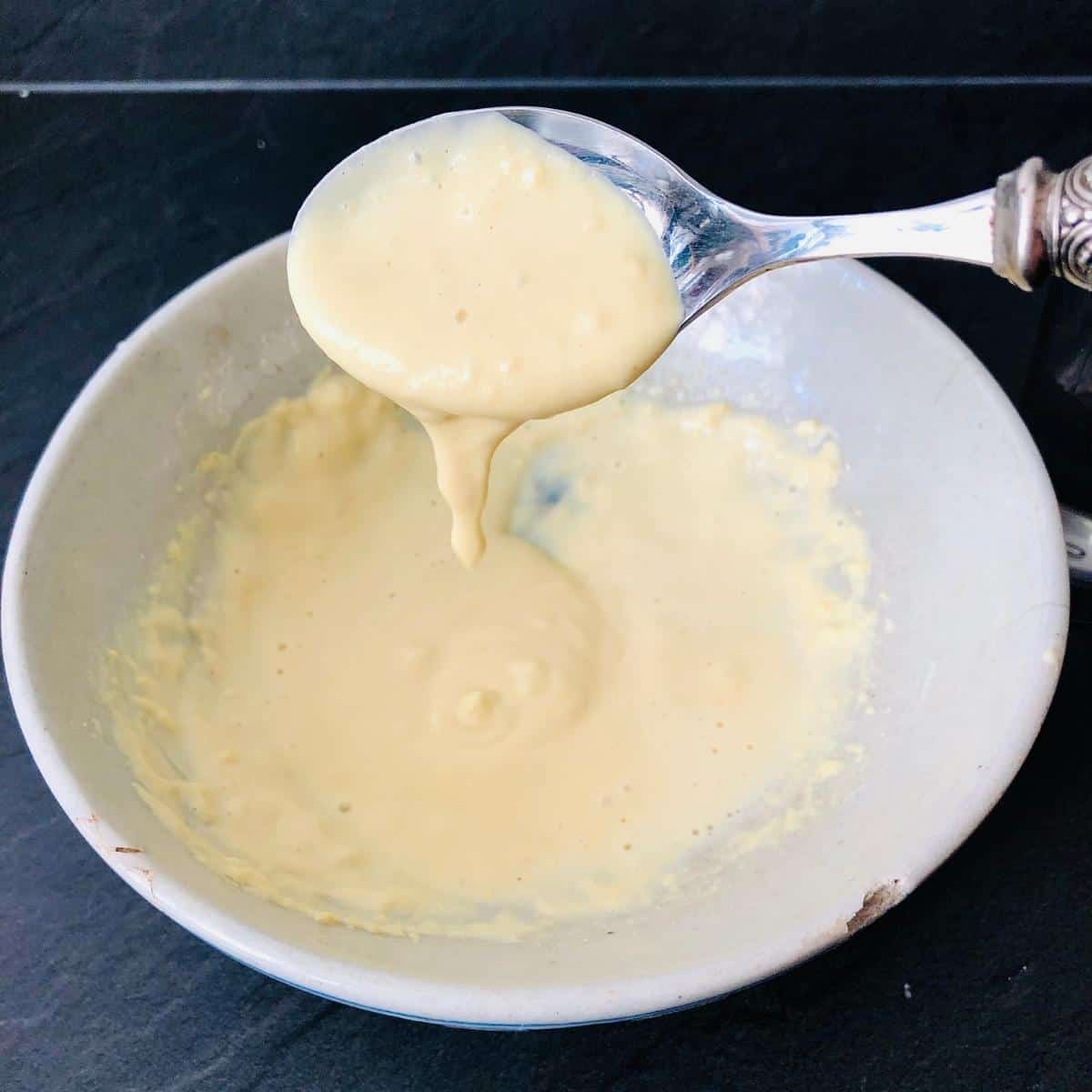 Slowly add the water as you whisk to form a watery batter. Don't worry too much about lumps. If lumps form just pass the mix through a fine sieve.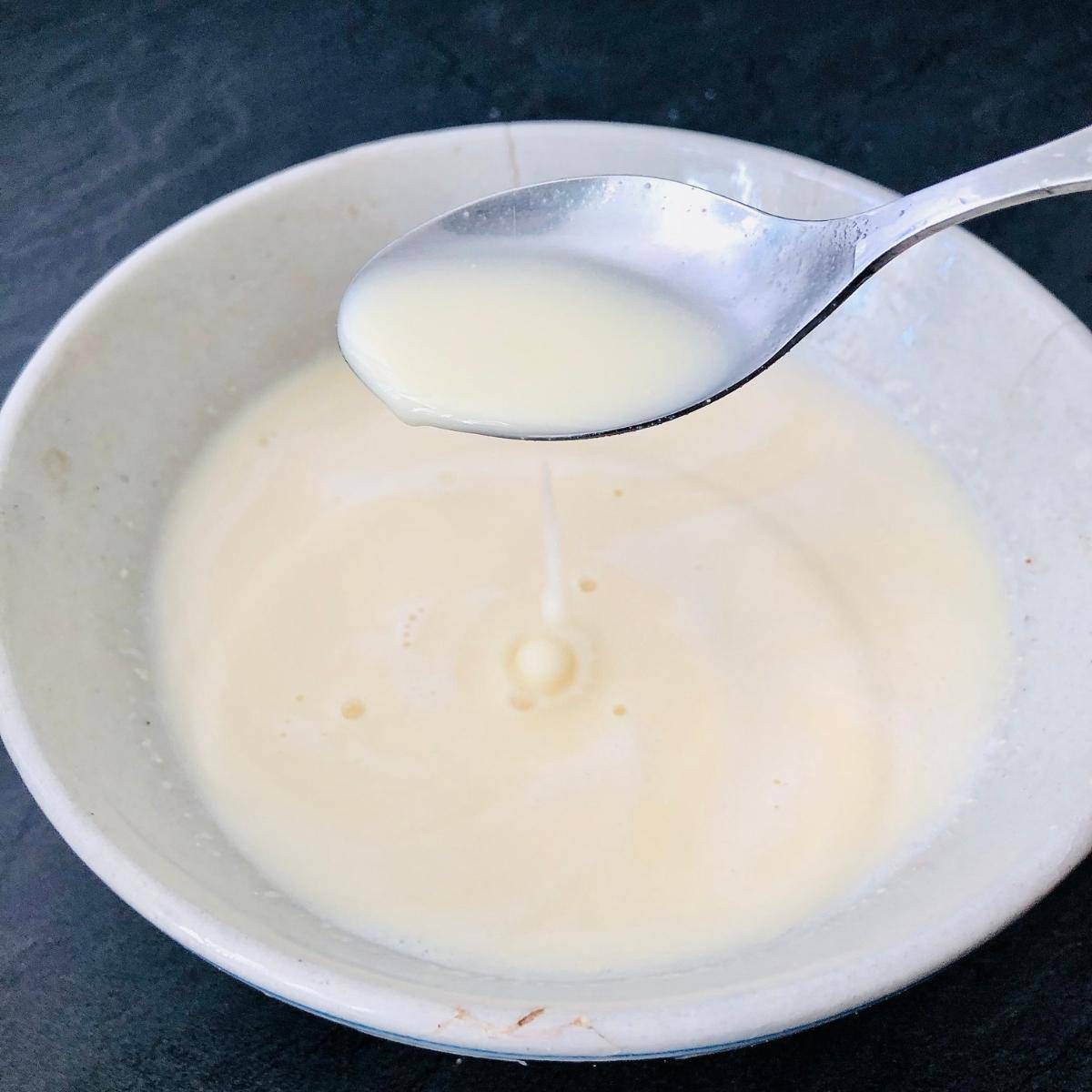 Set this batter aside.
Next, fry the jimmikand gram flour paneer. Prepare it by cutting it into bitesized chunks or, perhaps like I have, into diamond shapes.
Heat the mustard oil in a frying pan over a medium / high heat and fry the gram flour paneer on both sides until it is crispy and golden. When cooked, set them aside.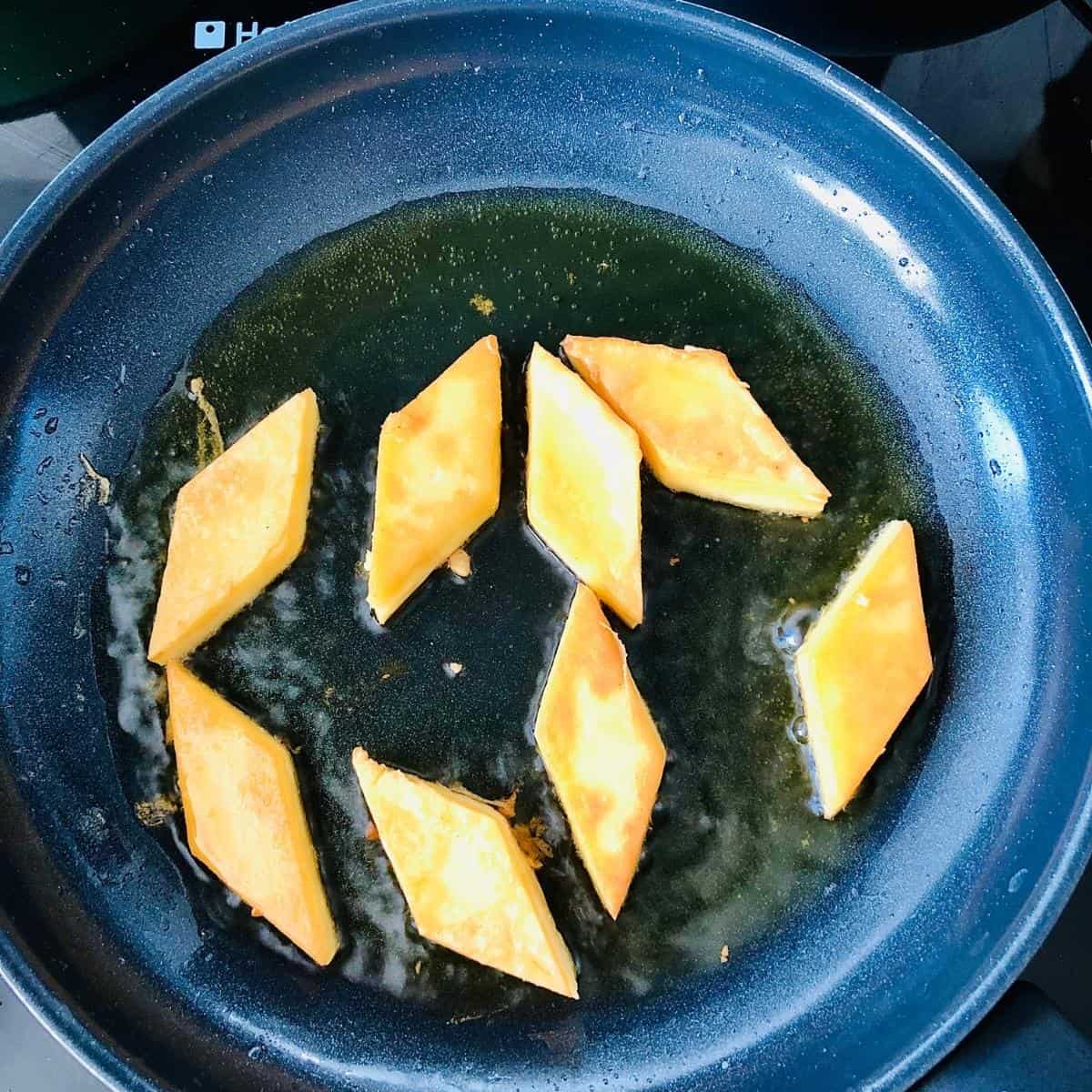 In the same pan and oil, over a medium heat, add the mustard seeds. Be careful, they will pop and fly! When they have finished popping, add the dried chilli, asafoetida, and curry leaves (removed from the stem). Cook them for a minute or two to release the flavours. I purchased my curry leaf plant (if you are in the UK, head on over to the Citrus Centre website. This in NOT an affiliate link) and it has thrived on our sunny window sill. It makes such a tasty and aromatic addition to recipes. If you don't have a curry leaf plant, then just leave them out and flavour with chopped coriander at the end of the cooking.
Pour in the jimikand gravy batter you prepared earlier and add the turmeric powder and kala namak.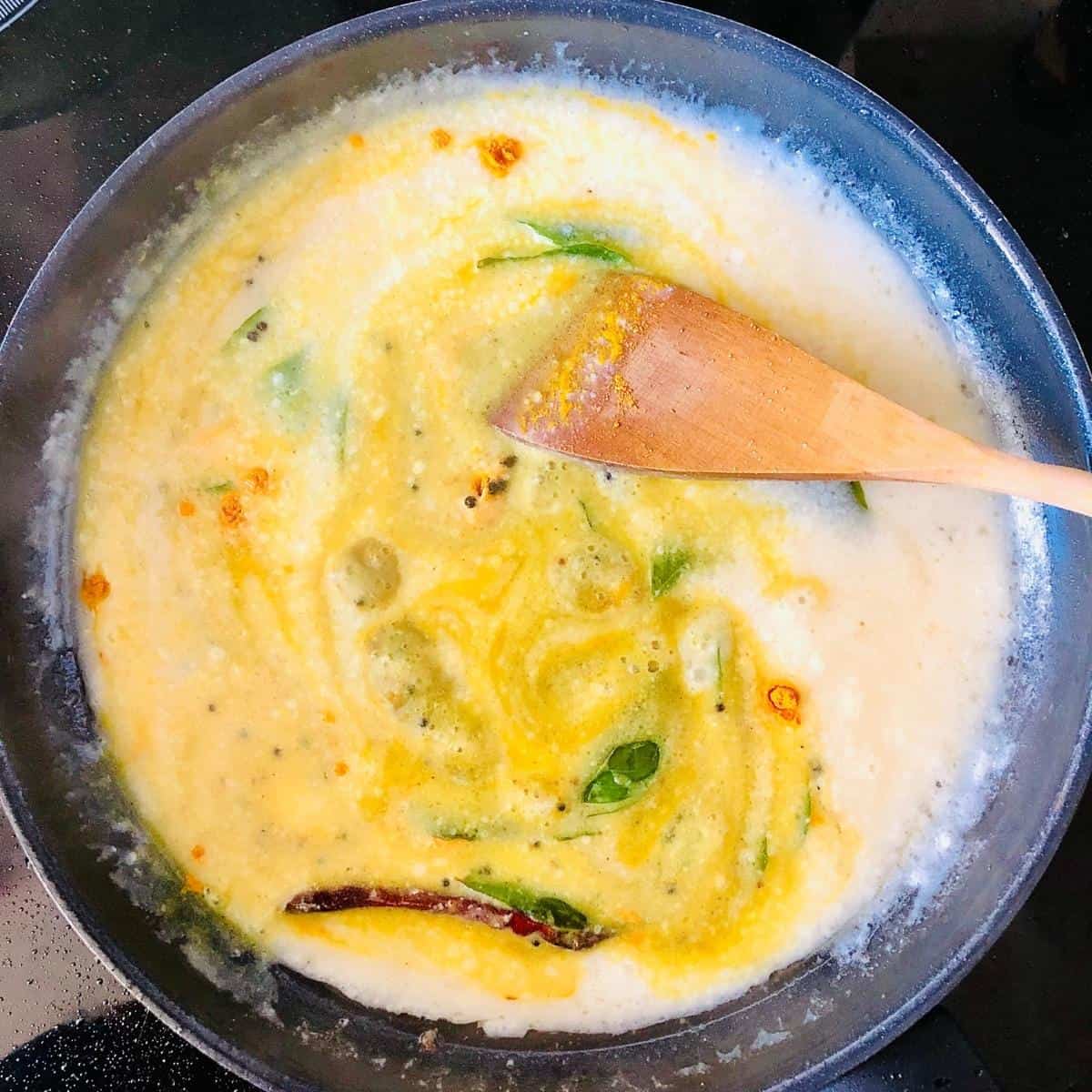 Stir the mix and continue to stir for about three minutes.
Add in the fried gram flour paneer and continue to stir until the the gravy has thickened. The gravy should be what's called "coating consistency." Dip a spoon into the mix and lift it out. Pour off the gravy from the spoon. If the gravy coats the spoon then it is at coating consistency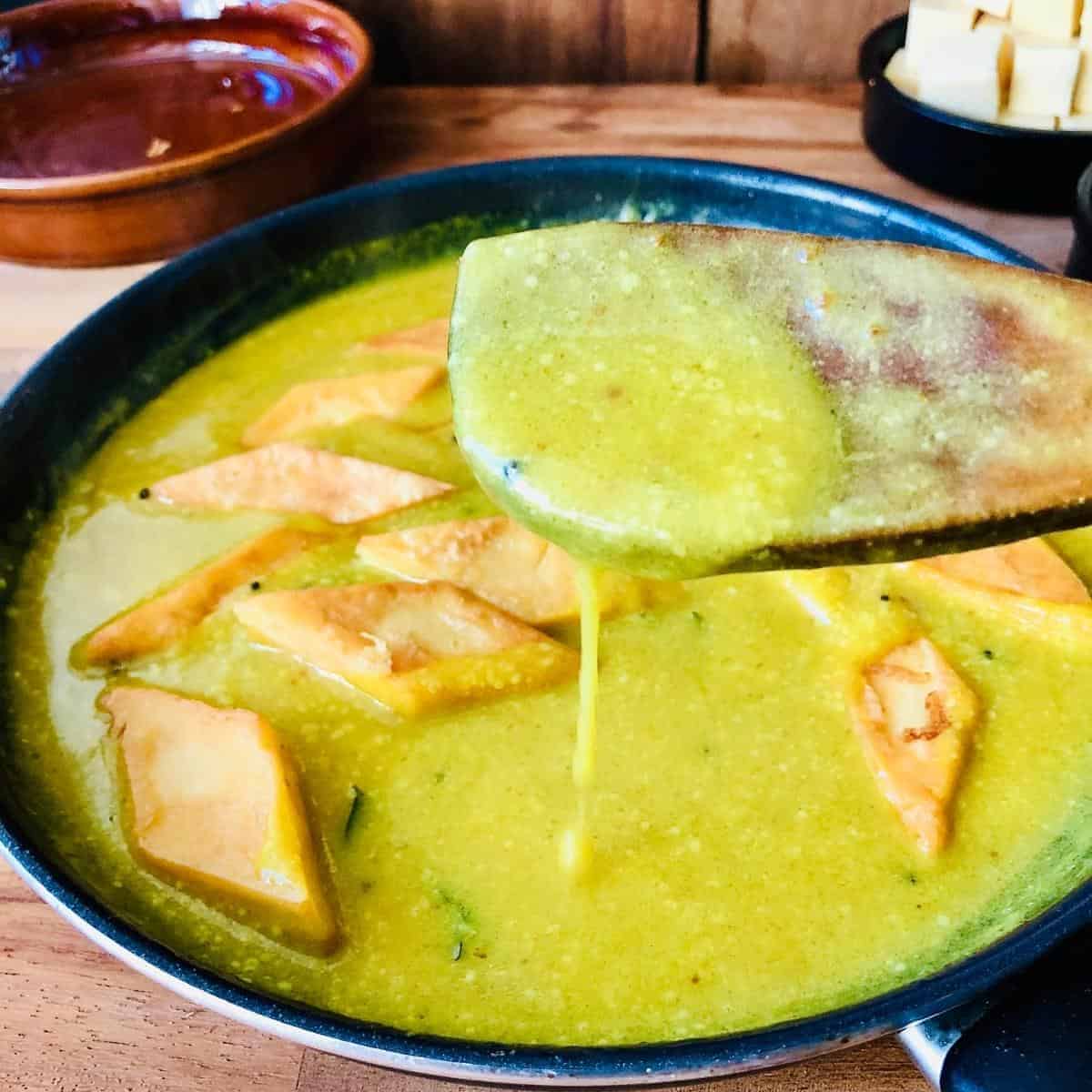 Your Jimmikand in gravy is ready! Serve this with rice or perhaps paratha. You can make your own paratha by following my recipe.
How To Make Jimmikand In Gravy Video
Substitutions
You can replace the dairy free yogurt with dairy yoghurt, just use the same amount.
Don't have mustard seeds? You can use cumin seeds instead to flavour the sauce.
Kala namak can be replaced with any salt, it will alter the flavour a bit as kala namak gives it a hint of sour.
I have not tested the recipe with chickpea flour, however I do think it will work.
Don't have fresh curry leaves? Instead, flavour the sauce with chopped coriander at the end of cooking.
You can use any oil instead of mustard oil, however, it will alter the flavour as mustard oil gives it a nice pungency.
Storage
This can be stored in the refrigerator for up to three days. Just make sure you reheat throughly before consuming.
This dish doesn't work well with freezing.
Top tip
Stir the sauce like you would be whisking it from the bottom so it cooks evenly, otherwise, if the stirring is not done properly it will result in a lumpy sauce.
📖 Recipe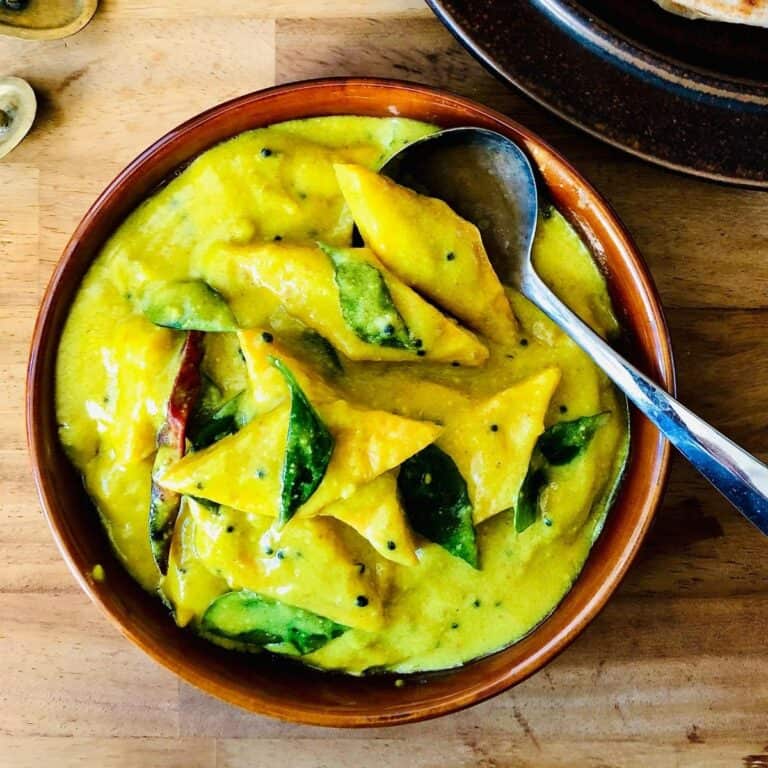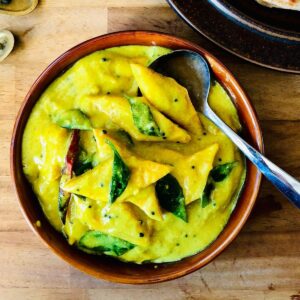 Jimmikand In Gravy
Gram flour dumplings in a creamy yoghurt / gram flour gravy tempered with spices
Ingredients
330

gms

Jimmikand (Gram flour paneer)

see my separate recipe.
Gravy
20

gms

Gram flour

40

gms

Dairy free yoghurt

200

ml

Water

1

teaspoon

Kala namak

¼

teaspoon

Asafoetida

½

teaspoon

Turmeric powder

1

Red chilli

whole

1

sprig

Curry leaves

fresh

½

teaspoon

Black mustard seeds

4

tablespoon

Mustard oil
Instructions
Cut the Jimmikand into your desired shape. I cut it into a diamond shape.

Mix the gram flour and yogurt until smooth. Then add water slowly and whisk into a smooth batter. If you have any lumps, pass through a fine sieve to remove. The batter will be quite watery. Set aside

Heat the mustard oil in a pan and fry the Jimmikand until crispy and golden on both sides. Set them aside.

In the same pan and oil, over medium heat, add the black mustard seeds. Be careful, they will pop and fly.

Once the mustard seeds have popped, add the red chilli, asafoetida and curry leaves (removed from the stem.) Cook for a few minutes to release the flavour.

Pour in the gram flour / yoghurt batter. Then add in the turmeric powder and kala namak.

Stir to mix and continue stirring for about two to three minutes.

Add the fried pieces of jimmikand and stir for another three minutes or so, until the sauce has thickened. It should be coating consistency, which means it should coat a spoon when poured off.

Once ready, transfer to serving bowls and serve hot with either rice or paratha.
Food Safety
In a professional kitchen, food hygiene and safety is a top priority and from the very beginning of training I practiced good habits and routines. Of course, it is also very, very important to practice good food hygiene and safety at home. Here are some fundamental practices to adopt in the kitchen.
Wash your hands regularly while preparing, handling and cooking food
Wipe down counter tops and high contact points regularly
If you cook meat and fish, do not use the same utensils on cooked food, that previously touched raw meat. Use separate chopping boards for meat and fish. Wash your chopping boards immediately after use.
Thoroughly cook food to a minimum temperature of 165 °F (74 °C)
Don't leave food sitting out at room temperature for extended periods (more than 2 hours)
For more details of food hygiene and safety in the home, visit the UK Government's Food Standards Agency webpage.