I have been asked a few times for a soya tofu alternative, so I thought I had to share this family secret. Meet the Jimmikand. It is my soy free, gluten free, and dairy free paneer or tofu alternative. Just like traditional tofu or paneer, this is a great blank canvas for your dishes. It has a similar texture and marinades well. For vegan and vegetarian dishes it could just become your go-to soya tofu alternative.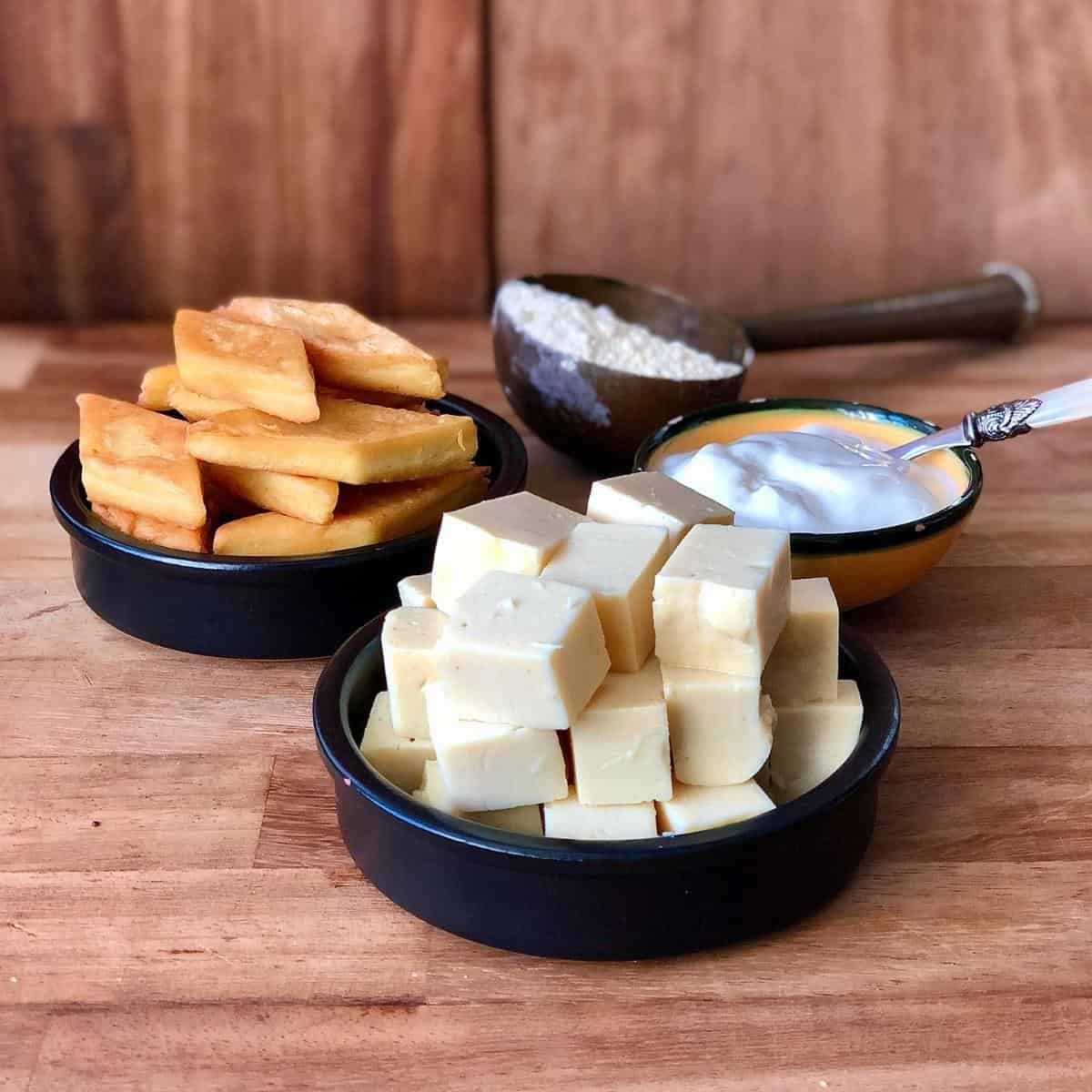 Now, if you google jimmikand you may get a recipe for yam. However, in my family we call this soya tofu alternative Jimmikand. In certain parts of India it is also called "Rasaje." I can assure you there is no yam in this recipe! Then why the confusion with the name? In India names of utensils and vegetables, among other things, not only change due to the different languages and dialects, they also change regionally.
Gram flour is such a versatile ingredient. Indeed, it is a staple in India, especially in north, central and western regions. The combination of gram flour, yoghurt and water is used to create many unique dishes. Have a look at my kadhi recipe or my Jimmikand In Gravy recipe.
It goes without saying that my cupboard is always stocked with a bag of gram flour.
This soy tofu alternative can be used in any dish that calls for tofu or paneer. I have also used this in bao buns instead of tofu, or in phad thai, for instance.
Jump to:
Ingredients
This is very simple to make, Involving just three ingredients:
Gram flour
Dairy free yoghurt
Water
Instructions
To begin, place the gram flour and yoghurt into a bowl and mix to a thick paste.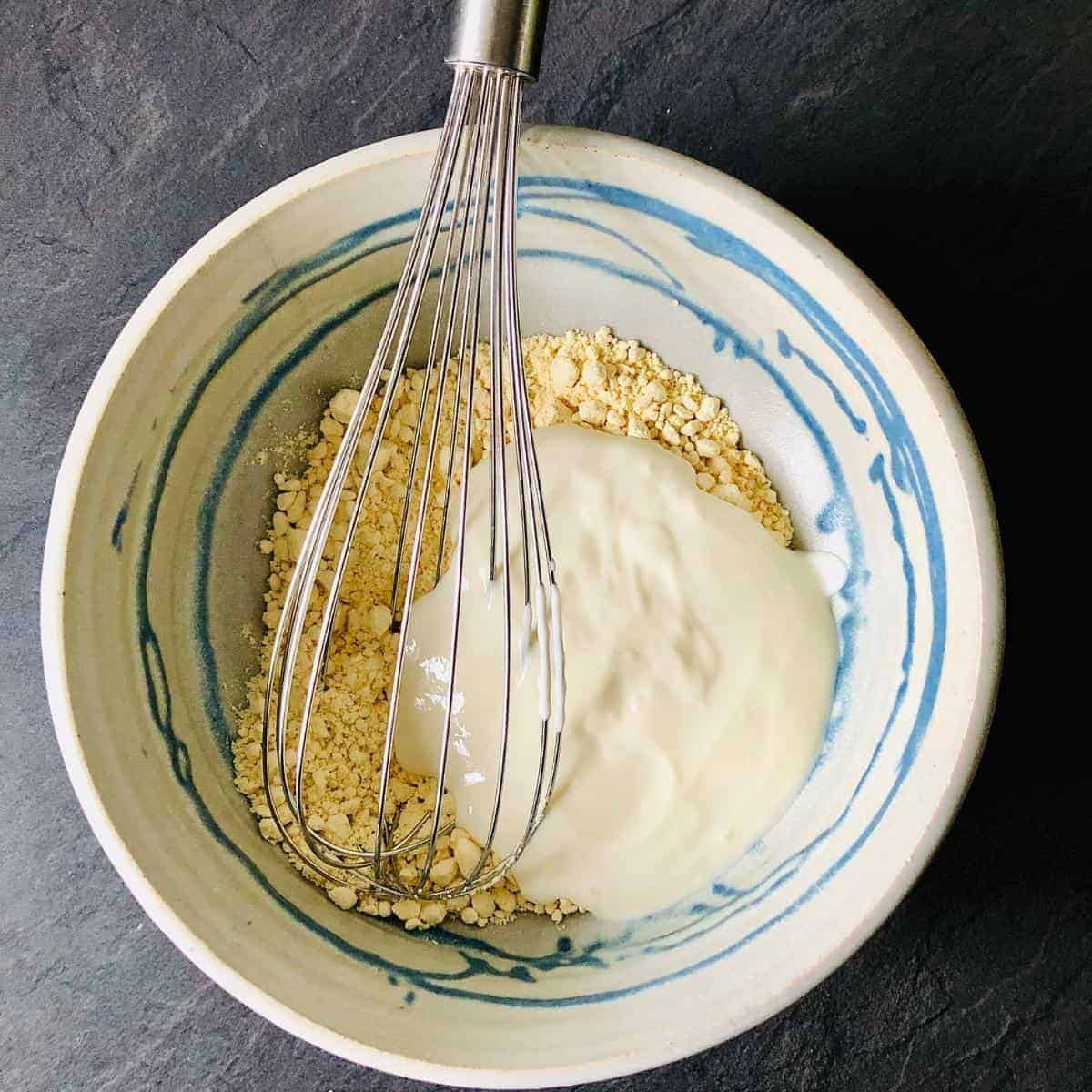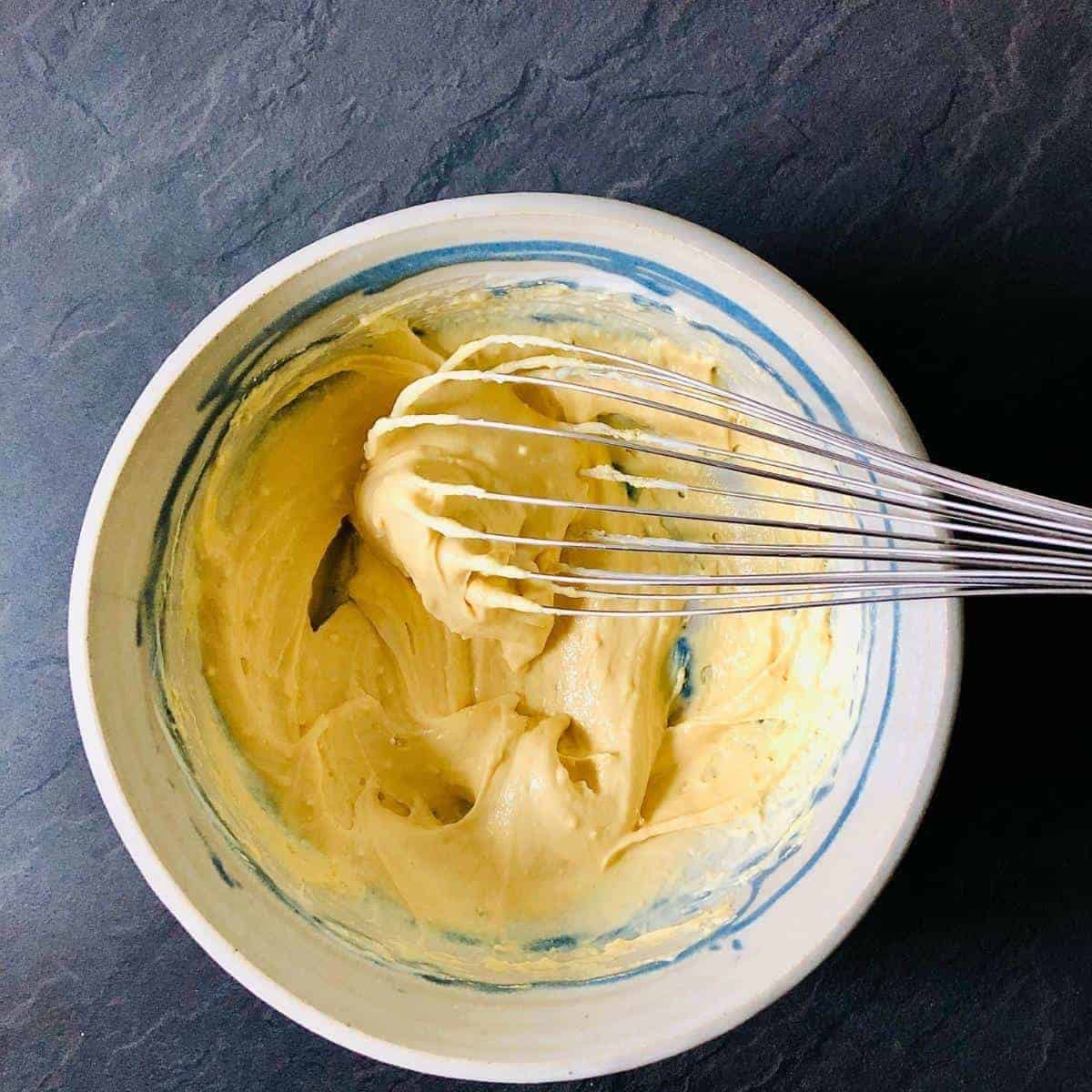 Then slowly add the water while you mix. Don't worry about lumps forming. If they do, simply pass the mix through a sieve to break down the lumps.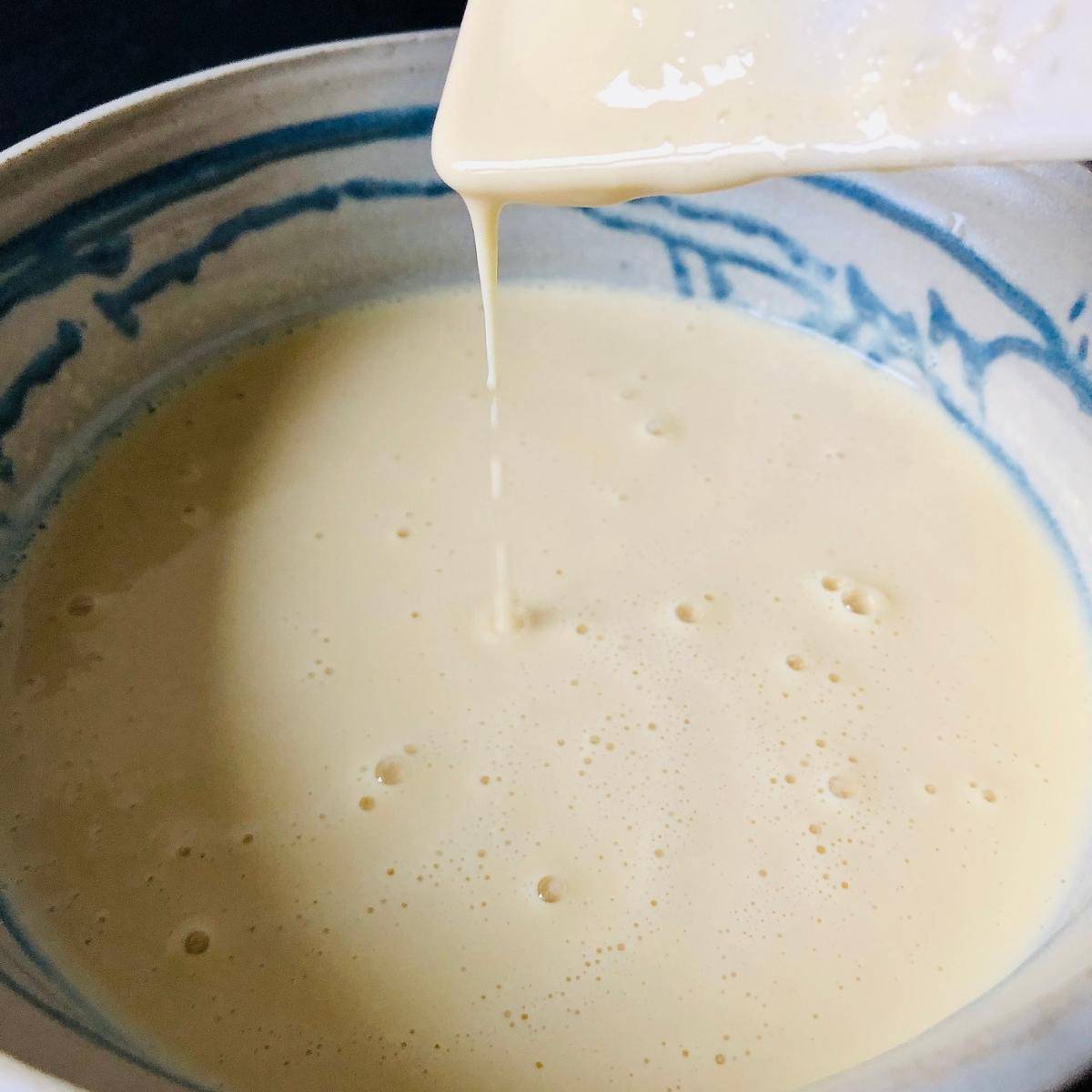 Find a small baking tray that you can pour the cooked batter into so that it can set. It should allow you to mould a "slab" of paneer when you pour the cooked batter into it. Oil the baking tray and set aside
Pour the batter you have made into a saucepan over a medium heat and cook for five minutes. Whisk continually during cooking so lumps do not form. The batter will thicken. The consistency will be like a thick porridge.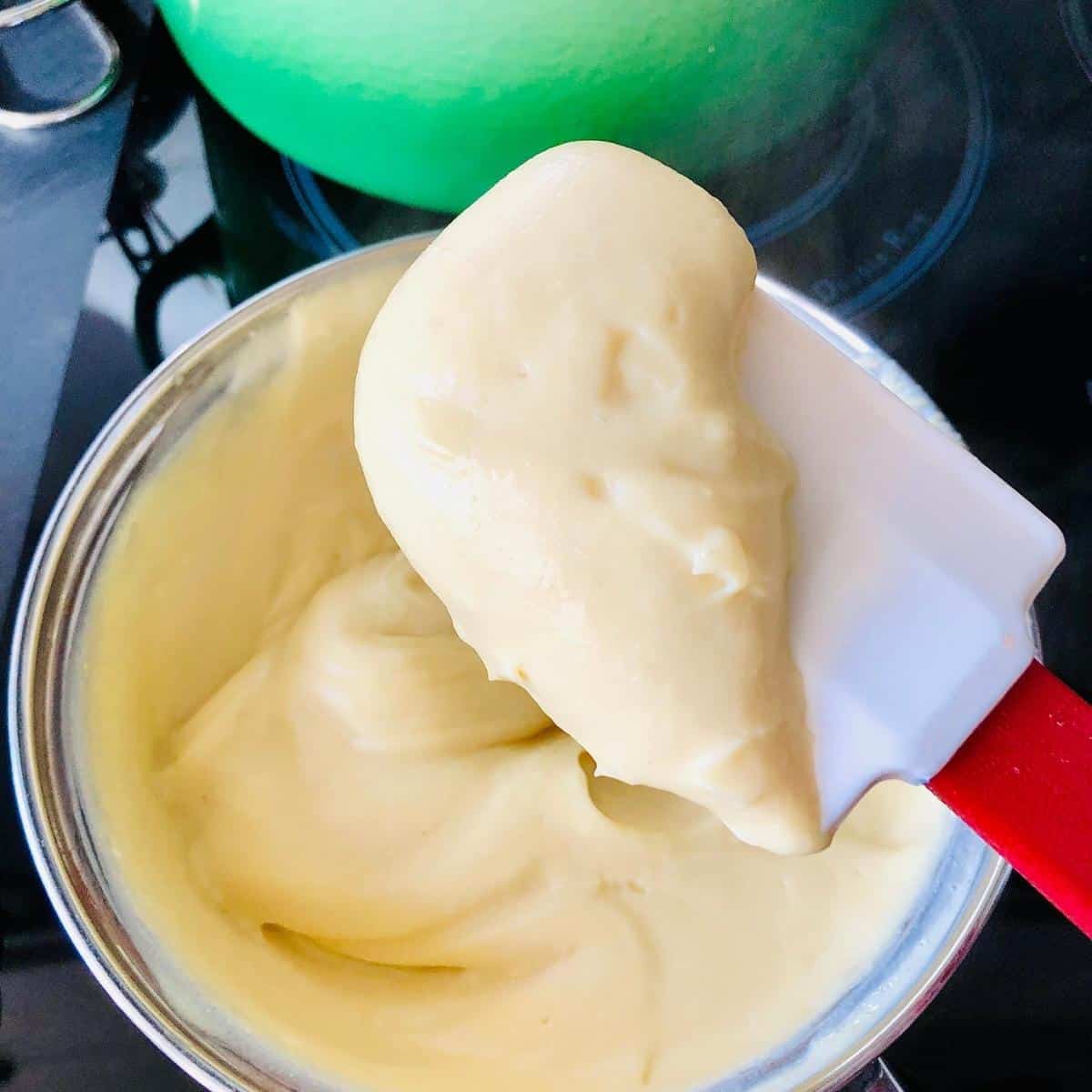 Remove from the heat and immediately pour the batter into the oiled baking tray. Use a spatula to spread out the batter to form a slab about an inch thick. Smooth over the top.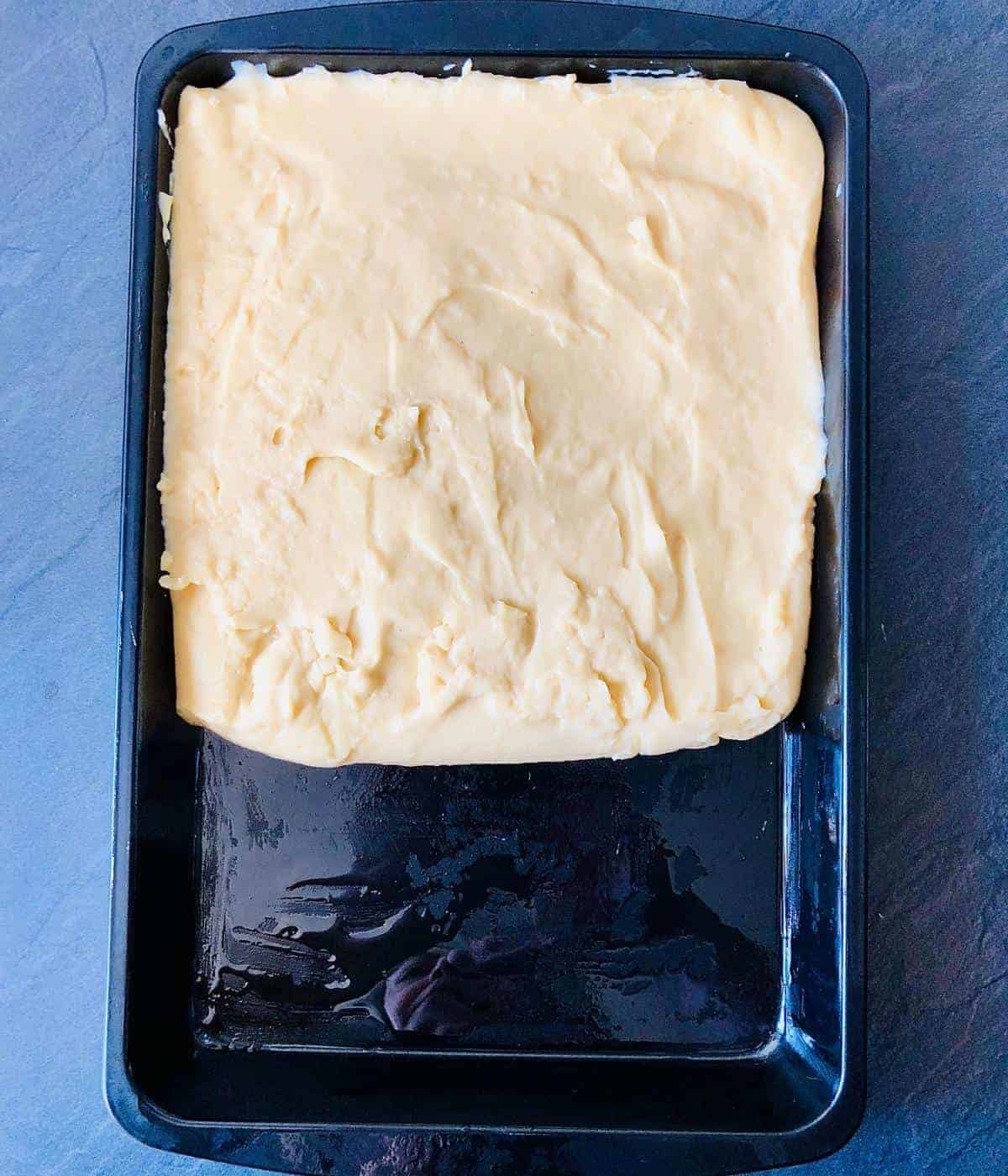 Place the baking tray containing the gram flour paneer slab into the refrigerator and chill for 30 minutes so that it sets.
Once set, remove from the refrigerator and flip onto a chopping board and cut into your desired shapes.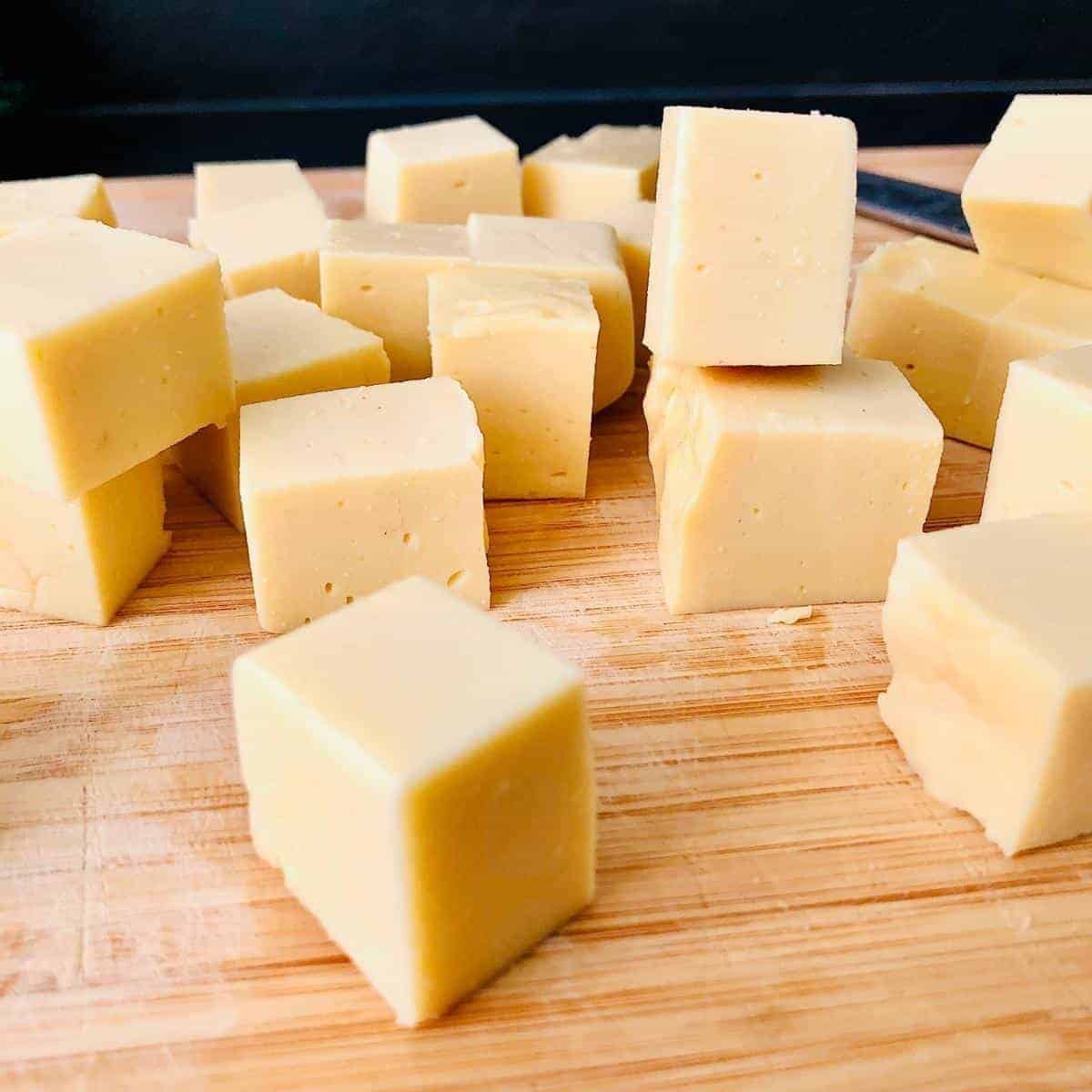 There you have it: Your Jimmikand, gram flour paneer, soya tofu alternative.
How To Video
Substitutions
You can use dairy yoghurt for this recipe, just replace the same amount of dairy free yoghurt with the dairy yoghurt.
I haven't tested the recipe with chickpea flour, however it should work.
Variations
This is a basic recipe to make gram flour tofu / paneer. You can add herbs and spices to give it your own twist.
Storage
The paneer can be kept in the fridge for up to three days. It doesn't survive longer than that. It will get slimy and discoloured and I wouldn't advise you to consume it.
Also when in the fridge you will notice that it will release some water, that is alright and normal.
Top tip
When you are whisking the batter, make sure you reach all the corners. This will ensure it cooks evenly and you have a smooth batter in the end to set.
📖 Recipe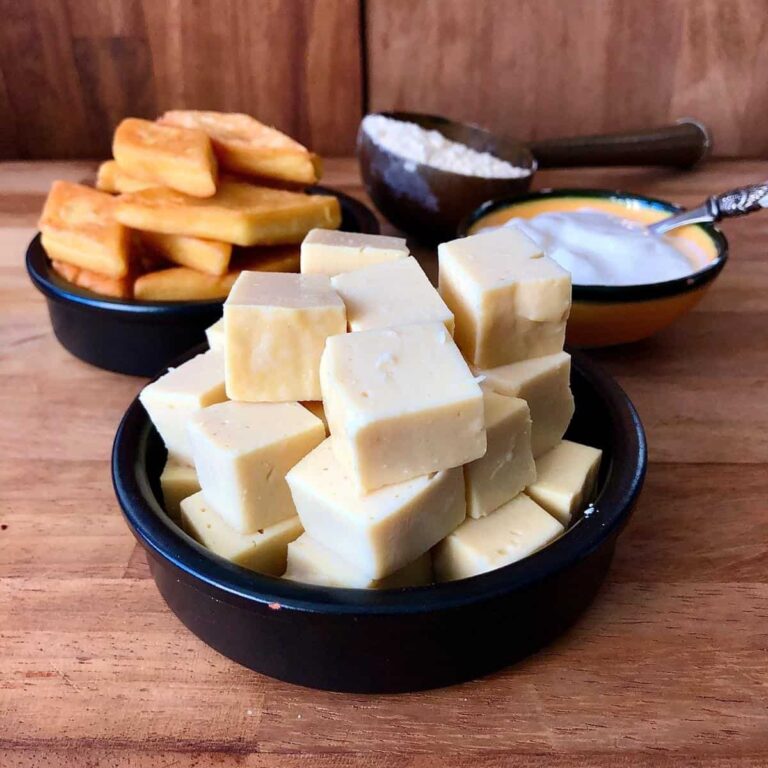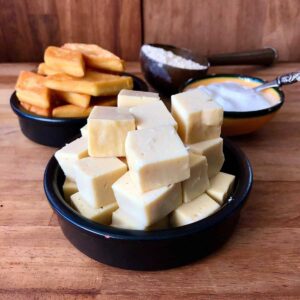 Jimmikand Gram Flour Paneer. Soya Tofu and Paneer Alternative
Gluten Free and Vegan Gramflour Paneer / Tofu
Equipment
Digital scales

Baking tray
Ingredients
75

gms

Gram flour

125

gms

Dairy free yoghurt

I used coconut yoghurt

225

gms

Water
Instructions
In a bowl, mix the gram flour and yoghurt, until you have a thick paste

Slowly add the water and whisk to combine. If you have any lumps then pass through a fine sieve

Oil a small baking tray (essentially a flat surface with a rim where you can pour the cooked batter to set) and set aside.

Pour the batter into a pan over a medium heat. Cook for about five minutes. Whisk continuously while cooking to insure no lumps form. The consistency should become similar to a thick porridge.

Once the batter has thickened, remove from the heat and immediately pour into the oiled tray. Smooth out the top and lightly press down to ensure there are no air pockets in the bottom. Press inwards from the edges to ensure you have a clean edges and a rectangular or square shape. Aim for about one inch thicknes.

Transfer the tray into the refrigerator for about thirty minutes to allow the batter to set.

Once set, turn out onto a chopping board and cut into your desired shape.
Food Safety
In a professional kitchen, food hygiene and safety is a top priority and from the very beginning of training I practiced good habits and routines. Of course, it is also very, very important to practice good food hygiene and safety at home. Here are some fundamental practices to adopt in the kitchen.
Wash your hands regularly while preparing, handling and cooking food
Wipe down counter tops and high contact points regularly
If you cook meat and fish, do not use the same utensils on cooked food, that previously touched raw meat. Use separate chopping boards for meat and fish. Wash your chopping boards immediately after use.
Thoroughly cook food to a minimum temperature of 165 °F (74 °C)
Don't leave food sitting out at room temperature for extended periods (more than 2 hours)
For more details of food hygiene and safety in the home, visit the UK Government's Food Standards Agency webpage.