Palak paneer or creamy spinach sauce with paneer is one of the most loved Indian dishes world wide. It is also very popular with vegans as it is easy replace the dairy paneer with tofu. But what can you do if you can't / don't want to eat soya tofu or have no access to it? Then Gram flour paneer / tofu (Jimmikand) is here to help. The jimmikand I use in this recipe mimics the taste and texture of paneer or silken tofu. Jimmikand is easy to prepare and when fried has a delightful crispiness to it and at the same time the centre is soft and creamy like a cheese.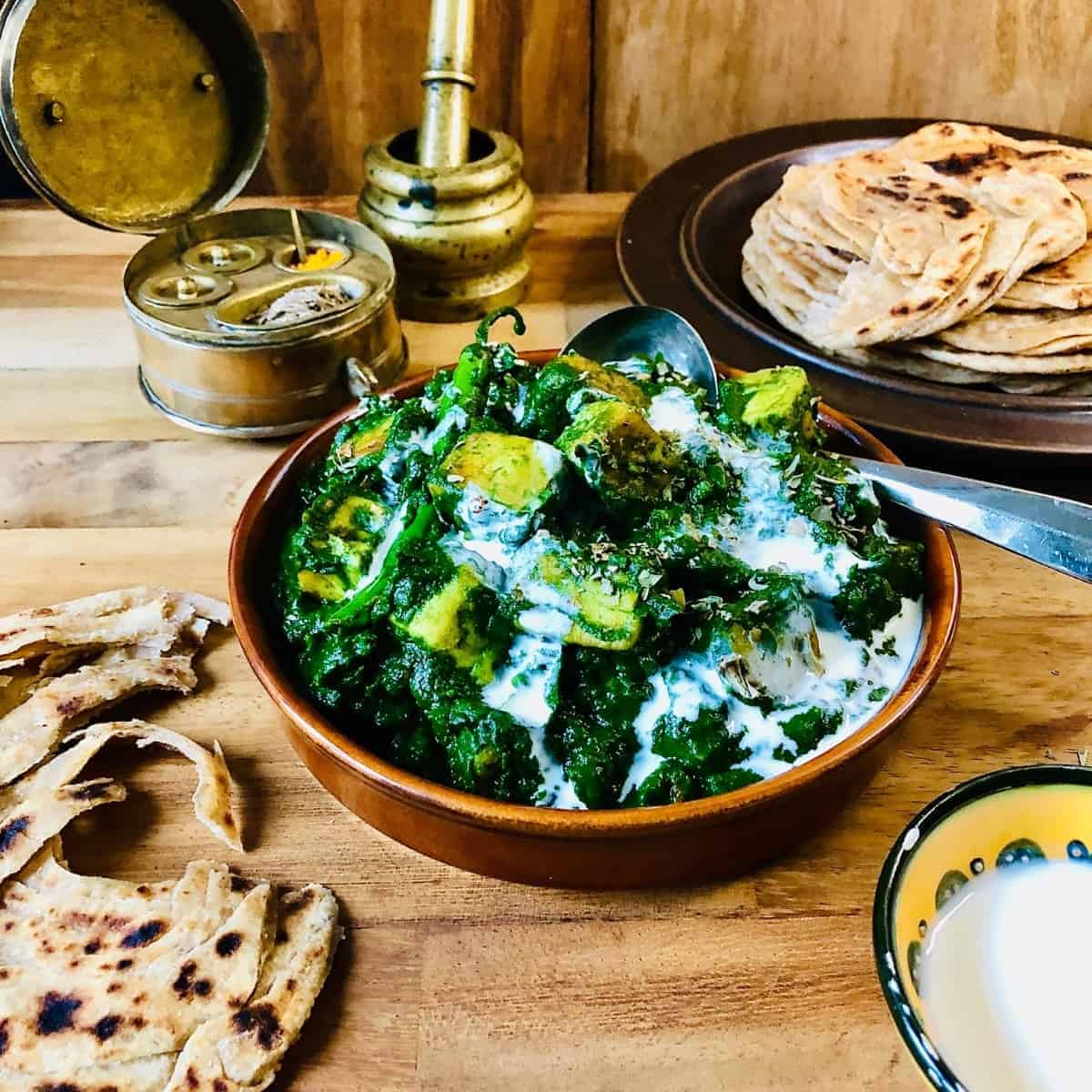 This recipe for palak paneer, or should I say Jimmikand palak, is a much loved family recipe. What's more, it is simple and not overpowered with too many spices, like the ones that you get in takeaway shops or in restaurants, and it doesn't leave you feeling heavy. Never-the-less, it is flavourful as you would expect Indian food to be. In most Indian homes our daily meals are flavourful yet simple, using fresh seasonal produce. This recipe hits all the right spots and I hope that it will become a family favourite of yours as well.
Let's cook!
Jump to:
Ingredients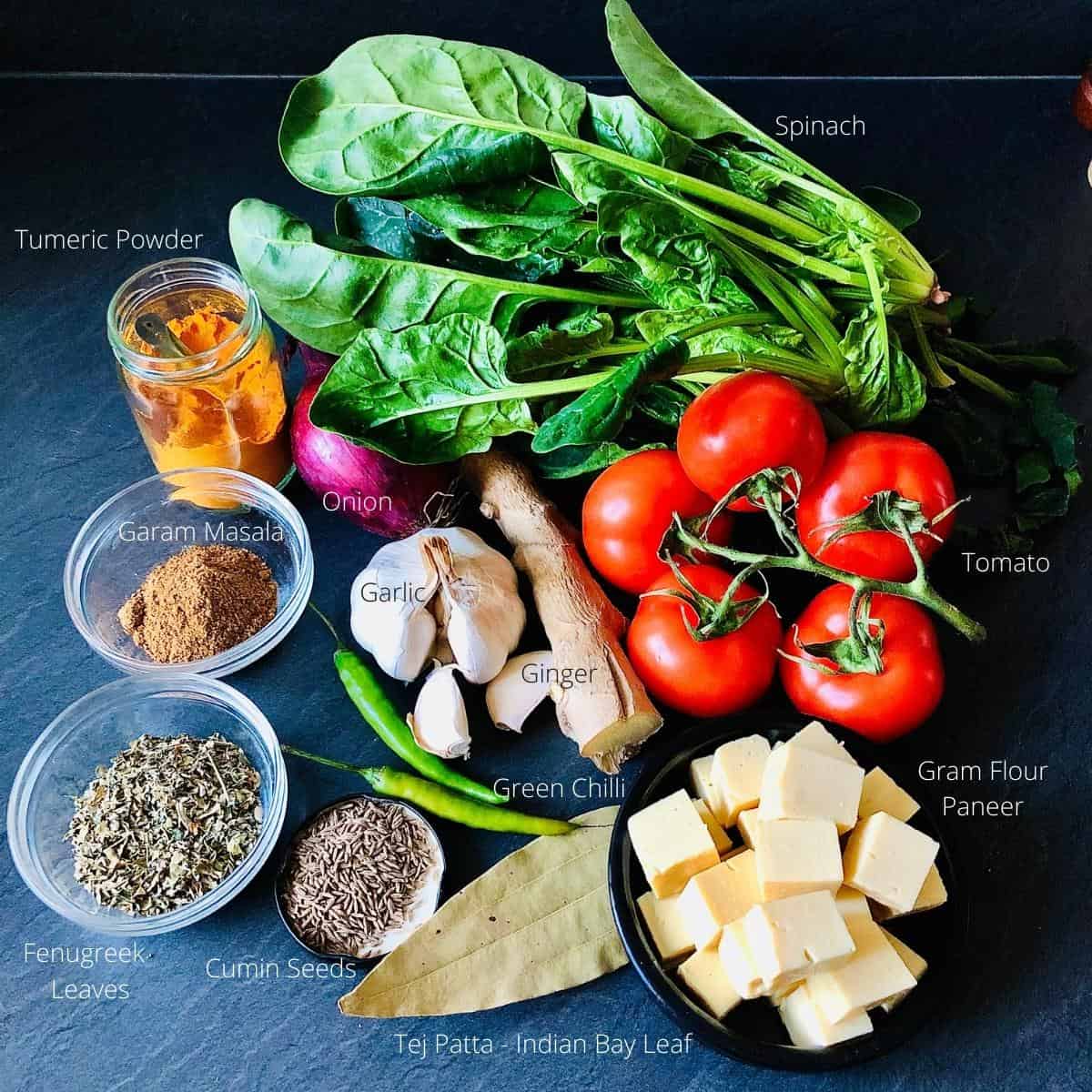 Spinach
Tomato
Red onion
Garlic
Ginger
Green chilli
Cumin seeds
Turmeric powder
Dried Fenugreek leaves
Garam masala powder
Tej patta (Indian bay leaf)
Olive oil
Dairy free cream
Salt
Instructions
Prepare your ingredients: Finely chop the onions, garlic and ginger and roughly dice the tomatoes.
Next, prepare your spinach puree: Set a pan of water to the boil. Wash and roughly chop the spinach.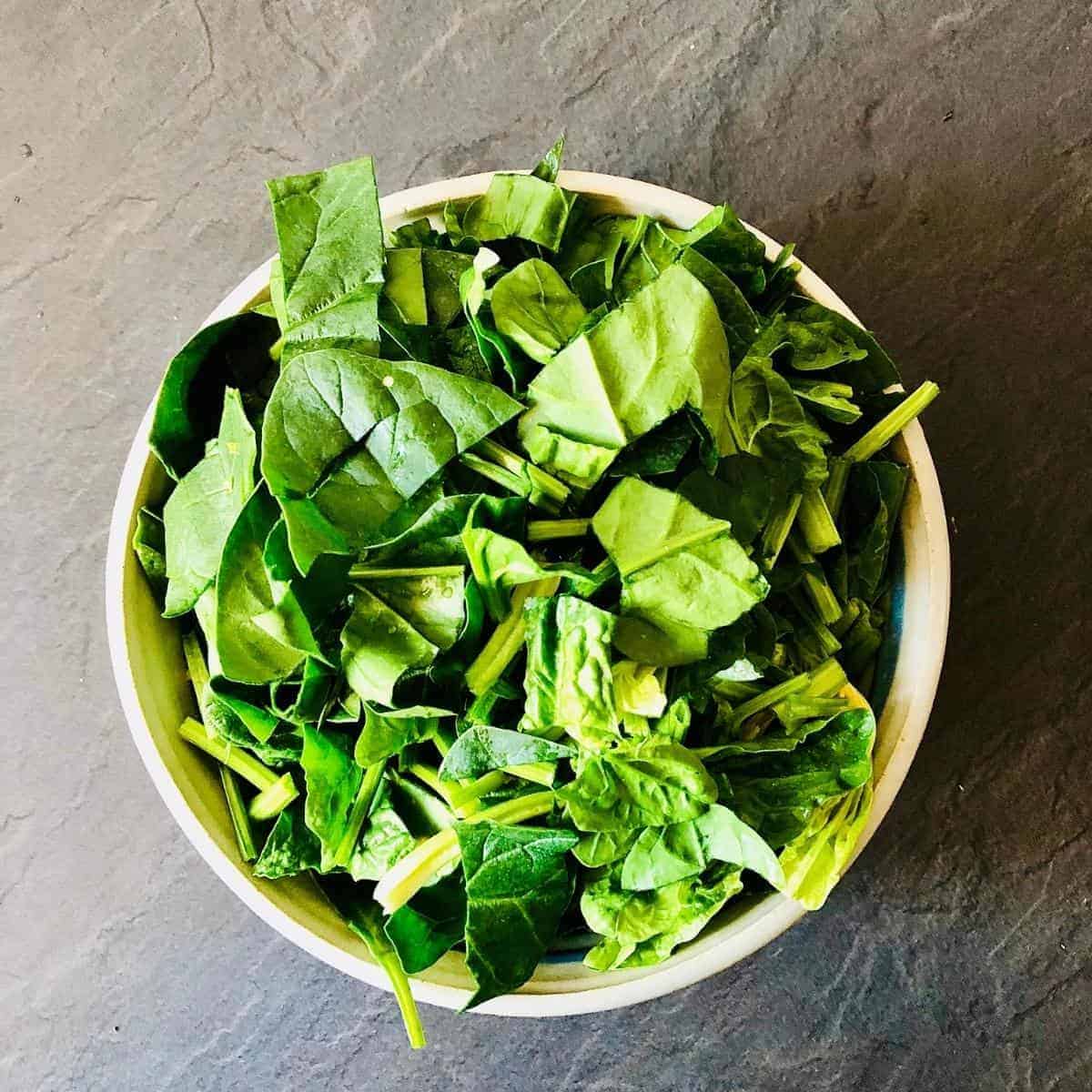 Transfer the chopped spinach to the pan of boiling water and blanch for 30 seconds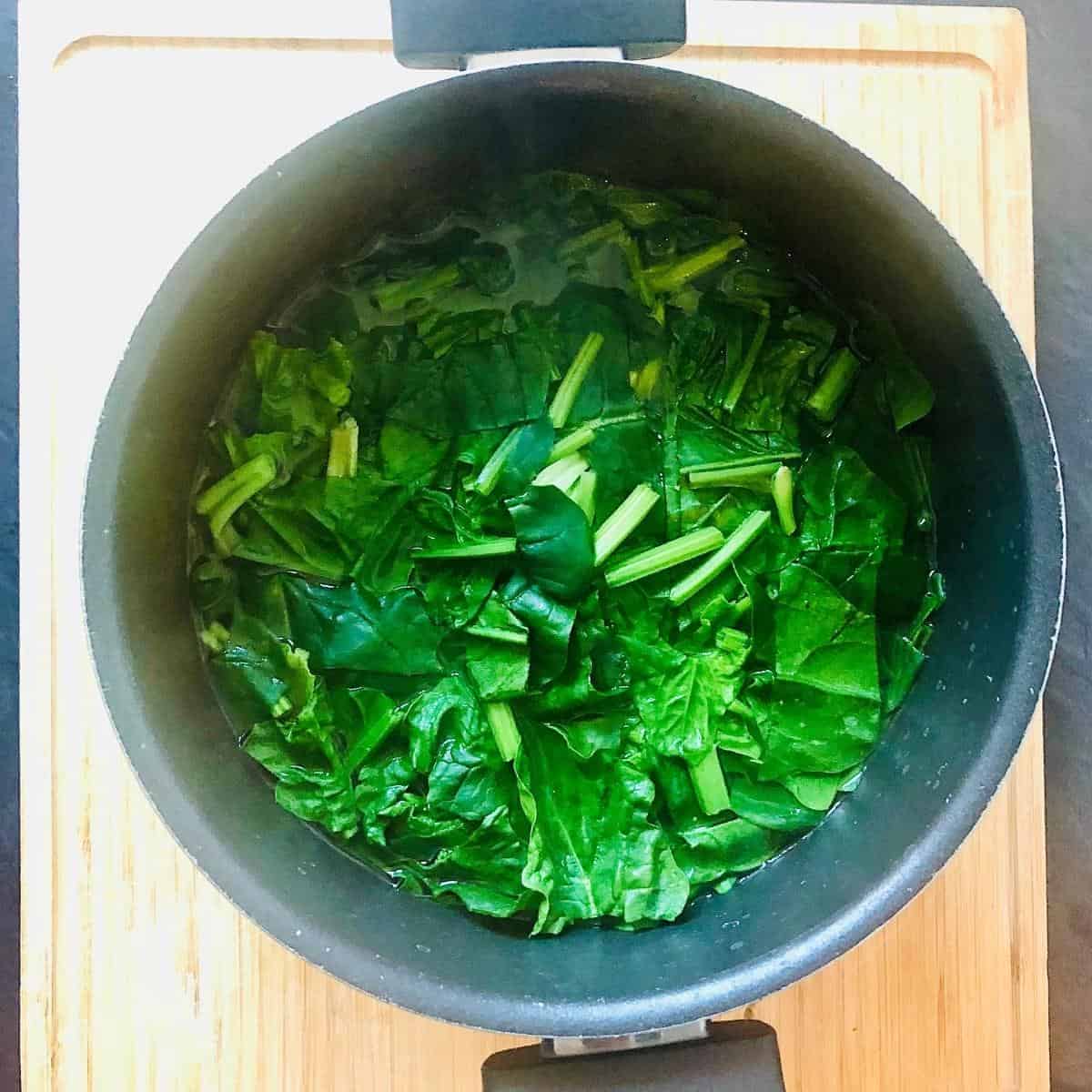 Immediately drain the spinach and plunge into an ice water bath to stop further cooking so that it retains its bright green colour.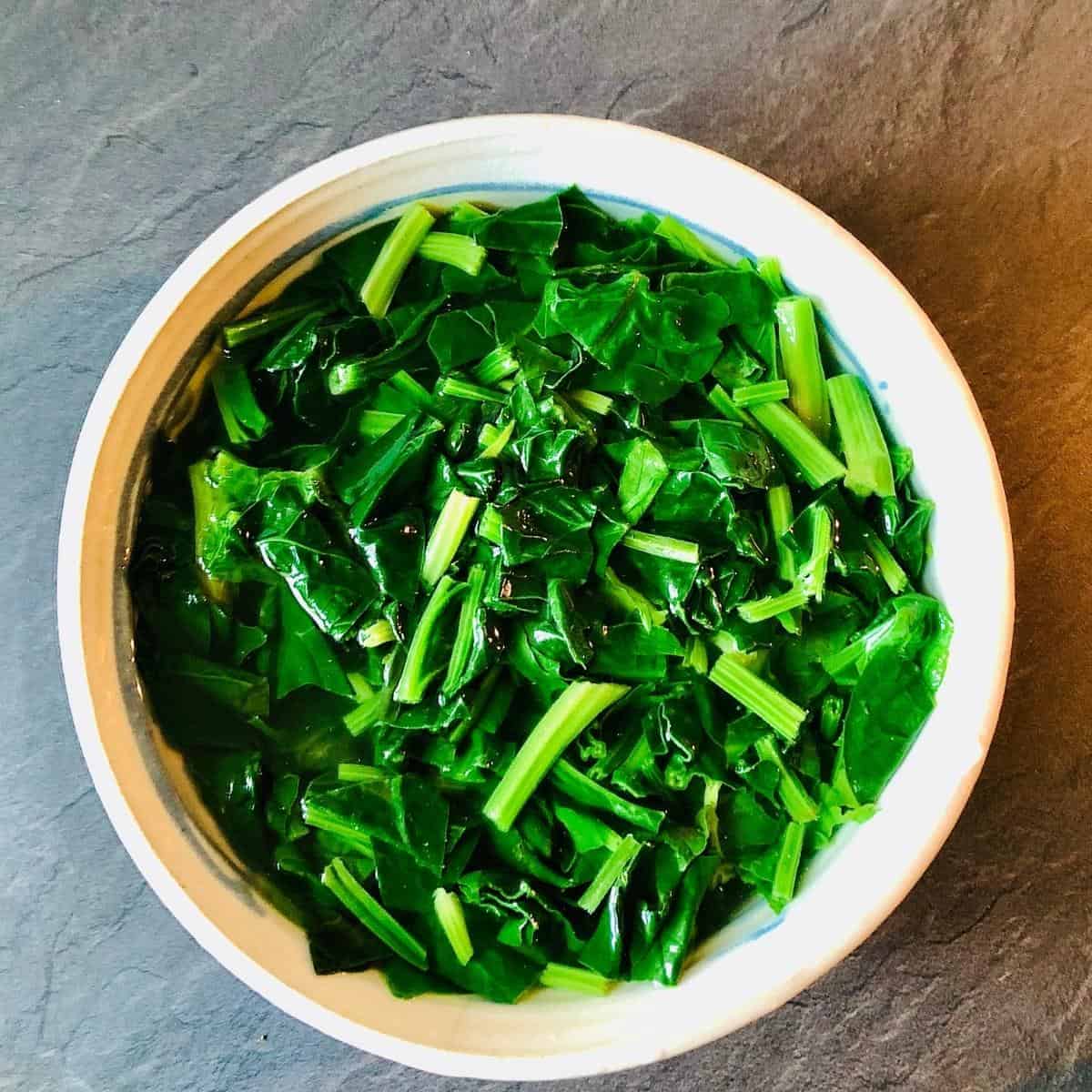 Then transfer the spinach to a blender, add approximately 50 ml of water and whiz it to a puree.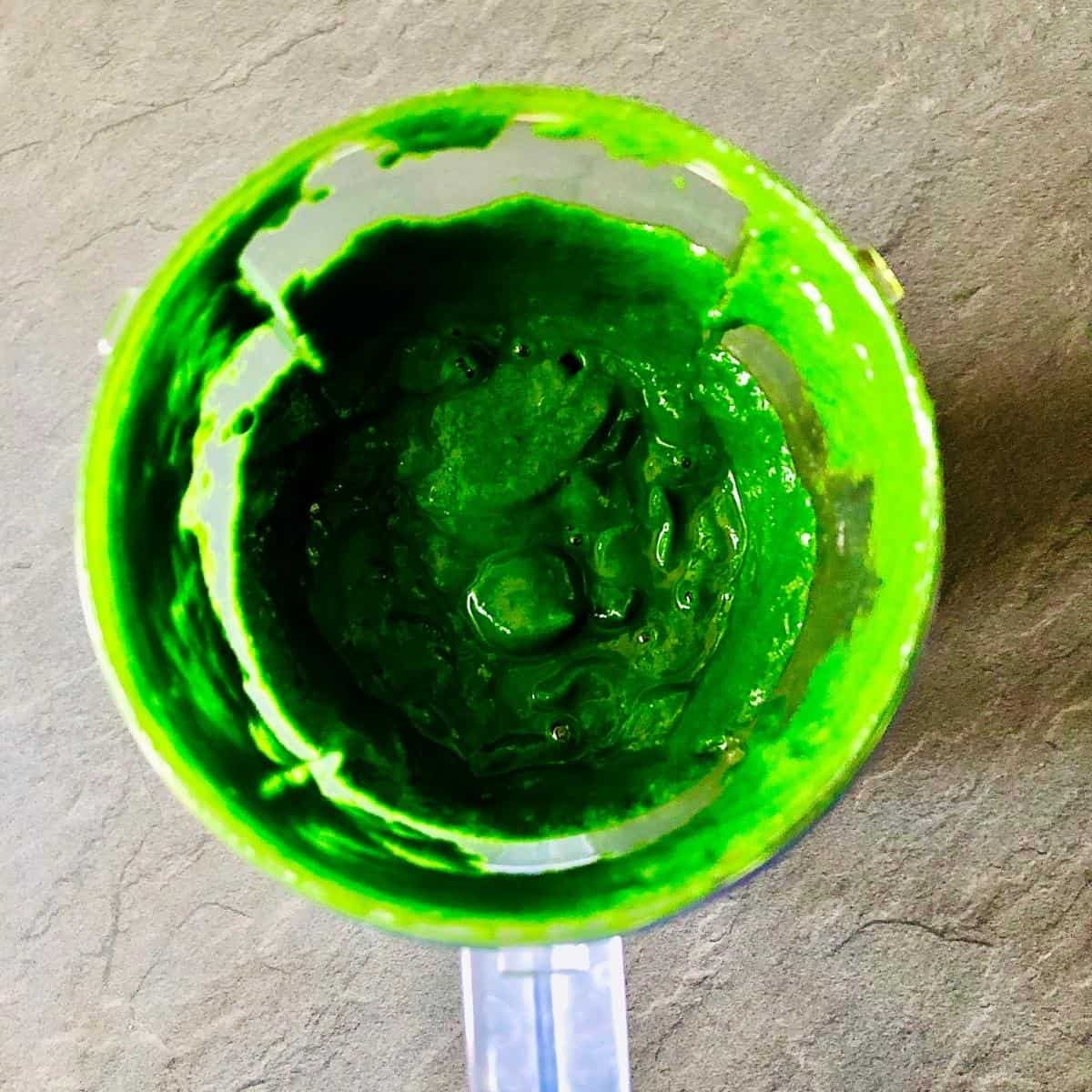 In a frying pan, heat the oil over a medium / high heat and fry the gram flour paneer (jimmikand) until they are golden brown and crispy. When done, remove from the pan.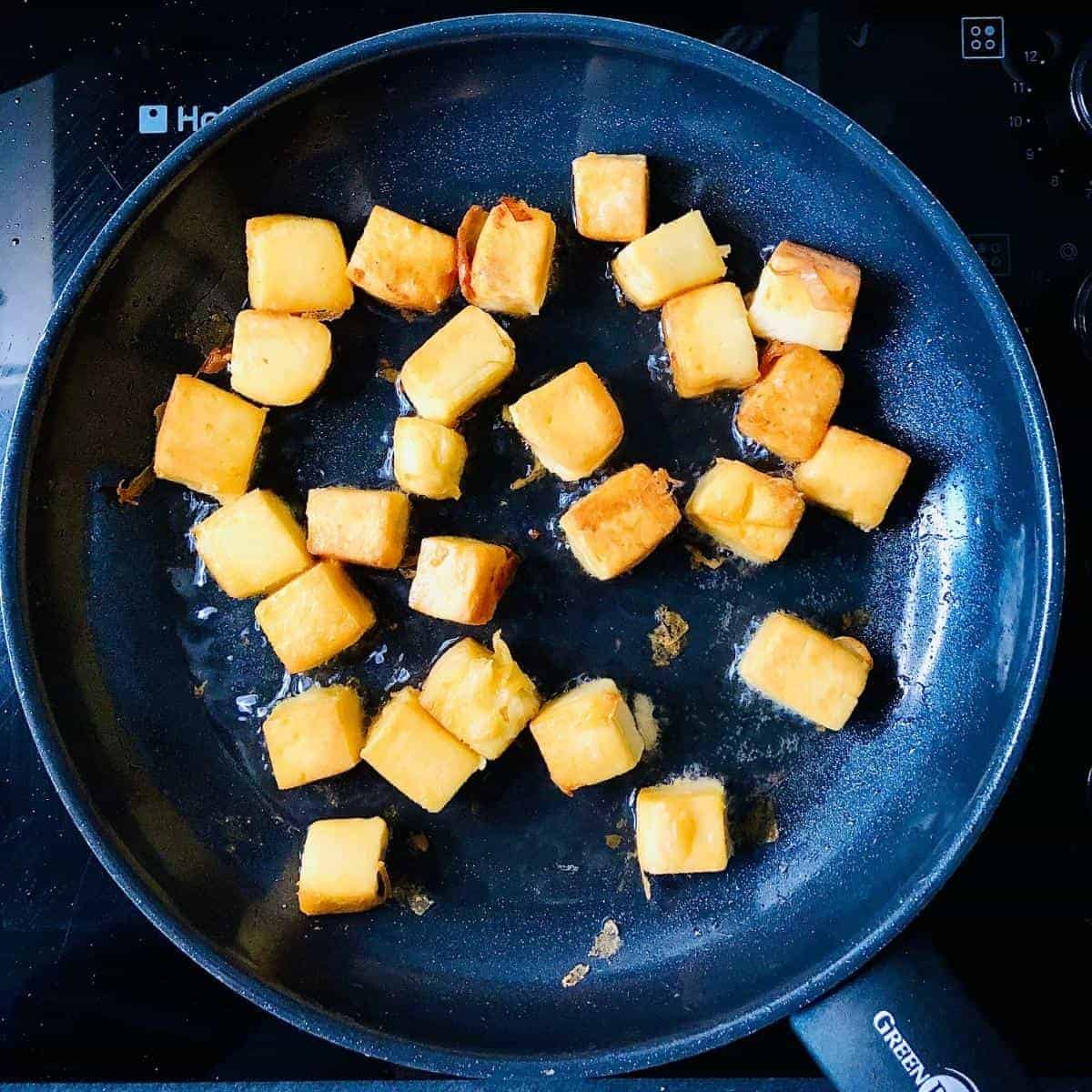 Using the same oil, add the cumin seeds and bay leaf. Cook these for a minute or two until the cumin seeds start to sizzle.
Then add the finely chopped onion and cook for about five minutes until the onion starts to caramalise (starts to go golden brown.)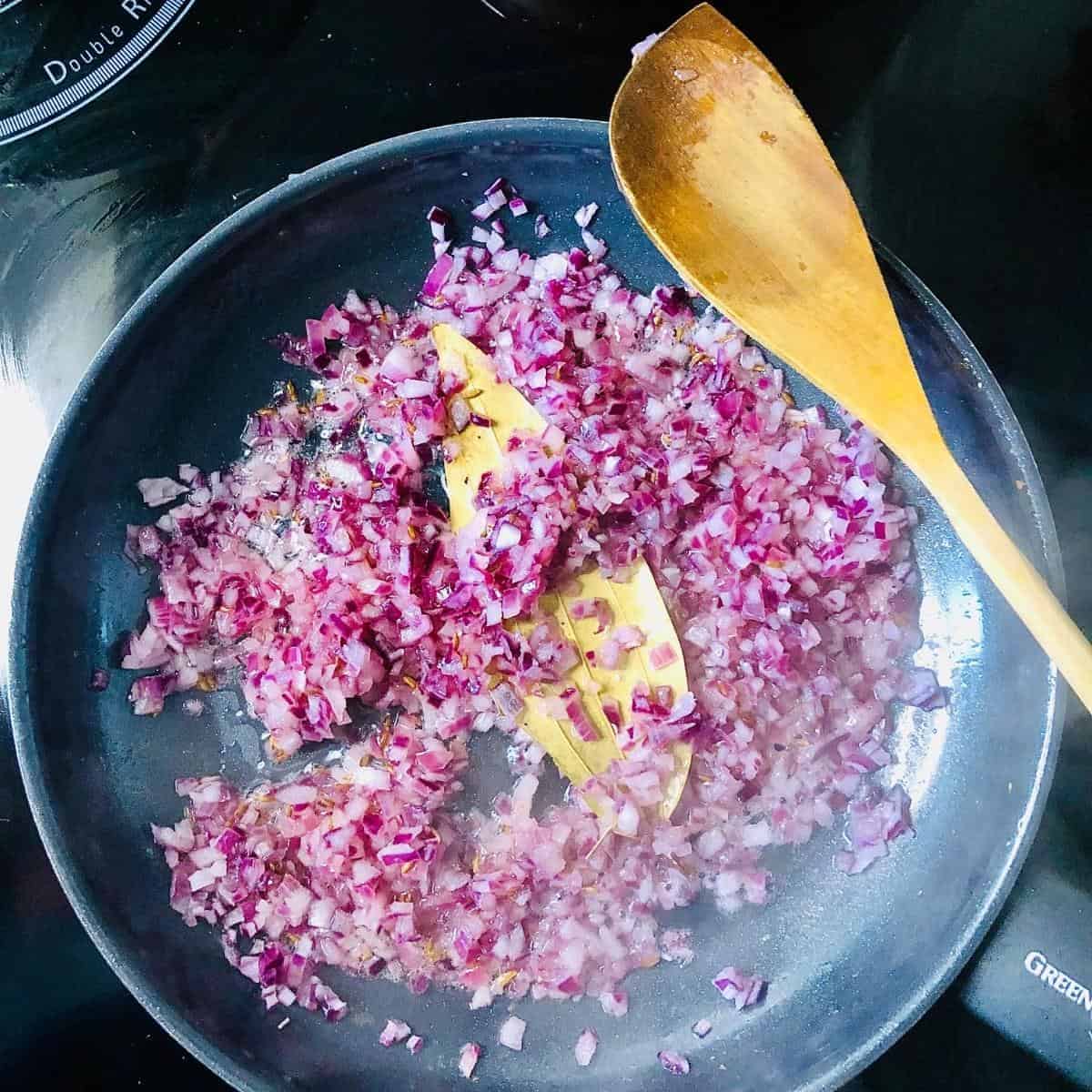 Then add the finely chopped garlic and ginger and sauté for a few more minutes.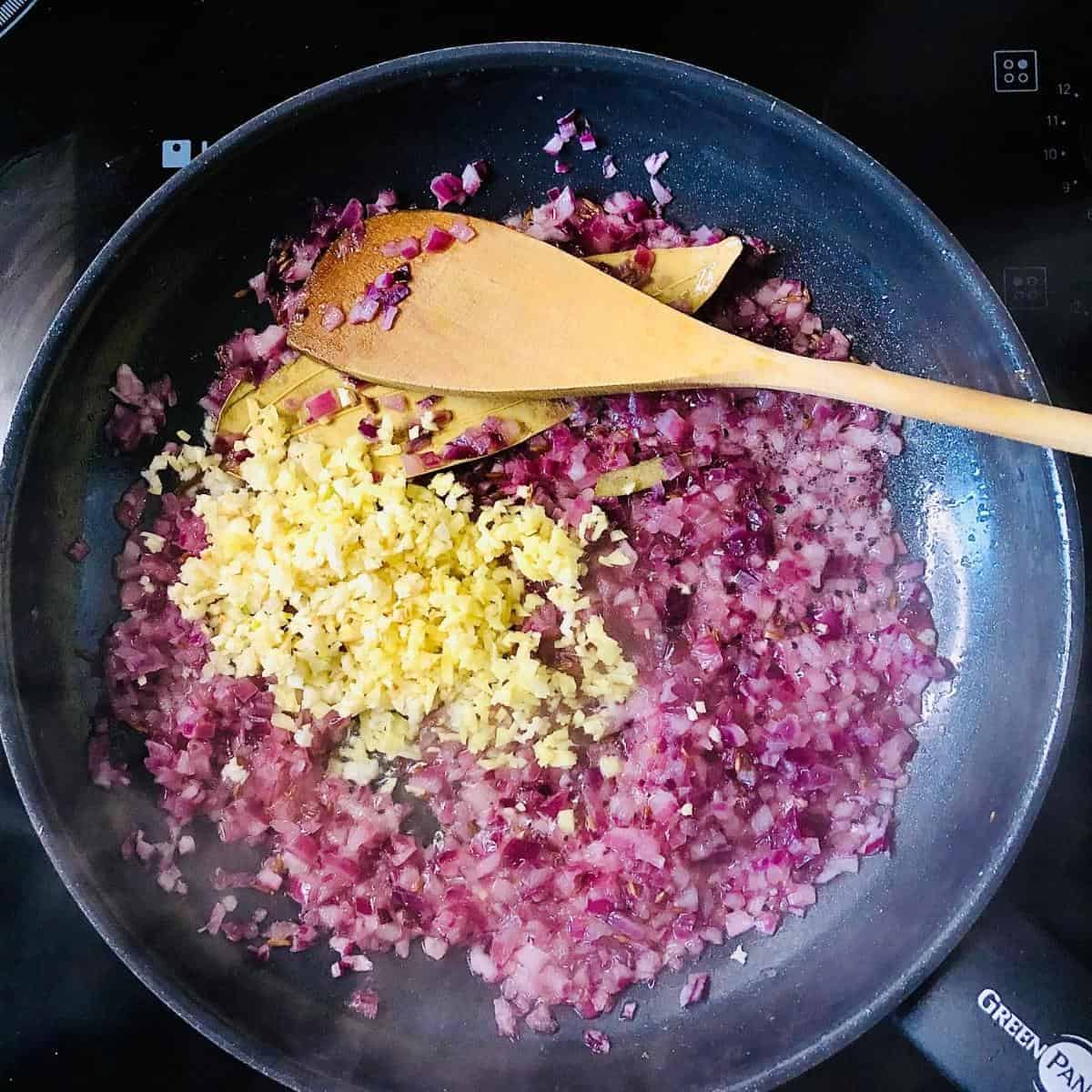 Next, add the chopped tomatoes and saute for five minutes until the tomatoes have softened.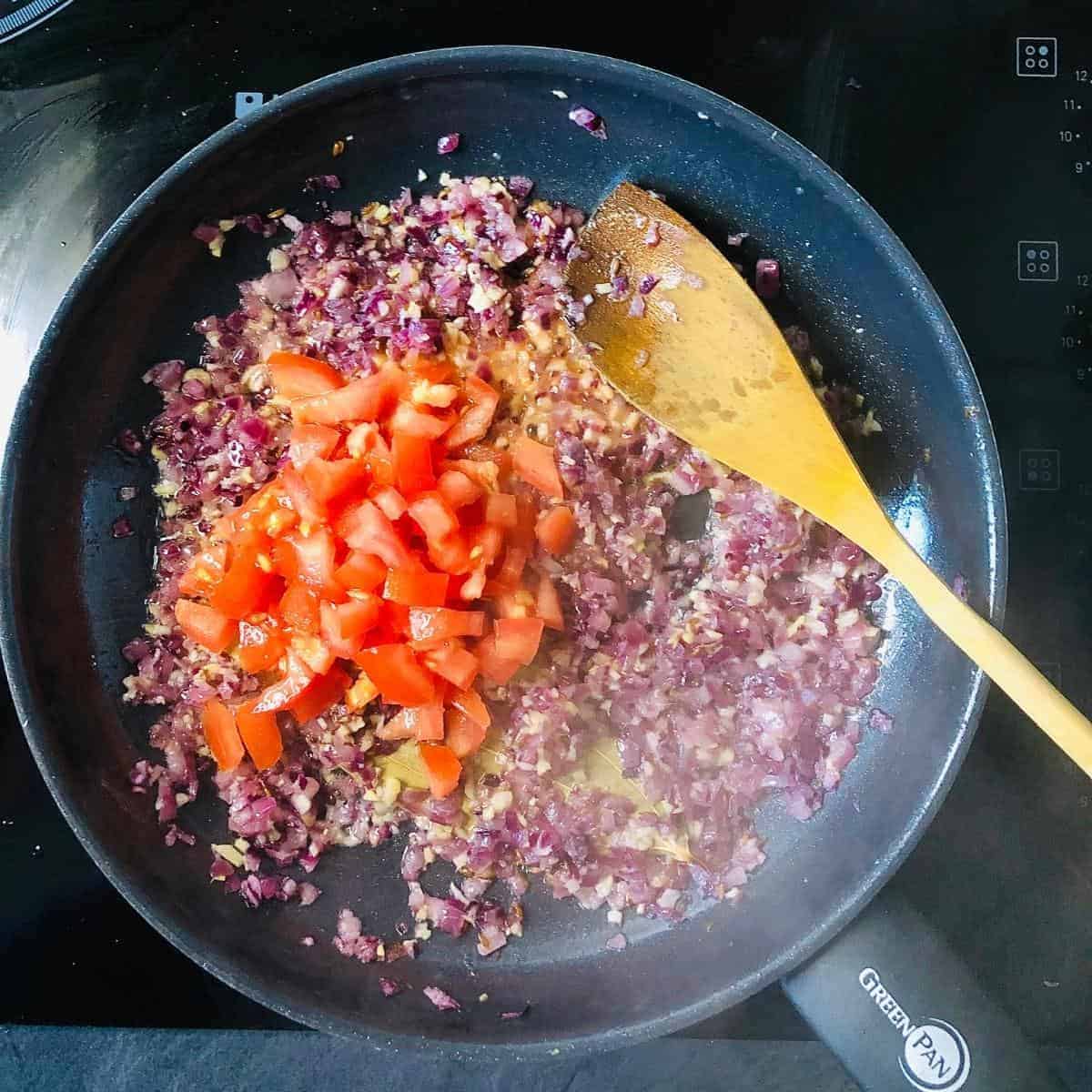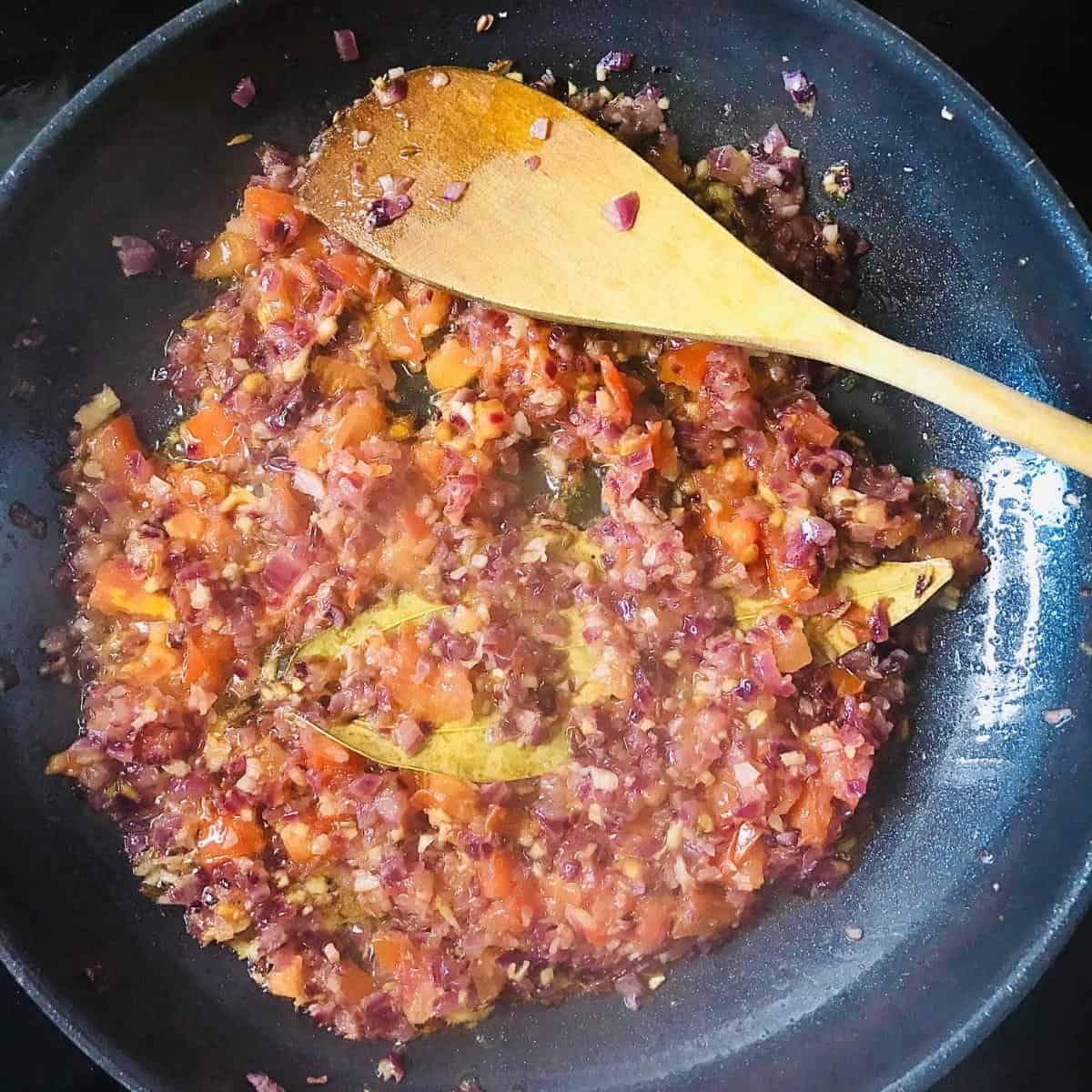 Add in the turmeric and green chilli and stir to mix.
Add in the spinach puree and cook for five minutes, stirring continuously.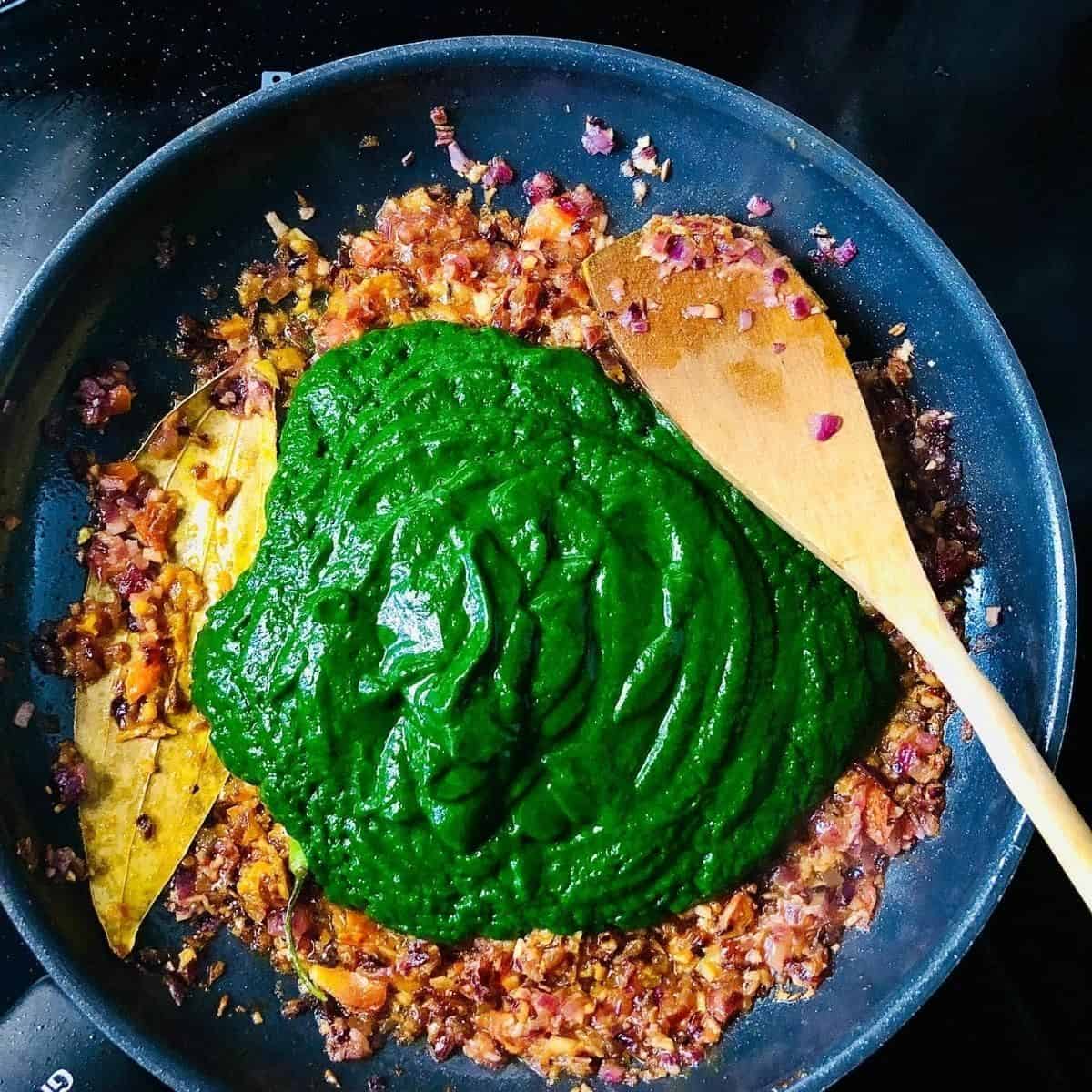 Then add the garam masala add season with salt and stir.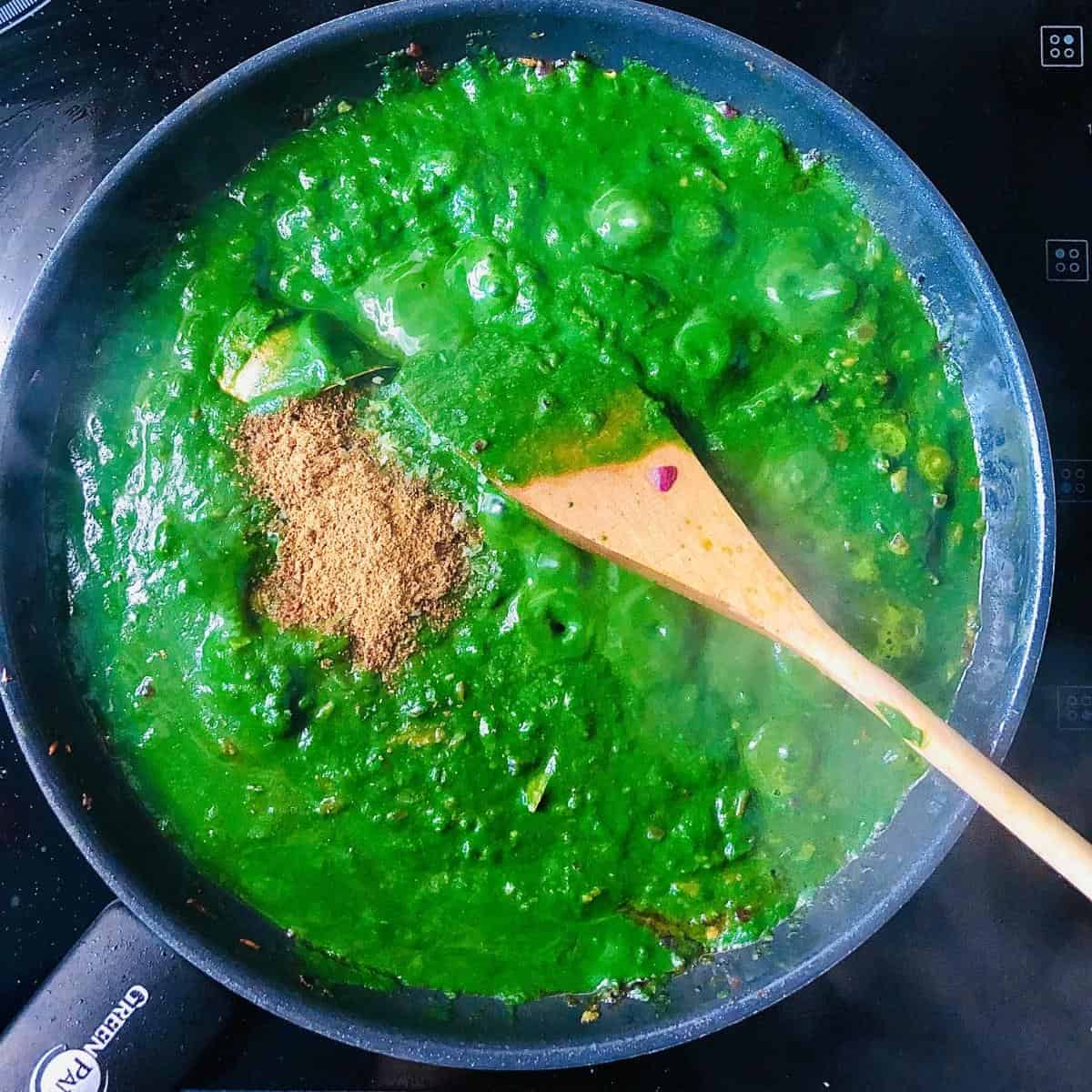 Once everything is mixed, add the fried gram flour paneer and stir in, cooking for a further two to three minutes.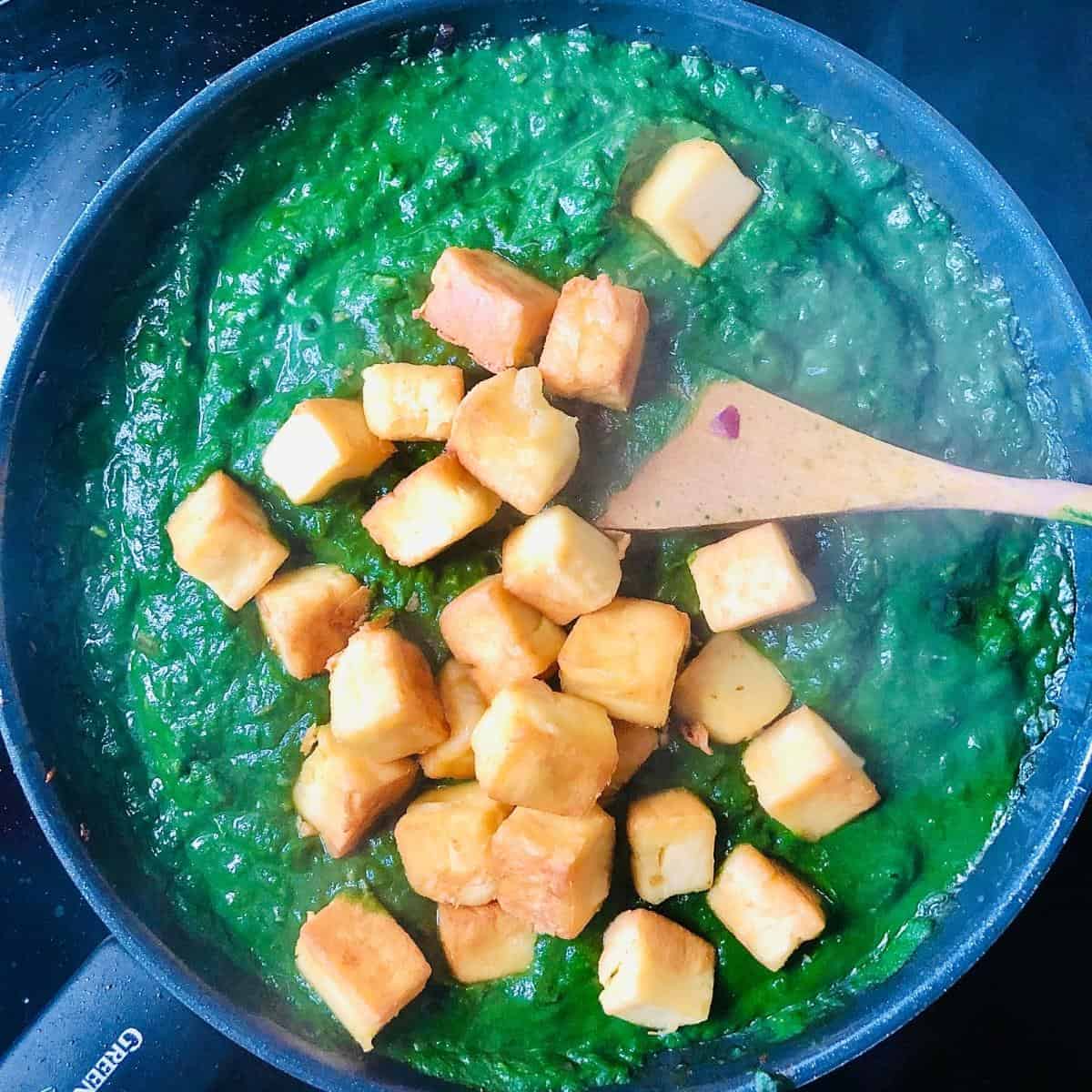 Finally, add the dried fenugreek and stir. Take off the heat.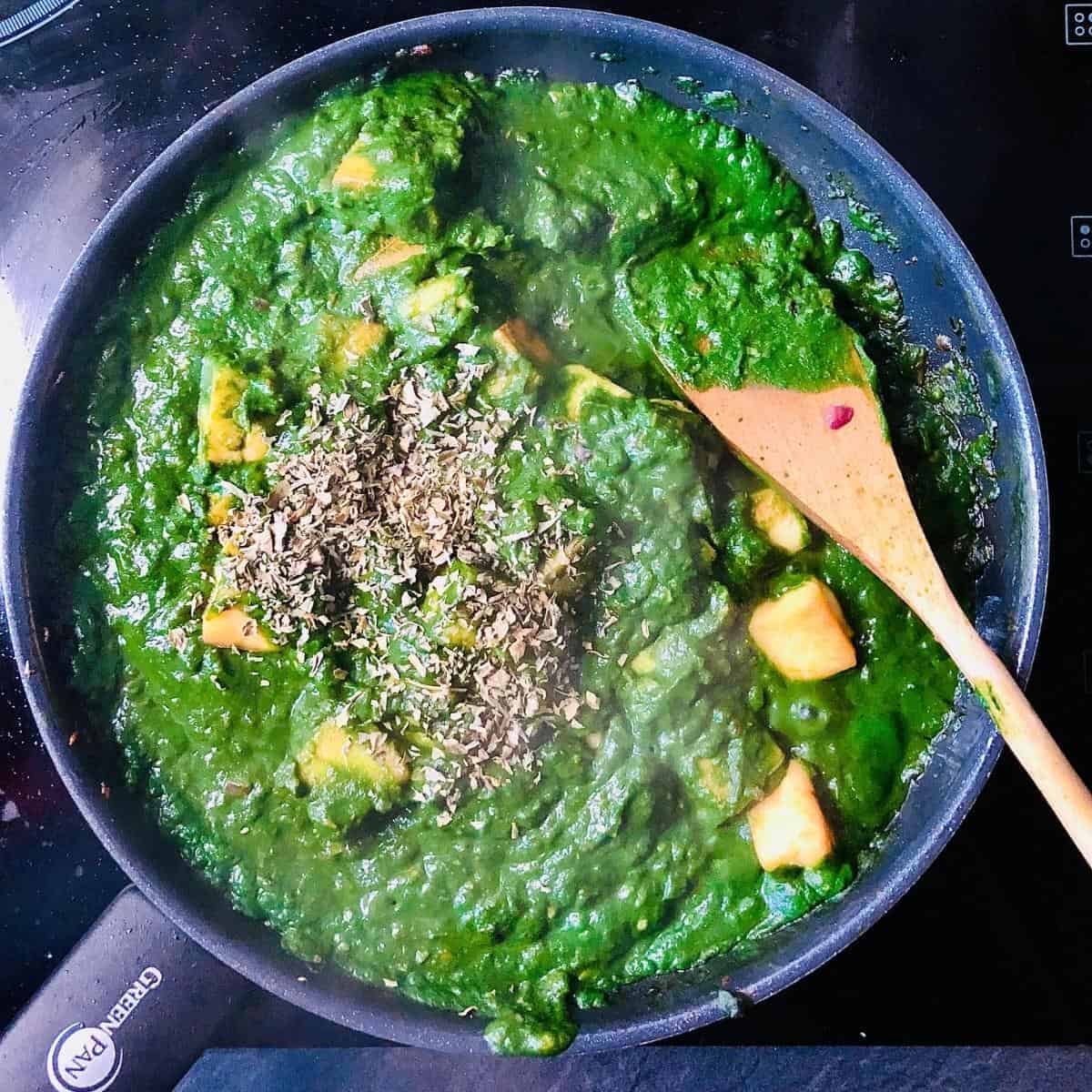 Transfer to serving plates or bowls and garnish with vegan cream if you wish.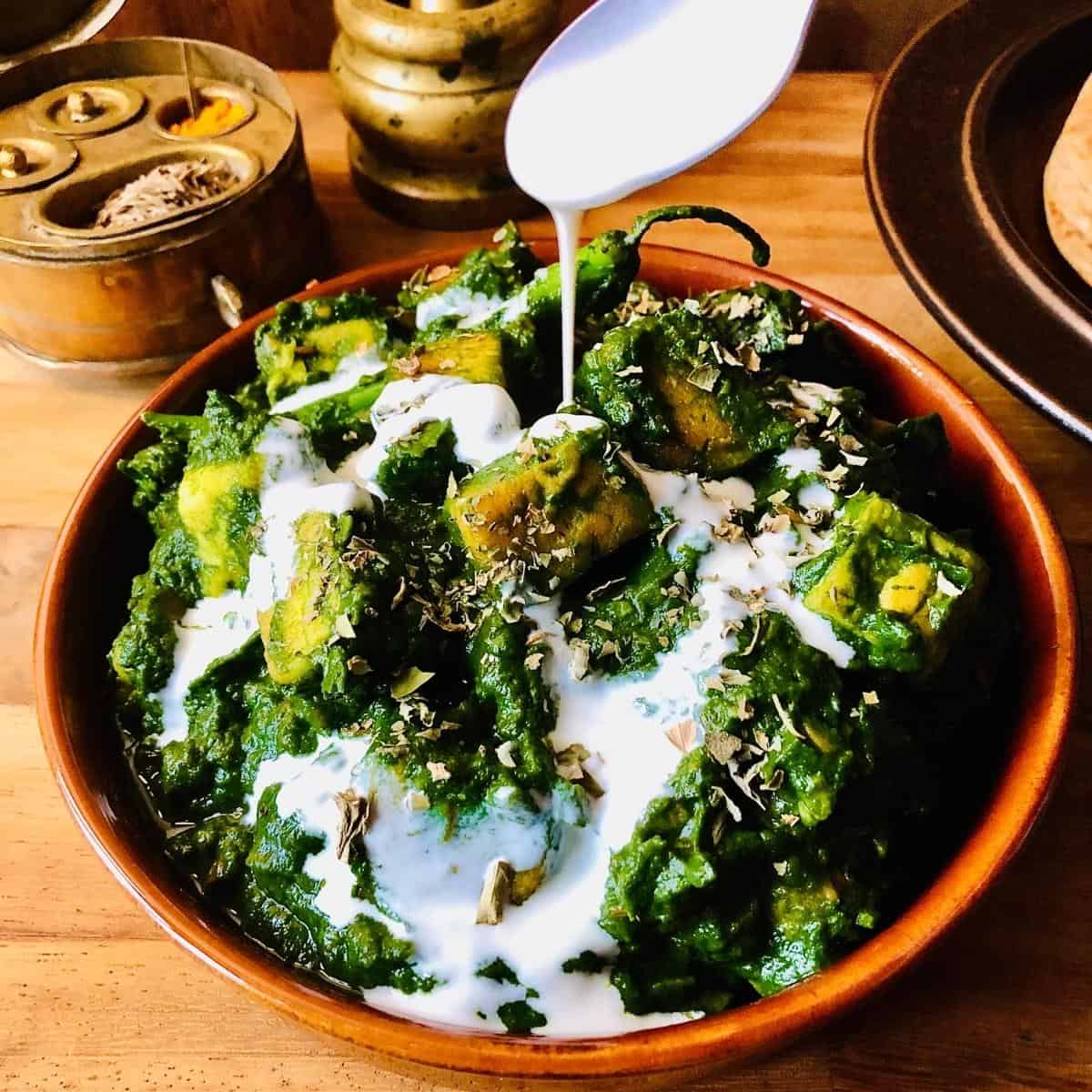 This delicious dish is equally well accompanied by plain rice or paratha flat bread.
How To Video
Here is a video guide to making palak paneer with gram flour tofu/paneer
Substitutions
You can substitute the Jimmikand with soya tofu or dairy paneer if you prefer these. Just use the same amount and pan fry before adding.
You can replace the soya cream with any dairy or non dairy cream of your choice.
I prefer to use fresh tomatoes for all my recipes, however you can easily replace fresh tomatoes with the same weight of canned tomatoes. Just drain the liquid before using it and chop them up if using canned plum tomatoes.
If you do not have tej patta, you can use bay leaves instead.
Variations
Instead of spinach leaves you can use mustard leaves instead. In India we call it Sarson ka saag. The cooking style is similar.
Equipment
I highly recommend using digital scales, then you always have the exact measurements.
Investing in a set ofmeasuring spoons is a good way to get small amounts of spices etc to the exact amount.
Storage
You can store this dish in the refrigerator in an airtight box for up to three days.
The palak or spinach sauce without the gram flour tofu freezes well.
The gram flour tofu/paneer on its own freezes well, however when you defrost it, it releases water, therefore I don't recommend freezing the spinach and gram flour tofu/paneer together.
Top tip
To retain the bright colour of the spinach, make sure you transfer the blanched spinach in a bowl of ice cold water immediately. This will stop it cooking further and will retain the bright green colour.
📖 Recipe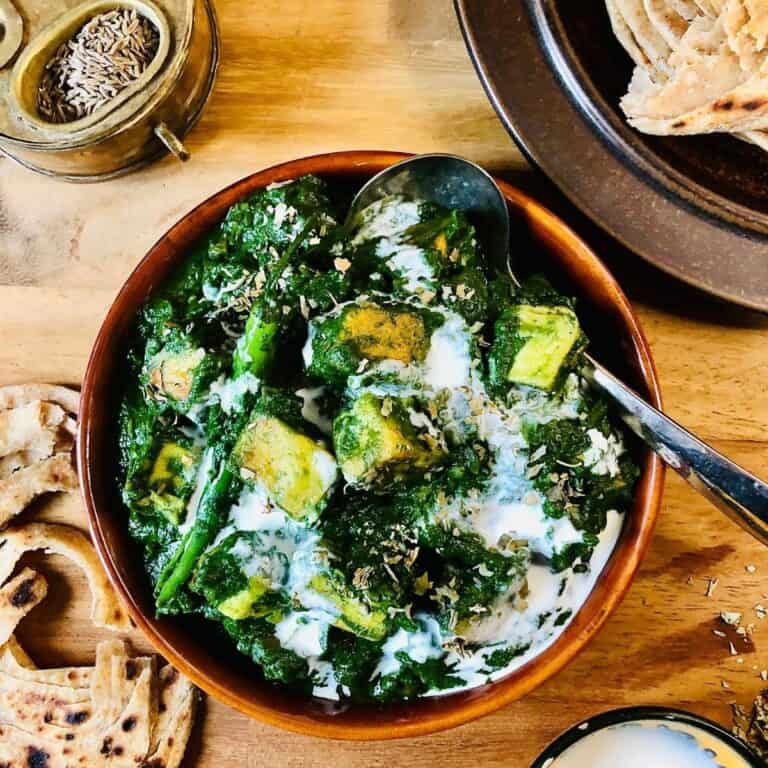 Palak Paneer With Jimmikand (Gram flour paneer / tofu)
Gram flour tofu in a creamy aromatic spinach sauce
Equipment
Digital scales

Food processor or blender
Ingredients
300

gms

Spinach

roughly chopped

100

gms

Tomato

roughly diced

125

gms

Red onion

Finely chopped

15

gms

Garlic

Finely chopped

15

gms

Ginger

Finely chopped

1

Green chilli

Slit down the centre

½

teaspoon

Cumin seeds

¼

tsp

Turmeric powder

1

teaspoon

Fenugreek leaves

1

teaspoon

Garam masala powder

1

Tej patta (Indian bay leaf)

50

gm

Oil

1

teaspoon

Salt

2

tablespoon

Dairy free cream

250

gms

Gram flour paneer cut into cubes

See Jimmikand recipe
Instructions
Bring water to a boil in a pot.

In a bowl add ice and water to create an ice water bath.

Roughly chop the spinach leaves and stems.

Blanch the spinach in boiling water for 30 seconds. Remove immediately, strain the spinach and transfer to the ice bath to cool. This step helps the spinach to stop cooking and retains the bright green colour. Save 50 ml of the water used to blanch the spinach for the puree.

Once cooled, strain the water and transfer the spinach and about 50 ml of the water to a blender and whizz the spinach to a smooth puree.

Finely chop the onions, garlic and ginger.

Roughly dice the tomatoes and set aside. Slit green chilli lengthwise, while the top still together.

Cut the Gram flour paneer into cubes.

In a pan heat the oil over a medium heat and fry the gram flour paneer pieces until golden brown on all sides. Once ready remove from the pan and set aside.

In the same pan, using the left over oil, add the cumin seeds and bay leaf.

As soon as the cumin seeds sizzle, add the chopped onions and sauté for a few minutes until they caramelise.

Add the chopped ginger and garlic and sauté for a minute or two until they soften.

Now add the chopped tomatoes, stir and sauté for five minutes till the tomatoes soften.

Add the turmeric powder and the green chilli and stir to mix.

Stir in the spinach puree and cook for five minutes while continuing to stir.

Mix in the garam masala and season with salt.

Add the fried gram flour paneer pieces and cook further for about 2-3 minutes.

Add the dried fenugreek leaves and stir. Take off the heat.

Garnish with cream and serve hot with paratha or plain rice.
Food safety
In a professional kitchen, food hygiene and safety is a top priority and from the very beginning of training I practiced good habits and routines. Of course, it is also very, very important to practice good food hygiene and safety at home. Here are some fundamental practices to adopt in the kitchen.
Wash your hands regularly while preparing, handling and cooking food
Wipe down counter tops and high contact points regularly
If you cook meat and fish, do not use the same utensils on cooked food, that previously touched raw meat. Use separate chopping boards for meat and fish. Wash your chopping boards immediately after use.
Thoroughly cook food to a minimum temperature of 165 °F (74 °C)
Don't leave food sitting out at room temperature for extended periods (more than 2 hours)
For more details of food hygiene and safety in the home, visit the UK Government's Food Standards Agency webpage.