Sometimes you need a nourishing meal without a lot of fuss. This butterbean stew delivers the flavour without many ingredients or a mountain of washing up!
One pot, throw in the ingredients, cook. Done!
The key to this tasty stew is fresh ingredients, especially herbs. I use fresh rosemary from my little balcony garden. This creamy, vegan butterbean stew is a hearty stew packed with iron and fibre and is perfect for your mid-week meal. You can eat as a main along with some sourdough or even as a side dish to your mains.
If you are a stew fan, then check out my ishtew indian one-pot stew or my raw mango, squash charchari stew.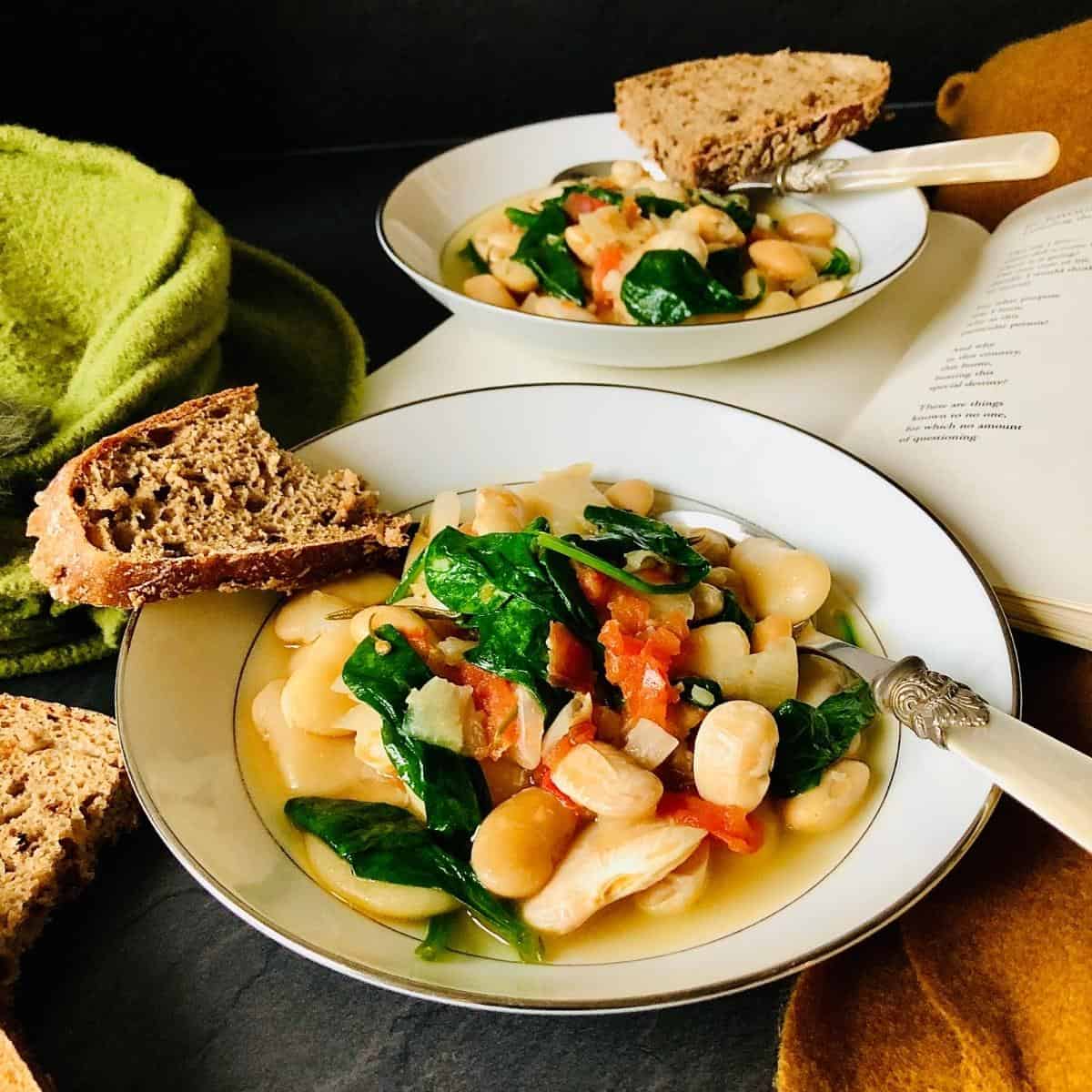 Jump to:
Ingredients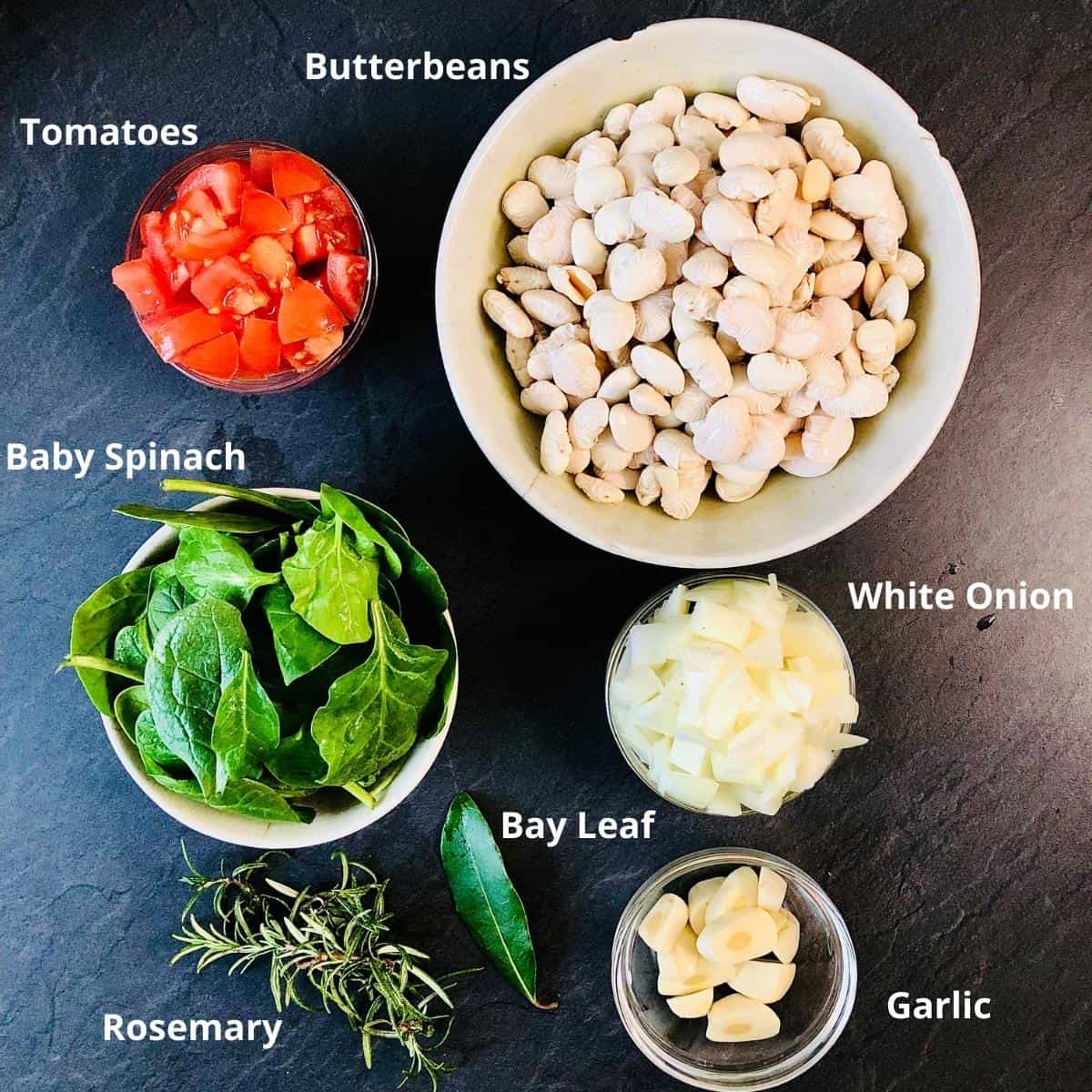 Butter beans
White onions
Garlic
Tomatoes
Rosemary
Baby spinach
Bay leaf
Olive oil
Salt and pepper
See the recipe card for quantities.
Instructions
This recipe is ideal if you don't have much time and just want to throw some ingredients into a pot and let them cook!
Before making this recipe, soak the butterbeans overnight in water, or at least six hours before you plan to make the stew.
Before cooking, prepare your ingredients.
Drain and rinse the butterbeans that have soaked overnight.
Wash the baby spinach and set it aside to dry.
Roughly dice the onions.
Peel the garlic and cut in half
Dice the tomatoes
Over medium/high heat, add the oil, butter beans, water, onions, garlic, tomatoes, rosemary, and bay leaf in a pot.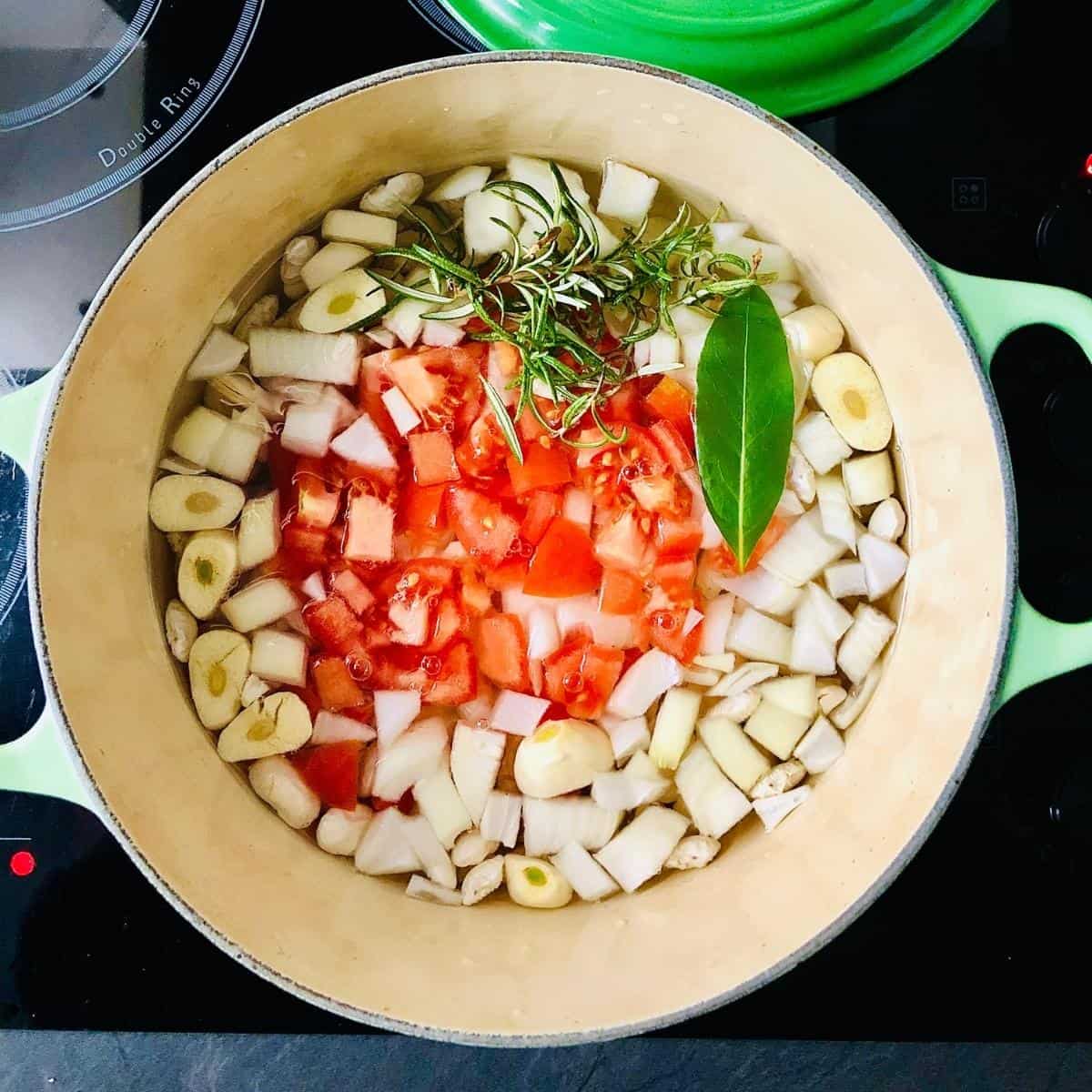 Bring to a boil and once boiling, turn the heat down. Put a lid on the pot, and simmer for thirty minutes. Add more water if necessary and stir occasionally.
Once the butterbeans are soft, season the stew with salt and pepper to taste. Cover again and cook for a further five minutes.
After about thirty minutes, once the butterbeans have cooked - they will easily break between the fingers - stir in the baby spinach and cook for a minute or two.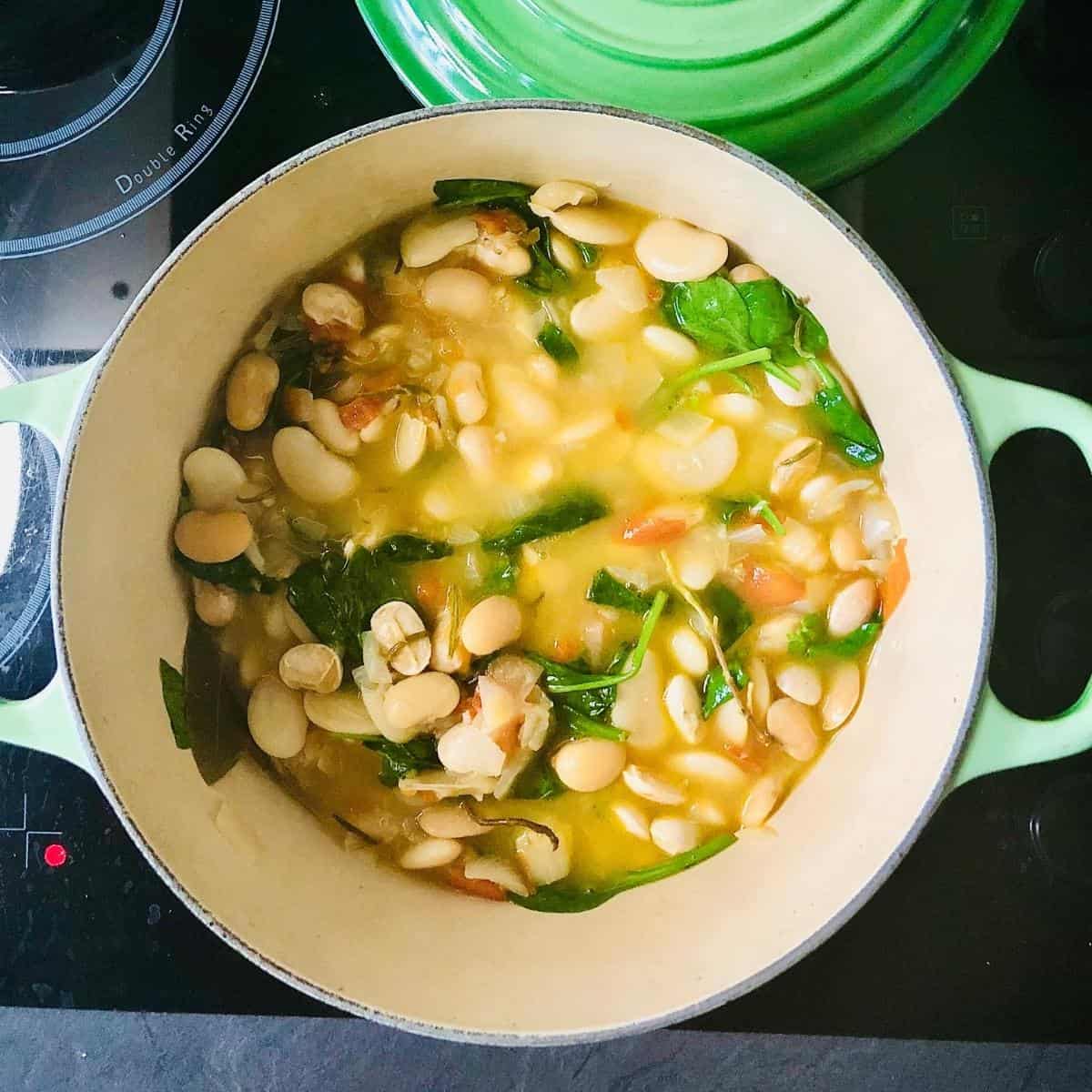 Serve the butterbean stew with bread. Sourdough is a perfect accompaniment.
How To Video
Here is a video guide to making a one-pot butterbean stew with baby spinach.
Substitutions
Tinned butterbeans can be used instead of rehydrated beans. Cooking time will reduce but, in my opinion, the flavour of the beans are affected. Tinned beans may contain preservatives, salt etc.
You can replace the butterbeans with borlotti beans or even cannellini beans; cooking time may vary.
Instead of rosemary, you can use thyme, or both if you wish.
You can replace baby spinach with rocket leaves for a more peppery flavour.
Variations
This recipe is a basic bean stew recipe; you can make it spicier if you choose by adding fresh chillies.
You can be creative; make it your signature stew by adding spices or herbs or even vegetables or a protein of your choice.
Storage
You can store the stew in the fridge for up to three days. Reheat thoroughly before serving.
You can freeze this stew without the addition of the spinach. As always, defrost overnight in the fridge before use and reheat thoroughly.
Top tip
It is essential to soak the butterbeans; this helps them cook faster, reduces bloating and improves digestion.
A heavy bottom pot helps the stew cook slowly, making it more flavourful. Fresh ingredients are what gives this stew flavour, especially fresh herbs.
📖 Recipe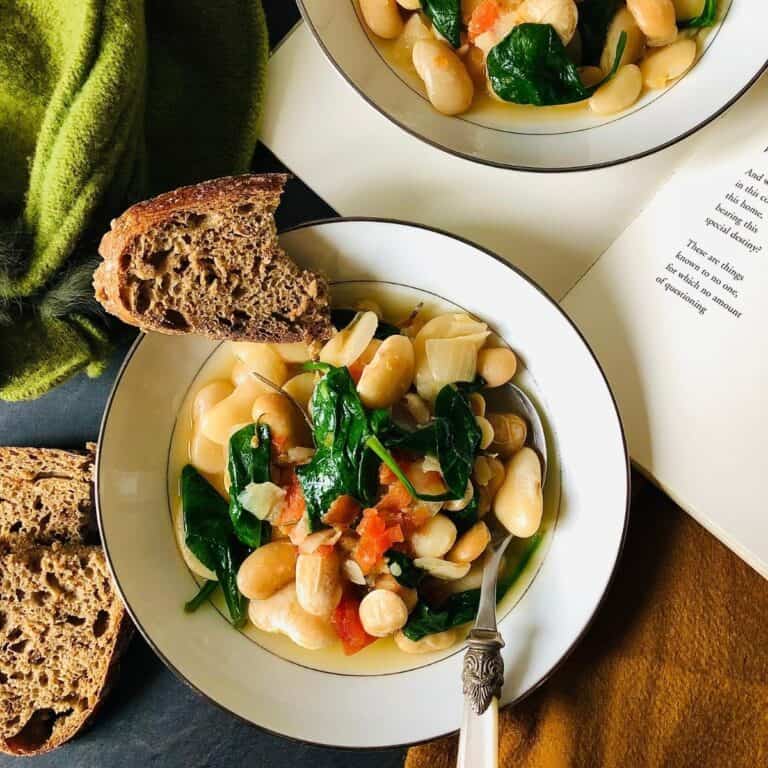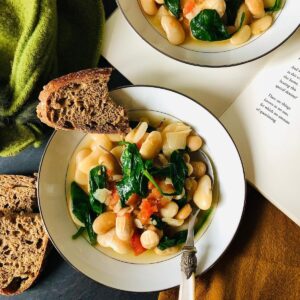 One-Pot Butter Bean Stew
Easy and simple butter bean stew with baby spinach.
Ingredients
300

gms

Butterbeans

dried

150

gms

White onion

120

gms

Tomatoes

25

gms

Garlic

5

gms

Rosemary

one sprig

50

gms

Baby spinach

1

Bay leaf

20

ml

Olive oil

1½

teaspoon

Sea salt flakes

½

teaspoon

Pepper

1

lt

Water
Instructions
Wash and soak the butterbeans overnight, or a minimum of six hours.

Peel and roughly dice the onions.

Peel the garlic. If cloves are too big, cut them in half.

Roughly dice the tomatoes, along with the seeds.

Wash the baby spinach and leave to dry.

Rinse and drain the butter beans.

In a pot over a medium/high heat, add the butterbeans, water, onions, garlic, tomatoes, rosemary, bay leaf and olive oil. Cover and bring to a boil. The moment it comes to a boil, reduce the heat and simmer for 30 minutes.

Check the stew after 20 minutes to ensure it has enough water. Continue cooking for another 10 minutes.

Once the butterbeans are soft to the touch, season with salt and pepper.

Cover and cook for another 5 minutes.

Once the butterbeans are tender and easily break, the stew is ready.

Stir in the baby spinach just before serving.

Serve hot with sourdough.
Food Safety
In a professional kitchen, food hygiene and safety is a top priority, and from the very beginning of training, I practised good habits and routines. Of course, it is also very, very important to practice good food hygiene and safety at home. Here are some fundamental practices to adopt in the kitchen.
Wash your hands regularly while preparing, handling and cooking food
Wipe down counter tops and high contact points regularly
If you cook meat and fish, do not use the same utensils on cooked food, that previously touched raw meat. Use separate chopping boards for meat and fish. Wash your chopping boards immediately after use.
Thoroughly cook food to a minimum temperature of 165 °F (74 °C)
Don't leave food sitting out at room temperature for extended periods (more than 2 hours)
For more details of food hygiene and safety in the home, visit the UK Government's Food Standards Agency webpage.