My challenge: To make a dairy free Labneh
Labneh is a creamy yoghurt cheese from the Middle East. Yoghurt from cow's milk is hung in muslin cloth overnight to remove the whey. As a result, Labneh is produced with a consistency between yoghurt and cheese. Using this process, the sour yoghurt taste is retained. Different flavours are obtained from different types of milk, for instance, goat, sheep, or even camel!
Jump to: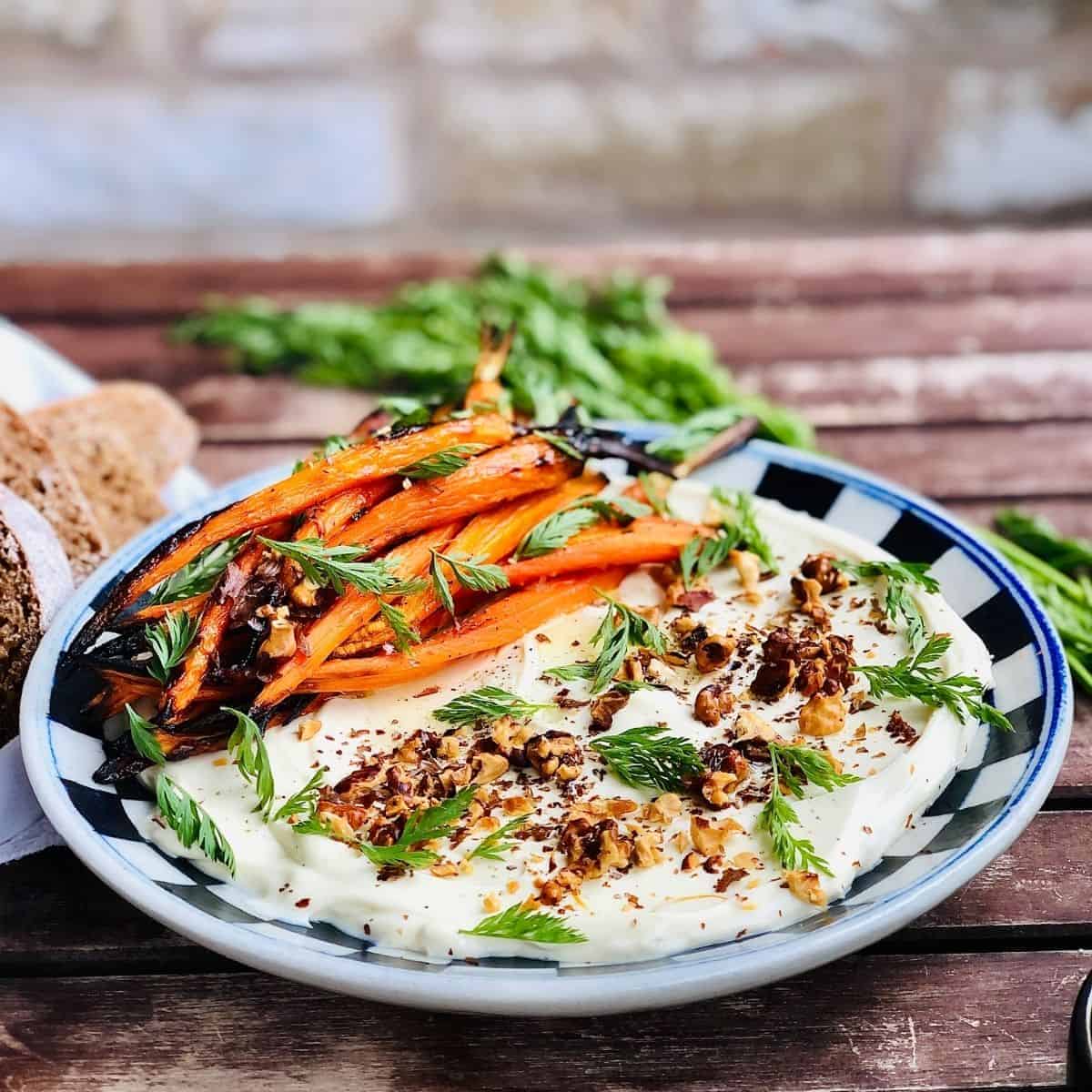 Creating A Dairy Free Labneh
This dairy free Labneh had to retain the thick creamy texture and sour taste. I experimented with coconut and soy yoghurt but they simply did not have the sour taste of the dairy yogurt, nor the desired creaminess. Another problem with store bought vegan yoghurt is, most brands use a myriad of ingredients to thicken the yoghurt, to improve the texture.
Back to the drawing board. I then tried oat milk yoghurt.
Success!
Achieving the texture and taste with vegan yoghurt was indeed a challenge. Coconut or soy yoghurt simply don't lend themselves well to straining. I contemplated making my own yoghurt to achieve that thick creaminess. However, I decided to give one more option a go: Oat milk yoghurt. For this dairy free Labneh, I used Oatly (this in not a product placement!) Much to my amazement the yoghurt held well after straining and I hardly had any whey or liquid drain compared to dairy yoghurt. To be perfectly honest, I could hardly tell the difference between dairy and dairy free yoghurt Labneh. The straining process takes about four and a half hours.
There are so many ways you can pimp up your Labneh. For this recipe I decided to use saffron. Saffron not only gives it that warm golden hue, it also gives it a delicate taste similar to honey.
By adding the elderflower vinegar to the olive oil for the roasting of the baby carrots, floral notes were introduced to the flavour. You can make elderflower vinegar from the flowers of elderflower, however, the flowering season has now passed. Never fear though, you can buy if from Bellow Wild Food, my favourite wild food product seller!
A sprinkling of chopped walnuts to the Labneh adds some texture and introduces an earthy flavour.
This dairy free Labneh would make a great side dish, tapas appetiser or snack. Why not slice some fresh sourdough bread to enjoy with it.
If you liked the Labneh, then head on over to my Labneh with grilled Broccoli and baked feta.
How-To Video
Here is a visual guide to the dairy free Labneh with bay carrots and walnuts
📖 Recipe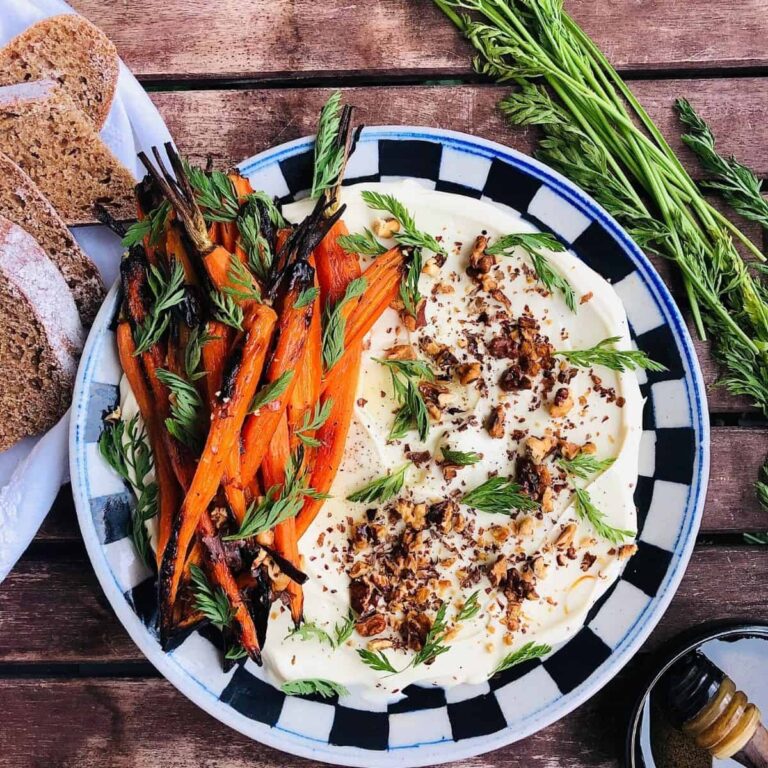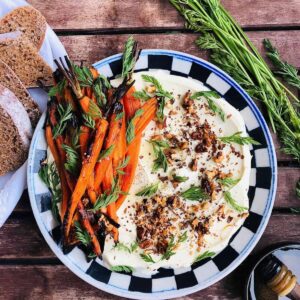 Dairy Free Homemade Labneh With Baby Carrots & Walnuts
A Dairy free alternative to the classic Labneh. Accompaned by baby carrots roasted in elderflower vinegar. A delicious starter, side dish or snack.
Ingredients
300

gms

Baby carrots

250

gms

Greek style Oat yoghurt

I used Oatly. After straining you should be left with 200 gms Labneh

A few Walnuts

crushed between your fingers

1

tablespoon

Elderflower Vinegar

1

tablespoon

Maple syrup

1

tablespoon

Olive oil

Saffron, a few strands

warmed in a teaspoon of hot water

Salt and pepper to taste

1

teaspoon

extra virgin olive oil

a few sprigs of parsley
Instructions
Place a double layered muslin cloth over a fine strainer, set over a bowl.

Transfer the yoghurt onto the centre of the muslin cloth. Bring all four sides of the cloth onto the centre and tie the ends, not too tightly. This will prevent the air from getting in.

Set aside the yoghurt in the fridge for a minimun of 4 hours. You can either leave it on top of the sieve with a bowl underneath or hang it in the fridge with a bowl underneath to catch the whey.

Peel carrots and add olive oil, elderflower vinegar, salt and pepper and roast in oven at 200ºC for about 20 minutes. Once ready, set aside to cool.

Remove Labneh from muslin cloth and transfer to a bowl. Season with some salt. Add saffron strands to a bowl and a teaspoon of warm water, this will release the colour and flavour of the saffron. add this water and saffron mix to the labneh and mix well.

To serve, transfer Labneh to a plate. Add some good quality extra virgin olive oil. ( optional, but highly recommended ), some freshly ground pepper. Now crush some walnuts between your fingers and sprinkle over the Labneh. Finally add your roasted baby carrots and garnish with parsley spigs.

Serve with a side of either sourdough or pita bread.
Ingredient Variations
Of course, if you prefer, you can use a dairy yoghurt. Choose a full fat Greek Yoghurt.
If you are unable to get hold of elderflower vinegar, I would recommend using apple cider vinegar.
Storage
If stored in a an airtight container, this dairy free Labneh can stay in the fridge for up to three days. Possibly longer, however my recommendation is three days. If you do decide to keep it longer, then I recommend storing it covered with olive oil, like we do in professional kitchens based on health and safety guidance.