In one of my first jobs as a chef, I had the good fortune to work with a master tandoor chef. He taught me a lot about cooking tandoori food and using spices and techniques specific to a tandoor (the tandoor is a cylindrical clay oven for baking and cooking over charcoal.) This roasted cauliflower salad is one of the recipes I learned from him. This recipe is my version of it; however, the technique is what I learned from this tandoori master.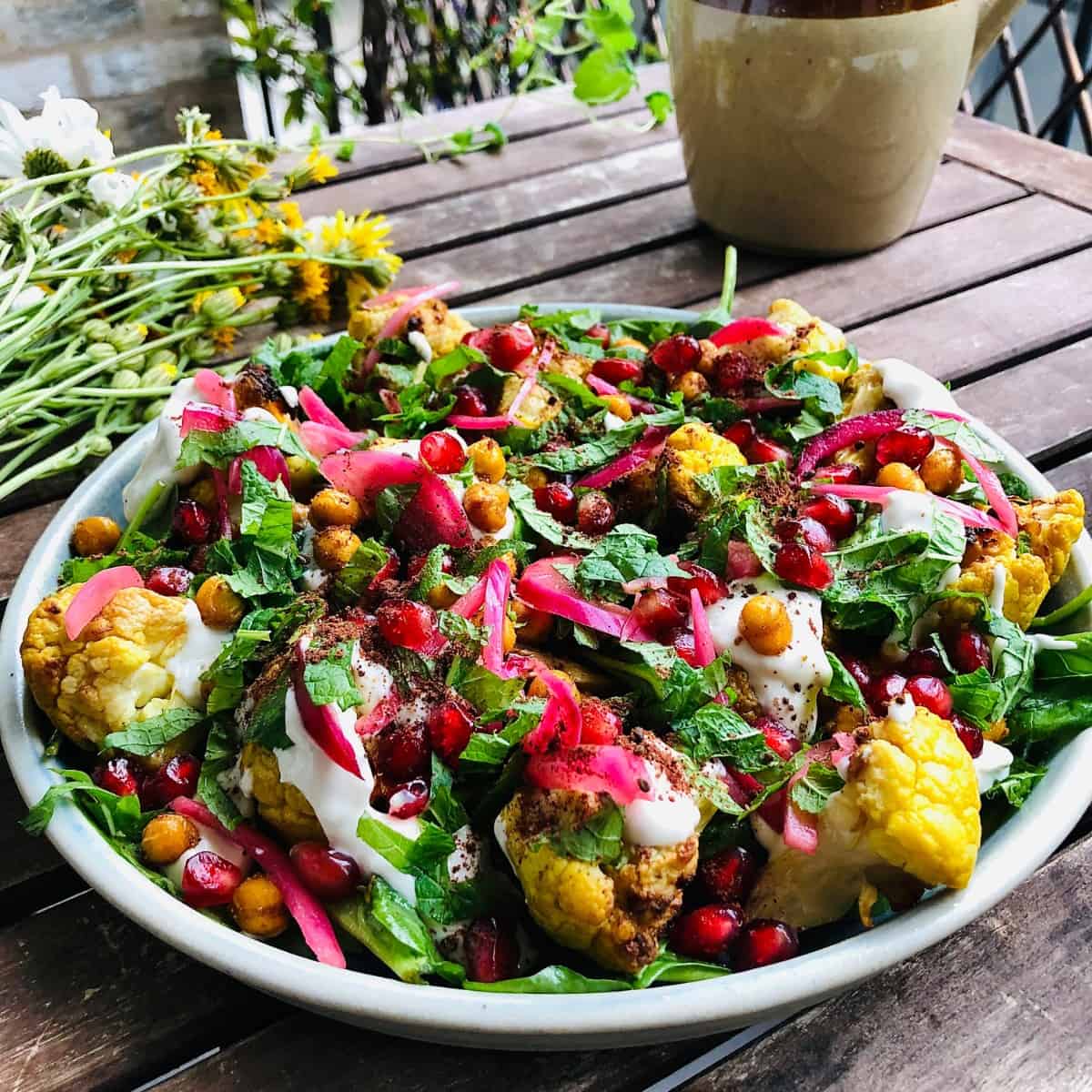 Jump to:
A Salad Gets The Tandoori Treatment
I (and I can imagine a lot of you) don't have access to a tandoor to make this roasted cauliflower salad. However, you can achieve a similar flavour with an oven. The Cauliflower is essentially a blank canvas to which we add another layer of flavour with the tandoori technique.
The technique involves the process of infusion. We infuse the cauliflower in whole spices and then roast it. This process adds depth to the taste, aroma and flavour.
We add another round of flavours and colours with pomegranate and herbs. In addition, roasted chickpeas add a little crunch. So with the smell of the spices, the explosions of flavour and vivid colours, this roasted cauliflower salad recipe is an absolute pleasure for the senses.
Not only do I use this as a salad recipe, but also as a filling for wraps.
Right then, let's cook!
How-To Video
Here is a video guide to making your spice-infused roasted cauliflower salad.
📖 Recipe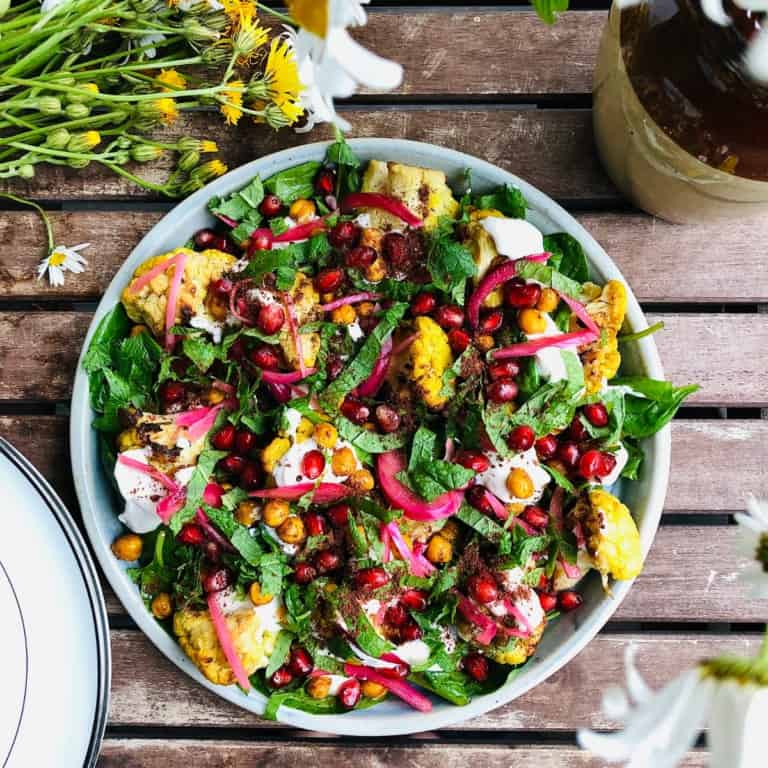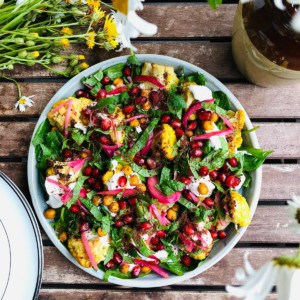 Spice Infused roasted Cauliflower Salad
Dairy free spice infused roasted cauliflower salad with chickpeas and herbs
Ingredients
Spice Infusion
400

gms

Cauliflower

One head

1.5

inch

Cassia bark

6

Cloves

¼

tsp

Turmeric

1

Javitri or Mace

1

Black cardamom

7

gms

Garlic

12

gms

Ginger

1

Tej patta or indian bay leaf

750

ml

Water

1

teaspoon

Salt
Salad
50

gms

Roasted Chickpeas

50

gms

Baby spinach

20

gms

Mint leaves

20

gms

Pomegranate

20

gms

Pickled onions

½

teaspoon

Sumac

20

gms

Dairy free yoghurt
Roasted chickpea
50

gms

Boiled chickpeas (or canned)

1

teaspoon

Olive oil

1

teaspoon

Cumin powder

½

teaspoon

Turmeric powder

½

teaspoon

Kala namak

¼

teaspoon

Chilli powder
Instructions
Infusing the Cauliflower
In a large pot add all the spices, salt and water and bring to the boil.

Remove the outer leaves of cauliflower and trim the bottom stem to where the florets start.

Place the cauliflower tail down into the boiling spice infused water and cover with a lid. During this process, our aim is to not cook the cauliflower. It will become a bit softer, but will still hold firm.

Turn off the heat and let it rest for 10 minutes, with the lid on.

Turn the cauliflower, with the head immersed in the spice liquor and let it rest for another 10 minutes, again with the lid on.

Remove the lid and leave the cauliflower to infuse in spices for at least one hour.

Pre heat the oven to 200ºC ( Fan assisted oven )

Remove the cauliflower from the spice infusion and cut into large florets.

Arrange the cauliflower florets onto a baking tray, leaving enough space in between each floret.

Roast in the oven for 20-25 minutes until you have a nice golden brown colour and the cauliflower is cooked.

Once ready, set aside to cool.
Roasted Chickpeas
Transfer boiled (or canned) chickpeas to a bowl and add cumin, kala namak, chilli powder, turmeric and oil.

Give it a good toss to insure the chickpeas are coated in the spice oil mix.

Transfer onto a baking tray and roast in the oven for 20-25 minutes.

They are done when they are a little crispy.

Once done remove from the oven and leave to cool on baking tray.
Assemble the Salad
Wash and pat dry the baby spinach.

Cut and seed the pomegranate.

Wash, pat dry and roughly chop the mint leaves

On a plate arrange the spinach leaves and add the roasted cauliflower florets.

Add dollops of yoghurt and the roasted chickpeas.

Scatter the pickled onions and chopped mint.

Finish with pomegranate seeds and sumac powder.
Roasted Cauliflower Salad Recipe Notes
The cauliflower can be infused a day in advance. Store it in the refrigerator overnight to give this roasted cauliflower salad more flavour. A more extended infusion equals a better taste.
In the case of the spices for the infusion, you can interchange the cassia bark with cinnamon and tej patta with bay leaves. Large black cardamom is essential for the smoky/earthy flavour. You can use green cardamom instead - perhaps add two - however, this will alter the taste.
If you don't have mace, you can leave it out.
Replace the dairy-free yoghurt with dairy yoghurt if you wish.
If you don't have time to soak dried chickpeas, you can use tinned chickpeas for the crispy chickpeas and boil them.
Please visit my corn salad recipe for the pickled onion method.