Smoky, crunchy and zingy. Serve this corn salad as a barbecue side dish or on its own with flat bread.
Another great looking salad packed with seasonal summer produce. Roasted sweetcorn, cucumber and cherry tomatoes coupled with the tangy and smokey paprika dressing adds so much flavour to this salad and gives it a great barbecue vibe.
Jump to: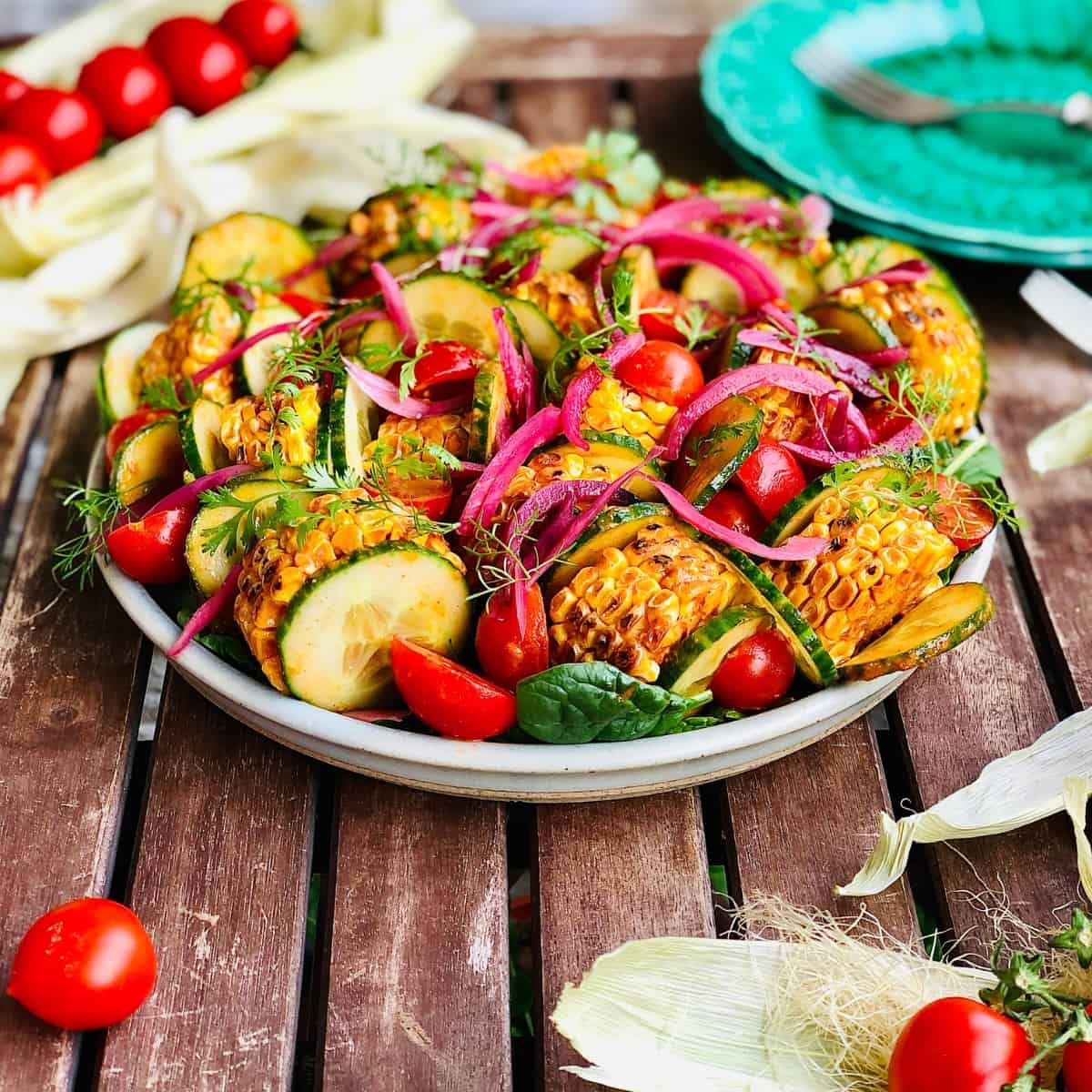 Corn Salad - Perfect Barbecue Side Dish
I love corn in season. In India we used to eat corn, roasted over an open charcoal fire with kala namak and lime juice rubbed on top. So much of our food love comes from the memories it evokes. Perhaps for many of you its the memory of butter slowly melting over the cob. That earthy charred flavour and the sweetness of corn whisks you away to a chilled summer evening barbecue with friends.
This childhood memory of sweetcorn is the inspiration behind my corn salad. In the absence of a coal fire and bearing in mind that not everyone may access to a barbecue, I oven roasted the corn in this recipe.
The roasted sweetcorn, combined together with cool cucumber and heirloom cherry tomatoes gives a salad packed with flavours and textures. The smoked paprika dressing lends itself well to the roasted sweetcorn.
This season, I am championing heirloom tomatoes. Of course, if you can't source heirloom cherry tomatoes, then use another variety. Check out my heirloom tomato Panzanella recipe to learn a bit more about heirloom tomatoes.
If you are planning to take this corn salad to a barbecue or picnic, you can prepare everything in advance and then mixed together with the dressing just before serving for optimum freshness.
How-To Video
Here is a video guide to making the corn salad.
📖 Recipe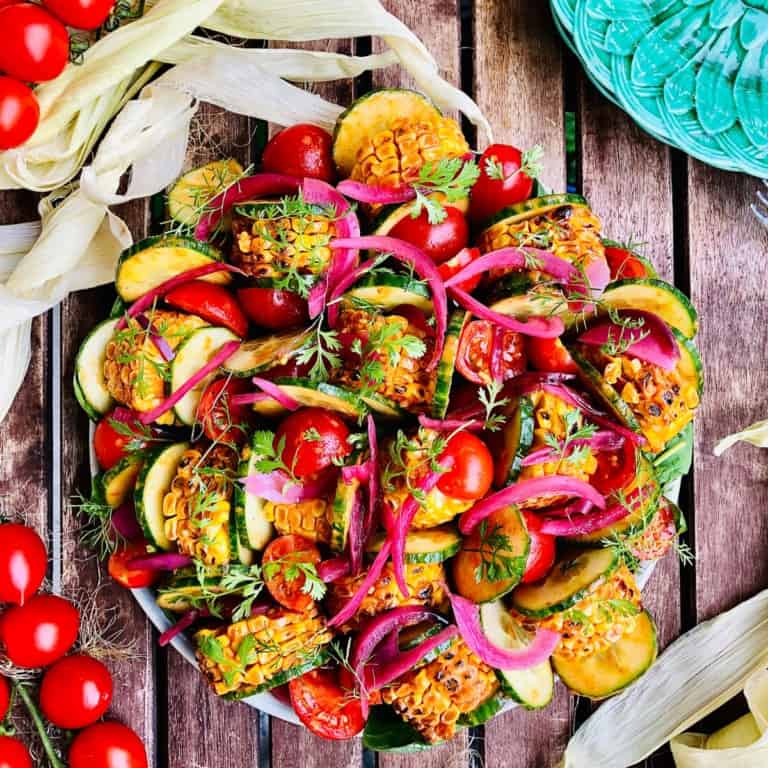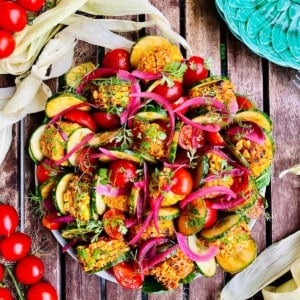 Roasted Corn Salad With Cucumber, Tomato and a Smoked Paprika Dressing
Get the barbeque vibe with this roasted corn, cucumber and tomato salad.
Ingredients
500

gms

sweetcorn on the cob

2 medium sized cobs

220

gms

cucumber

165

gms

cherry tomato

50

gms

spinach

40

gms

Pickled onion

sprigs

coriander

a few sprigs of coriander

salt to taste
Smoked Paprika dressing
25

gms

cherry tomato

2

gms

garlic

1 small clove

2

tablespoon

apple cider vinegar

1

tablespoon

olive oil

1

teaspoon

smoked paprika

1

teaspoon

maple syrup

salt to taste
Instructions
Remove the leaves and the corn hair and trim the top and the stem of the corn. Season the corn with salt and olive oil and roast in the oven for 30 to 35 minutes. Turning every 10 minutes or so. I roast the corn directly on the grill and not on a baking tray.

While the corn is cooking make the dressing and set aside.

Cut the cucumber into round slices, about ¼ inch in size

Half the cherry tomatoes.

Once the corn is cooked, leave it to cool. once cooled down completely, then cut corn into round chunks about 1 inch width

Transfer corn, cucumber and tomato into a bowl and pour over the dressing and mix till dressing is fully incorporated.

Serve on a bed of baby spinach. To finish garnish with pickled red onion and coriander sprigs.
Smoked paprika dressing
In a blender add, halved cherry tomatoes, garlic, olive oil, apple cider vinegar, maple syrup, salt and smoked paprika and blend till you have a smooth dressing.
Recipe Notes
Of course, if you have a barbecue, then it's best to roast the corn over the open fire. Whether you use the oven, stove top or a barbecue, its always best to season the corn with salt and a bit of oil before roasting.
To avoid soggy tomatoes and soft cucumber, add them to the corn salad after it has cooled down.
Make the dressing in advance if you wish. You can store it in the fridge for up to three days.
Pickled Onion Method
It is easy to make your own pickled onion. Here's how:
Ingredients
50 grams sliced red onion
25 grams of malt vinegar
Method
Slice the onions evenly. Place them inside a sterilised jar and pour over the malt vinegar.
In two hours your pickled onions are ready. They get better after a day.
The pickled onions keep for about two weeks. After this they lose their crunch and colour.