If there is anything that signifies Holi, the Hindu festival of colour, it's Thandai. Thandai is a cold milk-based drink. It is mostly consumed in North India during Holi or Mahashivratri. Nuts like almonds, cashews and pistachios, along with melon seeds and fennel, black pepper and saffron are used to make this drink. Traditionally in India, even cannabis was added to flavour the drink. My version is of course is without the cannabis! My thandai, anyone can enjoy.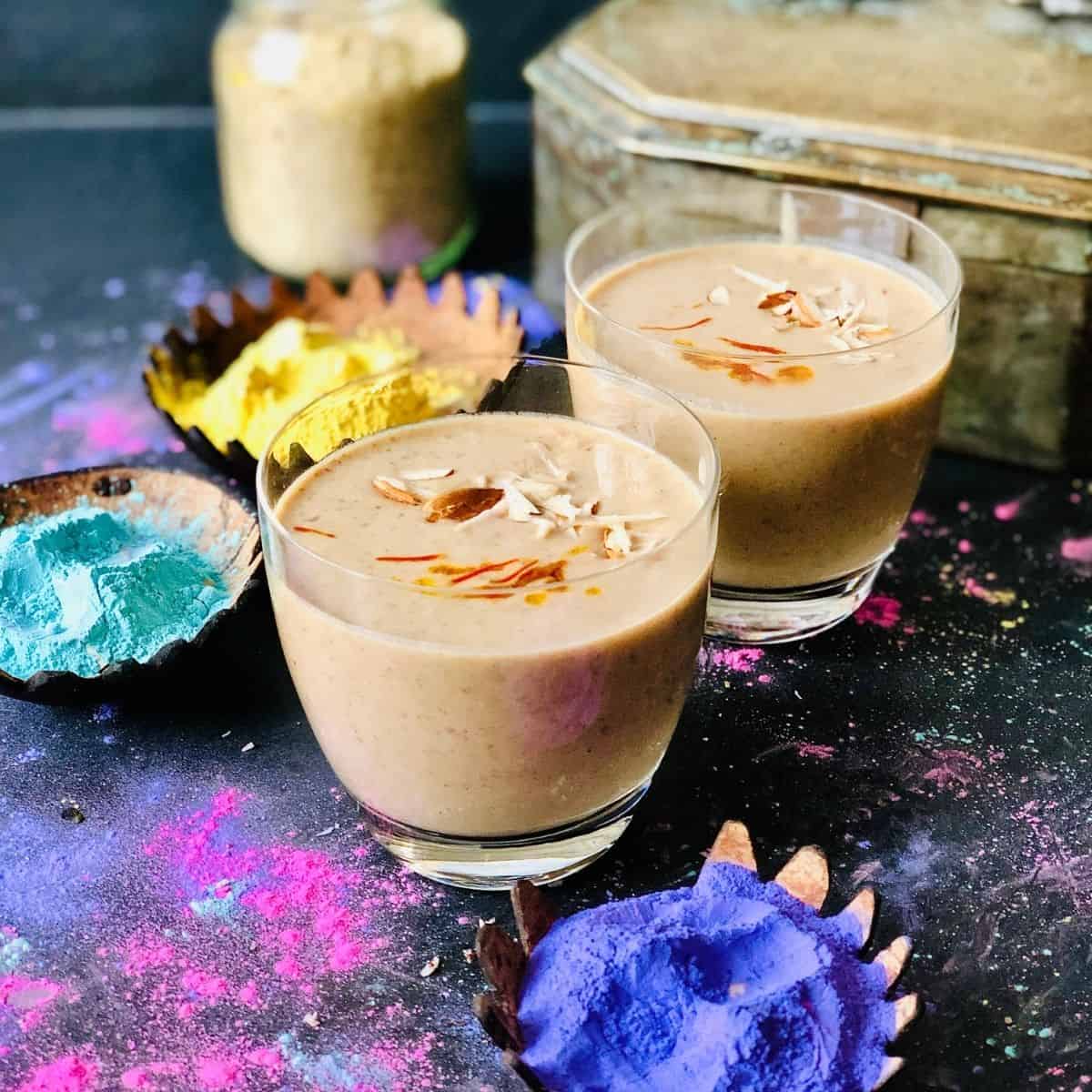 If you like this thandai drink, why not try my thandai flavoured bliss balls as a sweet treat!
Jump to:
Ingredients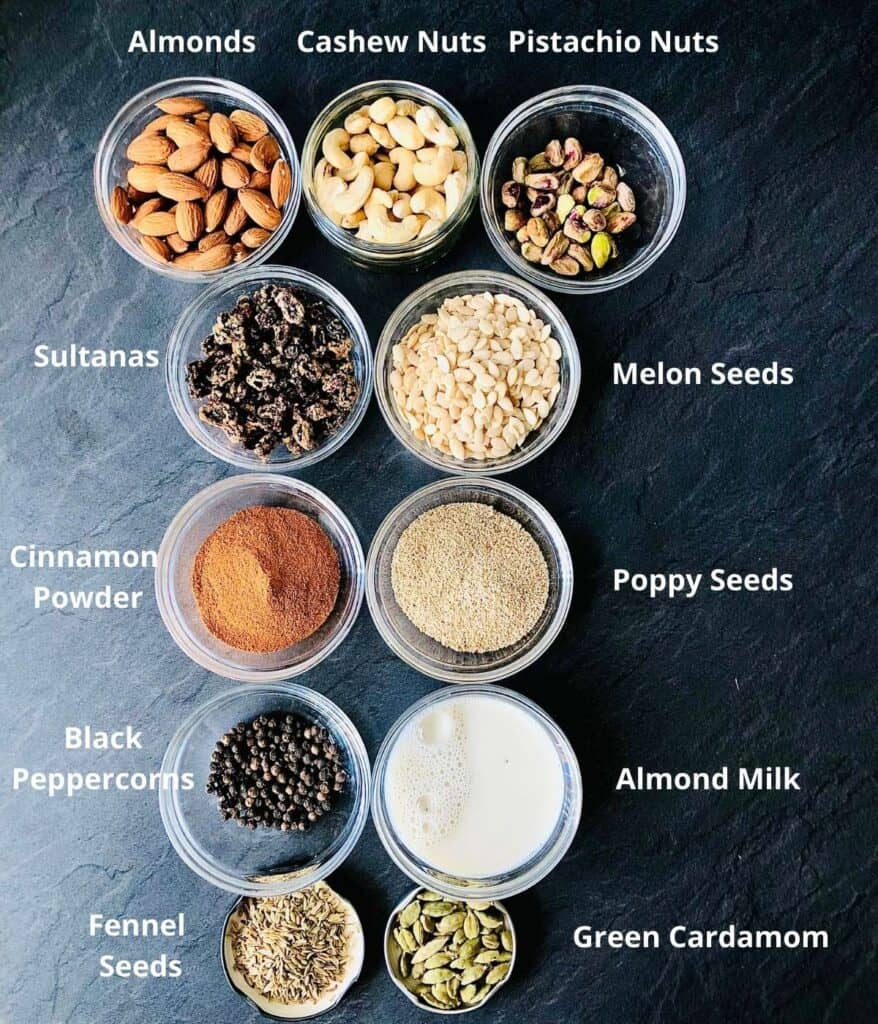 Almonds
Cashew Nuts - unsalted
Pistachio nuts - shelled and unsalted
Melon seeds
Poppy seeds
Almond milk
Green cardamom
Fennel seeds
Black peppercorns
Cinammon powder
Sultanas
See the recipe card for quantities.
Instructions
This thandai recipe is quite simple to make.
First, put the almond milk and sultanas into a saucepan and heat it for a few minutes. Remove from the heat and set aside to cool down.
To make the thandai dry mix, one at a time, blend the almonds, pistachio nuts, cashew nuts and melon seeds, and poppy seeds. When grinding the seeds, add them gradually and blend in short bursts to avoid the nuts and seeds releasing oil. Take particular care with the poppy seeds that release oil very quickly. Blend them with the pulse function if your blender has it.
Add the ground nuts and seeds to a bowl.
Remove the skins of the cardamom and blend the pods together with the black peppercorns and fennel seeds. Add these to the bowl as well
Finally, add the cinnamon powder to the bowl and thoroughly mix the contents together.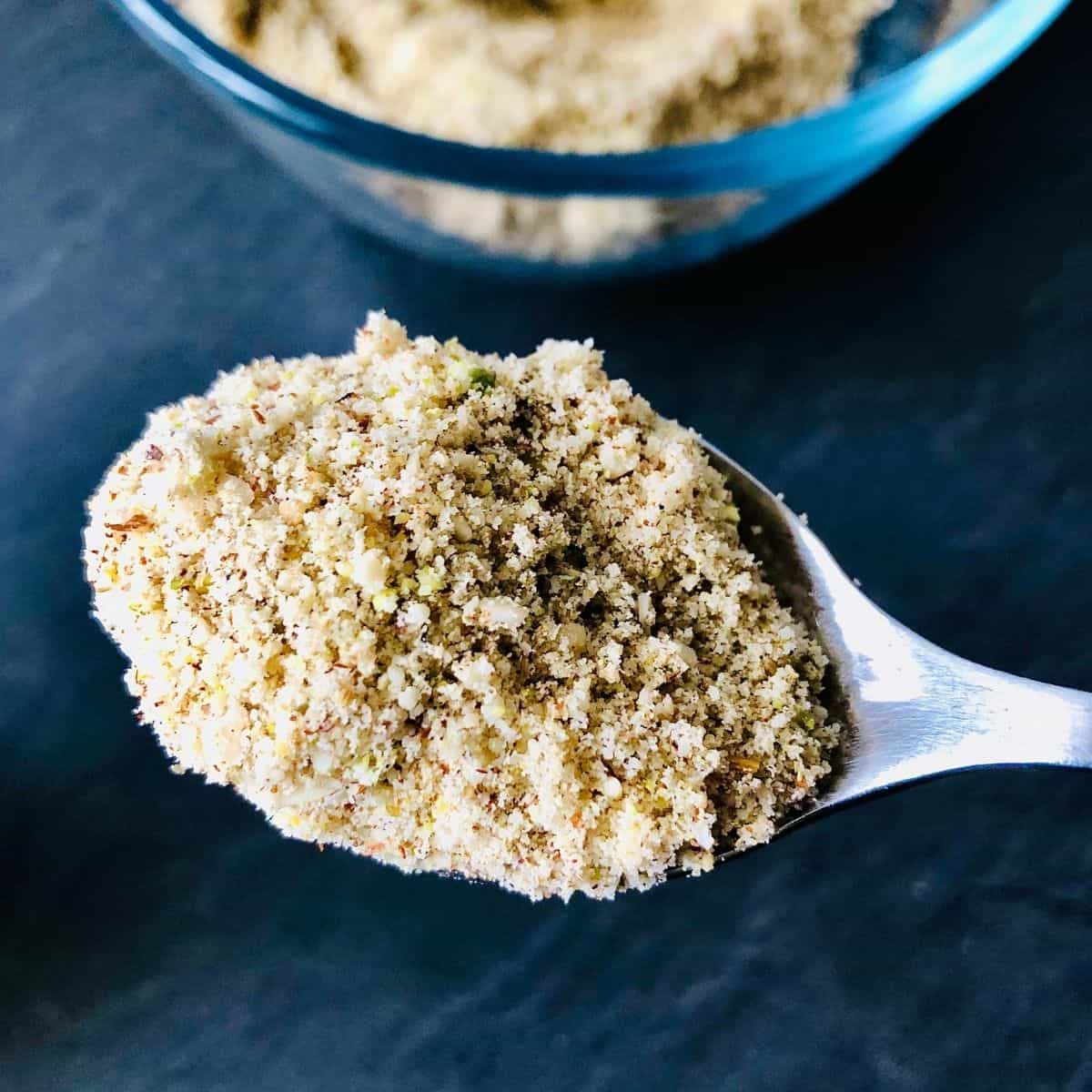 In order to make the thandai drink, blend together the almond milk/sultanas with the thandai powder mix.
Garnish the glass of thandai with saffron that has been bloomed in warm water, and a few slithers of nuts.
This recipe makes 8 servings of thandai.
If you are making the thandai powder to store for later use, for 1 serving, use 2 tablespoons of powder, 250 ml of almond milk and 25 gms of sultanas.
How-To Video
Here is a video guide to making thandai.
Substitutions
In my family sultanas were added instead of sugar, if you like your drinks sugary then please feel free to use your choice of sugar or increase the quantity of the sultanas.
Variations
This is a traditional recipe, therefore I have no recommendations to change anything apart from the plant-based milk. Usually in India dairy milk is used. For the authentic flavour please do stick to the quantities on the recipe card.
Equipment
A good blender will go a long way in helping you to quickly powder the nuts and seeds without releasing their oils.
I highly recommend getting a spice blender, as the blade is very powerful, and it is designed to dry grind at high speed using less time, thus retaining the freshness of the spices.
Storage
You can store the dry Thandai mix in an airtight bottle for three months.
Once mixed with milk, it will keep in the fridge for up to three days.
Top tip
Blend the nuts, seeds and poppy seeds, in small batches and individually. They tend to release their oils if blended for two long.
📖 Recipe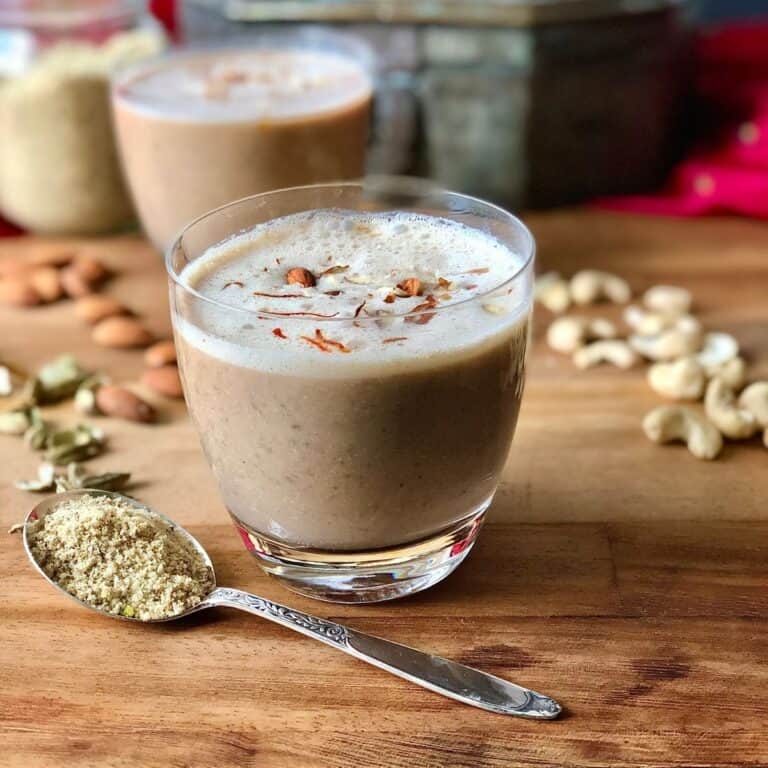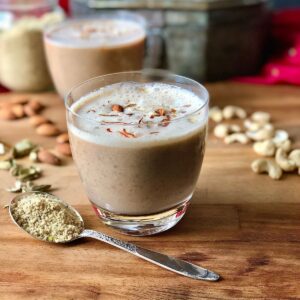 Homemade Thandai
Homemade Vegan Thandai, the perfect drink for holi
Equipment
Blender or Food processor

Digital scales

Spice blender or a dry blender
Ingredients
40

gms

Almonds

35

gms

Cashews

30

gms

Pistachio

10

gms

Melon seeds

10

gms

Poppy seeds

5

gms

Fennel seeds

5

nos

Black pepper

5

nos

Green cardamom

¼

teaspoon

Cinnamon powder

200

gms

Sultanas

2

ltr

Almond milk

1

pinch

Saffron
Instructions
Heat the almond milk in a pan along with sultanas for a couple of minutes. Then set aside to cool.

Blend the nuts and seeds one by one in a blender or food processor until they are powdered. Take care not to blend too much at a time or else they will release oil. Transfer to a bowl once done.

Remove the seeds from the cardamom pod, blend them together with the black pepper and fennel seeds. Transfer them into the bowl with the nuts and seeds.

Blend poppy seeds, using the pulse action on the blender. Poppy seeds very quickly release their oil. Once done, transfer to the bowl and mix with other ingredients.

Add the cinnamon powder and mix well.

Transfer the thandai mix into a glass jar. It is now ready for use.

To make the thandai, blend the sultana/almond milk together with the nut, seed and spice mix until smooth. You can blend it with ice if you want it really cold, or warm it up again if you're going to serve it warm. Transfer into serving glasses.

Finish with saffron bloomed in warm water and slivers of nuts.
NOTES
This recipe makes 8 servings of thandai.
If you are making the thandai powder to store for later use, for 1 serving, use 2 tablespoons of powder, 250 ml of almond milk and 25 gms of sultanas. 
Food Safety
In a professional kitchen, food hygiene and safety are top priorities, and from the beginning of my training, I practised good habits and routines. Of course, practising good food hygiene and safety at home is also essential. Here are some fundamental practices to adopt in the kitchen.
Wash your hands regularly while preparing, handling and cooking food.
Wipe down countertops and high-contact points regularly.
If you cook meat and fish, do not use the same utensils on cooked food that previously touched raw meat. Use separate chopping boards for meat and fish. Wash your chopping boards immediately after use.
Thoroughly cook food to a minimum temperature of 165 °F (74 °C).
Don't leave food at room temperature for extended periods (more than 2 hours).
For more details regarding food hygiene and safety in the home, visit the UK Government's Food Standards Agency webpage.