This recipe is based on the classic New York style baked cheesecake. Why is it special? Well, it is a dairy-free, nut-free and soy-free vegan cheesecake!
In my professional career, I have made numerous baked cheesecakes. Always very popular. However, to make a baked vegan cheesecake is a challenge on another level.
In the process of developing this recipe I had to experiment a little because I am new to vegan baking.
Baking is quite a technical branch of cooking. Each ingredient has a significant role to play. So substituting dairy ingredients for vegan ingredients presented me with a few challenges. For example, in a non-vegan cheesecake, egg yolks not only add a richness to the filling, they also bind all the ingredients together. Additionally, eggs also add moisture and texture. Therefore, finding suitable vegan replacements is crucial.
The solution? To bind everything together, I replaced the egg with cornstarch. How about the dreamy, dense, New York cheesecake texture? To achieve this I used a combination of vegan cream cheese and vegan cream.
Consequently, with these challenges mastered it is actually quite easy to make this vegan cheesecake recipe.
Let's make it!
Jump to: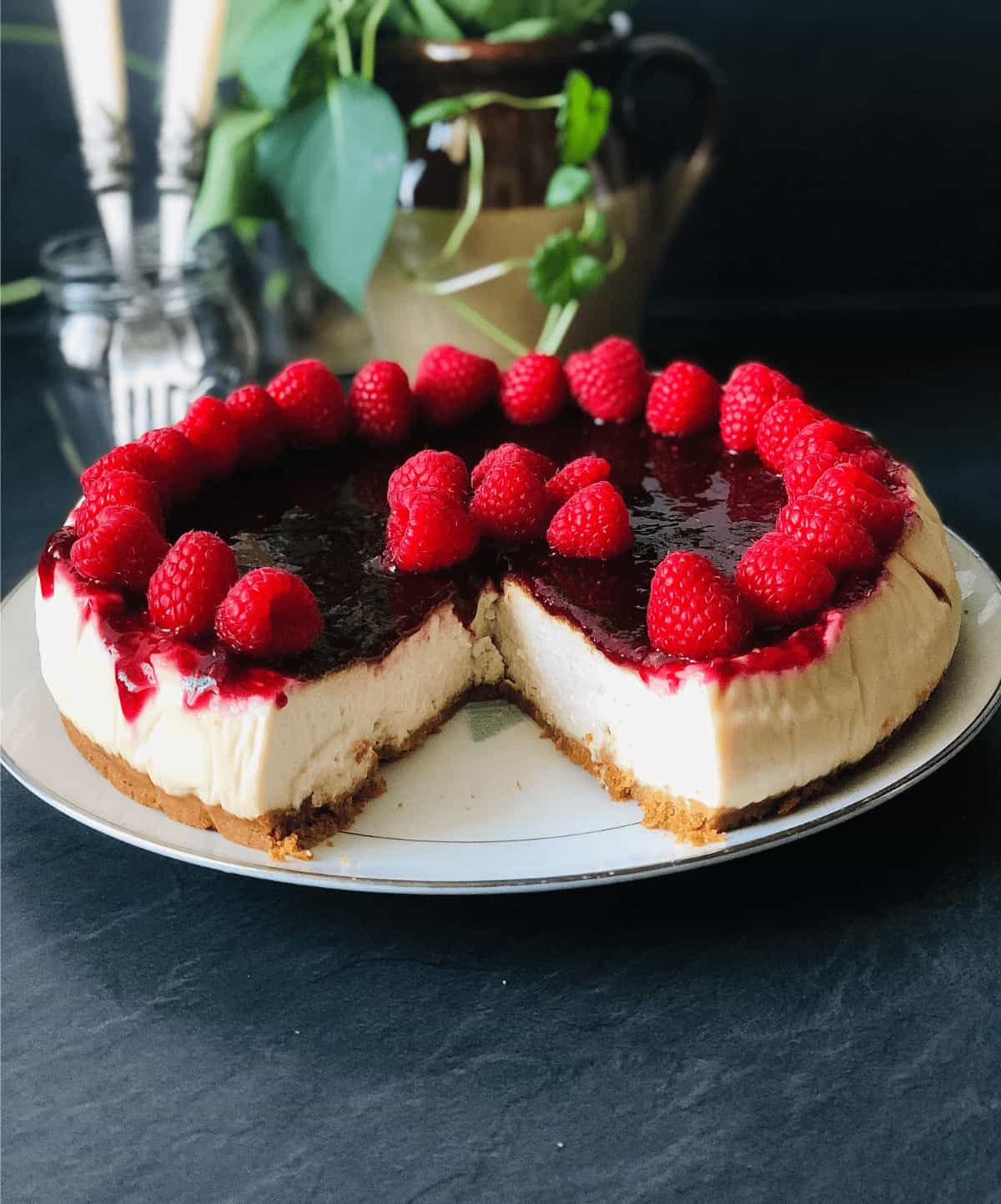 📖 Recipe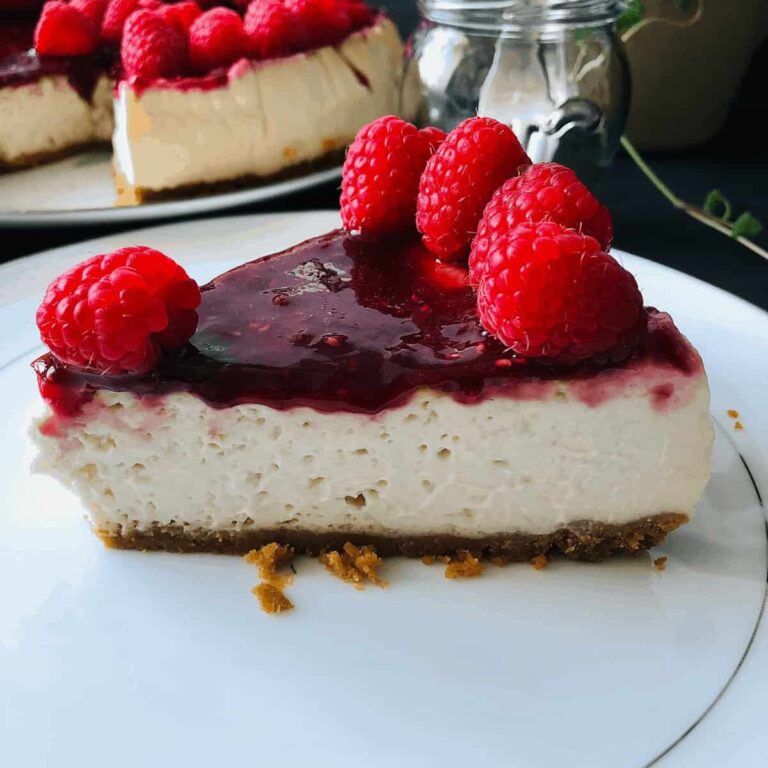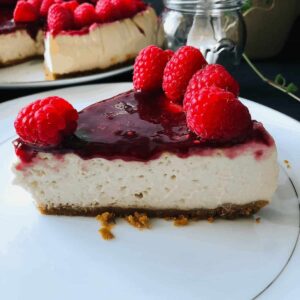 Baked vegan cheesecake with a raspberry and meadowsweet glaze
An easy New York style, vegan, nut free, decadent dessert to try anytime
Equipment
8-inch Springform pan - see recipe notes below

Electric whisk

Food processor or blender

Weighing scale

Measuring Jug
Ingredients
Biscuit base
150

g

Vegan ginger biscuits

you can use plain as well

75

g

Vegan butter

preferably block
Cheesecake filling
850

g

Vegan cream cheese

i have tried with oatly, violife and koko

400

ml

Vegan single cream

oatly or soya

200

g

Castor sugar

4

tablespoon

Cornstarch

also known as cornflour

1

tablespoon

Vanilla extract
Wild raspberry and meadowsweet glaze
3

tablespoon

Raspberry and meadowsweet jam

- see recipe notes

3

tablespoon

Water
Instructions
Prepare the springform tin for baking in the Bain Marie
Lightly grease an 8-inch springform pan. Cover the outide of the base and sides with tin-foil. Use double layer of foil, this is to make it leak proof when it is baked in the Bain Marie.

Line the inside of the tin with parchment paper, both the sides and the bottom.
Biscuit base
Add the ginger biscuits into a food processor and whizz until they are fine crumbs.

Melt the butter and add in the ginger biscuit crumbs and stir to combine

Press the mixture firmly into the base of the prepared springform tin. Place in the fridge to set
Cheesecake Filling
Preheat the oven to 175ºC.

In a mixing bowl, using an electric hand mixer, beat the vegan cream cheese until it is smooth and creamy.

Mix in the vegan single cream, sugar, cornstarch and vanilla extract. Beat until smooth, with no lumps.

Pour the cheesecake filling mix over the set biscuit base and spread out evenly

Place the springform tin onto a baking tray and pour water into the baking tray. This will create steam whilst the cheesecake is baking. Bake for 1 hour

Turn off the oven and let the cheescake sit inside the oven for a further 1 hour

Remove the baking tray containing the cheesecake from the oven and allow it to cool to room temperature. Don't worry if it is still a little wobbly - it will set in the fridge.

Remove the cheesecake from the water bath. Place the tin containing the cheesecake into the fridge to set overnight. Do not remove the parchment paper and tin foil at this stage.
The Glaze
In a pan, melt the raspberry and meadowsweet jam with the water until you have a smooth sauce.

Spoon onto the cheescake filling and smooth over to cover the whole of the top of the cake. Decorate with fresh raspberries
Baked Vegan Cheesecake Instructional Video
Click on the Youtube link below for a short video guide to making this vegan baked cheesecake.
Preparation
For the base of this vegan cheesecake, you will need a packet of vegan ginger biscuits.
As I mentioned earlier, for the filling I used vegan cream cheese and vegan single cream. They are available in larger supermarkets or your local whole food store.
My personal favourites are Oatly Plain Creamy Oat spread, Oatly Creamy Oat and Violife Creamy.
For the glaze I used a wild raspberry and meadowsweet jam. I am a fan of foraged wild food so for this recipe I used wild raspberry and meadowsweet jam from the very excellent wild food specialists Bello Wildfood
Vegan Cheesecake Ingredient Substitutions
The base does not have to be ginger buscuit flavour. For example, why not try vegan digestive biscuits or something similar. Experiment!
Vegan Cheesecake Recipe Variations
The raspberry and meadowsweet jam can be replaced with any fruit jam. Use the same method in the recipe card.
Both oat and soya cream can be used. They work in the same way. Similarly, both coconut cream cheese and oat cream cheese can be used. My personal favourite is oat because the flavour of the cake is better.
Storage
To store the cheese cake, cover and keep in a refrigerator. Consume within three days.
Kitchen Education
Here are some terms that you may not be familiar with:
Springform pan: One piece of equipment to use in this recipe that you may not know about is a springform tin. This is a type of tin that has sides that detach from the base. In order to secure the base into the side wall, close the latch attached to the side wall to tighten it. Consequently, It will push the base tightly into the groove at the base of the sidewall.
Bain marie: This cheesecake will be cooked in a Baine marie. It is a heated water bath used to cook food or keep it warm. So, for this cheesecake, fill a baking tray with boiling water from your kettle and place the cheesecake in its springform pan inside this water bath. Be very careful transporting it to the oven.