If like me, you feel underwhelmed with the iced coffee/iced latte sold in coffee shops, then I can help you. So many names: Frappuccino, iced latte, cold coffee, a cold beverage with coffee and milk. I have tried these from different coffee shops and always felt unsatisfied, perhaps because I know how a real iced coffee tastes. While training as a chef in premium hotels in India, I learned how to make perfect cold coffee. When you have tasted the best, you can't compromise. What's my secret? It's coffee ice cream! The coffee ice cream is what makes the cold coffee so creamy. This cold coffee recipe is perfect for the summer months when you want your dose of caffeine but also want something to cool you down.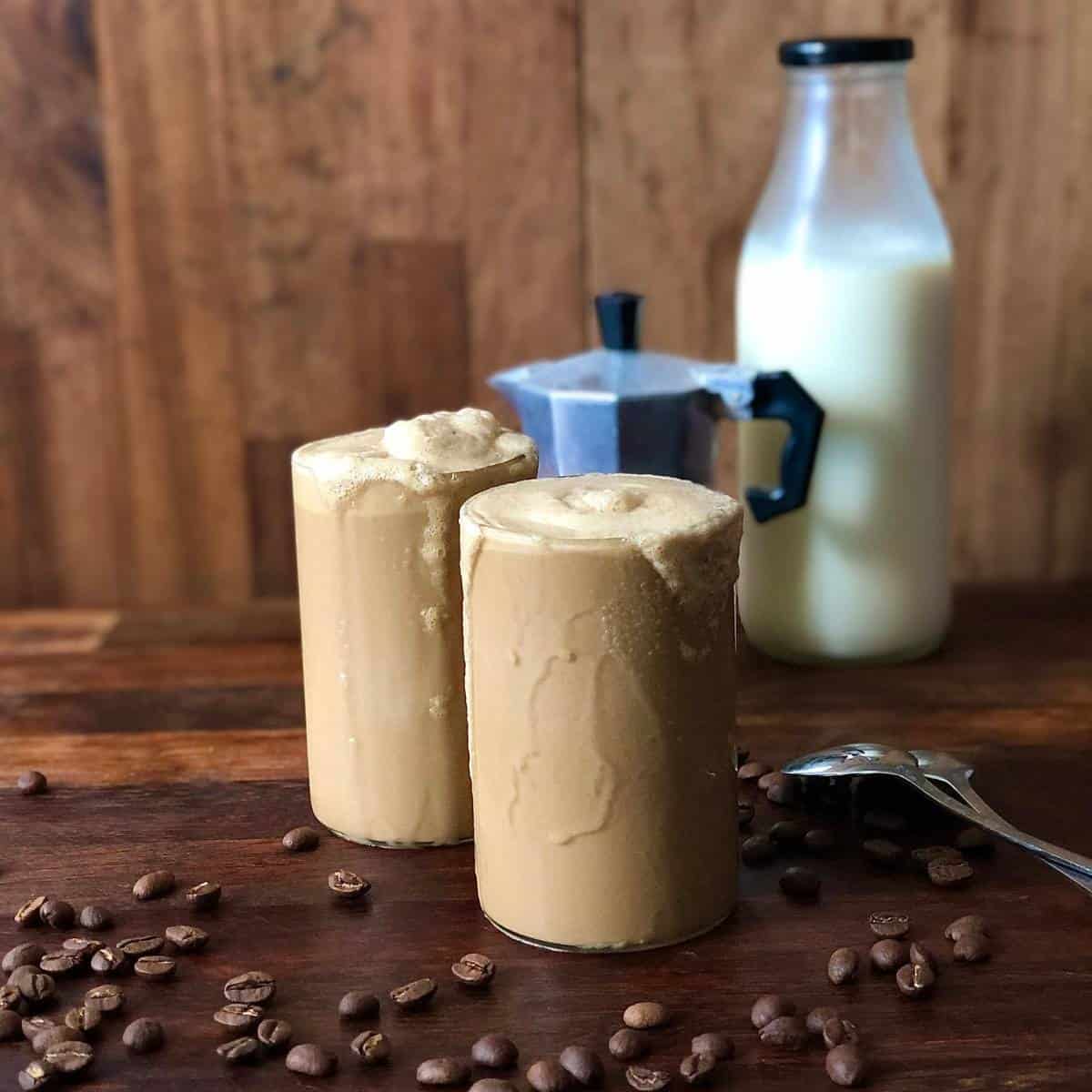 My cold coffee recipe is vegan friendly, using dairy-free milk and ice cream. My coffee ice cream is easy to make, and the only challenge is having to wait eight hours for it to freeze before eating it! Please head on over to my dairy-free coffee ice cream recipe.
Jump to:
Ingredients
Instant coffee
Dairy-free milk
Dairy-free coffee ice cream
See the recipe card for quantities.
Instructions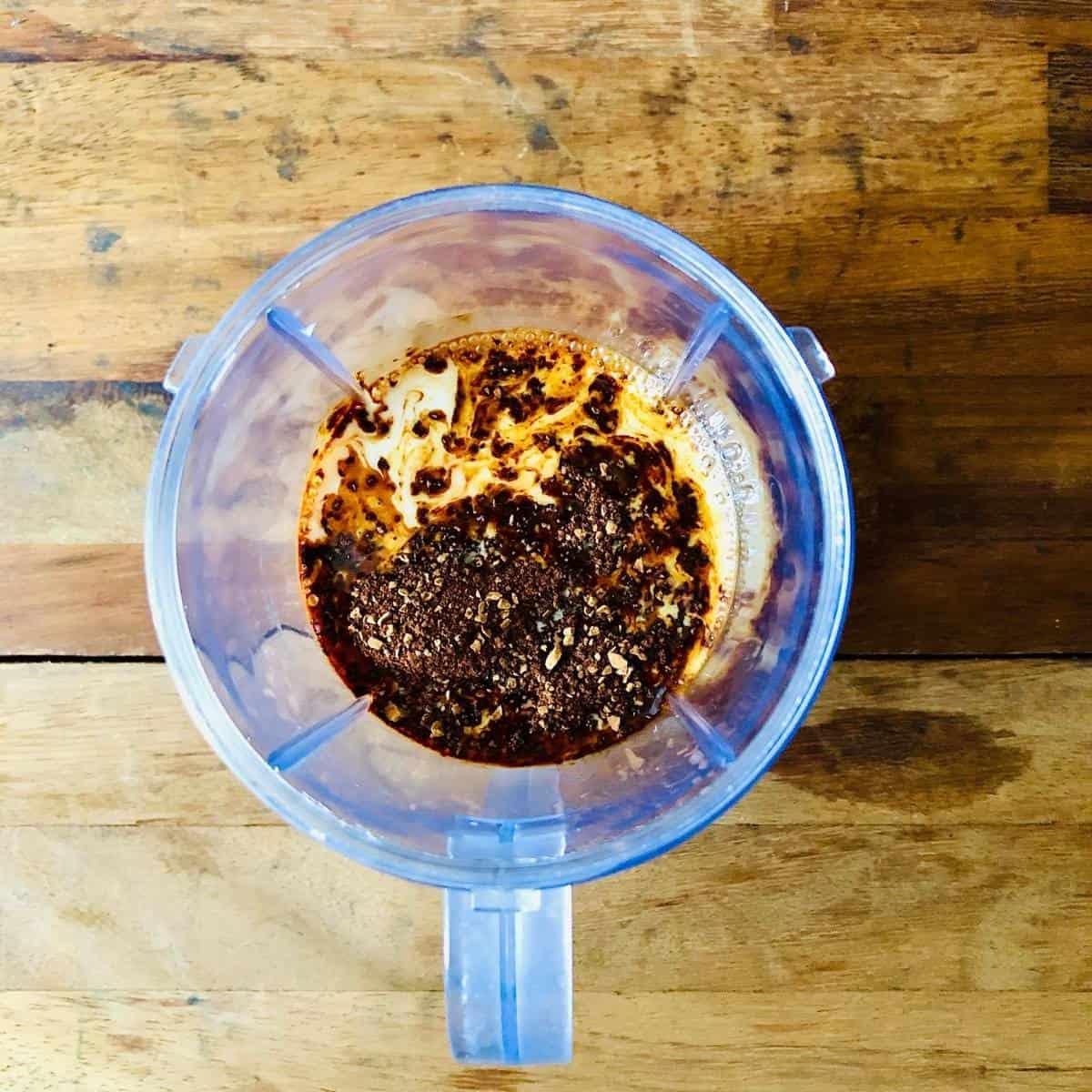 In a blender, add the dairy-free milk to the instant coffee.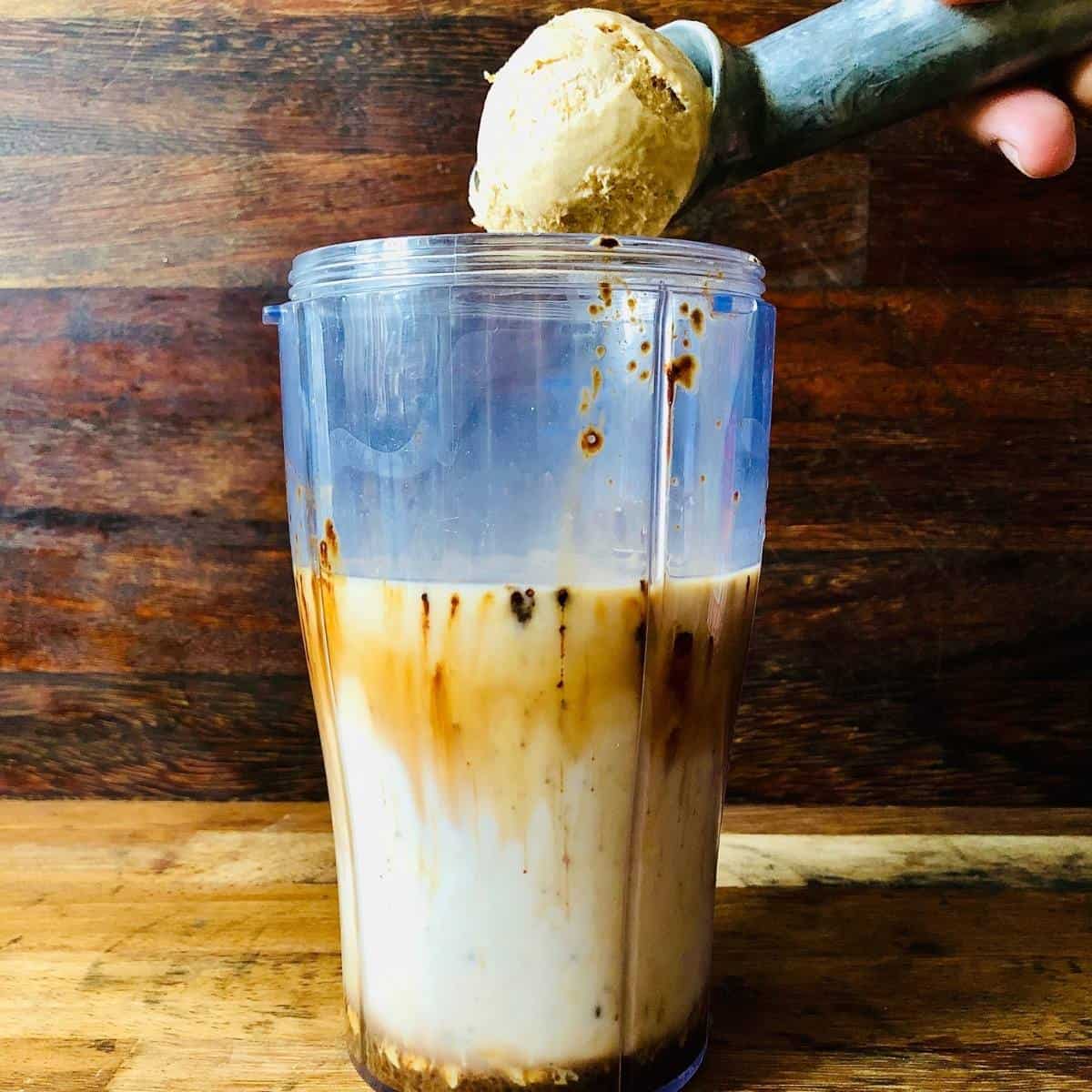 Add four scoops of the coffee nice cream and blend them.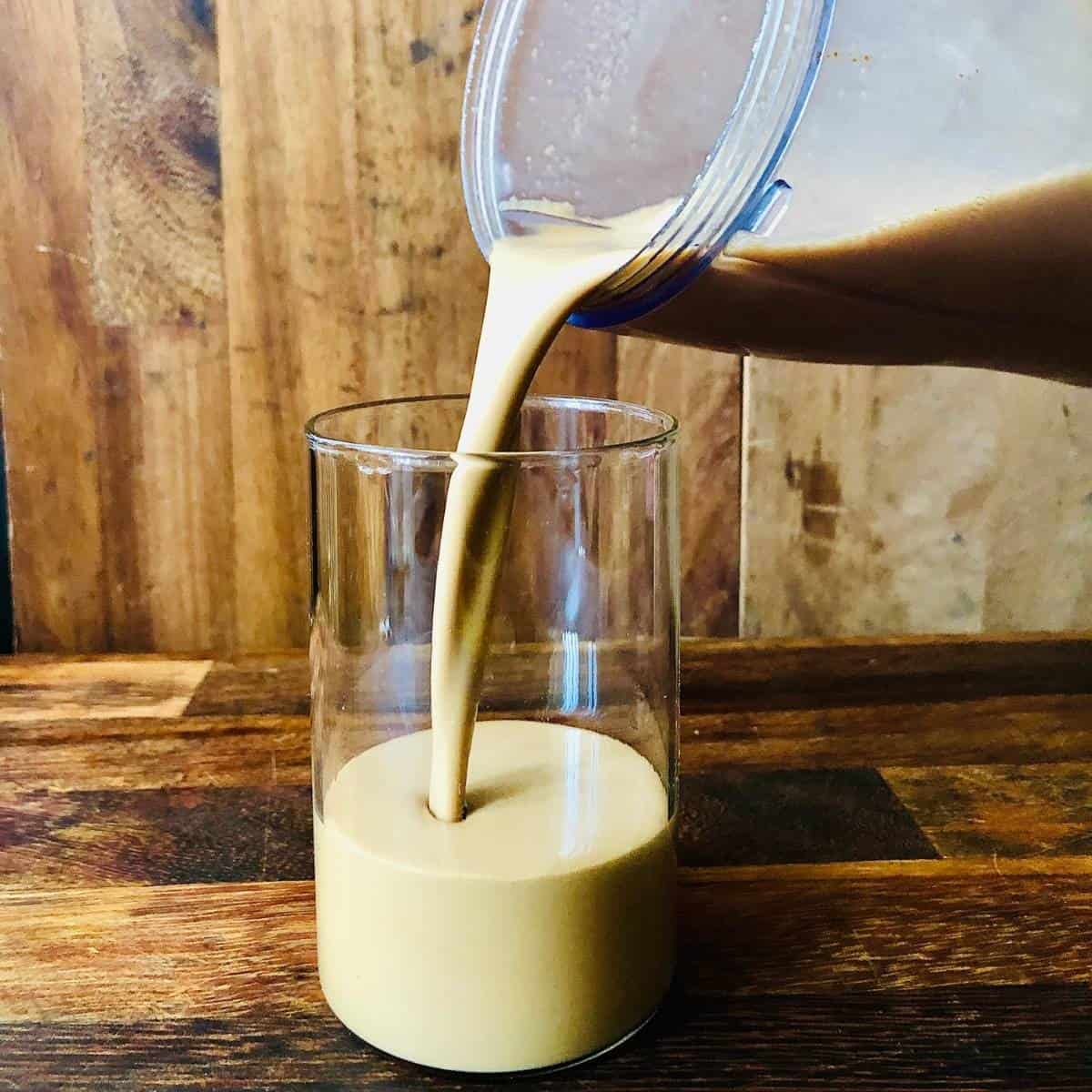 Pour the blended cold coffee into individual glasses and add a scoop of coffee nice cream.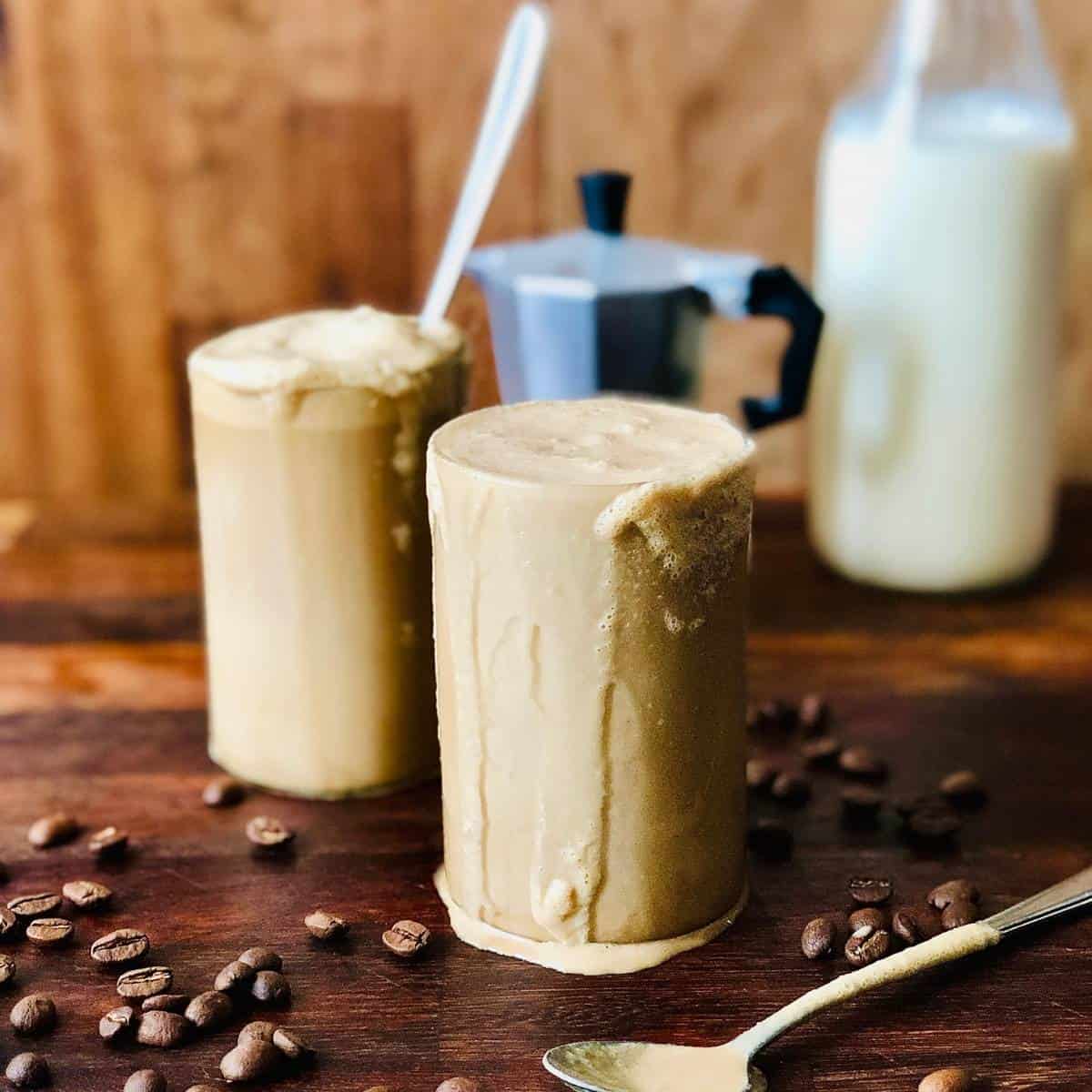 Ready to serve.
How-To Video
Here is a video guide to making dairy-free cold coffee recipe.
Substitutions
You can substitute dairy-free milk and nice cream with dairy milk and ice cream if you are not dairy-free.
You can substitute instant coffee with the coffee of your choice; make sure that you don't add too much water.
Variations
This cold coffee recipe is for people who like a strong coffee drink; however, you can use vanilla ice cream/nice cream if you prefer. We use ice cream to achieve a thick, creamy cold coffee versus the watered-down one that is generally available in cafes.
Storage
You can store cold coffee without the second scoop of nice cream in the refrigerator for up to three days. Please keep it in an airtight container so it doesn't absorb the smell from other things in the fridge.
You can also freeze the ready-made cold coffee for a week. When ready to use, defrost slightly before blending again.
Top tip
I find that whole plant-based milk works better for this cold coffee recipe. Dairy-free milk like coconut, rice and almond do not have that thickness and will result in a diluted coffee. Oat whole milk and soya work best in my experience.
📖 Recipe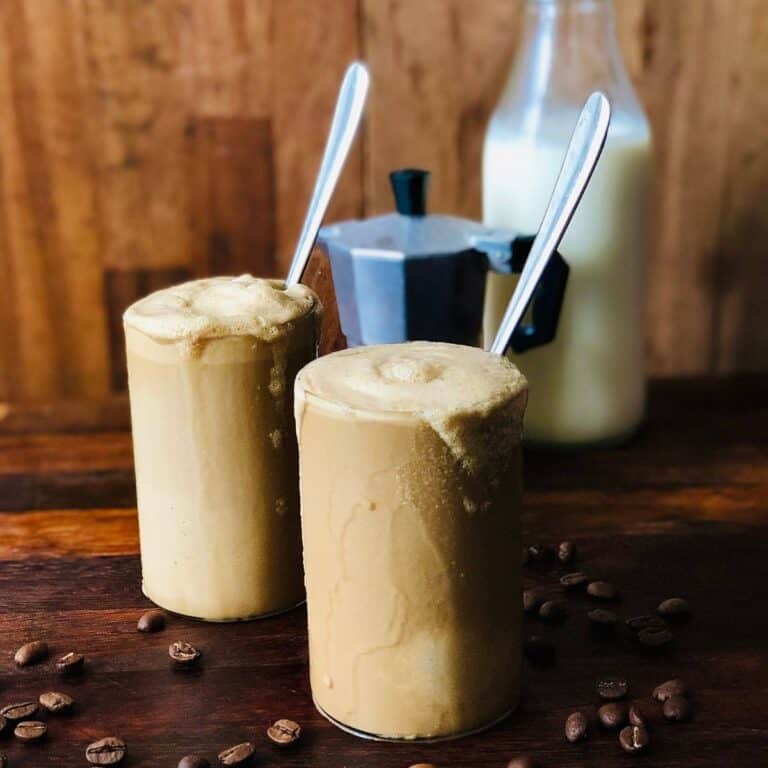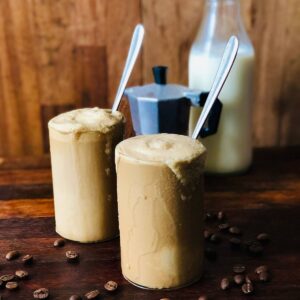 Iced Coffee With Coffee Nice-Cream
A creamy dairy-free iced coffee made with coffee nice-cream
Ingredients
350

ml

Dairy free Milk

I used Oatly whole

2

tablespoon

Instant coffee

4

scoops

Coffee nice-cream
Instructions
In a blender add the dairy free milk, instant coffee and coffee nice-cream and blend.

Transfer into a glass and add a scoop of nice-cream into each glass.
Food Safety
In a professional kitchen, food hygiene and safety are top priorities, and from the beginning of my training, I practised good habits and routines. Of course, practising good food hygiene and safety at home is also essential. Here are some fundamental practices to adopt in the kitchen.
Wash your hands regularly while preparing, handling and cooking food.
Wipe down countertops and high-contact points regularly.
If you cook meat and fish, do not use the same utensils on cooked food that previously touched raw meat. Use separate chopping boards for meat and fish. Wash your chopping boards immediately after use.
Thoroughly cook food to a minimum temperature of 165 °F (74 °C).
Don't leave food at room temperature for extended periods (more than 2 hours).
For more details regarding food hygiene and safety in the home, visit the UK Government's Food Standards Agency webpage.