This dairy-free coffee ice cream is so creamy that no one would guess it's vegan; what's more, you don't even need to churn it! Just four ingredients, no specialist equipment, minimum effort, and you have this homemade coffee-flavoured ice cream. The hardest part of making this ice cream is waiting for it to freeze and eat it! So what's the secret? It uses vegan condensed milk. Vegan condensed milk adds sweetness and creaminess and eliminates the need to churn. Quite a few brands are selling vegan ice cream; however, to my dismay, I did not find anyone (in the UK) having coffee flavour. So I had to make my own and share it with you.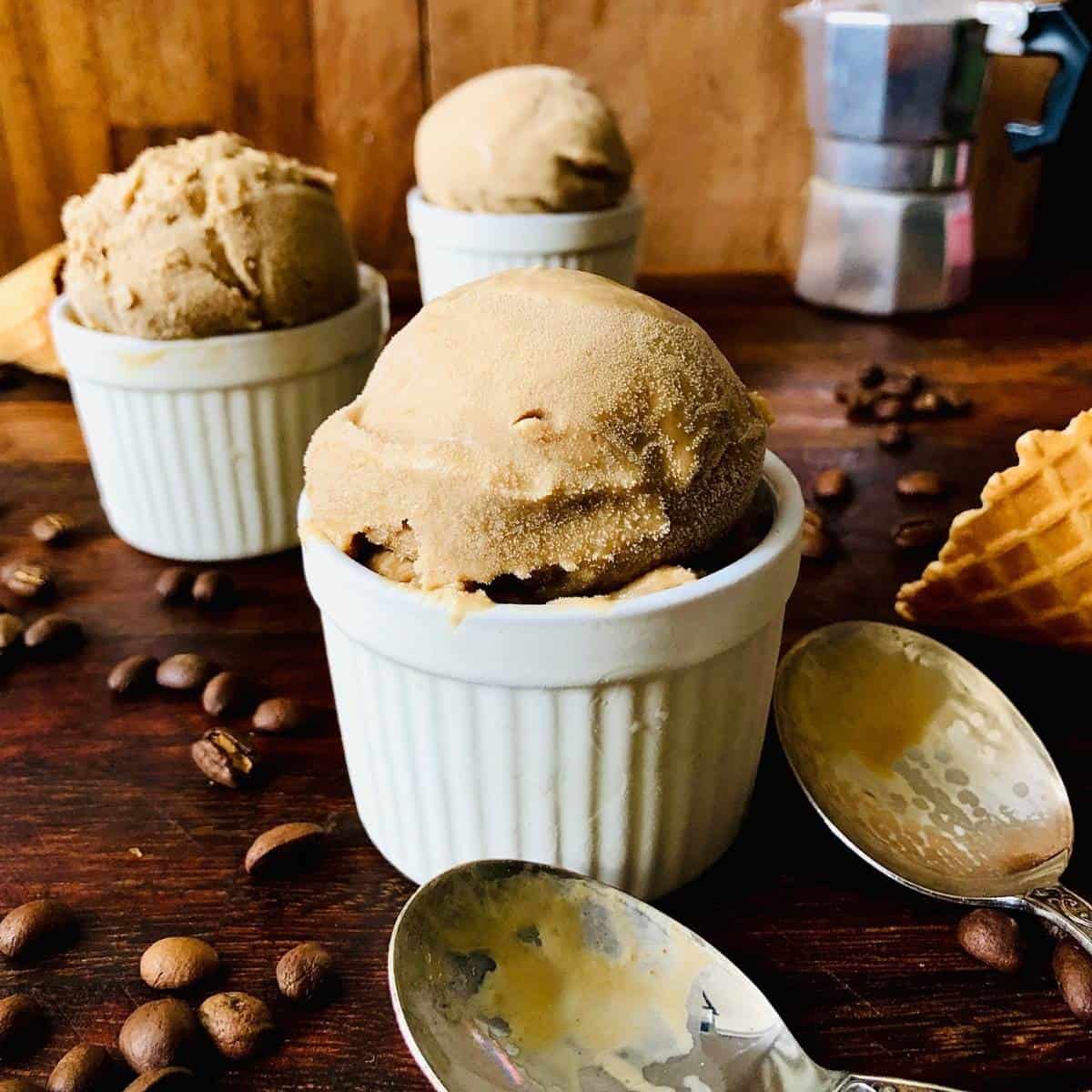 I've also posted some other ice cream flavours for you to try. Please look at my Lilac flower ice cream and spiced ice cream. If you prefer a lolly, try my elderflower and strawberry ice lolly. You can also try my cold coffee recipe with this coffee ice cream.
Also, you MUST try my cold coffee; it uses my coffee ice cream as an ingredient. All I can say is you will not be disappointed! I will post my cold coffee on the blog very soon!
One thing to mention about my ice cream is that it will melt faster than shop-purchased ice cream because my ice cream does not contain the stabilizers that are found in shop-purchased ice cream to inhibit melting.
Jump to:
Ingredients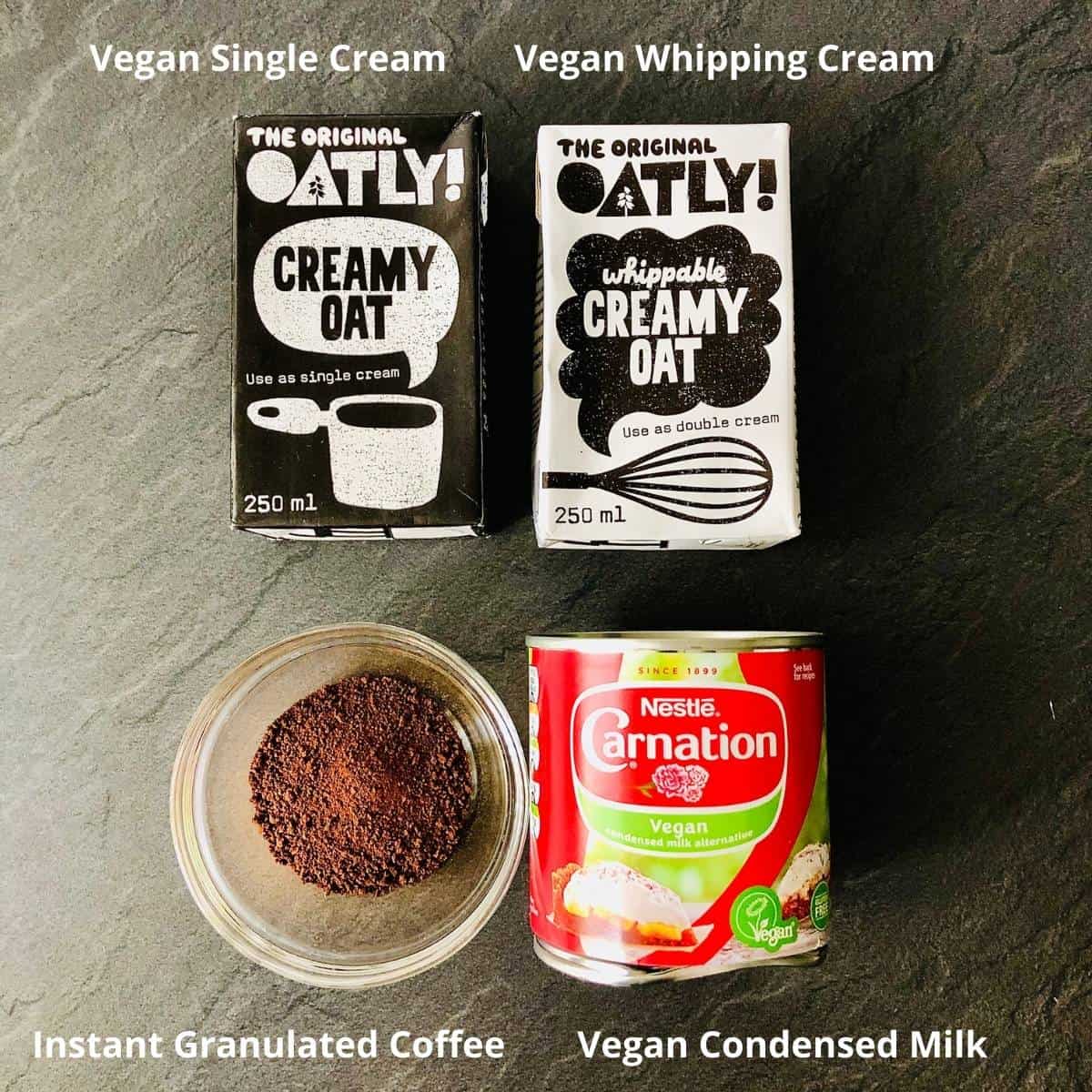 Granulated, instant coffee
Vegan whipping cream
Vegan single cream
Vegan condensed milk
See the recipe card for quantities.
Instructions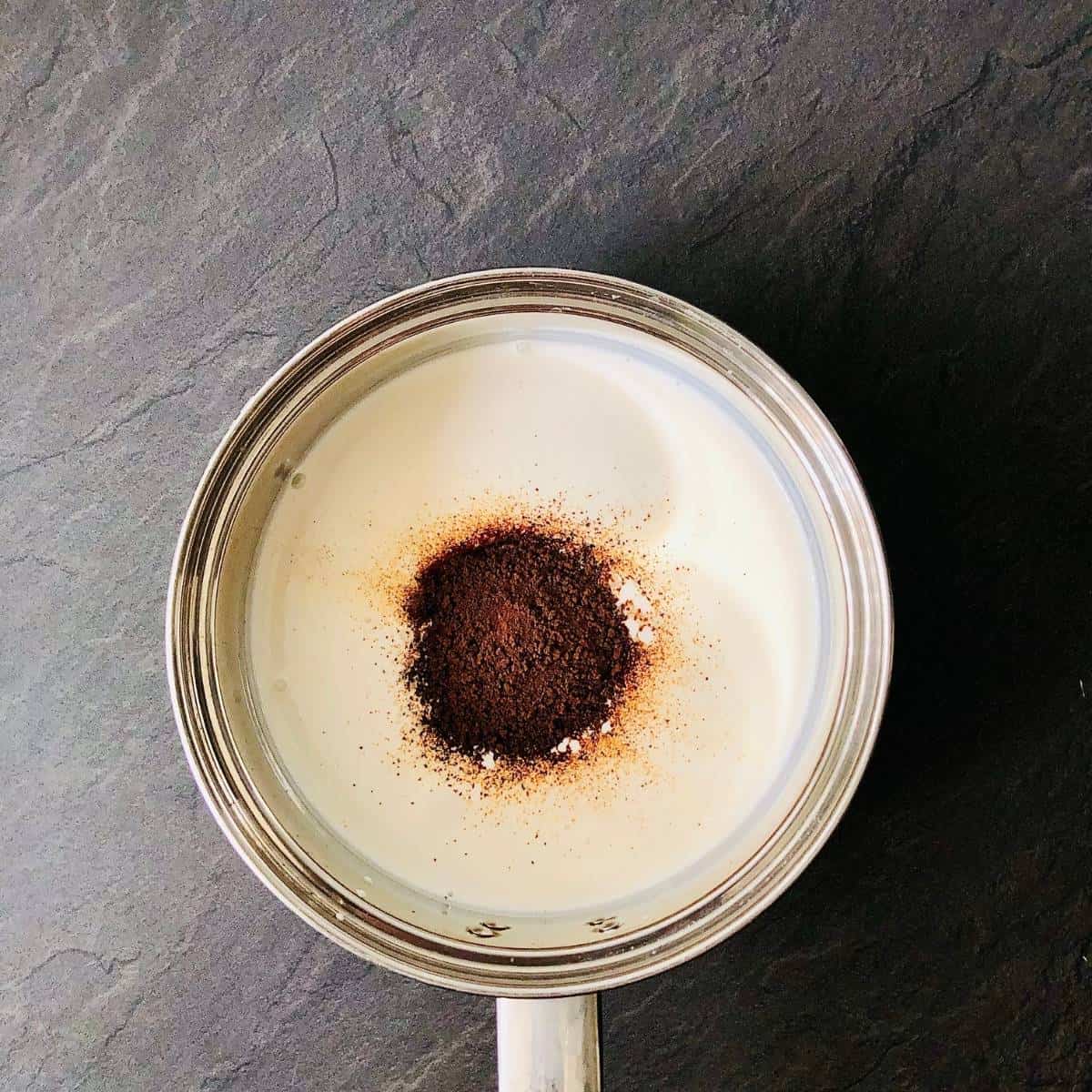 Heat the single cream and add the granulated coffee until it has dissolved. Set aside to cool.
In a freezer-proof container, pour in the cream/coffee mix, the condensed milk and the whipping cream. Mix thoroughly.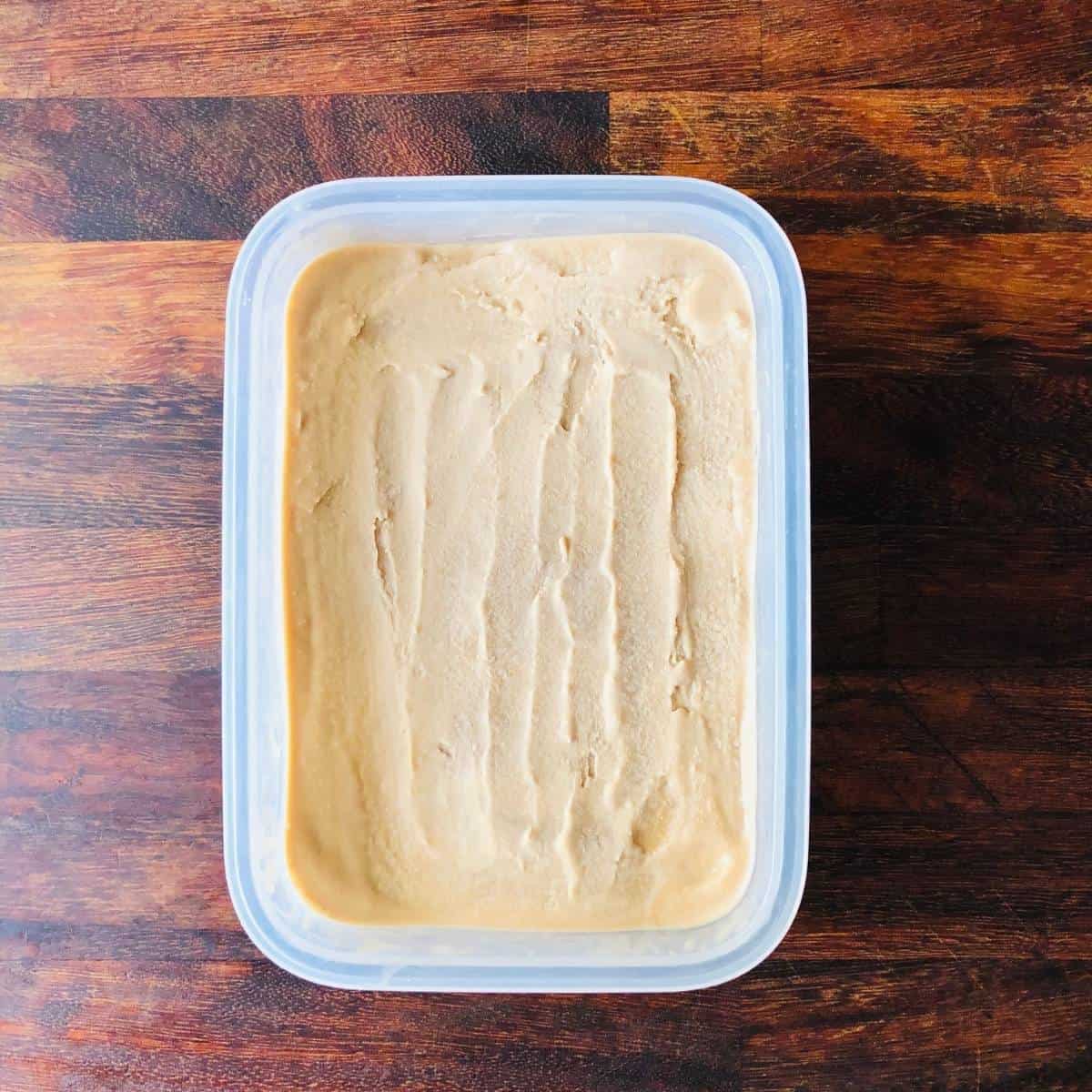 Place a lid onto the container and place it in the freezer and freeze for eight hours.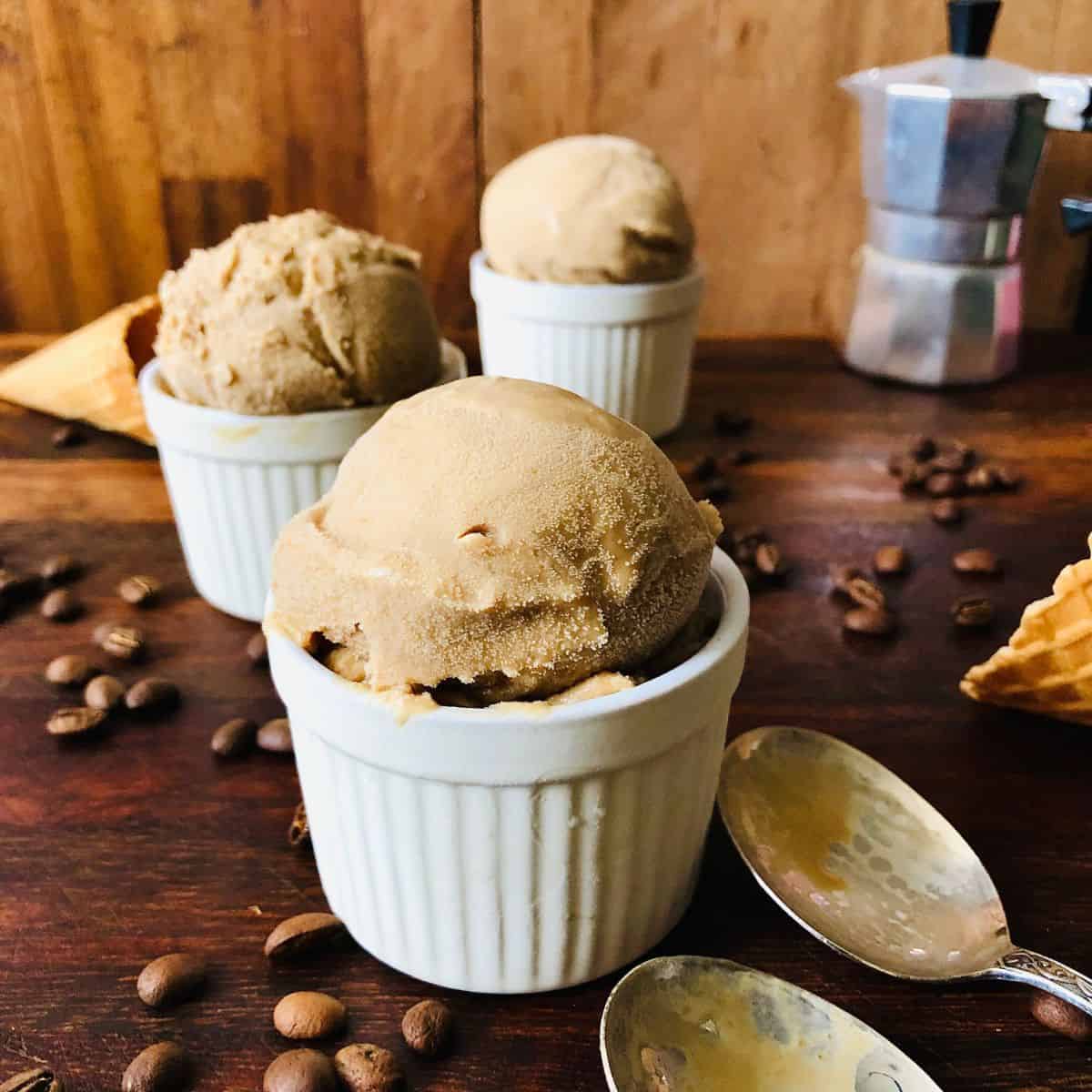 Scoop and serve.
How-To Video
Here is a video guide to making dairy-free coffee ice cream.
Substitutions
If not dairy-free, replace vegan condensed milk and cream with dairy. Instead of whippable cream, use whipping or double cream.
Variations
Replace coffee with any flavour of your choice. If using fruit pulp, please remember that the consistency will change as fruit has water content.
Storage
You can store this ice cream in an airtight container in the freezer for up to three months. Before scooping, give it a couple of minutes to soften.
Top tip
Instant coffee works better for this recipe as you don't need to strain or use water. Using water creates crystals when frozen.
📖 Recipe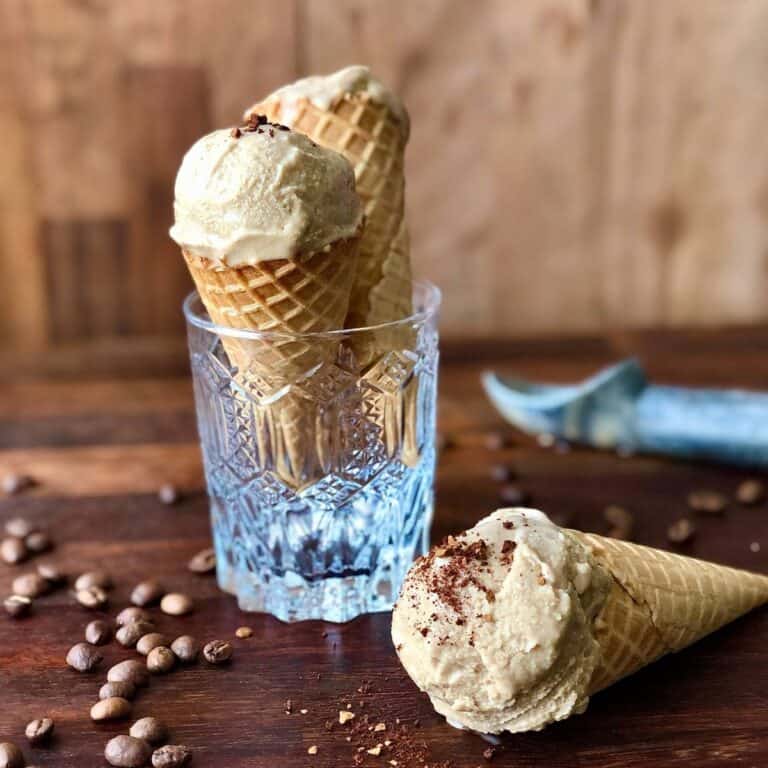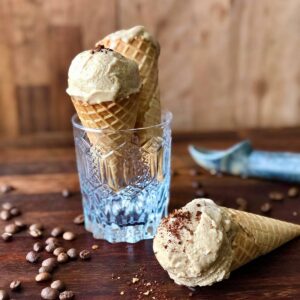 Homemade Dairy-Free Coffee Ice Cream.
No churn dairy-free coffee ice cream. Easy to make!
Ingredients
370

ml

Condensed Milk

I used Nestle

250

ml

Dairy-free single cream

I used Oatly

250

ml

Dairy-free whippable cream

I used Oatly

8–10

gms

Instant coffee
Instructions
Heat the single cream and add the instant coffee and mix until dissolved. Set aside to cool.

In a freezer proof container, pour in the condensed milk, whippable cream and the coffee/cream mix. Mix thoroughly to combine.

Seal the container and freeze for a minimum of 8 hours.

Once frozen, scoop and serve.
Food Safety
In a professional kitchen, food hygiene and safety are top priorities, and from the beginning of my training, I practised good habits and routines. Of course, practising good food hygiene and safety at home is also essential. Here are some fundamental practices to adopt in the kitchen.
Wash your hands regularly while preparing, handling and cooking food.
Wipe down countertops and high-contact points regularly.
If you cook meat and fish, do not use the same utensils on cooked food that previously touched raw meat. Use separate chopping boards for meat and fish. Wash your chopping boards immediately after use.
Thoroughly cook food to a minimum temperature of 165 °F (74 °C).
Don't leave food at room temperature for extended periods (more than 2 hours).
For more details on food hygiene and safety in the home, visit the UK Government's Food Standards Agency webpage.