This vegan nice cream is super simple to make and super delicious to eat. There are just three ingredients, no churning required, and you don't need special equipment like an ice cream maker. Are you thinking about how will it be creamy without churning? The secret is vegan condensed milk and vegan whipping cream. Lilac flowers provide the flavour for this nice cream.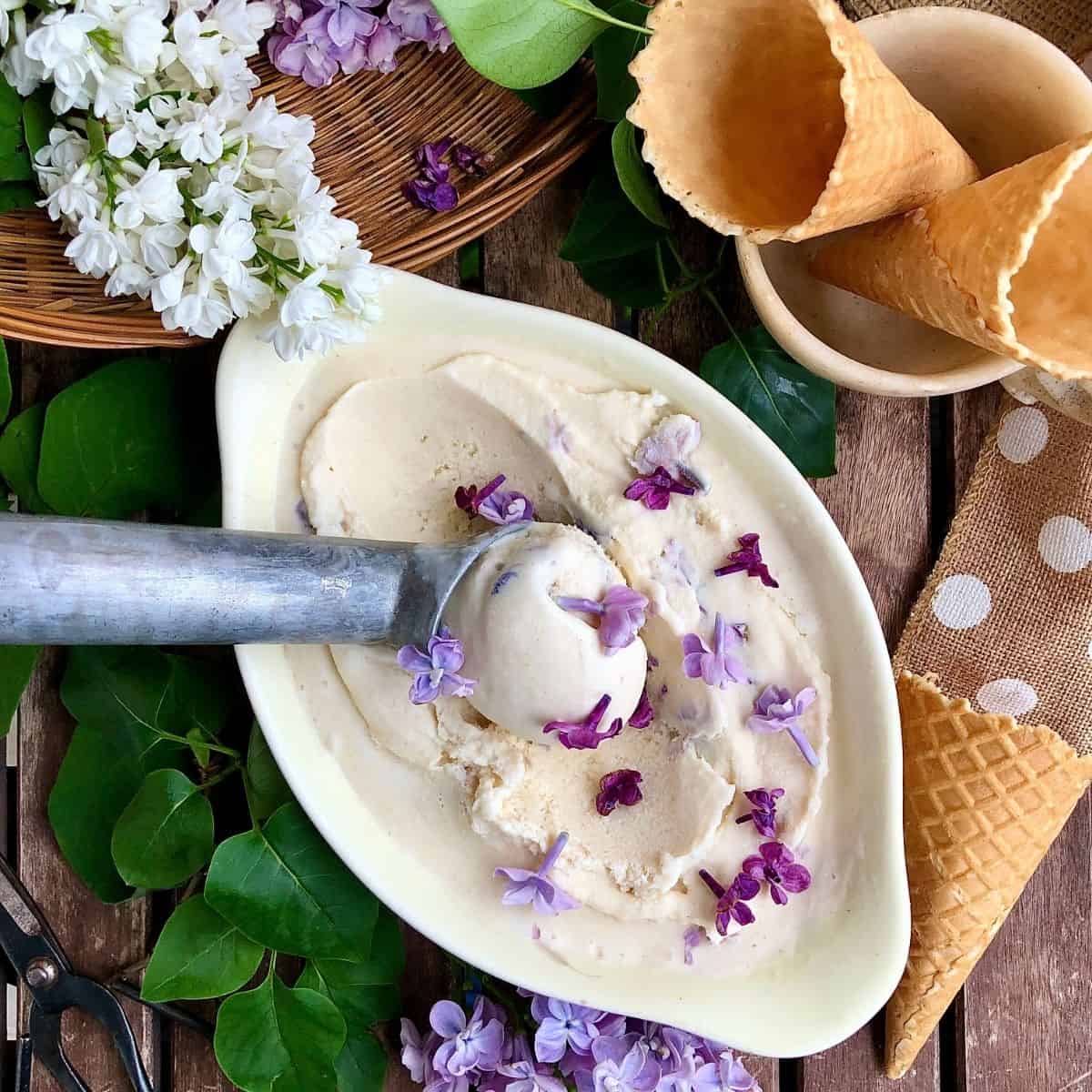 The lilac flowers give this nice cream lovely subtle floral notes to transport your imagination to a country garden on a warm spring day. These beautiful flowers burst forth in spring and fill the air with a wonderful fragrance. However, their display is short-lived, much like cherry blossoms that also appear in springtime. Lilac flowers are edible, so I had to capture that fragrance for my taste buds in some way. Hence this vegan lilac flower nice cream.
The key to capturing the essence of the fragrance in the flavour is the overnight cold infusion of the lilac flowers.
Identifying Lilac
Lilac is a popular garden plant due to its impressive flower displays and attractive fragrance.
The lilac bush/tree flowers in spring around May.
The individual flowers are purple/pink or white and densely packed in the flower head. The flower head ranges from 10 to 20cm in length.
The leaves are vivid green and shaped like elongated hearts. The leaves range from 5 to 10cm in size.
As with all food ingredients foraged instead of shop-bought, be very confident with your identification. Do not eat anything if you have even a tiny bit of doubt about its I.D.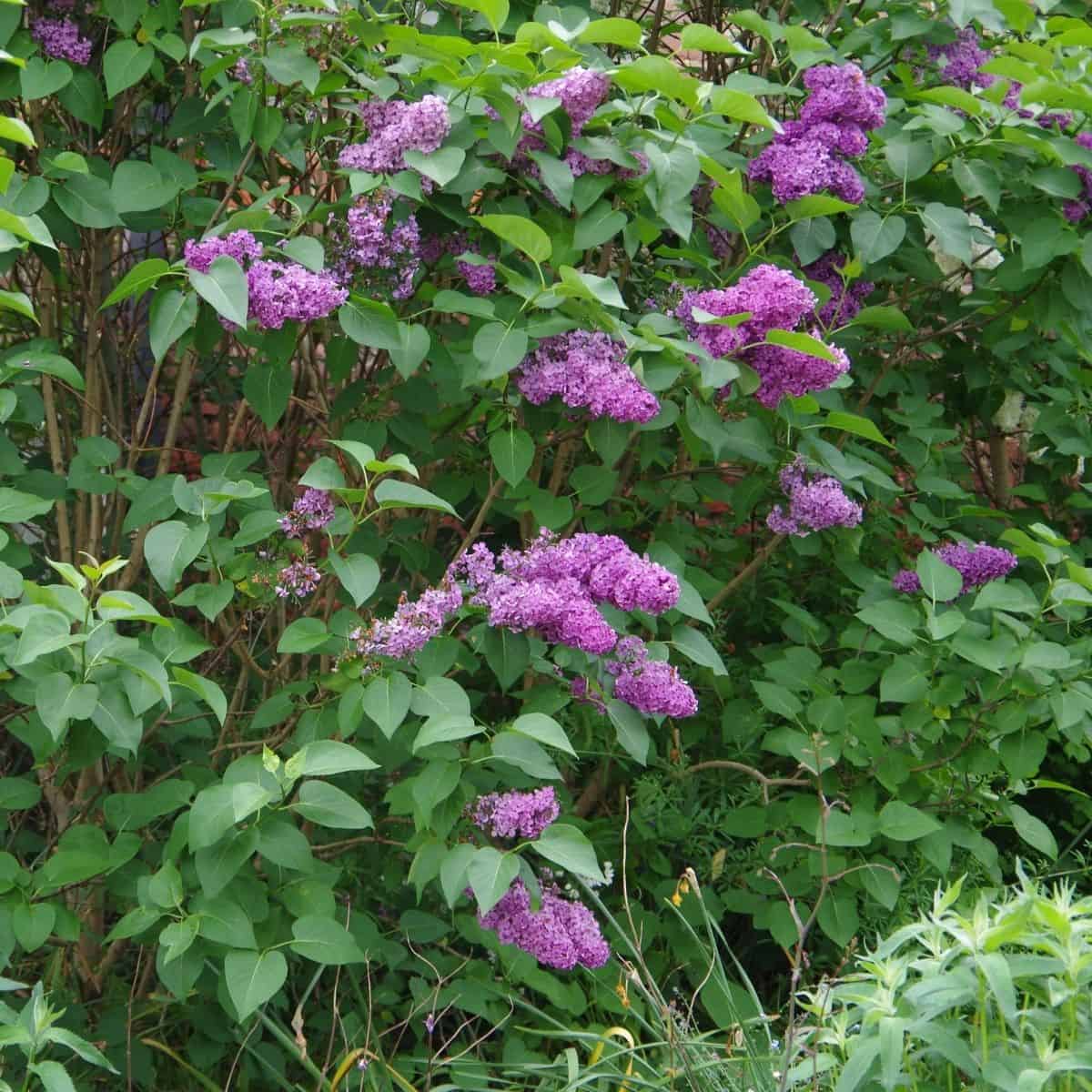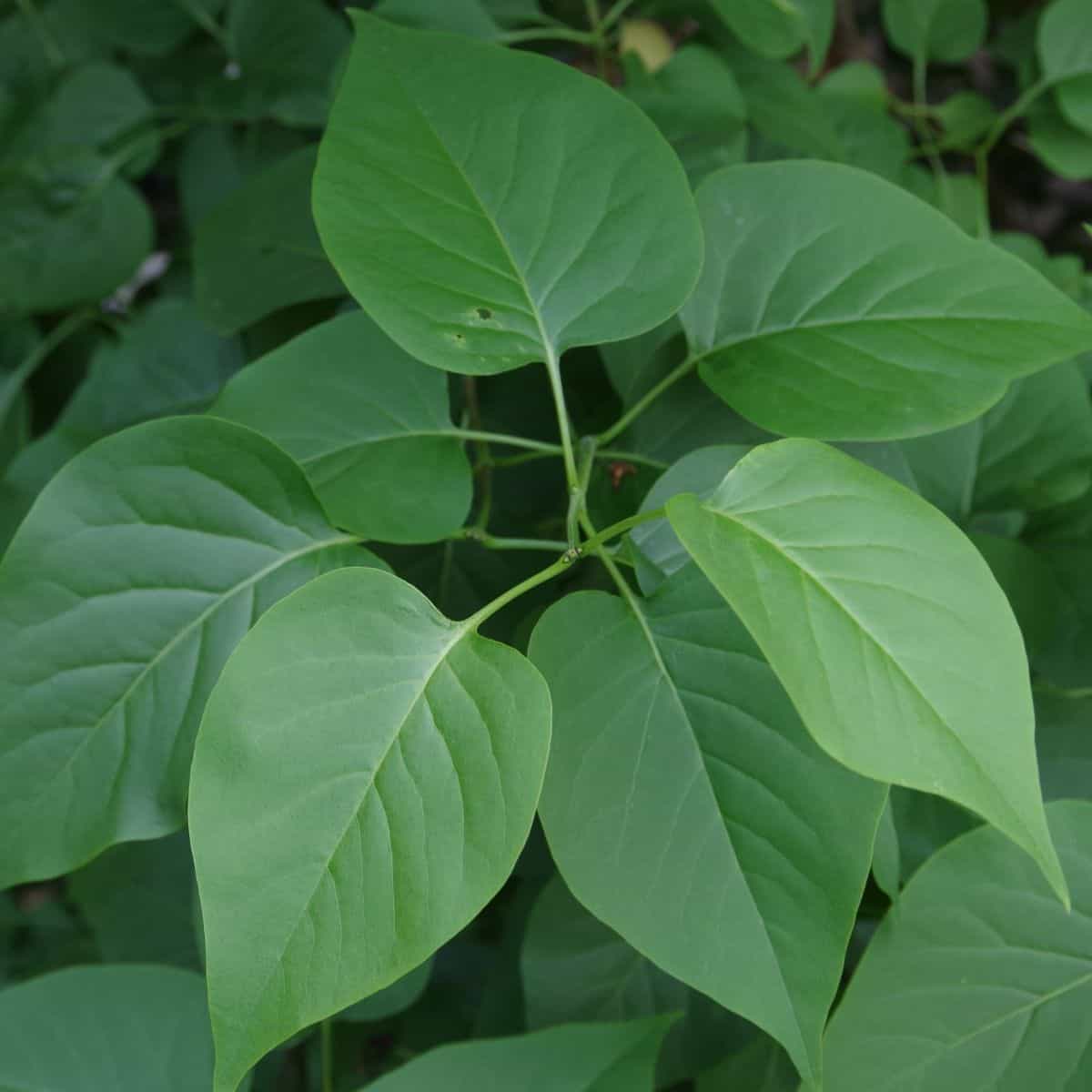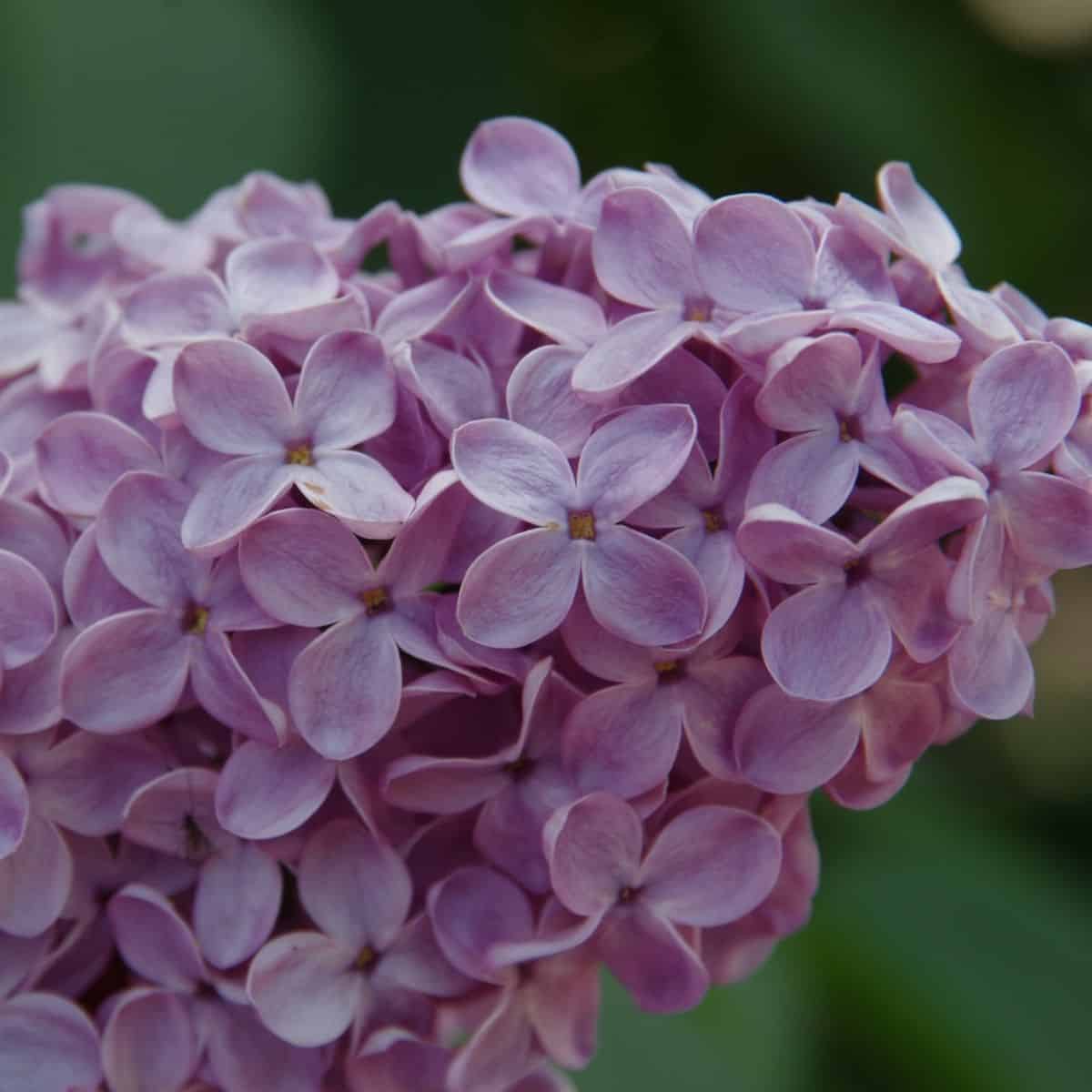 Jump to:
Ingredients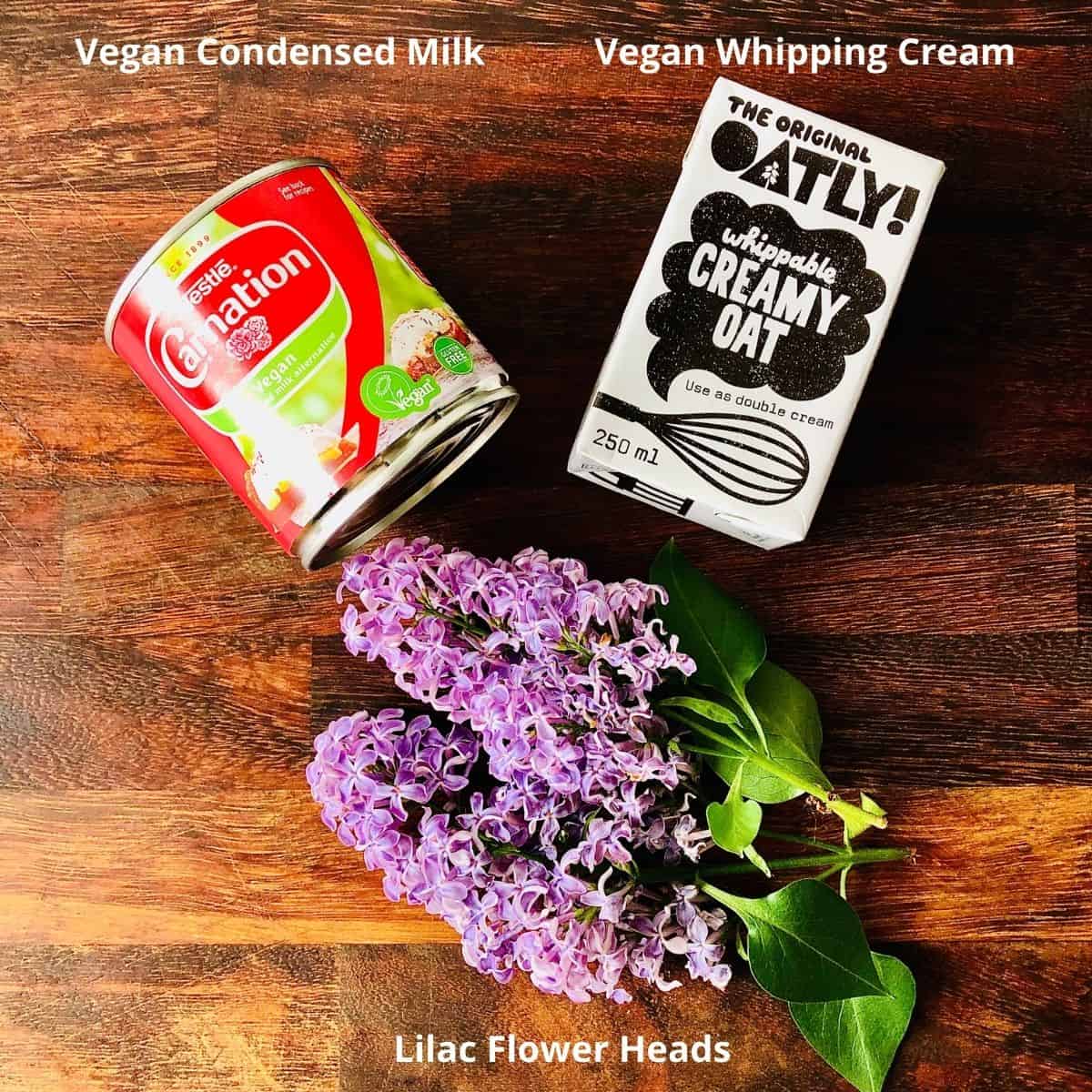 Vegan condensed milk
Vegan whipping cream
Lilac flower heads
See the recipe card for quantities.
Instructions
This nice cream is so simple to make.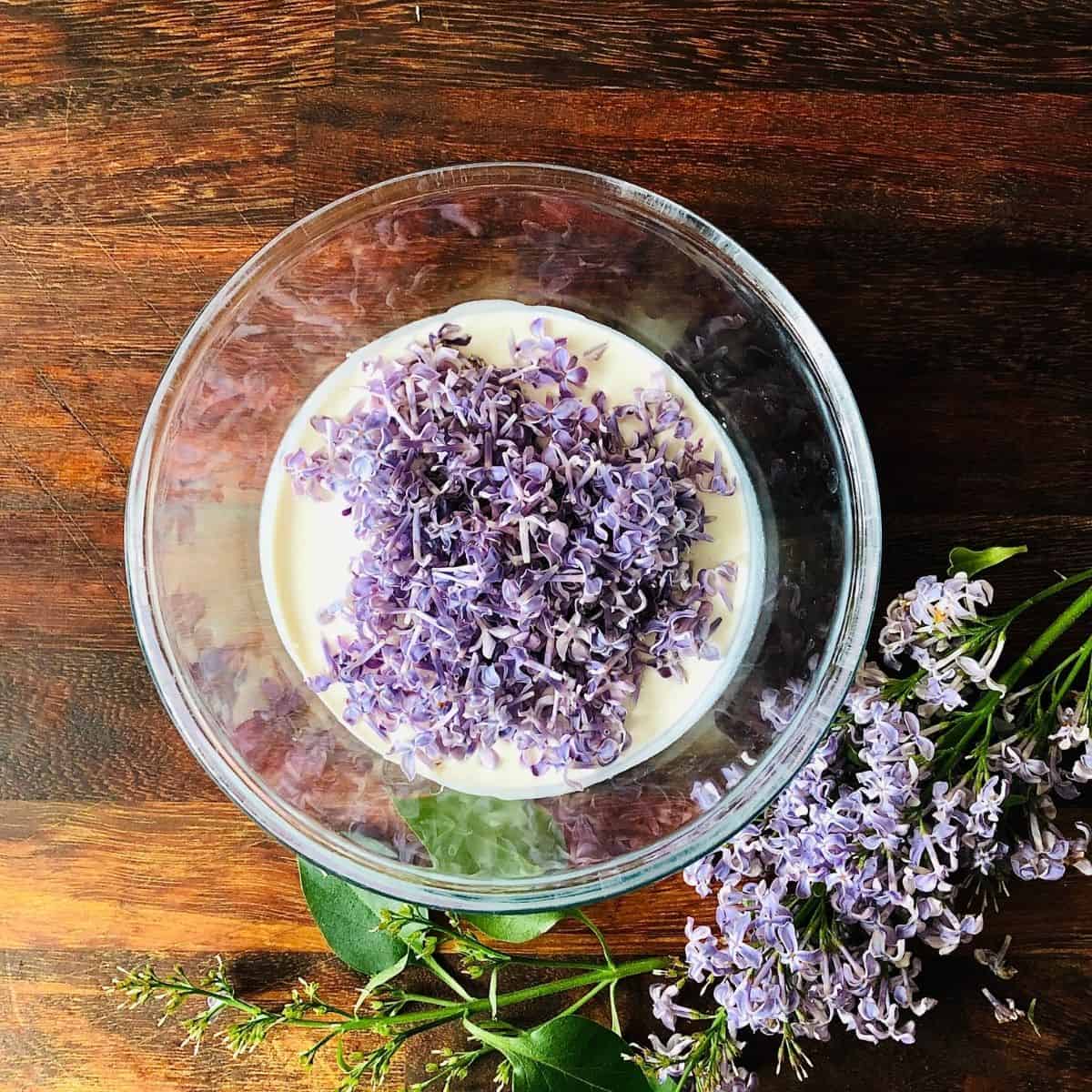 The first task is to remove all the flowers from the flower heads. Once picked, add these individual flowers to 250ml of the whipping cream in a bowl. Please give it a stir, and then place the bowl into the fridge overnight to cold infuse.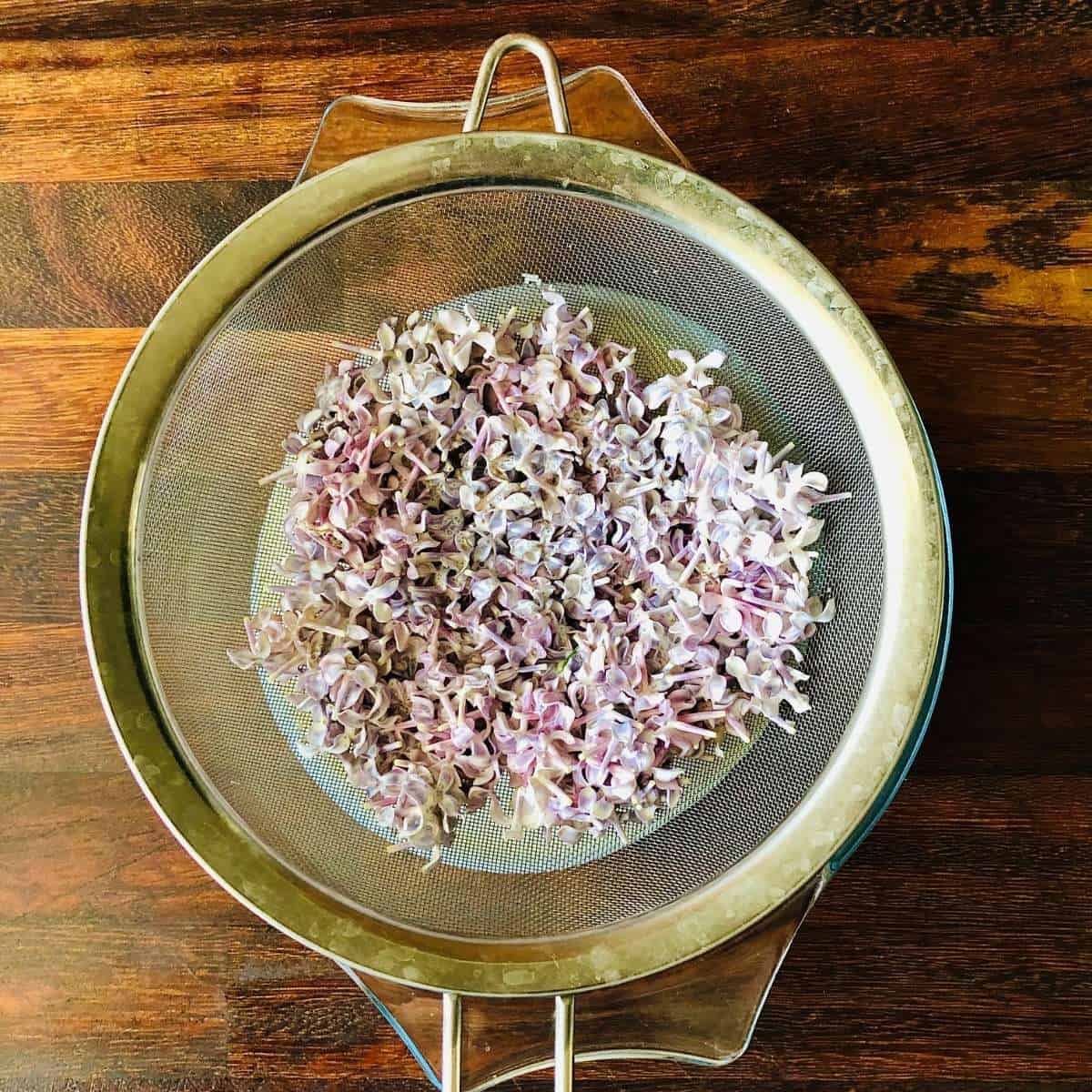 Once infused, strain the cream and discard the flowers.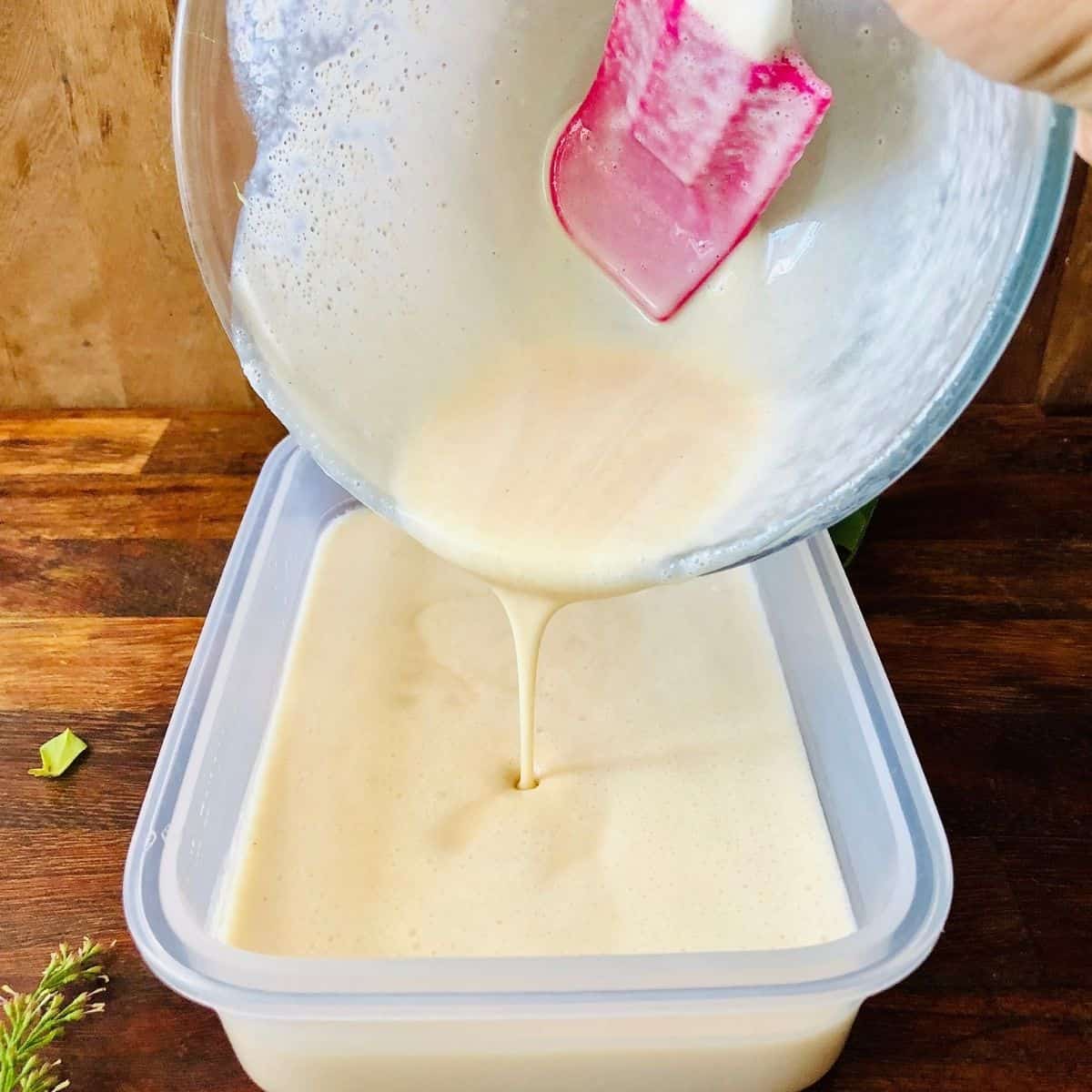 Add the remaining whipping cream to the bowl and also the vegan condensed milk. Stir well. Transfer to a freezer-safe container and freeze overnight.
I have another nice cream for you to try! Please check out my spiced nice cream and my coffee nice cream. Or if you prefer an ice lolly, then try my elderflower and strawberry ice lolly.
How-To Video
Here is a video guide to making vegan lilac flower nice cream.
Substitutions
Instead of lilac flowers, you can use any fragrant edible flower and infuse them in the same way. Or you can use chopped or pureed fruit. Be mindful not to add any water if you choose to puree the fruit, or use fruit with high water content. Too much water will reduce the creaminess of the ice cream.
If not vegan you can use dairy condensed milk and double cream in the same quantities stated in the recipe card.
Storage
This nice cream will keep up to three months in an airtight container in the freezer.
Top tip
Before serving, leave the nice cream out for a couple of minutes before scooping. Please don't leave it out of the freezer for too long as it starts to melt quickly. It needs to be consumed immediately. This fresh nice cream does not have the stabilisers added to shop-bought ice cream to slow down melting.
📖 Recipe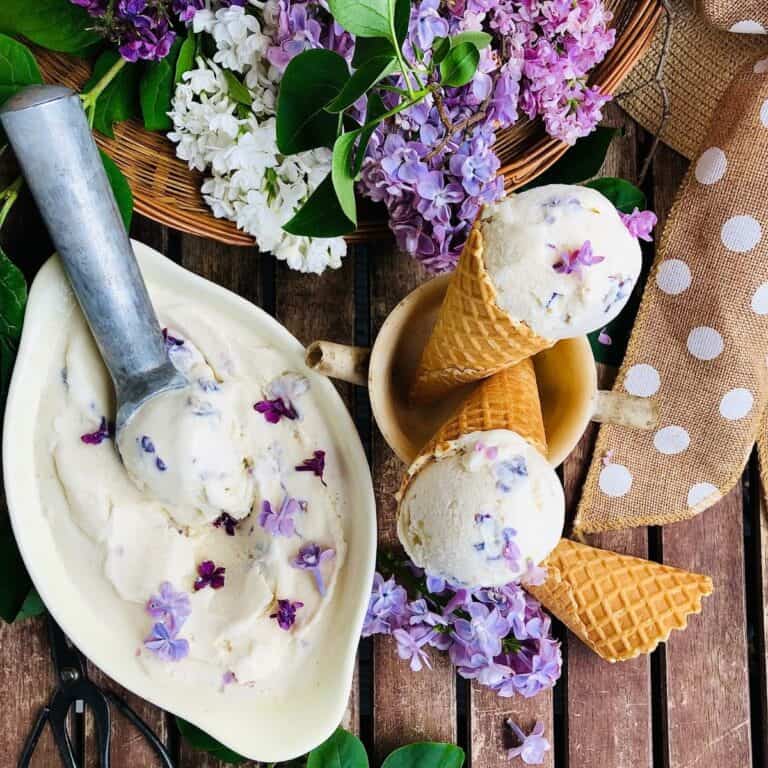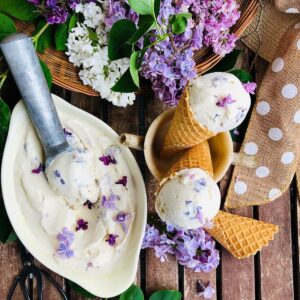 Lilac Flower Nice Cream
A delicious vegan ice cream flavoured with infused lilac flowers
Ingredients
2

Lilac flower heads

500

gms

Vegan whipping cream

370

gms

Vegan condensed milk
Instructions
In a bowl add 250 ml of the Whippable vegan cream.

Pick each flower from the flower head and add them to the bowl with the cream. Stir and then leave in the fridge to cold-infuse overnight or at least for six hours.

Strain the cream and discard the flowers.

Add the rest of the whipping cream and the vegan condensed milk to the infused cream. Stir.

Transfer into a freezer-safe container and freeze overnight.

Once frozen, scoop and serve.
Food Safety
In a professional kitchen, food hygiene and safety are top priorities, and from the beginning of my training, I practised good habits and routines. Of course, practising good food hygiene and safety at home is also essential. Here are some fundamental practices to adopt in the kitchen.
Wash your hands regularly while preparing, handling and cooking food.
Wipe down countertops and high-contact points regularly.
If you cook meat and fish, do not use the same utensils on cooked food that previously touched raw meat. Use separate chopping boards for meat and fish. Wash your chopping boards immediately after use.
Thoroughly cook food to a minimum temperature of 165 °F (74 °C).
Don't leave food at room temperature for extended periods (more than 2 hours).
For more details regarding food hygiene and safety in the home, visit the UK Government's Food Standards Agency webpage.