Fennel is probably the last vegetable you would think of in a salad. Fennel is such an underrated but versatile vegetable. Let's go on a Fennel salad adventure! It's good to think outside the box sometimes.
Whether adventurous or not, I highly recommend you give this salad a go. If only to add a new vegetable to your diet. Trust me with this; I'm the fussiest vegetable eater in the universe!
Jump to: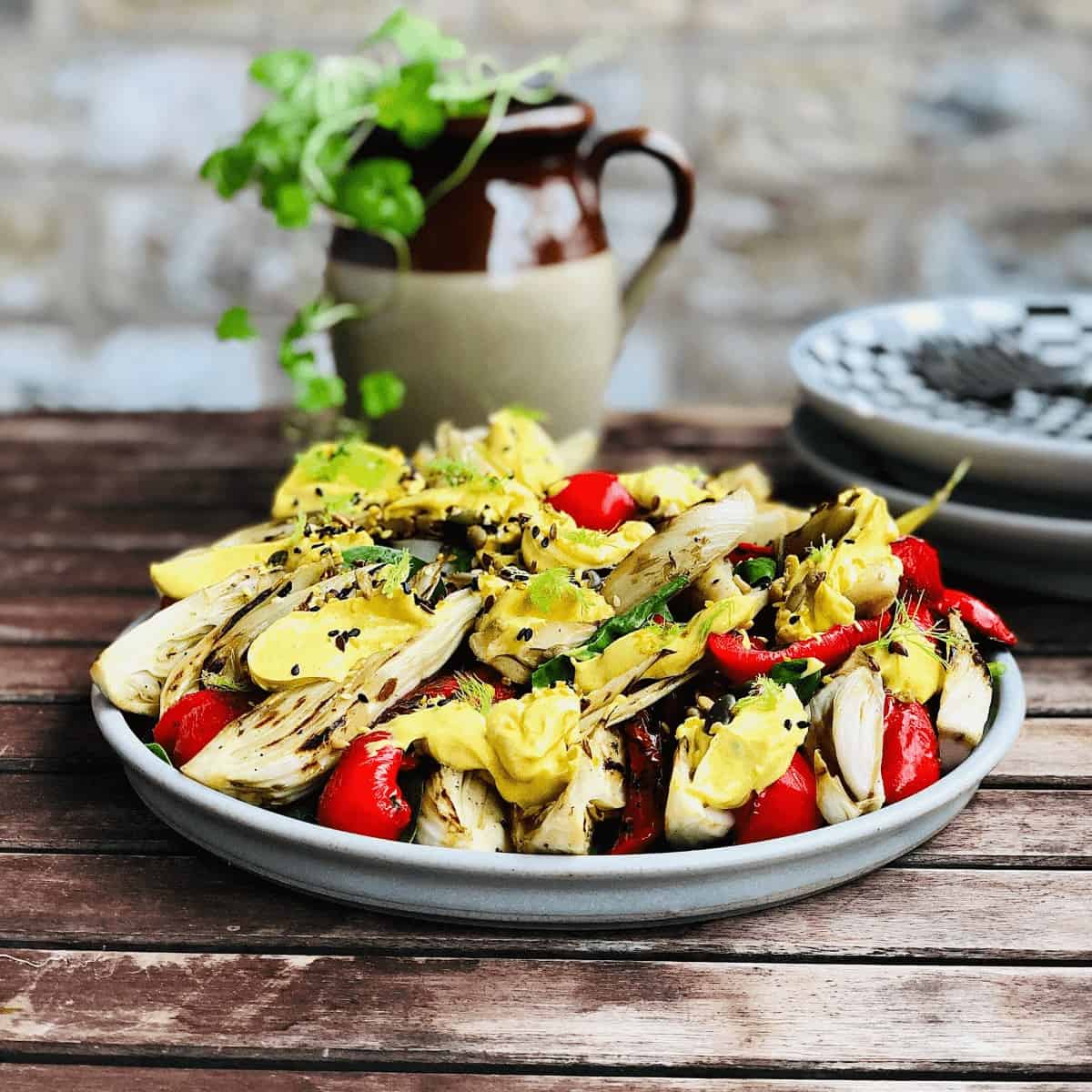 Flavourful Fennel Salad
In this Fennel salad recipe, we are using a fennel bulb. The bulb comes from a cultivated variety called Florence Fennel. Discover more about fennel here.
Fennel has a sweet aniseed flavour. The grilled red pepper adds more sweetness to this Fennel salad, and we finish it with dollops of spiced yoghurt. I add omega-three seed mix for texture. It's optional but highly recommended.
If you have been following my salad series, you will notice how I always either grill or roast the vegetables. This is based on Ayurvedic principles. When we eat raw food, the body has to work harder to break it down and digest it. By applying heat, we are helping the body with digestion. Grilling or roasting is a relatively healthy way of cooking. You can eat fennel raw; however, it needs to be sliced very thinly to be able to chew it. We will leave that for another salad experiment. In this fennel salad, it is cut into wedges before roasting.
The spiced yoghurt is dairy-free. When I say spiced, I don't mean it has the heat that some spices bring. I use turmeric for a splash colour, cumin and Kala namak for flavour. I like to use Kala namak or black rock salt to add extra flavour to many recipes. Find out more about Kala Namak in my spiced sweet potato wedges recipe.
I hope I've convinced you to give this Fennel salad a go. If so, also check out my cavalo Nero with fennel too.
How-To Video
Here is a video guide to this grilled fennel salad recipe with red peppers:
📖 Recipe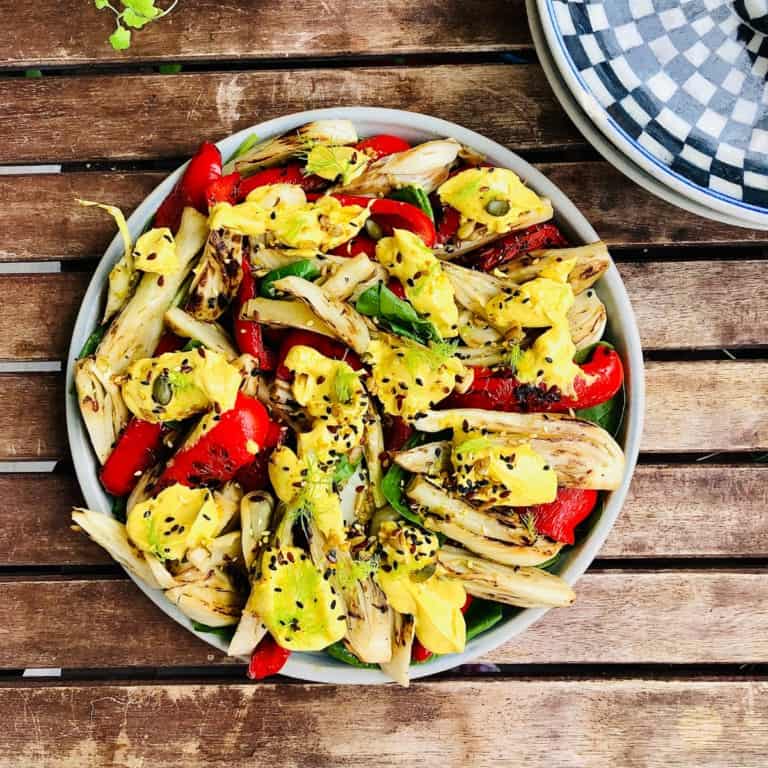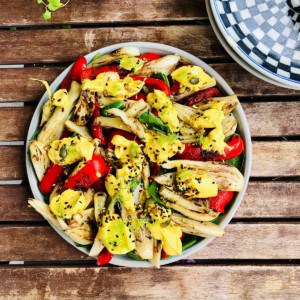 Grilled Fennel and Red pepper Salad
Grilled fennel with its sweet aniseedy flavour and red pepper with dollops of spiced yogurt
Ingredients
500

gms

Fennel bulbs

approx 2 nos

370

gms

Red peppers

approx 2 nos

50

gms

Baby spinach

100

gm

Dairyfree greek style yogurt

1

tablespoon

Olive oil

1

tablespoon

Apple cider vinegar

¼

teaspoon

Roasted cumin powder

¼

teaspoon

Turmeric powder

½

teaspoon

Kala namak

1

teaspoon

Omega 3 seed mix

optional but highly recommended
Instructions
Wash the baby spinach and set aside. Wash and pat dry fennel and red pepper.

Trim the fennel from the top and bottom, then cut in half length wise. Further cut each side into wedges insuring the fennel is still connected to the bottom and not falling apart. ( this helps in the grilling ). Cut out the tough core from the bottom of each halk of the fennel.

Cut the red pepper in half, remove seeds and cut into wedges.

Transfer the fennel and red pepper into a bowl. Add the apple cider vinegar, olive oil, salt and pepper and give it a good mix.

Grill the fennel on a pan over a high heat for a couple of minutes, on each side. the fennel will have a beautiful caramel coulour and become a bit soft. Transfer into a bowl and set aside.

Grill the red pepper on each side, on the same pan over a high heat until you have nice char marks. Set aside to cool.

In a bowl mix the yogurt, turmeric, cumin powder and kala namak until the spices are incorporated and there are no lumps.

Transfer the baby spinach to a plate. Add the fennel and red pepper wedges. Spoon on dollops of spiced yohurt. Finish with omega 3 seed mix.
Recipe Notes
For this recipe, you can easily replace the dairy-free yoghurt with dairy yoghurt if you wish.
When cutting the fennel, keep the stems and fronds. They can be used in salads or to make stock. Remove the tough, hard-to-eat core at the bottom of each half of the fennel bulb.