If you are last minute.com like me, then this vegan chocolate mousse dessert recipe is for you. With minimum cooking and effort, you have a restaurant-worthy dessert. Making vegan desserts, especially an airy mousse, shouldn't be like climbing a mountain of ingredients and processes. This recipe needs only a few ingredients, and the process is so easy. You don't need to be a chef to make it. And of course, with a decadent chocolaty dessert, you will be very popular with your friends and family.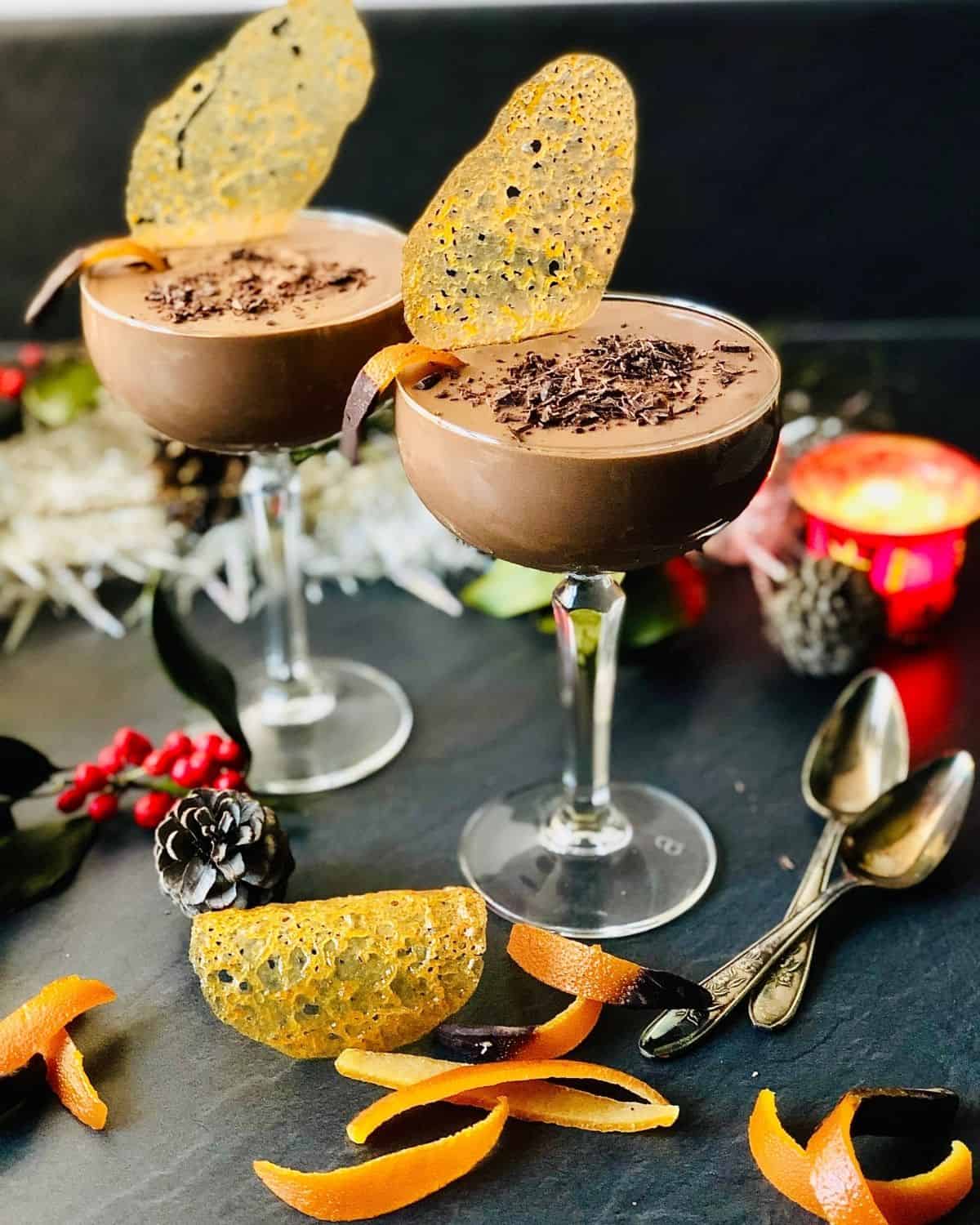 This mousse is airy, fluffy and oh so creamy. I often get comments, "it's not vegan!" Rest assured, though, it is. For this recipe, we use dairy-free cream that is whippable. This vegan cream gives the mousse light fluffiness. In this recipe, there is no avocado and no aquafaba, just a dairy-free cream that is whippable. The other key ingredient for flavour is orange blossom. Have you used it before? Widely used in Middle Eastern cuisine, it has a gentle, fragrant taste of oranges.
So if you are looking for a quick and easy last-minute dessert that will hit the spot and impress, this will become a go-to recipe. Desserts can be a lot of work and too rich, but not this one.
Ingredients
Dairy-free single cream
Dairy-free whipping cream
Dark chocolate
Caster sugar
Icing sugar
Orange blossom
Instructions
Let's make this chocolaty magic happen!
Add the vegan single cream and castor sugar in a saucepan and mix them over medium-low heat. Mix until the sugar has dissolved. Break up both the chocolate bars and add to the sugar/cream mix. Stir until all the chocolate has melted and everything is well incorporated. Set this aside to cool down.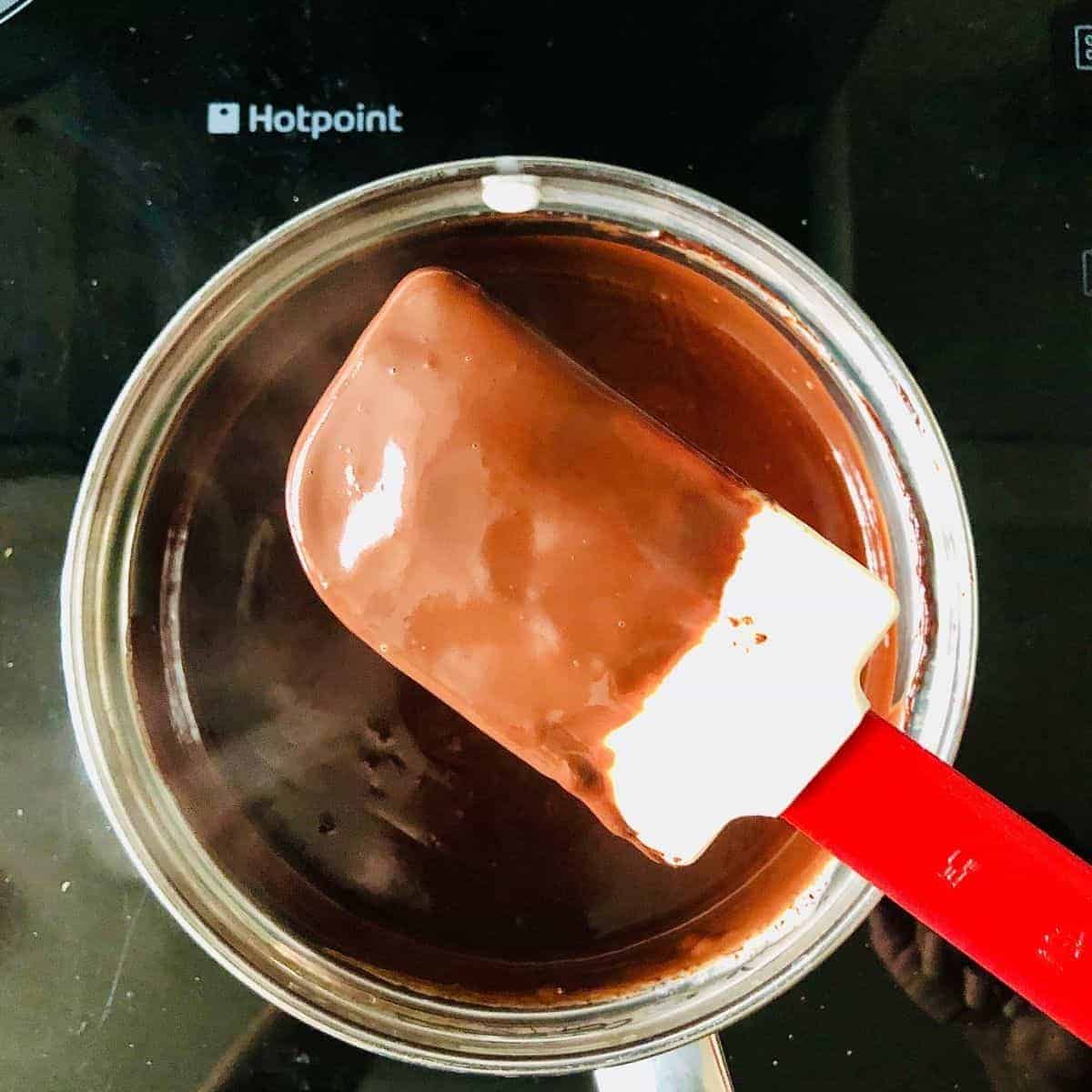 Add the whippable cream, orange blossom, and icing sugar to another bowl. Whisk together until the mixture starts to stiffen and holds soft peaks.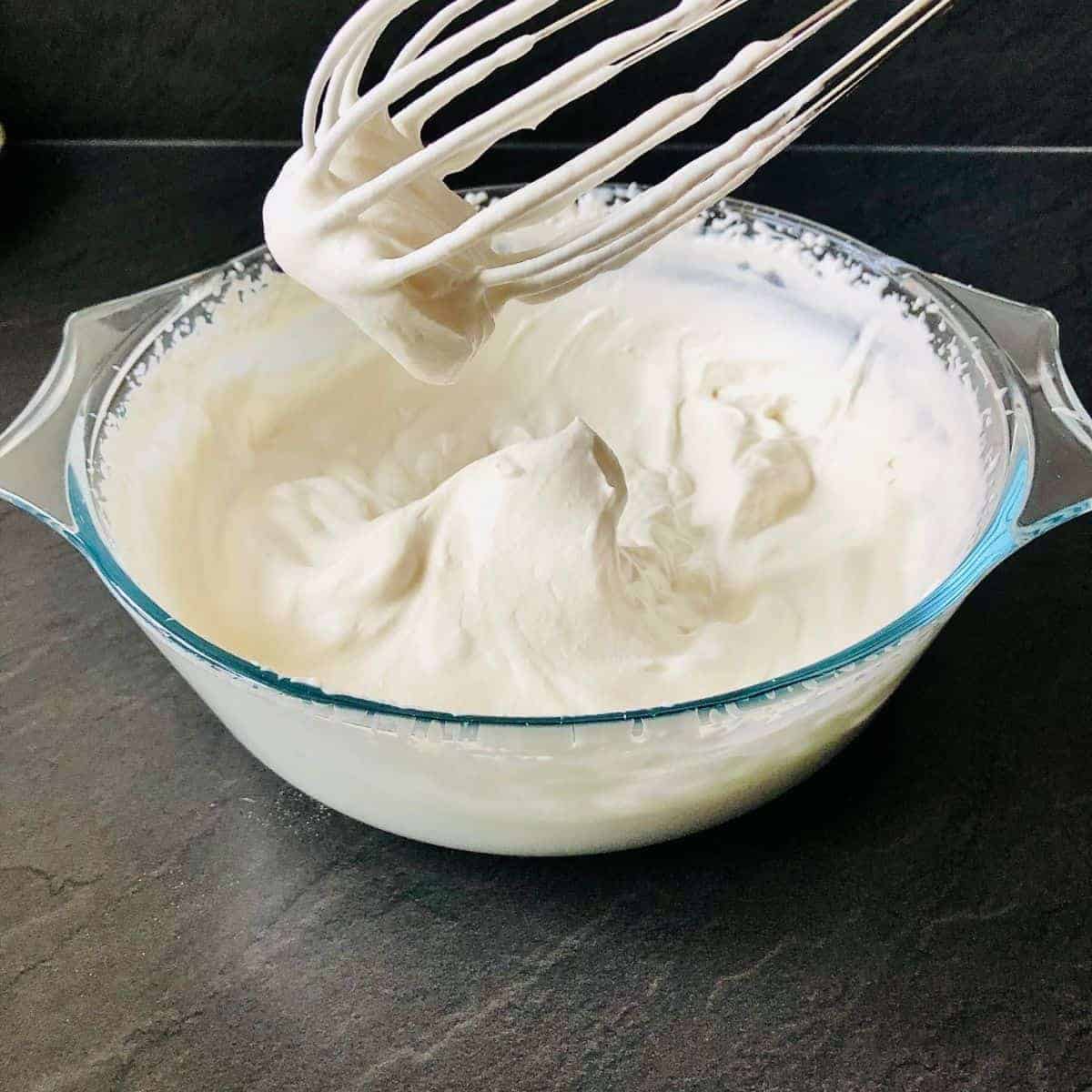 At this point, add the cooled down chocolate/single cream/sugar mix to the whipped cream and fold everything gently together until well incorporated. Try not to over mix, though, as the aim is to create an airy, fluffy mousse.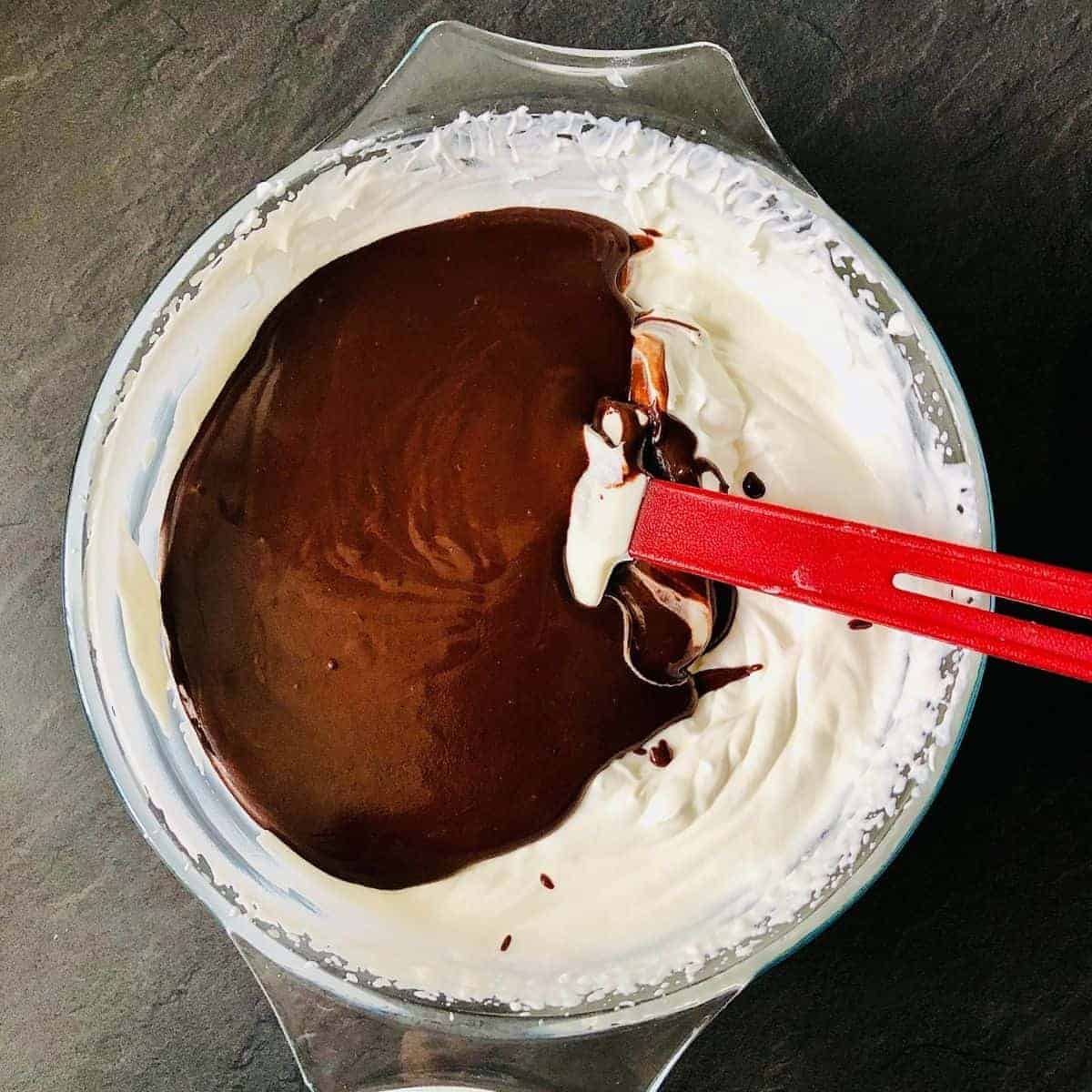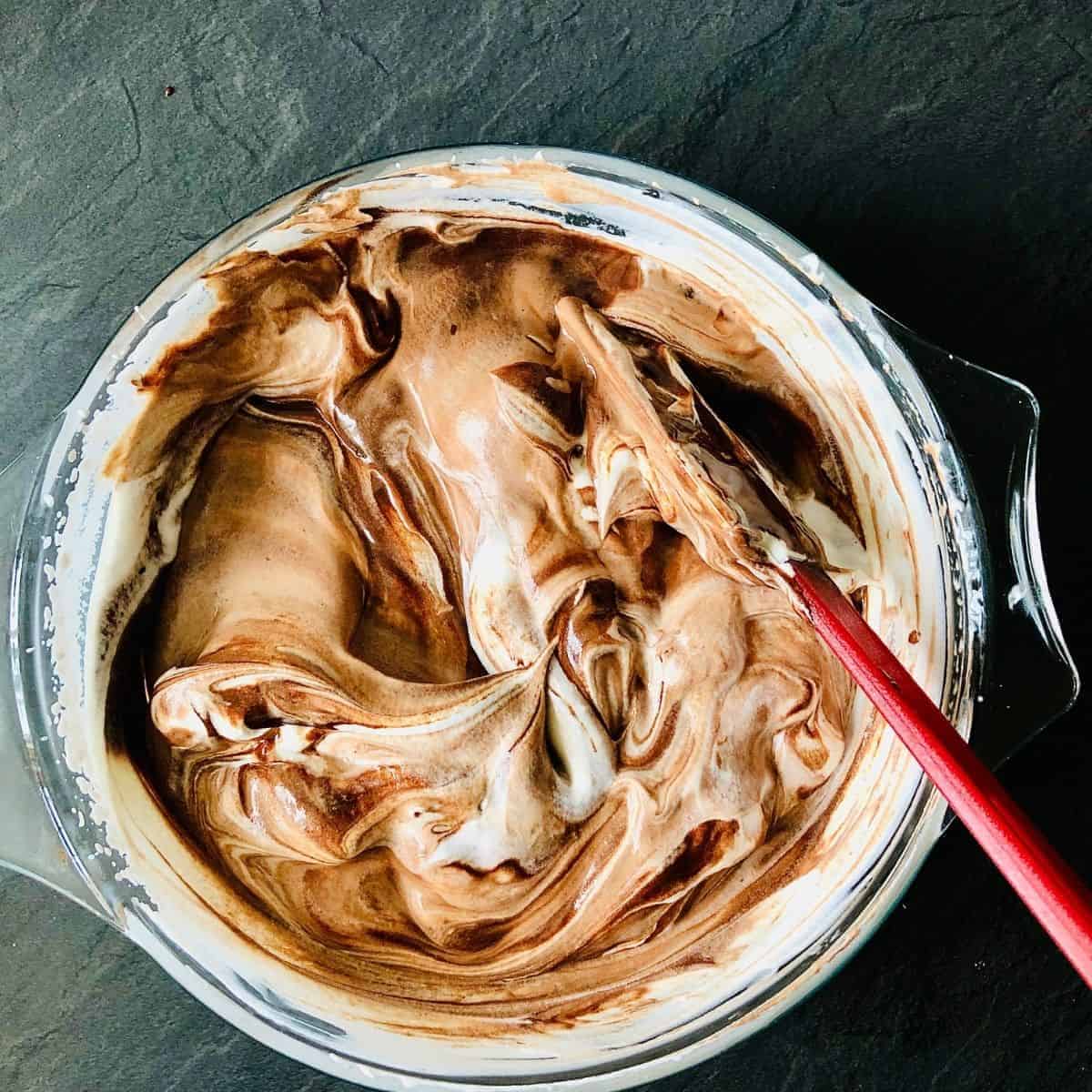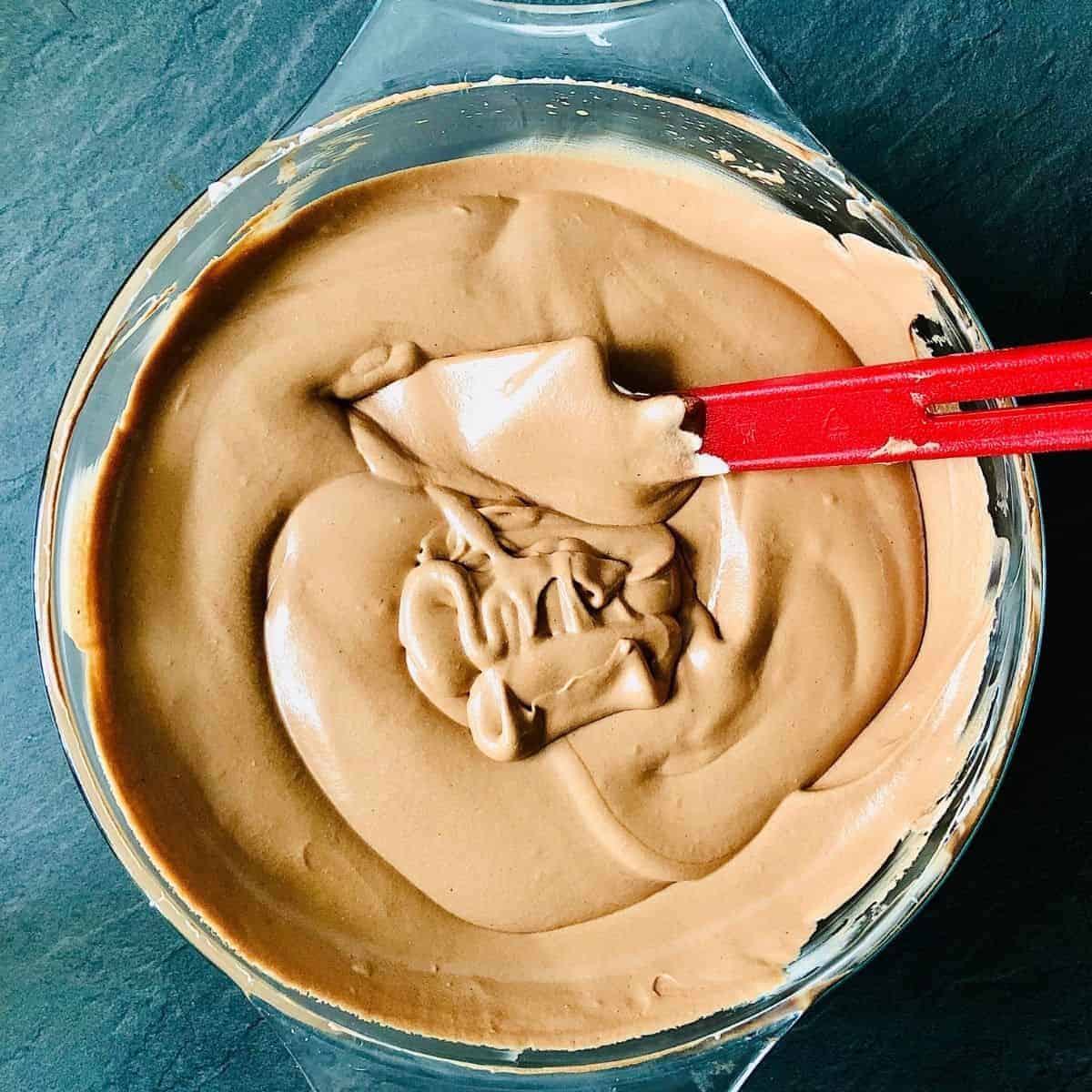 That is pretty much it. Simple eh?
Divide the mousse into individual glasses or bowls (about 170 grammes per portion). I like to use champagne classes.
Smooth the mousse with the back of a spoon, then place the bowls/glasses in the refrigerator for about two hours to set.
Serve your mousse chilled and garnished with orange tuile, shaved chocolate, or any garnish of your choice. My candied chocolate orange peels also make a good garnish.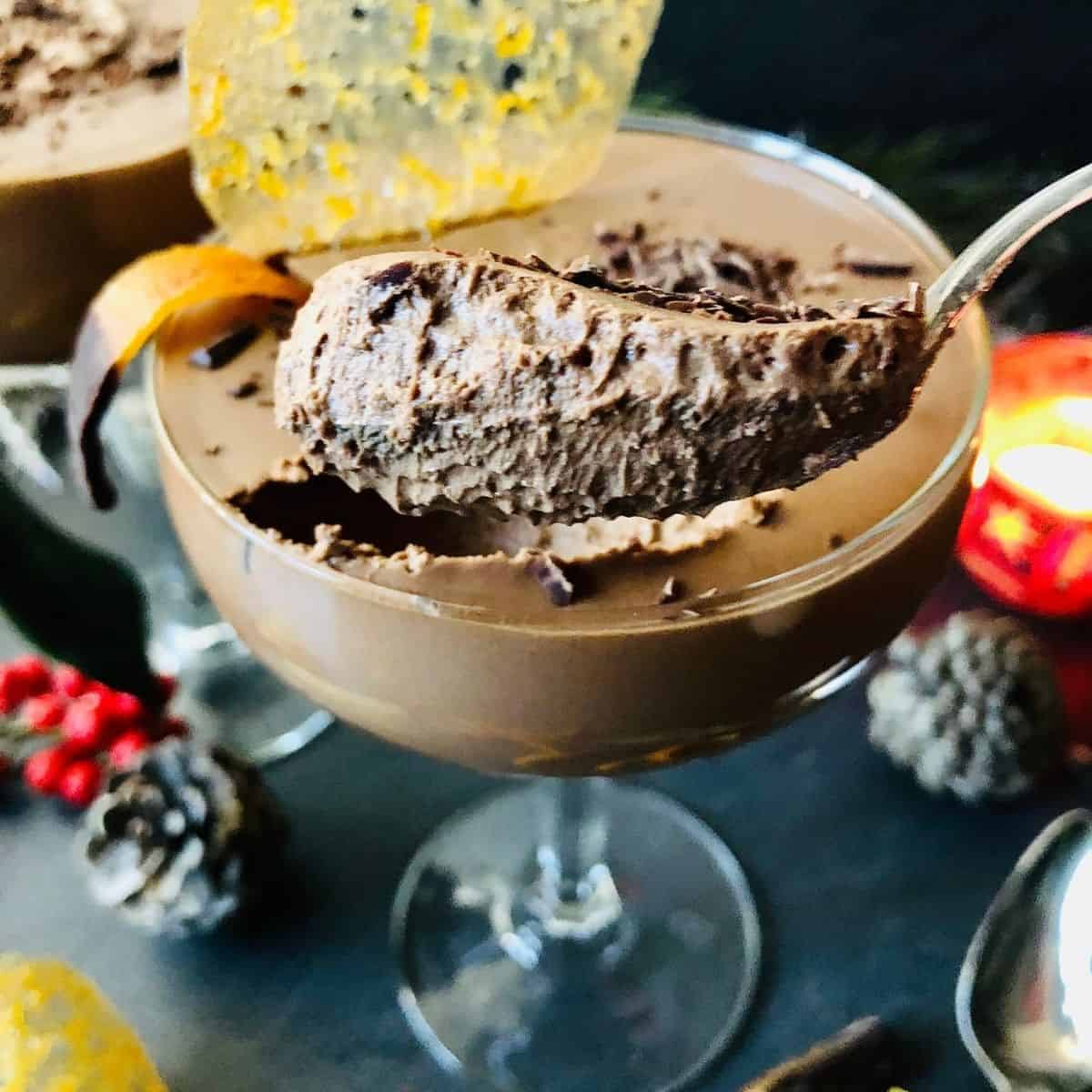 How To Video
Here is a video guide to making your vegan chocolate mousse.
Top Tips
It would be best to keep the chocolate cream mix at room temperature to cool and still be warm to the touch before adding to the whipped cream. If you allow it to cool completely, it will set and be harder to fold in.
If you don't have access to orange blossom, you can add vanilla or almond essence and put your stamp on it.
Storage
Store this vegan chocolate mousse in the refrigerator for up to three days.
📖 Recipe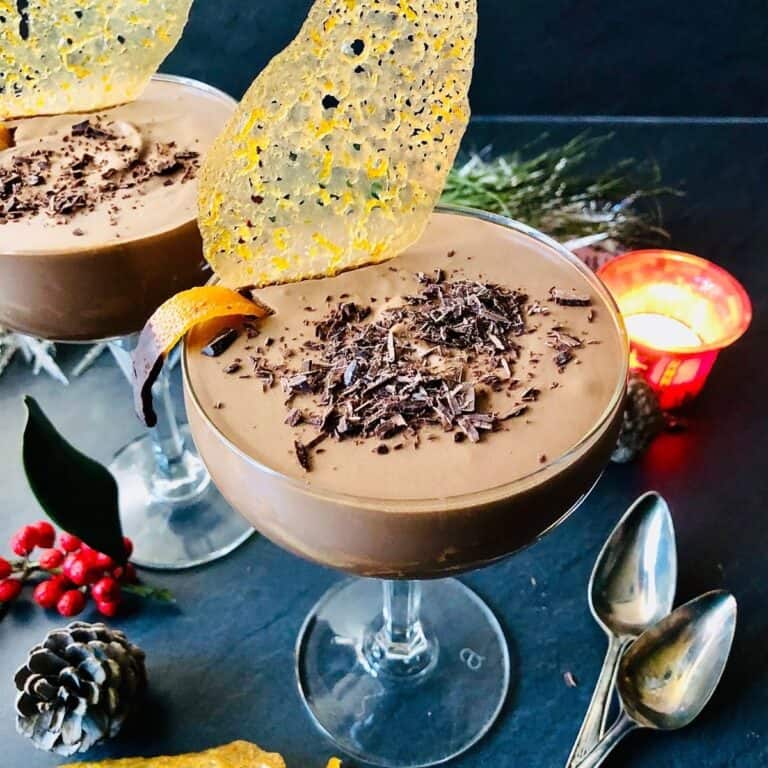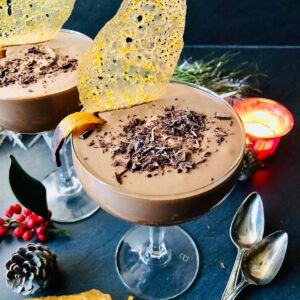 Dark Chocolate And Orange Mousse
Creamy Dark Chocolate Mousse With Orange Blossom
Equipment
Digital scales

Measuring spoons

4 x 200 ml glasses or bowls
Ingredients
250

ml

Dairy free single cream

250

ml

Dairy free whippable cream

100

gms

Dark chocolate 85%

100

gms

Dark chocolate 56%

25

gms

Castor sugar

25

gms

Icing sugar

1

teaspoon

Orange blossom
Instructions
In a pan, mix the single cream and sugar over a medium low heat. Mix until the sugar dissolves.

Break both the chocolate bars into small pieces and add to the cream/sugar mix.

Stir until all the chocolate has melted and the ingredients are well incorporated. Set aside to cool.

Add the whippable cream, icing sugar, and orange blossom extract to a bowl. Whisk until the cream starts to stiffen and holds soft peaks.

Pour the chocolate/cream mix into the whipped cream and gently fold to mix until the chocolate is fully incorporated. Try not to over mix.

Pour the mix into your choice of bowl or glass, carefully dividing the mixture between all four receptacles. You should have about 170 gms per portion.

Using the back of a spoon, gently smooth the surface and refrigerate for two hours until set.

Serve chilled, garnished with Brandy snaps, shaved chocolate, or any garnish of your choice.
Food Safety
In a professional kitchen, food hygiene and safety is a top priority, and from the very beginning of training, I practised good habits and routines. Of course, it is also very, very important to practice good food hygiene and safety at home. Here are some fundamental practices to adopt in the kitchen.
Wash your hands regularly while preparing, handling and cooking food
Wipe down counter tops and high contact points regularly
If you cook meat and fish, do not use the same utensils on cooked food, that previously touched raw meat. Use separate chopping boards for meat and fish. Wash your chopping boards immediately after use.
Thoroughly cook food to a minimum temperature of 165 °F (74 °C)
Don't leave food sitting out at room temperature for extended periods (more than 2 hours)
For more details of food hygiene and safety in the home, visit the UK Government's Food Standards Agency webpage.