In late summer, plums are in season and ripening on the trees. Walking down country lanes and seeing all the colourful crop ready to pick, I just have to gather them to create something tasty in the kitchen. I give you this plum tart with with a layer of frangipane.
Couple this plum tart with some homemade nicecream and you have a very satisfying sweet treat.
Jump to: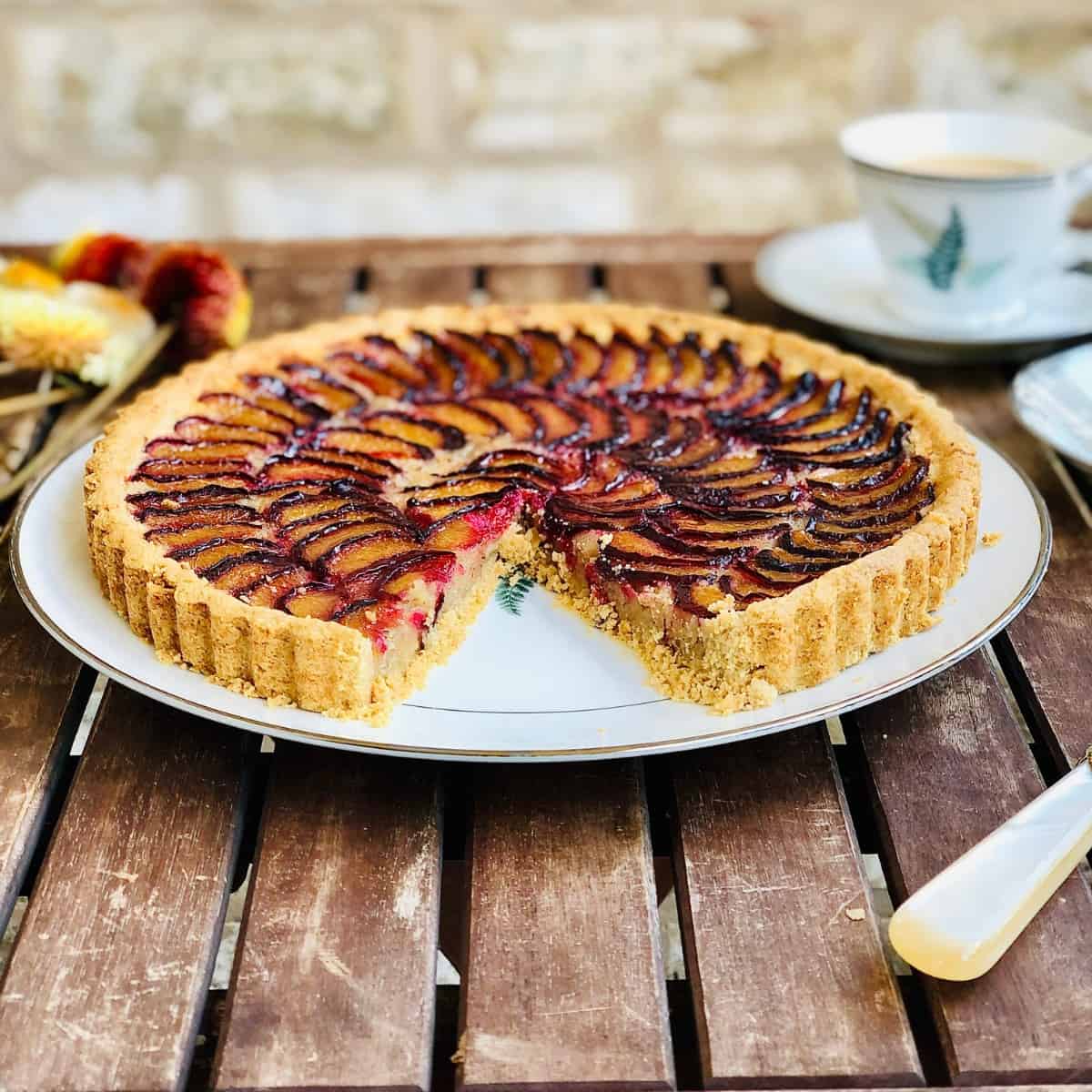 A "Free-From" Plum Tart
Of course, you can make this plum tart with shop purchased plums. However, while they are in season (late summer), why not go for a walk and see if you can find some wild plums. Country lanes, city parks, friends & families gardens are all potential spots to find them. There is something immensely satisfying about using ingredients straight from natures table. Find out more about plum trees and I.D'ing them at the Woodland Trust's website
This plum tart is gluten and dairy free. The crust is buttery and flaky and the sweet almond frangipane filling makes for a nutty and fruity tart experience. Let's also take a minute to admire Its rustic goods looks! It's easy to make too.
Frangipane is a classic french recipe, an almond flavoured pastry cream / custard if you like, which marries very well with stoned fruits. A plus point with this plum tart recipe is that you do not need to pre-bake the base which means less time in the kitchen.
Although I am not gluten or dairy intolerant, I am cautious about my gluten and dairy consumption. Also, I am not yet vegan. However, I enjoy creating free-from recipes as they are more inclusive and healthier. I enjoy the challenges of free-from baking too! It can be tricky at times, especially when it comes to baking gluten-free.
I am used to making frangipane tarts and cakes but turning this gluten free and dairy free was a bit daunting at first. However, I am so happy with this plum tart recipe now, and rest assured it is a keeper. In the future I will try it with different variations.
How-To Video
Here is a video guide to making your plum tart.
📖 Recipe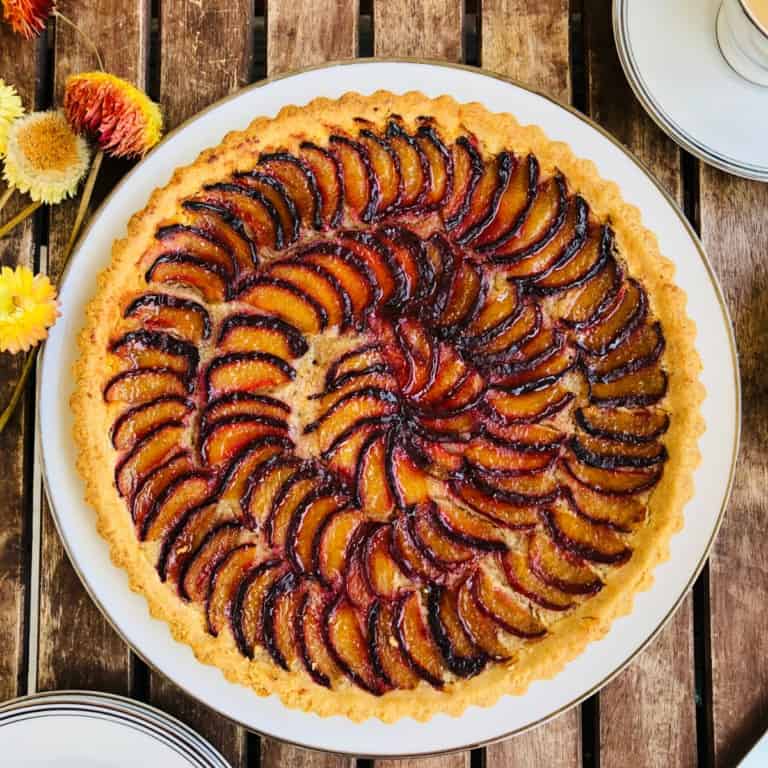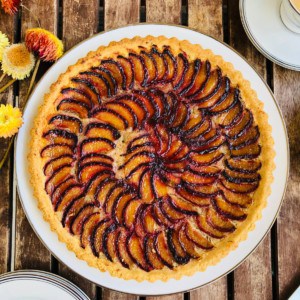 Plum Tart With Frangipane.
A fruity and nutty plum tart the is gluten-free and dairy-free.
Equipment
Fluted Tart tin with removable base 23cm ( 9 inch )
Ingredients
300

gms

Plums

1

teaspoon

maple syrup
Tart Base
250

gms

Gluten free Oat flour

25

gms

Demerara sugar

125

gms

Vegan Butter
Frangipane
2

teaspoon

Flax meal

4

tsp

water

60

gms

Vegan butter

100

gms

Raw cane sugar

90

gms

Ground Almonds

2

tablespoon

Corn starch (16 gms )

2

teaspoon

Almond extract
Instructions
Tart Base
Mix the Oat flour, cold vegan butter and sugar in a bowl. Initially it will be like a crumbly mix. Bring it together to form a dough.

Transfer the dough onto a Tart tin. I prefer to use one with a removable bottom. It is then easier to take the tart out.

Press down the dough onto the tart tin in the shape of the tin. Go right into the edges and corners.

Trim the excess that is coming out of the tin with a knife. ( Look at the video )

Set aside in the refrigerator while you prep the Frangipane.
Frangipane
Add Flax meal to a bowl and pour over the warm water and mix. Set aside

In a bowl add the vegan butter, sugar, ground almond, corn starch and almond essence. Mix to combine.

Add the flax mix and combine well.

Preheat the oven to 180ºC ( Fan Assisted oven )

Cut the plums in half and remove the stones. Slice each half thinly, discard the ends (eat them!)

Remove the tart base from the fridge.

Transfer the frangipane mix onto the prepared tart base. Press down and spread. Using a spatula, smooth out evenly.

Decorate with the plums. Start from the outside edge, place the plum slices next to one another, slightly overlapping the next, creating circles moving towards the centre.

Bake the tart in the oven for about 30 minutes or till golden.

Once baked, brush the plums with maple syrup.

Serve warm with Nicecream.
Plum Tart Recipe Notes
Use vegan block butter, not a spreadable version.
I used gluten-free oat flour for this recipe. This gives the tart base more texture and flakiness. My flour was from Shipton Mill.
Of course, if plums are not to your fancy, you can replace them with other stoned fruits. Perhaps apricots or peaches. Why not experiment.
If you need another free-from dessert idea, head on over to my dairy-free New York style baked cheese cake with a raspberry and meadowsweet glaze.