Christmas would not be Christmas without the brussel sprout. However, you either hate them or love them. If you have never liked brussel sprouts then this smashed brussel sprout recipe might just persuade you to give them another go. This is because they get a flavour upgrade with the rose harissa. Alternatively, if you are a sprout lover, still give them a go and generate a bit of curiosity at the dinner table.
Jump to: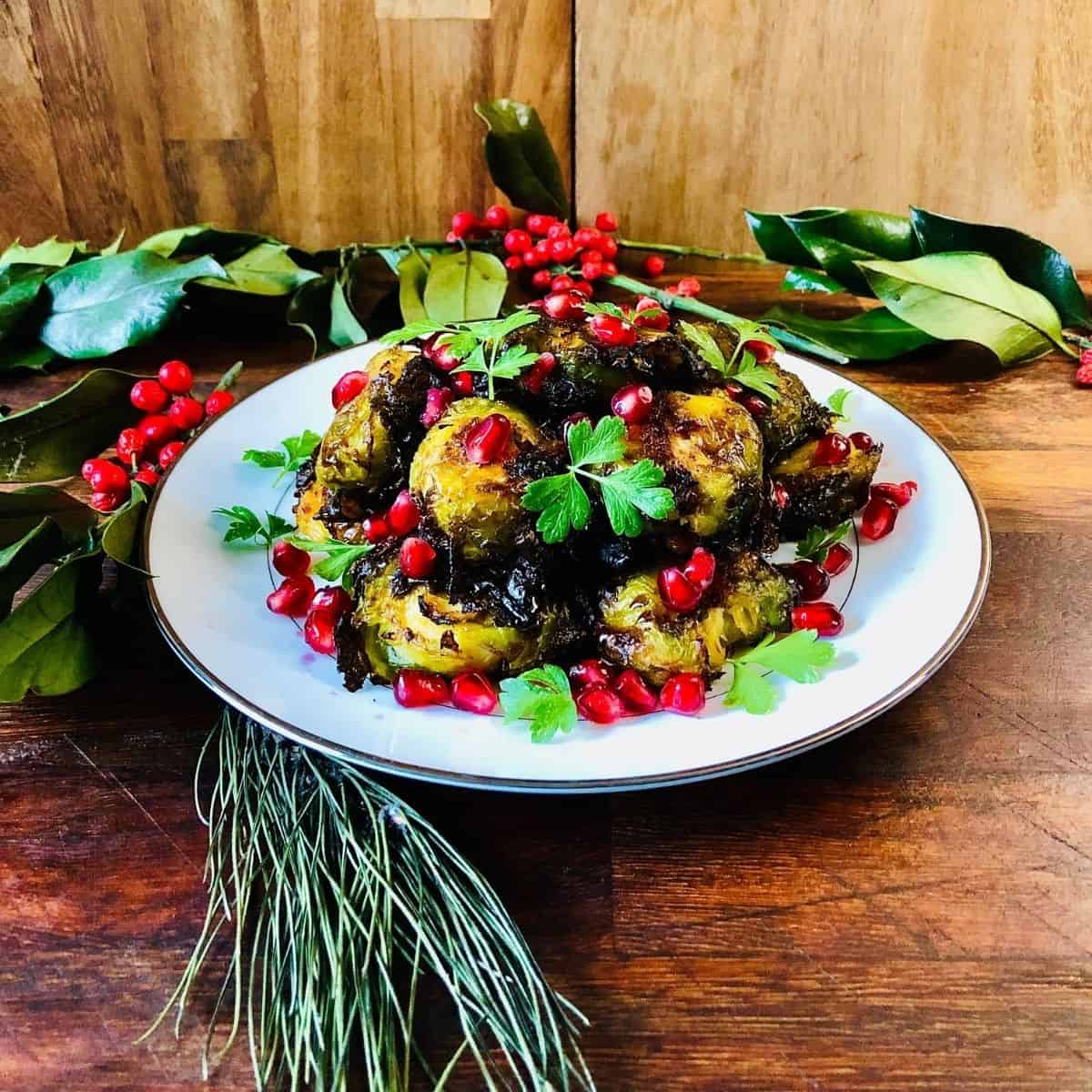 To create smashed brussel sprouts, you have to parboil them to a point where they can be squashed down with the bottom of a jar, or some other similar instrument. The sprouts are not fully cooked though, because after squashing, they are flavoured and then put in the oven to roast and crisp up.
The rose harissa gives just the right amount of heat, and the pomegranate molasses add a tanginess to the sprouts. I have used pomegranate seeds for texture and colour and also the little flavour explosion every time they are bitten down on.
Ingredients
Brussel sprouts
Rose harrisa
Apple cider vinegar
Olive oil
Salt
Pomegranate molasses
Pomegranate Seeds
Parsley for garnish
Rose Harissa Smashed Brussel Sprouts Recipe Steps
Step 1
First, wash the sprouts, remove the outer leaves, and trim the bottoms. Then using a knife, carefully score a cross in the bottom of each sprout to ensure cooking to the core.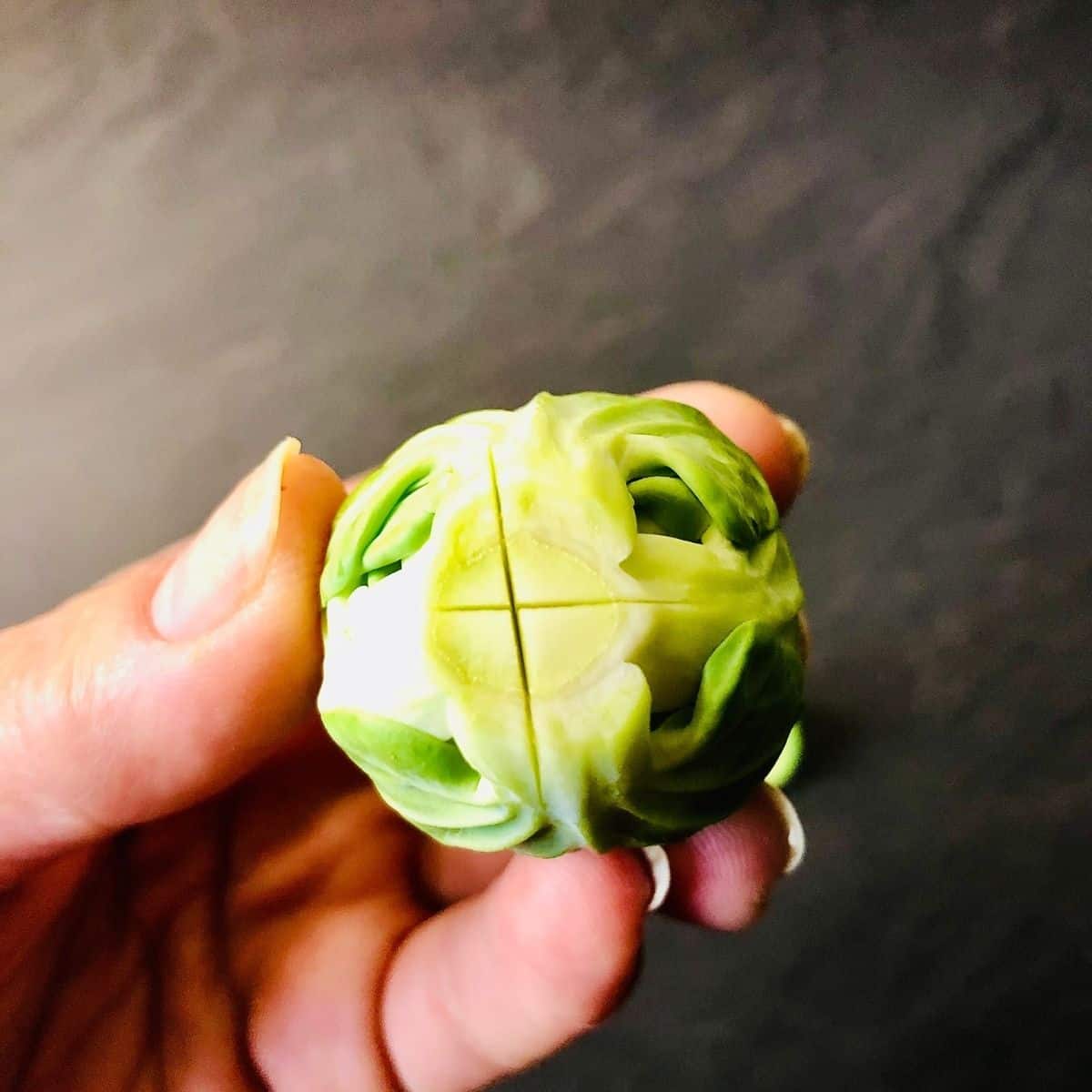 Step 2
Add salt to a pan of water and bring to a boil. Add the sprouts and cook for approximately 10 minutes. We are not cooking them right though, but to a point where they can be squashed with the flat end of a jar.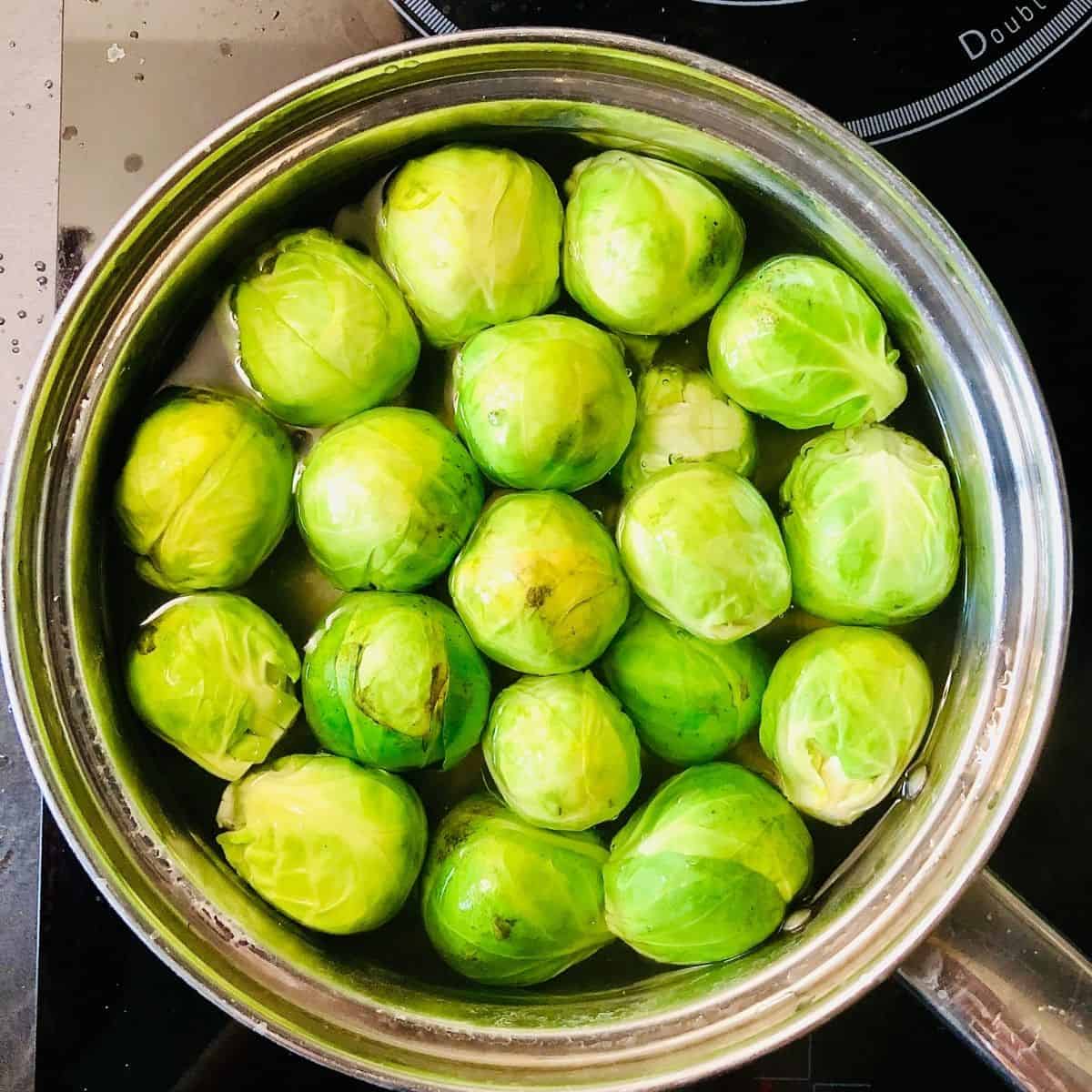 Step 3
When the sprouts are ready for smashing, drain them and immediately transfer then into a bowl of iced water to stop them cooking any further. Meanwhile, turn the oven on and heat it up to 180 degrees centigrade.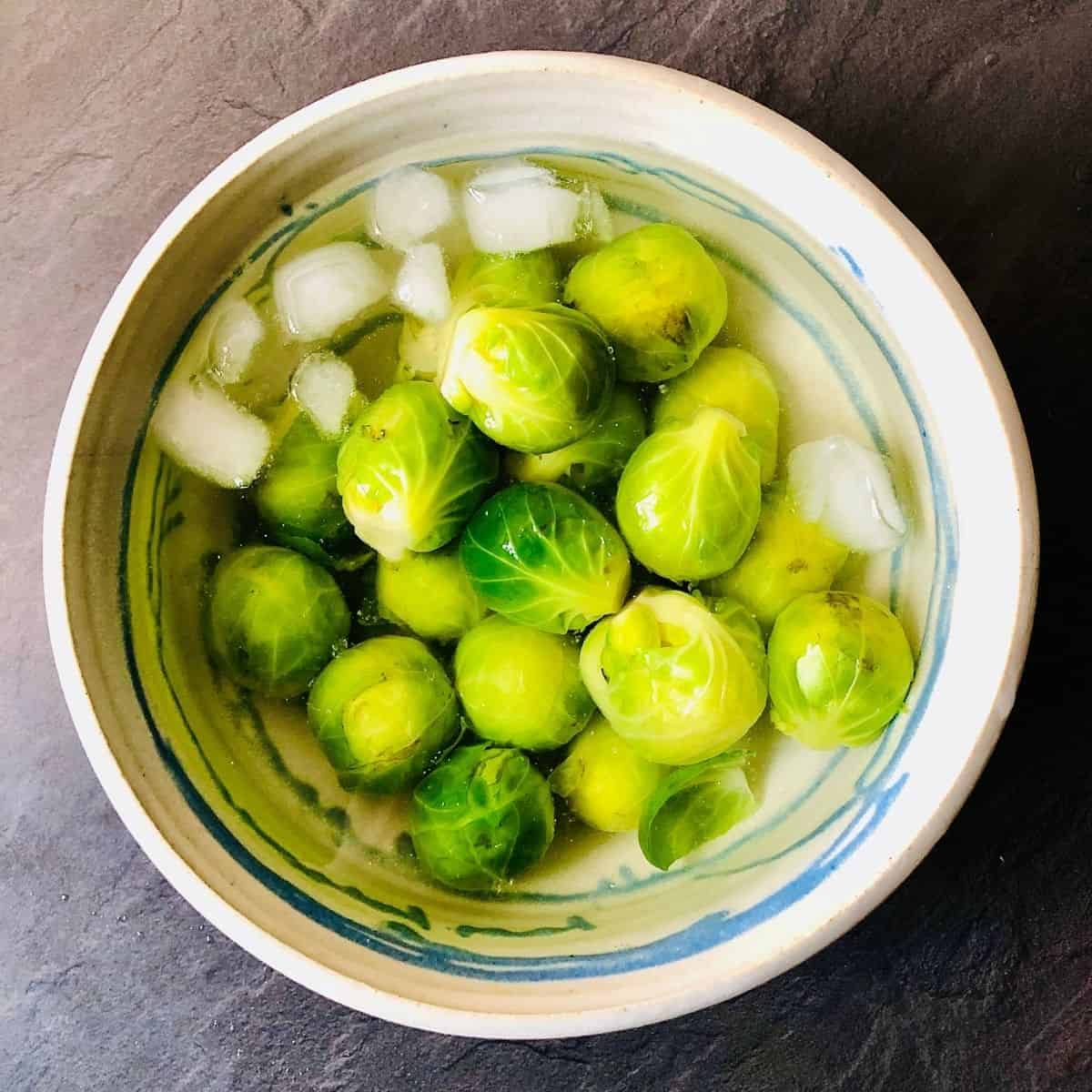 Step 4
Next, prepare the flavouring for the sprouts. In a bowl, mix the rose harissa, olive oil and apple cider vinegar. Then drain the cooled down sprouts and pat them dry on a tea towel. Then add them to the harissa, olive oils and apple cider vinegar and mix together.
Now get to work smashing your sprouts by using the flat end of a jar to press down on them. Make sure the scored end is facing upwards so that the squashed sprout holds together.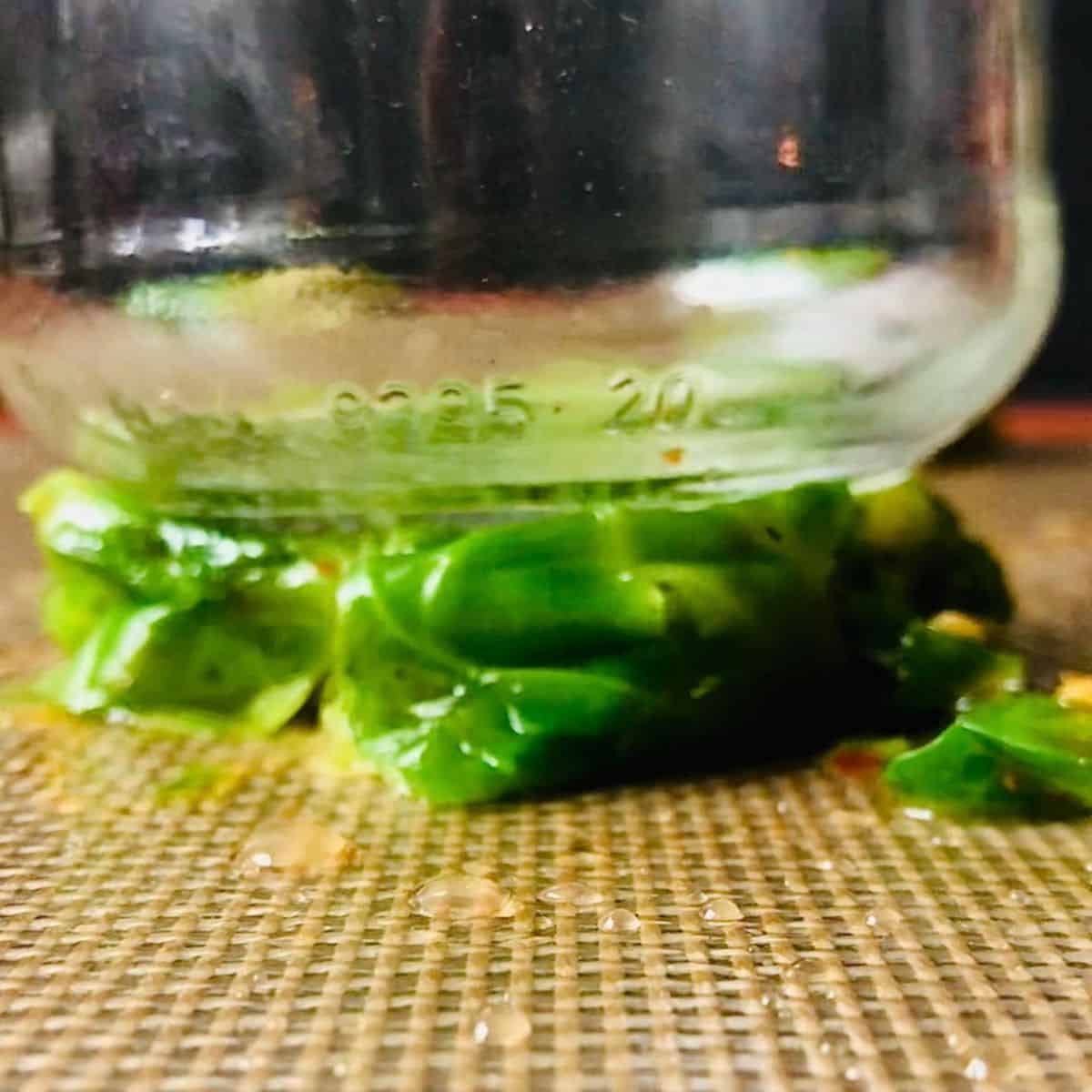 Step 5
Then transfer the squashed sprouts onto a baking tray lined with a silicone mat or parchment paper.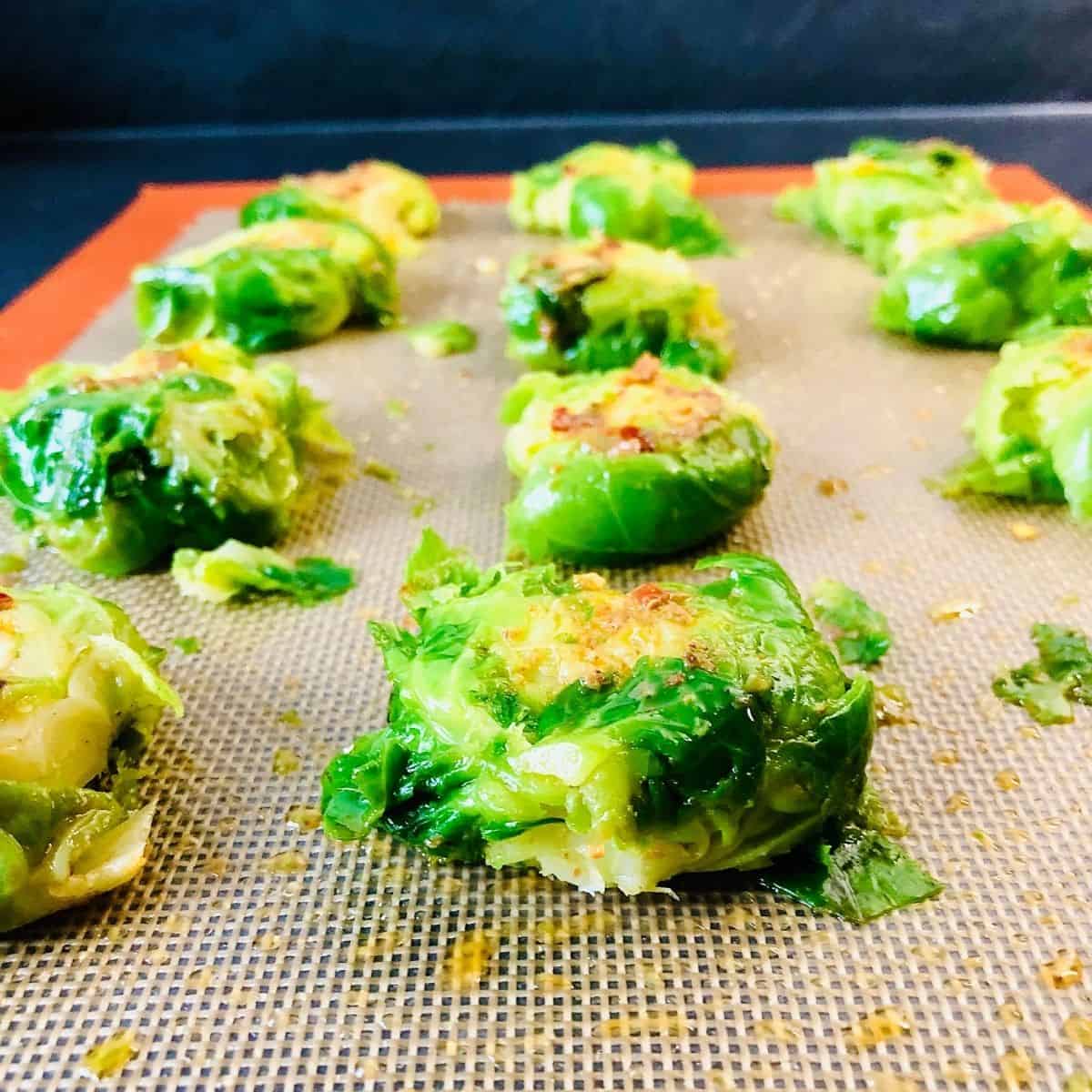 Step 6
Place them in the preheated oven and roast for 15 minutes. Then Flip them over and roast the other side for a further 15 minutes.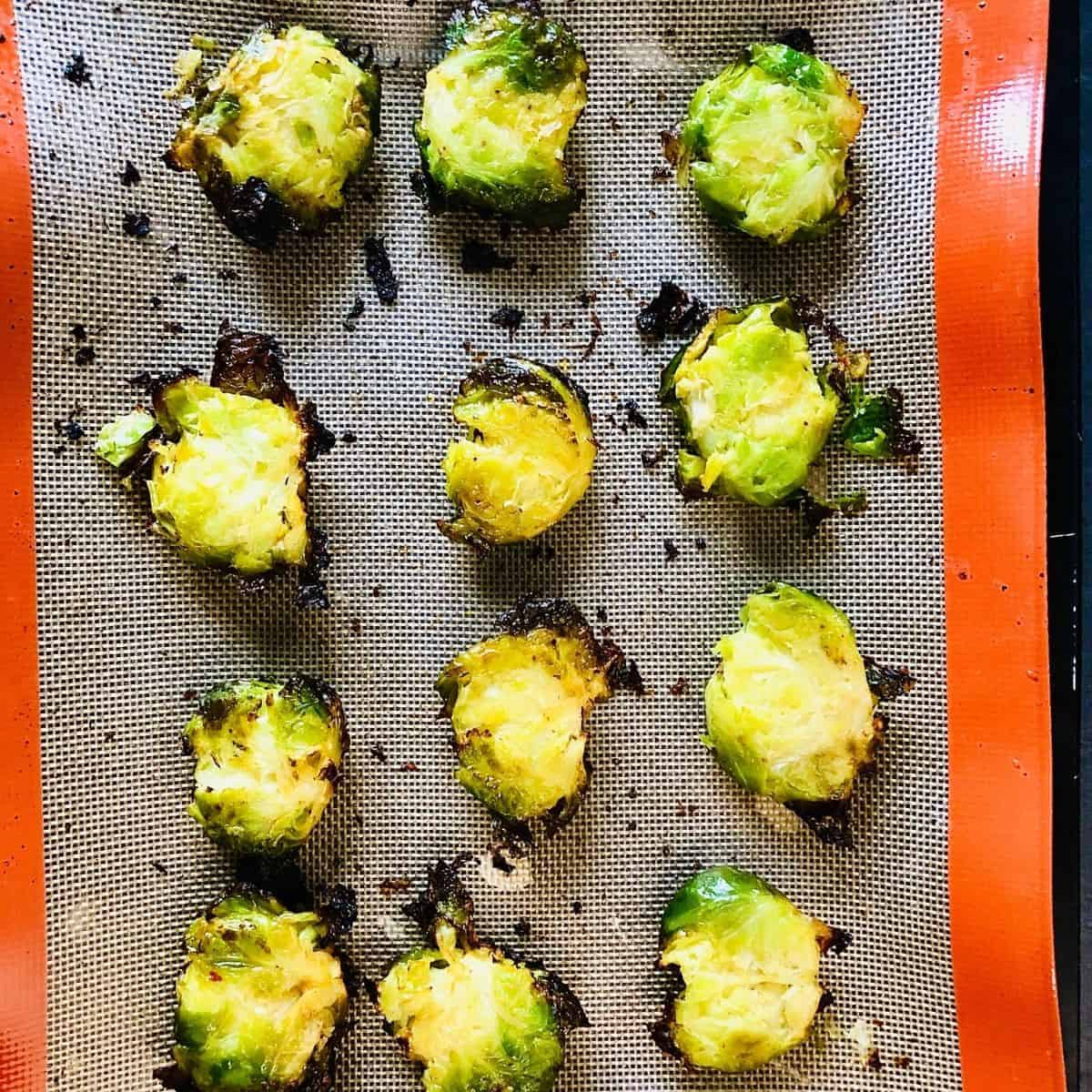 Step 7
Finally, arrange on a plate, drizzle over the pomegranate molasses and garnish with pomegranate seeds and parsley if you wish.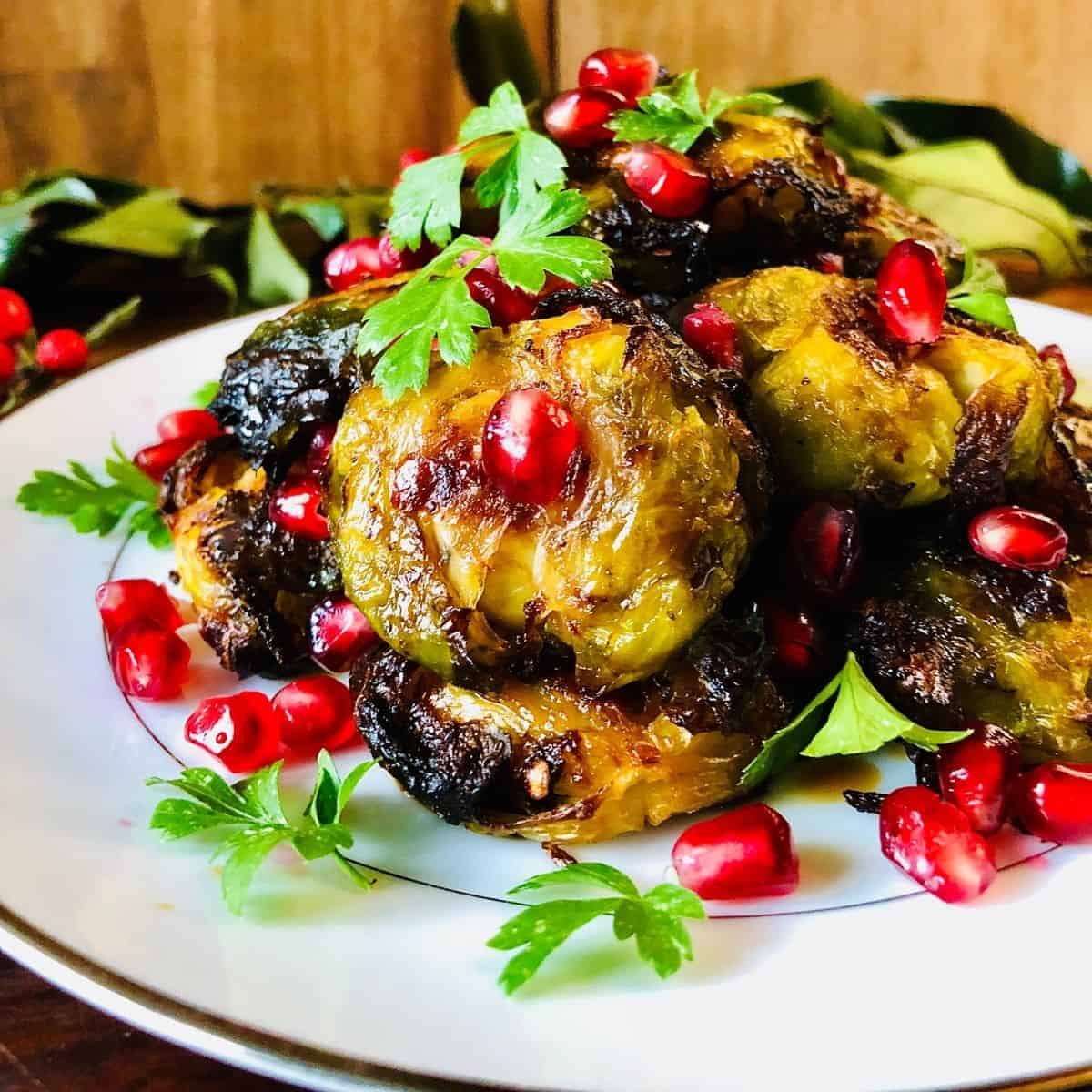 How-To Video
Here is a video guide to making smashed brussel sprouts with rose Harissa.
Recipe Notes For Rose Harissa Smashed Brussel Sprouts
You can replace the apple cider vinegar with any vinegar or even lemon juice if you prefer.
If you are using my homemade harissa recipe then follow the measurements given, if you are using store bought then you can increase the amount, depending on your tolerance for heat from the chillies. Note that my harissa recipe requires foraged rose petals. If you are making this out of rose petal season you can buy dried rose petals.
I highly recommend Pomegranate seeds as a garnish, however, you can use any herbs for your choice to garnish.
I used larger sprouts in this recipe. Smaller ones will crisp up faster. Also, the boiling and cooking time will be less.
Storage
Store the smashed brussel sprouts in the refridgerator for up to three days and reheat before use.
📖 Recipe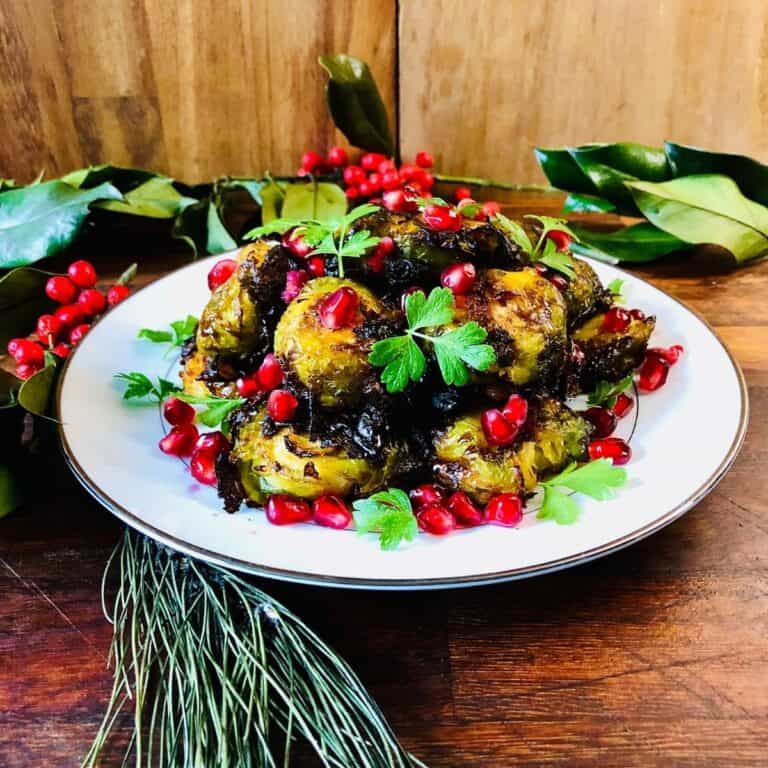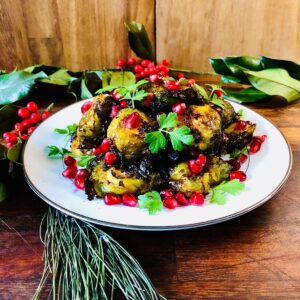 Rose Harissa Smashed Brussel Sprouts
Give your brussel sprouts an upgrade to these fiery, crispy rose harissa flavoured offerings
Equipment
Digital scales

Measuring spoons

A glass jar
Ingredients
350

gms

Brussel sprouts

about 20 large ones

1

teaspoon

Rose harissa

1

teaspoon

Apple cider vinegar

1

teaspoon

Olive oil

1

teaspoon

Salt

for boiling the sprouts

1

tablespoon

Pomegranate molasses

10

gms

Pomegranate seeds

for garnish

A few leaves of parsley

for garnish
Instructions
In a pan add water and salt and bring to a boil.

Wash the brussel sprouts. Trim off the bottoms and remove the outer leaves. Then using a knife score the bottom of each sprout with a cross. This helps to cook the sprouts to the core.

Transfer the prepped brussel sprouts into the boiling water and cook for 8 to 10 minutes. Cooking time may vary depending on the size of the sprouts. After the time has elapsed, you can pull one out and try to smash it. If it is easy to press down then they are ready.

Prepare a bowl with iced water to transfer the sprouts into once cooked.

Heat the oven to 190ºC (fan assisted)

Once the sprouts are cooked, drain the water and transfer the sprouts into the ice bath immediately to stop them from cooking further.

In a bowl, mix the rose harissa, olive oil and apple cider vinegar. Salt is not required as the sprouts were boiled in salt water.

Once the sprouts have cooled, drain the water and dry the sprouts in a kitchen / tea towel.

Transfer the sprouts into the bowl with the harissa, apple cider vinegar and oil and cover them with the mix.

Place each sprout on a silicon mat, chopping board, or any flat surface and using a glass jar bottom, press down onto the sprout to flatten it. The end that you scored should be facing upwards. Of course, press down gently. The photos give an idea of thickness of the squashed sprouts.

Transfer the sprouts onto a baking tray. If using the silicon mat to smash, the same can be transferred onto a tray. If not, then line the tray with parchment paper before placing the sprouts. Make sure to leave gaps between the sprouts to allow even cooking.

Roast the sprouts in the oven for 15 minutes, then remove from the oven and flip each sprout over. Return to the oven for another 15 minutes.

Once ready, transfer to a serving dish and drizzle with pomegranate molasses.

Garnish with pomegranate seeds and parsley leaves. (optional, but highly recommended)