Macher jhol, or fish in mustard sauce, is one of the most basic everyday meals in a Bengali household. It is simple, flavourful, and for me the most comforting meal ever. I have been toying with the idea of making this vegan fish alternative with banana blossom for a long time, however, I have also been paralysed with the fear of disappointment that it will not be as good as the original fish classic.
Therefore a tin of banana blossom has been sitting at the back of my pantry for a very long time. Making the vegan version of kosha mangsho with jackfruit, bolstered my confidence, and I was finally ready to give this a go.
The result blew me away, I couldn't tell the difference! Even the Englishman (my partner) who is vegetarian, told me that it was his favourite recipe from all my experiments (he gets to try all these experiments in his work lunch box!) A while ago we went to a vegan fish-and-chips restaurant in London that served banana blossom "fish" and we were impressed. However, he just loved the flavours of this recipe more.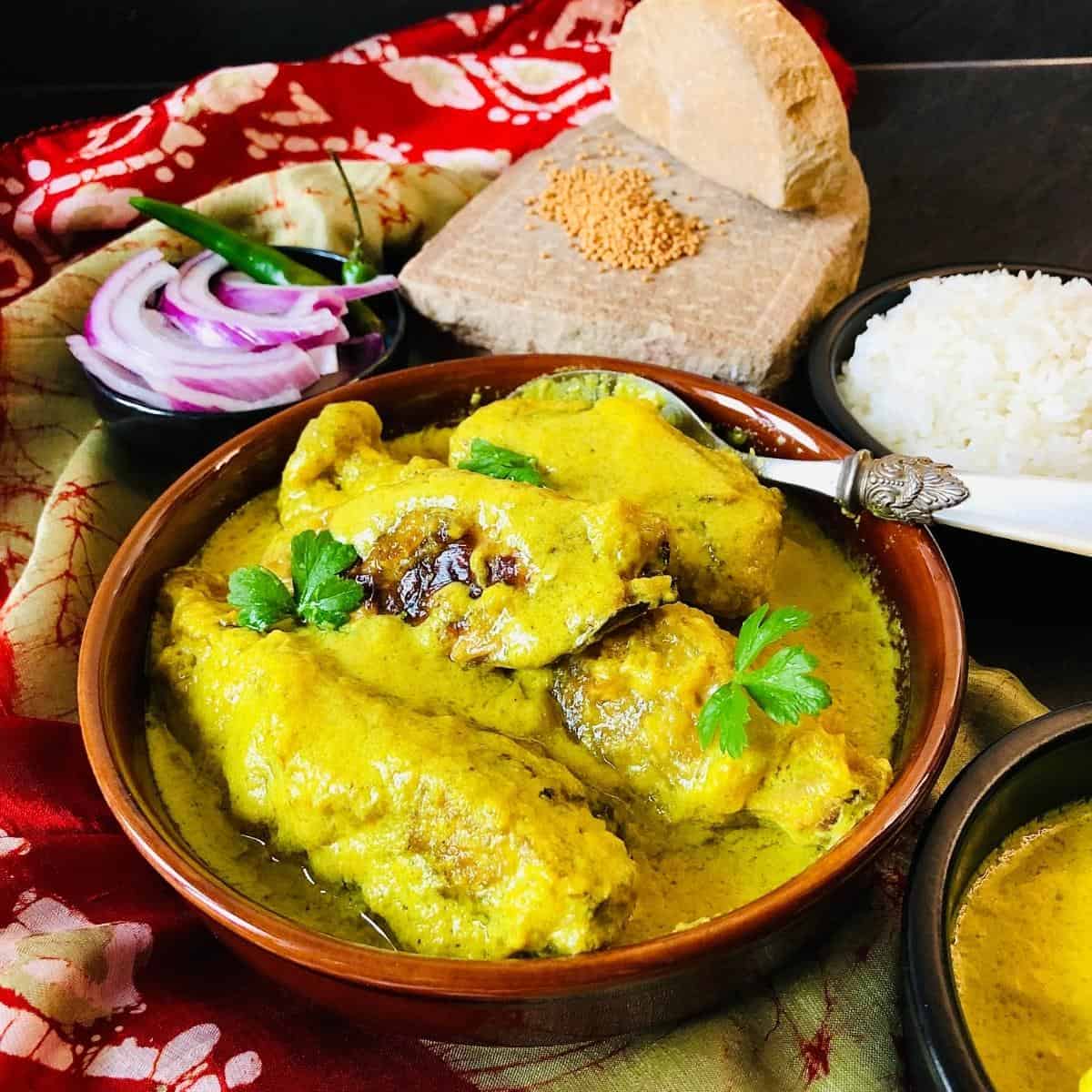 For a Bengali like me, the fish is sacred. Even now in Kolkata everyone visits their local fresh market early in the morning to get their fresh fish. The method of this recipe is how almost all families cook their lunch. Fish, some dal and some seasonal vegetables along with rice. You can find this dish served in canteens, roadside stalls and restaurants.
Banana blossom is a flower that is part of a banana tree. It's petals create a very fish-like texture and flakiness in this dish so it is an ideal fish substitute for a vegan fish dish.
Kala namak, also known as black salt, is a relatively low sodium salt with a distinctive eggy taste.
Wakame is a type of seaweed. I have used it in this recipe to introduce a flavour of the sea!
So that everyone can sample the tastes of BengaI, I give you this vegan fish recipe. I think it will pleasantly surprise you.
Right then, let's cook.
Jump to:
Ingredients
This vegan fish recipe is high on taste but not very hard to make with only seven main ingredients.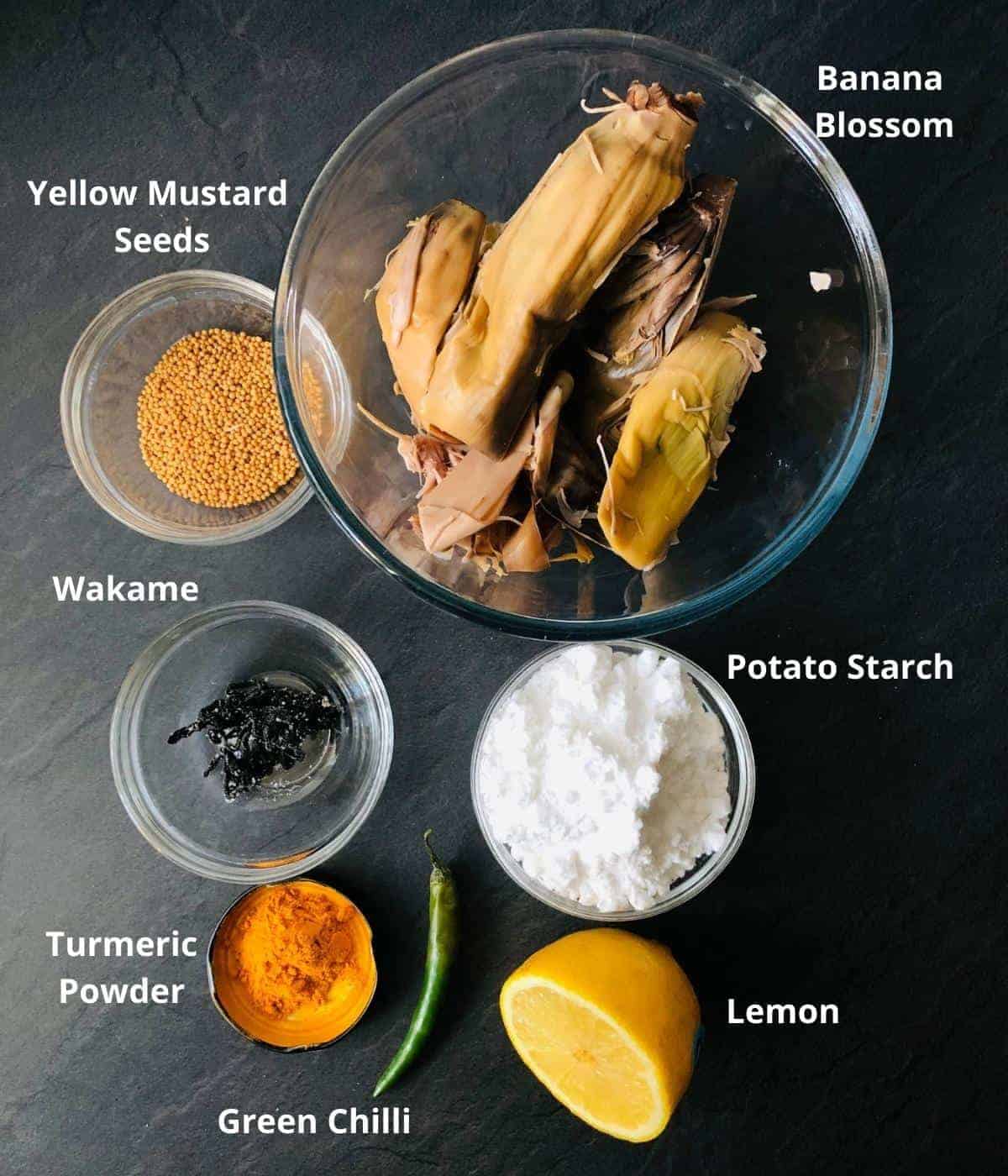 Banana blossom (tinned)
Yellow mustard seeds
Potato starch
Wakame
Potato starch
Lemon
Turmeric powder
Green Chilli
Kala namak
Mustard oil
Instructions - Marinating The Banana Blossoms
Before cooking the dish, first the banana blossom needs to be marinated and the mustard sauce made.
So for the marinade, in a bowl, squeeze the juice of one lemon and add the kala namak, turmeric powder, and the wakame. Place the banana blossom in the bowl and coat them with the marinade. Set aside and leave for thirty minutes.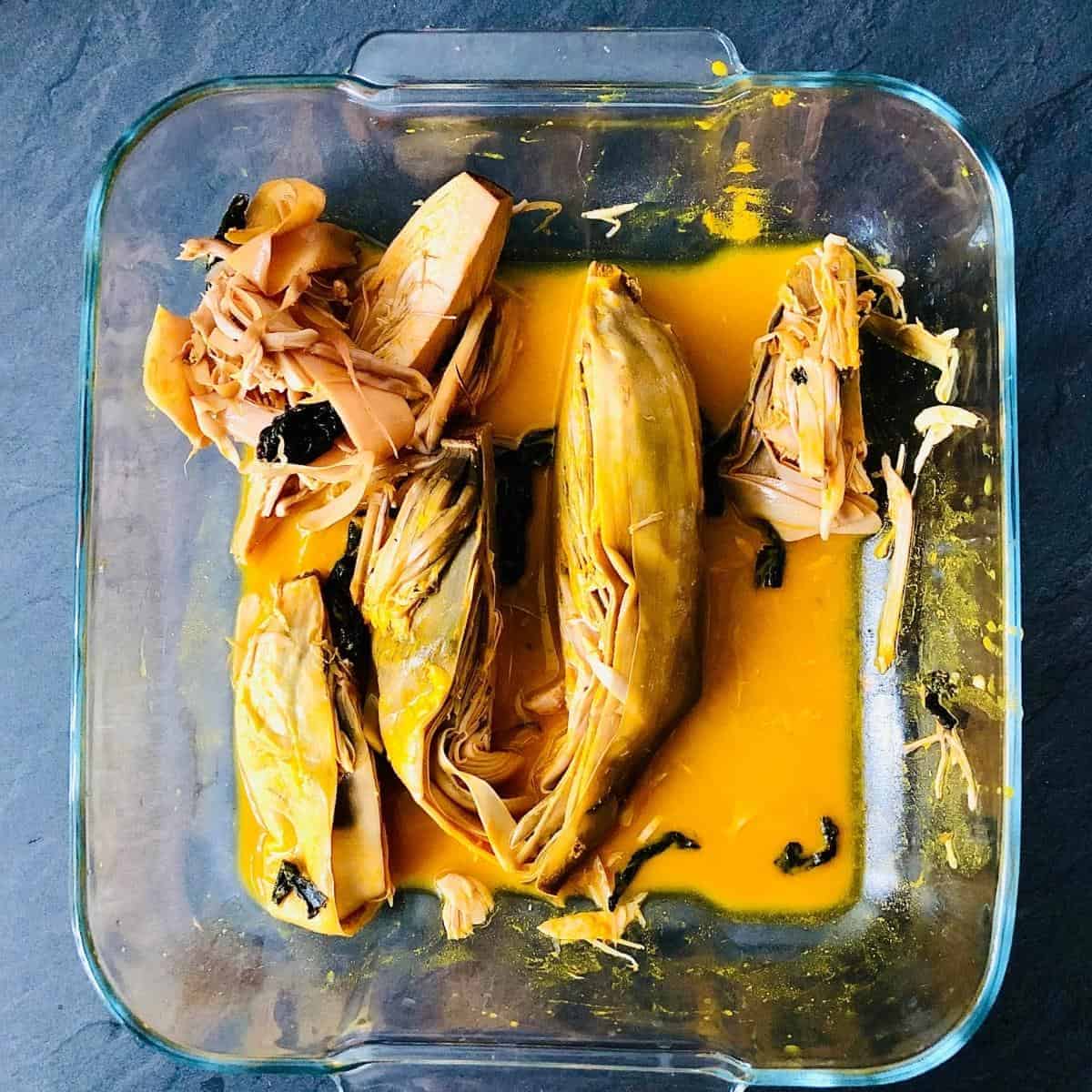 After thirty minutes or so, coat the marinated banana blossom with the potato starch. I am using potato starch as opposed to flour because it is gluten free.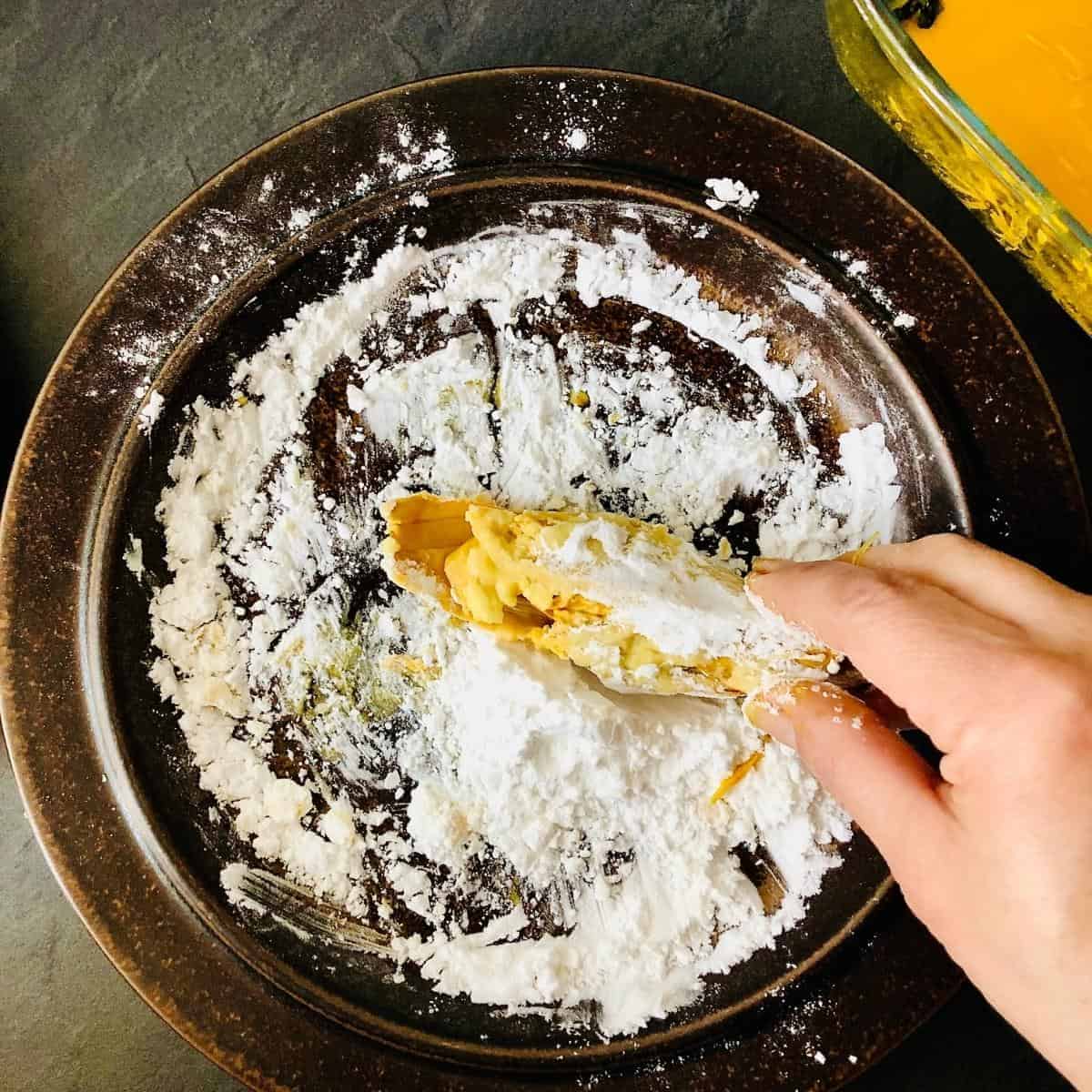 Once coated, gently shake off the excess potato starch.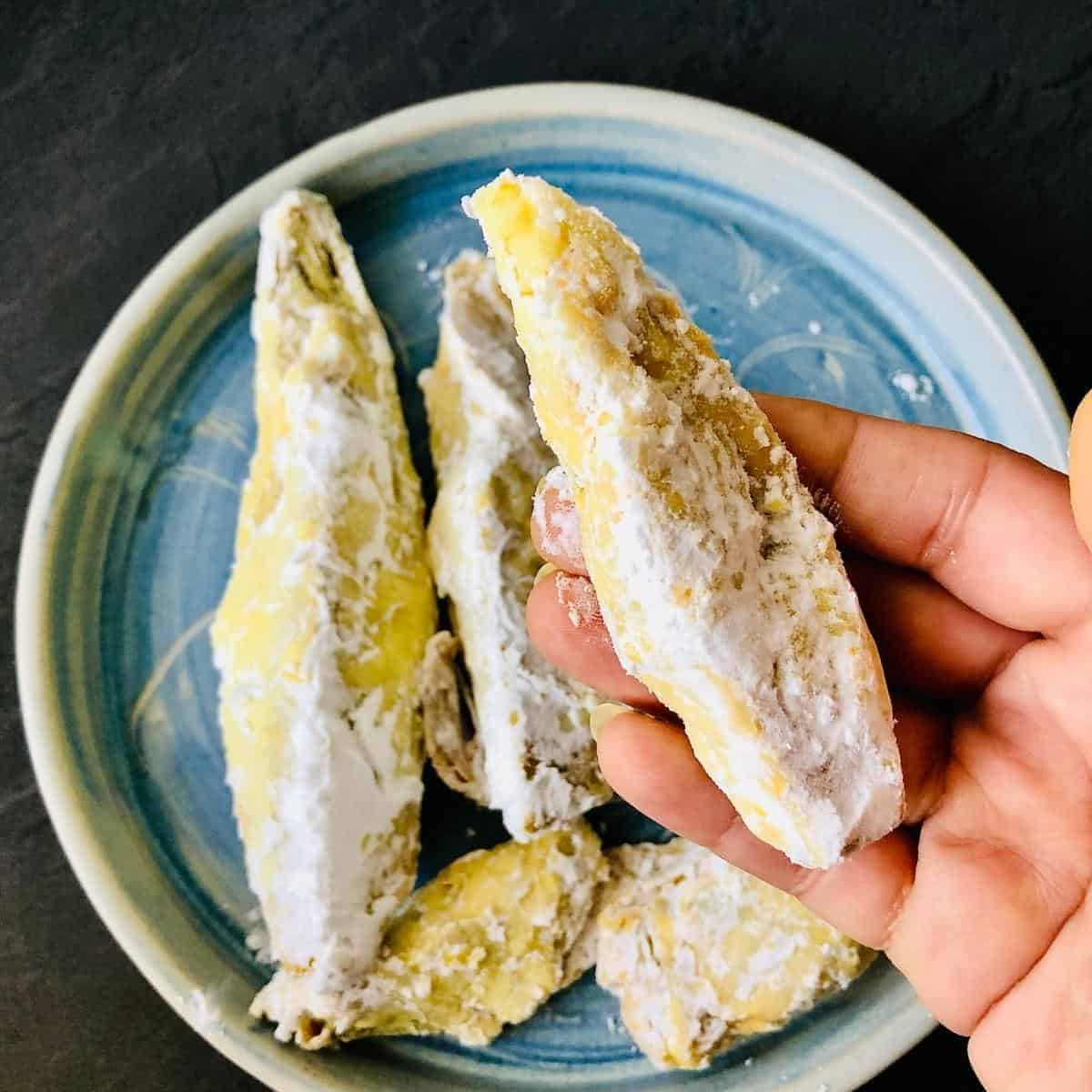 Instructions - Making The Mustard Sauce
Now time to make the mustard sauce.
The yellow mustard seeds should ideally be soaked overnight, or at least for two hours. This is so they are easily blended.
Place the mustard seeds in a blender along with the green chillies. Add approximately 100ml of water and blend the contents to a smooth paste. Set this aside.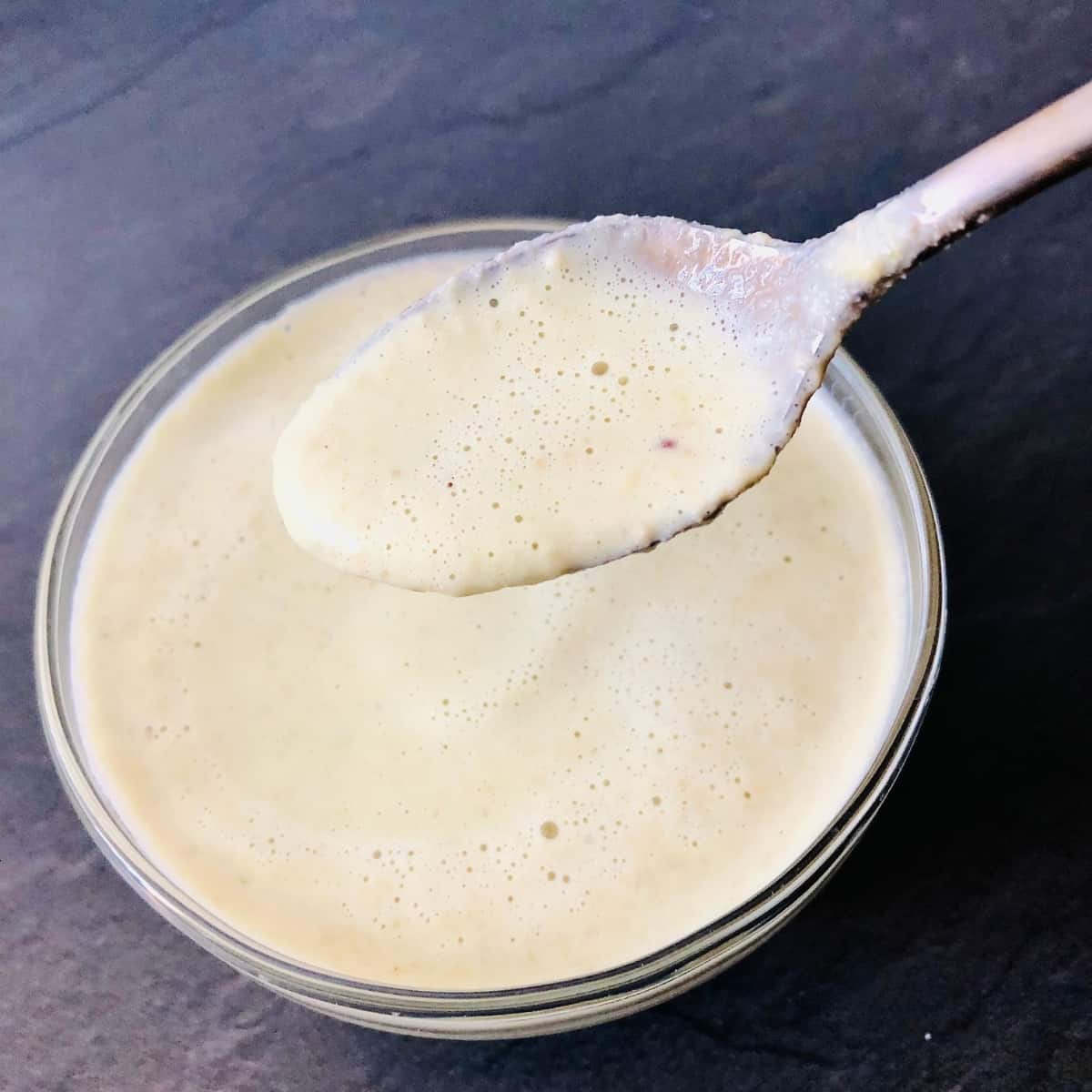 Instructions - Final Cooking
Now to bring everything together.
In a frying pan over a medium/high heat, add the mustard oil. First, you will need to "smoke" it, so heat it until the oil starts to smoke and it turns from a orangish yellow to a pale yellow. When this point is reached, take off the heat and let it cool a little.
One it has cooled, turn the stove down to a medium heat and pan fry the coated banana blossom, turning them so that all sides are fried. Fry until the coated banana blossoms turn a golden / light brown colour.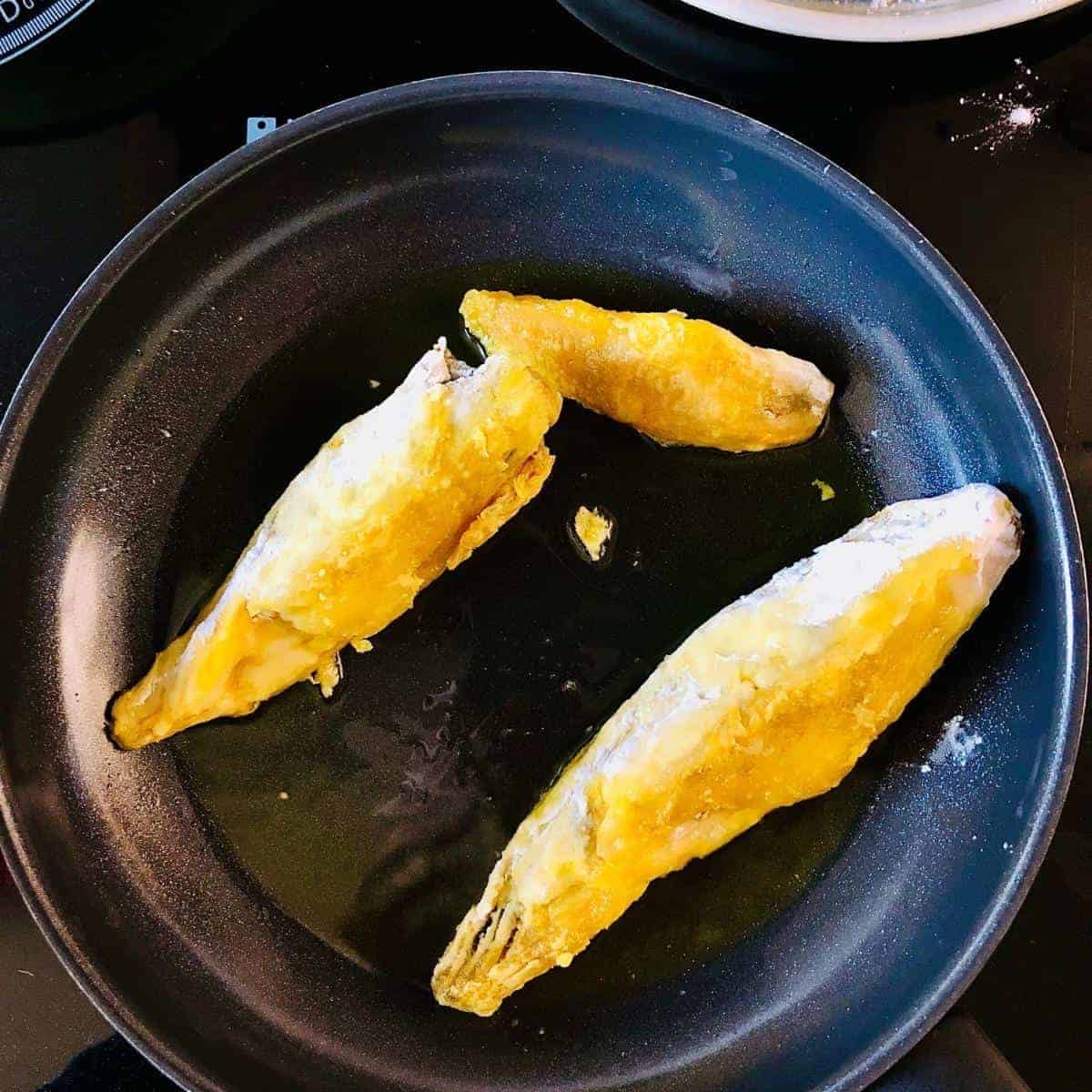 Remove the fried banana blossoms from the pan and in the same oil, add the mustard paste mix prepared earlier along with 300ml of water and bring it to a simmer. Stir and let it simmer for a couple of minutes.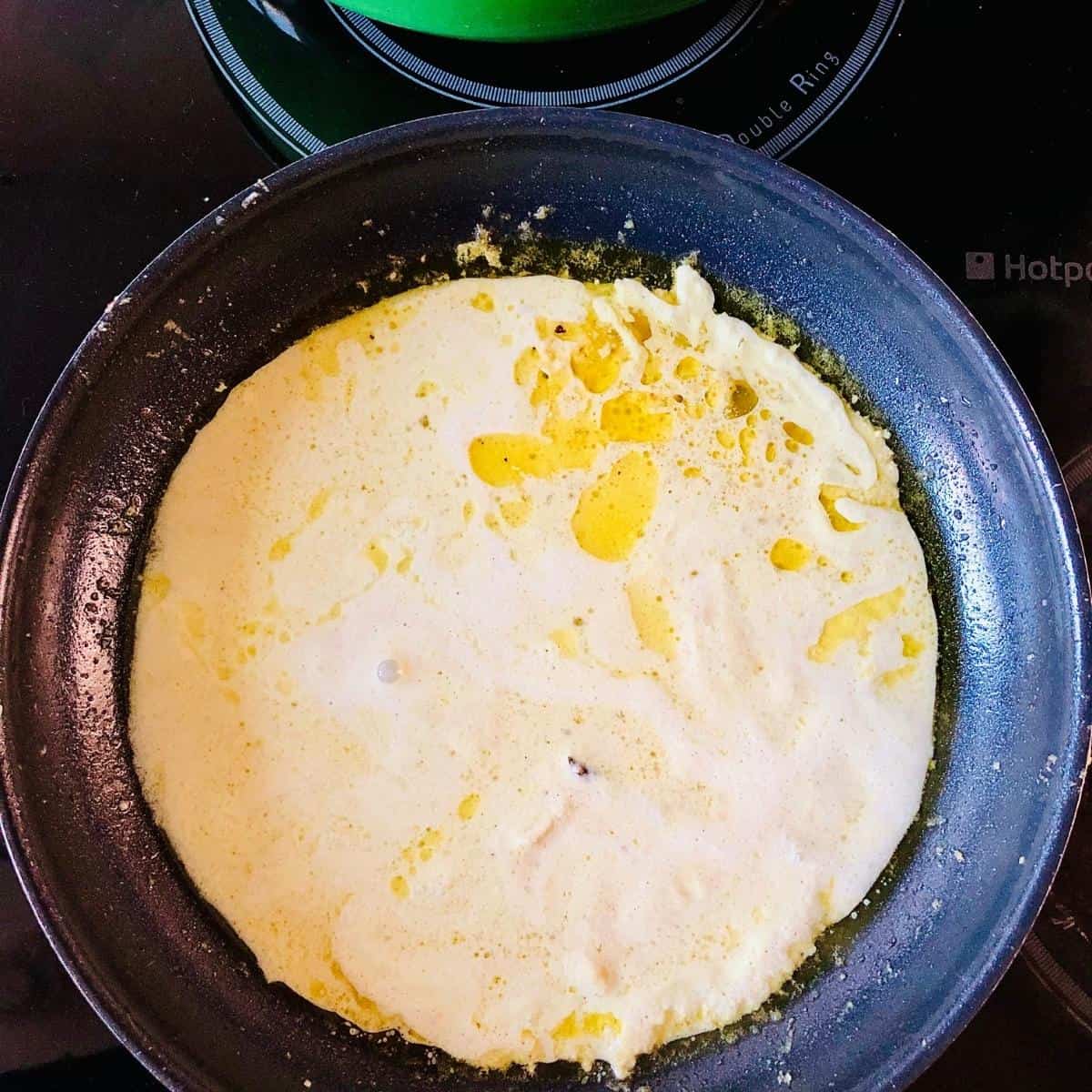 Add the kala namak and turmeric powder to the sauce mix and stir well to give the sauce its lovely vivid yellow colour. Then add the fried banana blossoms and simmer for five minutes. Make sure the banana blossoms are nicely covered in the sauce.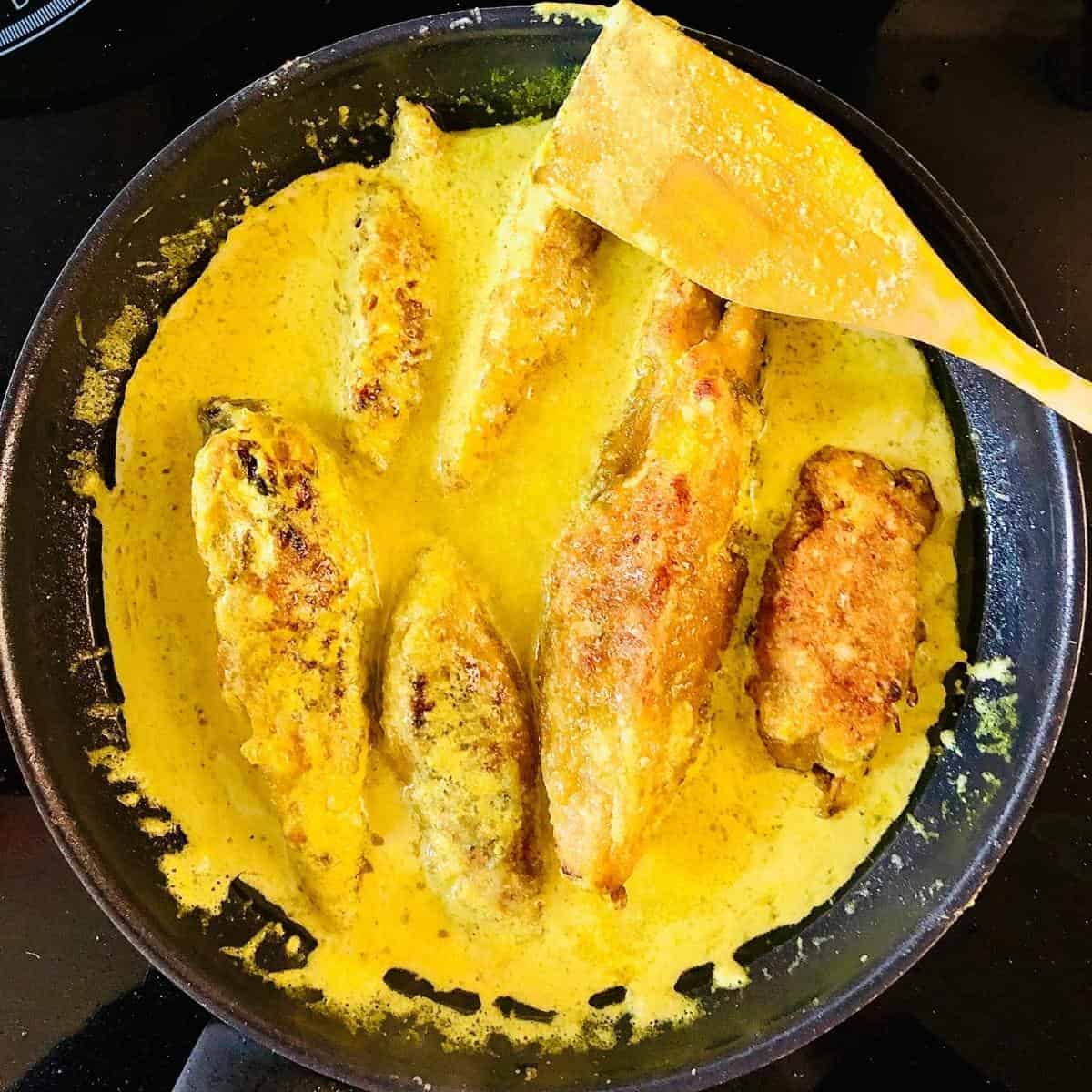 Serve with some plain rice.
How To Video
Here is a video guide to making your vegan fish in mustard sauce.
Substitutions
You can use olive oil or any other oil of you choice, however, the taste and flavour will be greatly altered as its the mustard oil, along with the mustard that gives this sauce its pungency.
Mustard oil has been used for centuries for frying foods in India and Bangladesh, and a lot of recipes from Bengal and eastern parts of India use mustard oil for cooking. It is also used extensively for making pickles.
However, in some jurisdictions, it is labelled for external use only.
Please see this Wikipedia article for more information.
You can omit the green chilli, to reduce the spiciness if you wish. Personally, I feel the green finger chilles added to the sauce give it more flavour than heat though.
Do not use black mustard seeds in this recipe as they will lead to a very bitter sauce.
Variations
This recipe is specifically used for fish. If you do not follow a vegan diet then you can use any white fish. When marinating the fish, leave out the wakame and lemon juice.
I have not tried this recipe with tofu. It will still taste good, however, it will not give the flavour or the texture as banana blossom does.
Equipment
I highly recommend using digital scales and measuring spoons as you always get the most accurate measurements. Sometimes small differences can alter the recipe quite drastically.
A good blender is definitely required to make a smooth paste for this recipe.
Storage
You can keep this vegan fish in the fridge for upto three days, just make sure you reheat throughly. If the sauce has been soaked up by the banana blossom or become too thick, then add a little water to thin down the sauce.
This dish doesn't freeze well as the "fish" has been coated with potato starch and pan fried. It becomes soggy after defrosting.
Top tip
Soaking the mustard seeds overnight results in a smooth paste for the sauce.
📖 Recipe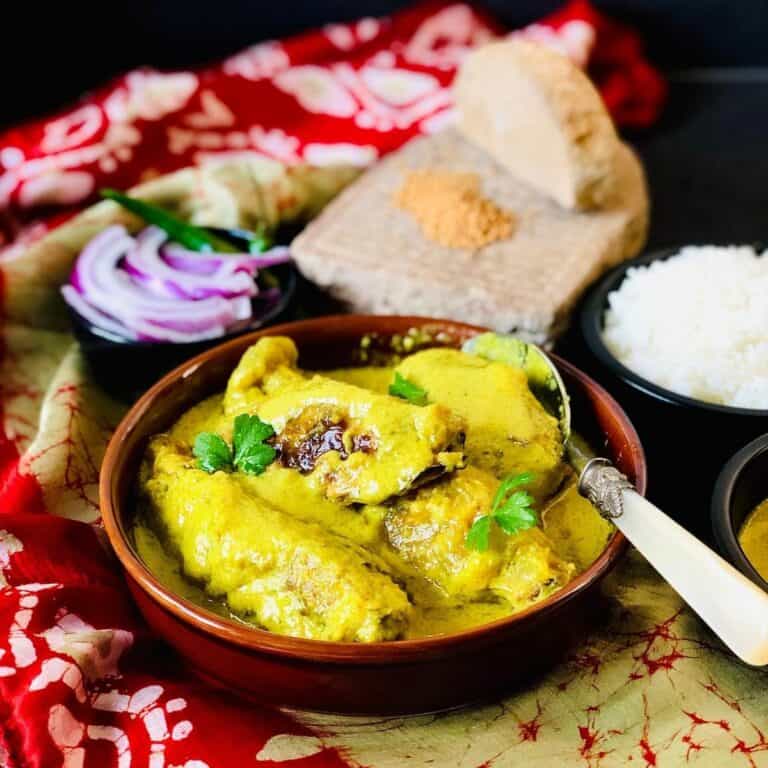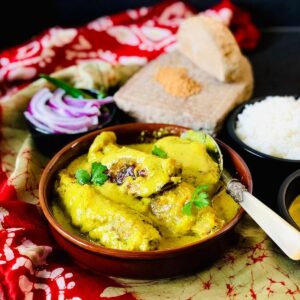 Bengali Style Vegan Fish In A Mustard Sauce
A vegan fish dish inspired by the Bengali fish classic, Macher jhol
Ingredients
Marinade
400

gms

Banana blossom

Tinned - drained weight 225 gms

1

teaspoon

Turmeric

½

teaspoon

Kala namak

2

gms

Wakame

Juice of one Lemon

100

gms

Potato starch
Mustard Sauce
2

tablespoon

Yellow mustard seeds

2

nos

Green Chilli

300

ml

Water

100

ml

Mustard oil

1

teaspoon

Kala namak

¼

teaspoon

Turmeric
Instructions
Marinade
Drain the Banana blossom and discard the brine. Transfer to a bowl.

Add the turmeric, kala namak, wakame and the juice of one lemon.

Coat each piece of banana blossom in the marinade and set aside for 30 minutes.

Once the marination time is complete, remove the banana blossom from the marination and coat each blossom in potato starch. Cover them thoroughly and gently shake off the excess potato starch.
Mustard Sauce
Soak the mustard seeds in water, either overnight or for a minimum of two hours.

Drain the water from the mustard seeds and add to a blender along with the green chillies and 100 ml of water and blend into a smooth paste.

Set aside the mustard-chilli paste.
Final cooking
Heat the mustard oil in a pan and allow it to smoke. Once it reaches smoking point, take off the heat and allow it to cool. You will see the oil has changed colour from an orangish yellow to a pale yellow colour.

Once the oil has cooled, put the pan on a medium heat and pan fry each coated banana blossom. Turn to fry each side until golden to light brown.

Once all the blossoms are pan fried, transfer to another plate. Retain the oil in the pan.

In the same pan and oil, over medium heat, add the mustard-chilli paste and 300 ml of water and briefly let the sauce simmer for a minute or two.

Season the sauce with kala namak and add the turmeric powder. Add the pan fried pieces of the banana blossoms and simmer for five minutes, stirring to coat the blossoms in the sauce.

Add more water at this stage if required.

Remove from heat and serve hot with rice.
Food Safety
In a professional kitchen, food hygiene and safety is a top priority and from the very beginning of training I practiced good habits and routines. Of course, it is also very, very important to practice good food hygiene and safety at home. Here are some fundamental practices to adopt in the kitchen.
Wash your hands regularly while preparing, handling and cooking food
Wipe down counter tops and high contact points regularly
If you cook meat and fish, do not use the same utensils on cooked food, that previously touched raw meat. Use separate chopping boards for meat and fish. Wash your chopping boards immediately after use.
Thoroughly cook food to a minimum temperature of 165 °F (74 °C)
Don't leave food sitting out at room temperature for extended periods (more than 2 hours)
For more details of food hygiene and safety in the home, visit the UK Government's Food Standards Agency webpage.