Kosha mangsho is an iconic Bengali delicacy. Traditionally, it is made with mutton or goat meat. Mangsho stands for mutton, and Kosha means slow-cooked or fried (Bhuna) for a long time. Needless to say if you are from Bengal, India, this preparation is a dish that you treasure. So, of course, I had to turn this recipe into a plant based one. I have used unripe Kathal or Jackfruit for this vegan jackfruit recipe as it mimics the mangsho, or mutton, very well.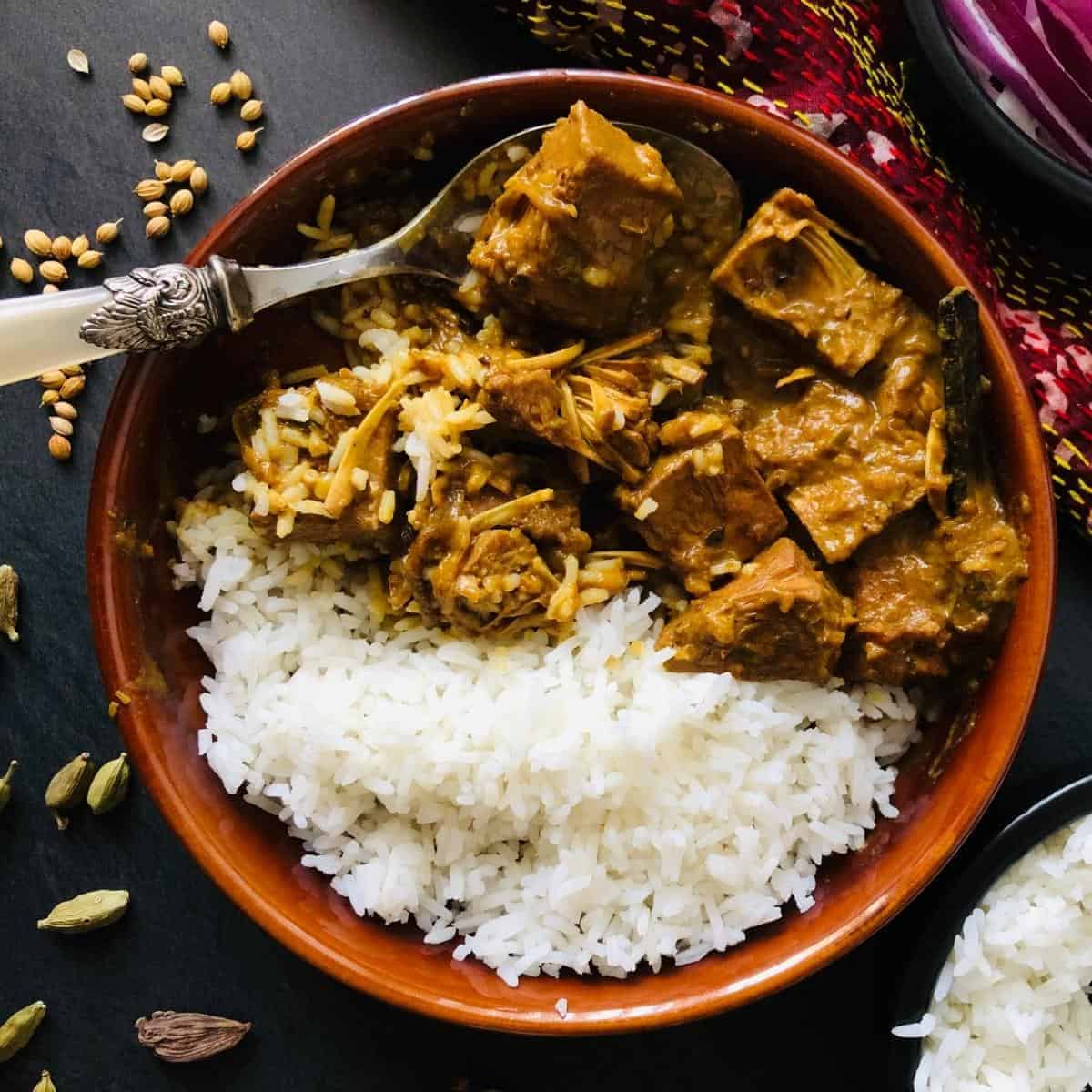 A Plant-Based Version Of A Classic Bengali Dish
This vegan jackfruit recipe is a leisurely preparation that requires time and patience. The word kosha is similar in meaning to bhuna, which involves slowly cooking a gravy over a low flame for a very long time to get a rich, dark-brown gravy and melt-in-the-mouth mutton pieces, or in this version, jackfruit. The patience is rewarded with the unique depth of flavour of this dish.
In a Bengali household, the very mention of mutton inevitably brings on excitement, because unlike chicken or fish, mangsho or mutton is expensive and cooked only on special occasions, Sundays or during festivals.
Growing up in Calcutta (now kolkata) in a mainly vegetarian household, my experience of this dish was through my friends and eating at specific restaurants.
When I started my career as a chef, my colleagues would make this for staff lunch with the trimmings of the goats meat used in our kitchens. This is when I learnt how to make it myself.
There is a basic style to cook kosha mangsho, however as happens in India, people and families always add their spin to this classic dish. This vegan jackfruit recipe version is inspired and informed by my encounters with this dish in various places and of course the years of eating it.
Lets cook!
The instructions that follow first explain how to make the marinade for the jackfruit. Then follows how to make the gravy that the jackfriut is cooked in.
If you enjoy this vegan version of kosha mangsho, have a look at my vegan fish in mustard sauce.
Jackfruit is such a versatile ingredient. I have used it in my vegan "duck" and watermelon salad.
Jump to:
Ingredients - Marinade For Jackfruit
Before cooking the main dish, the jackfruit is marinated for flavour.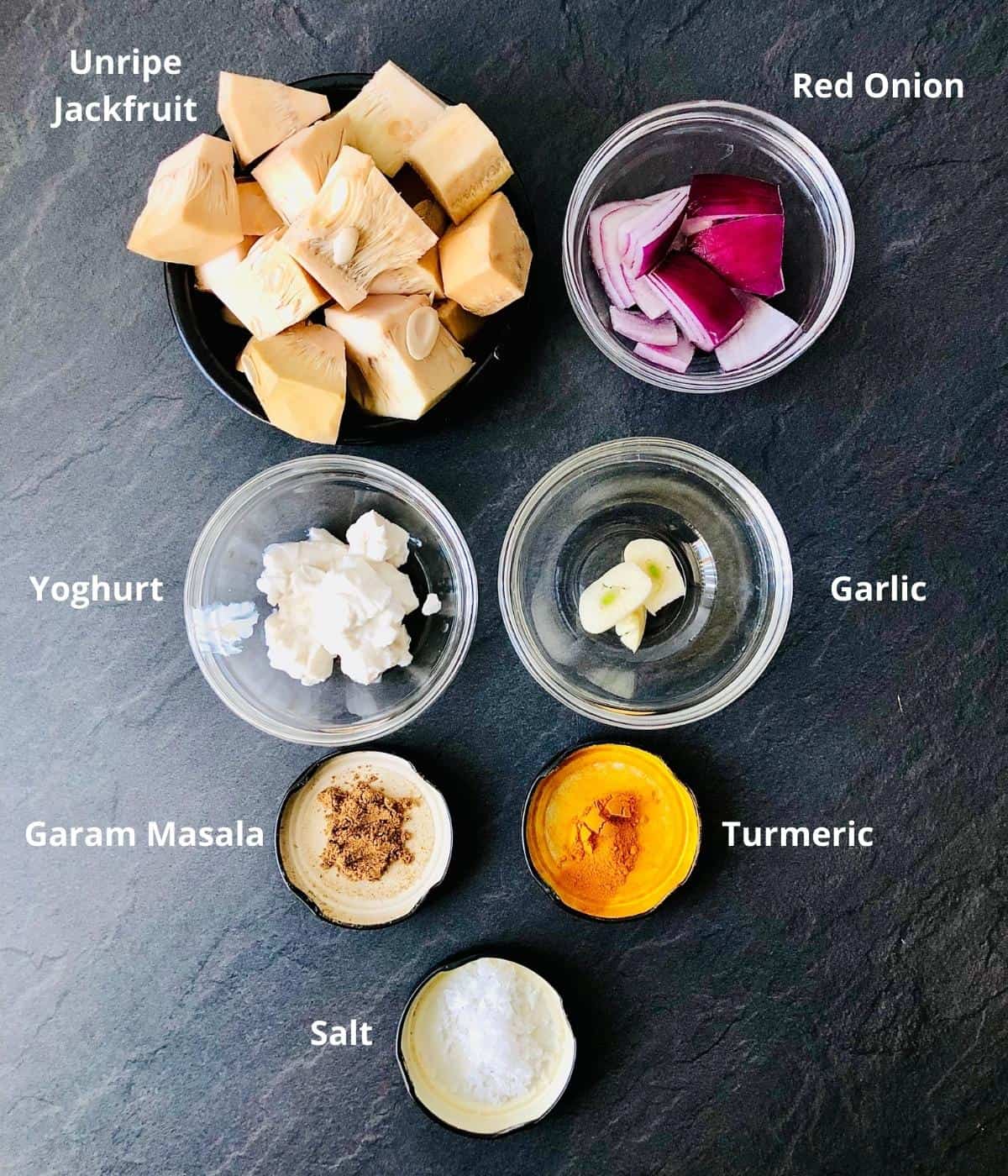 Unripe Jackfruit (Tinned)
Red onions
Dairy free yoghurt
Garlic
Turmeric powder
Salt
Garam masala
Instructions - Marinade For Jackfruit
The marinade for the jackfruit is simple to prepare. Just put the roughly chopped red onion, garlic, dairy free yoghurt, turmeric powder, garam masala and salt into a blender and whiz to a smooth paste.
Pour the marinade over the jackfruit chunks and coat them well. Set this aside to marinade whilst you prepare the remainder of the dish.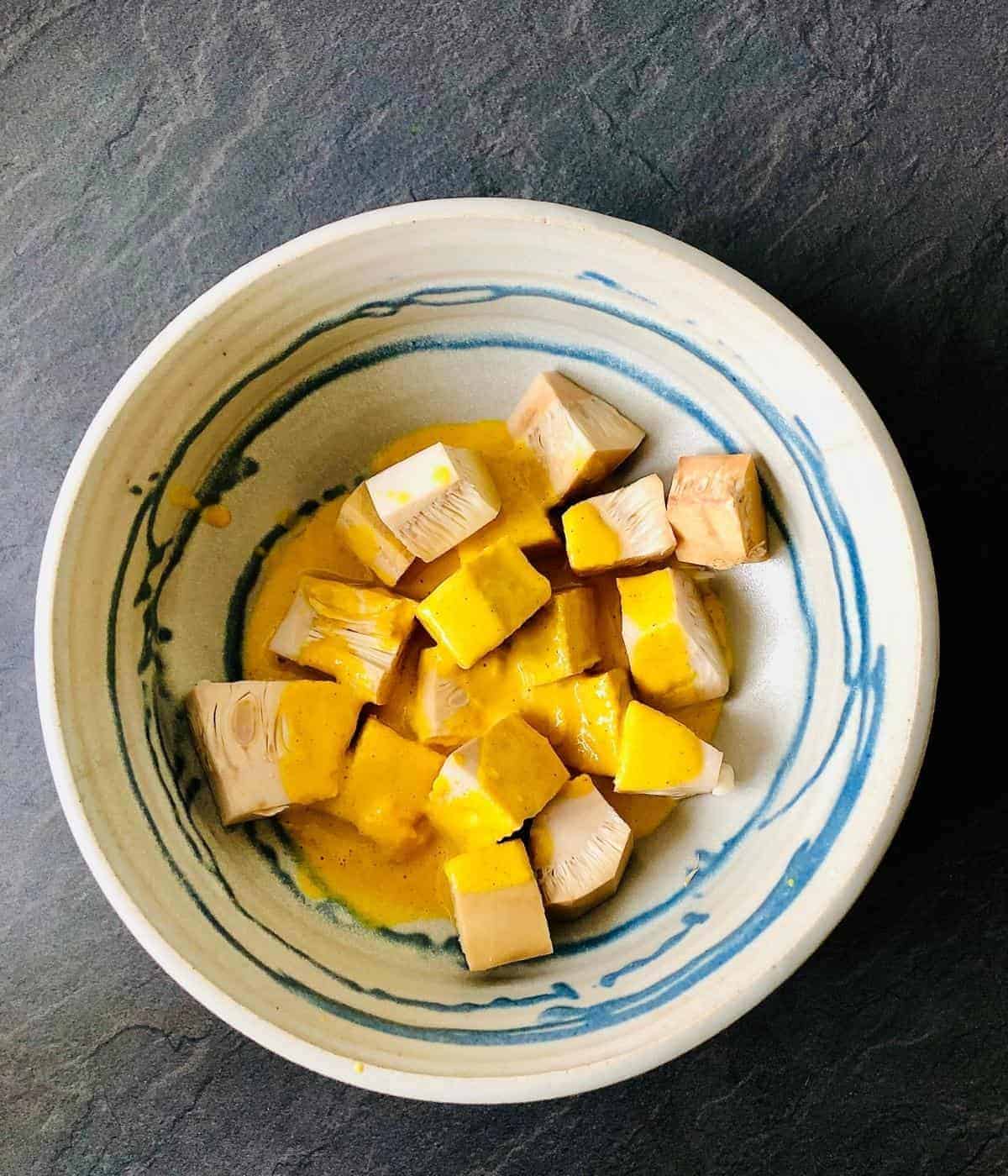 Ingredients - Gravy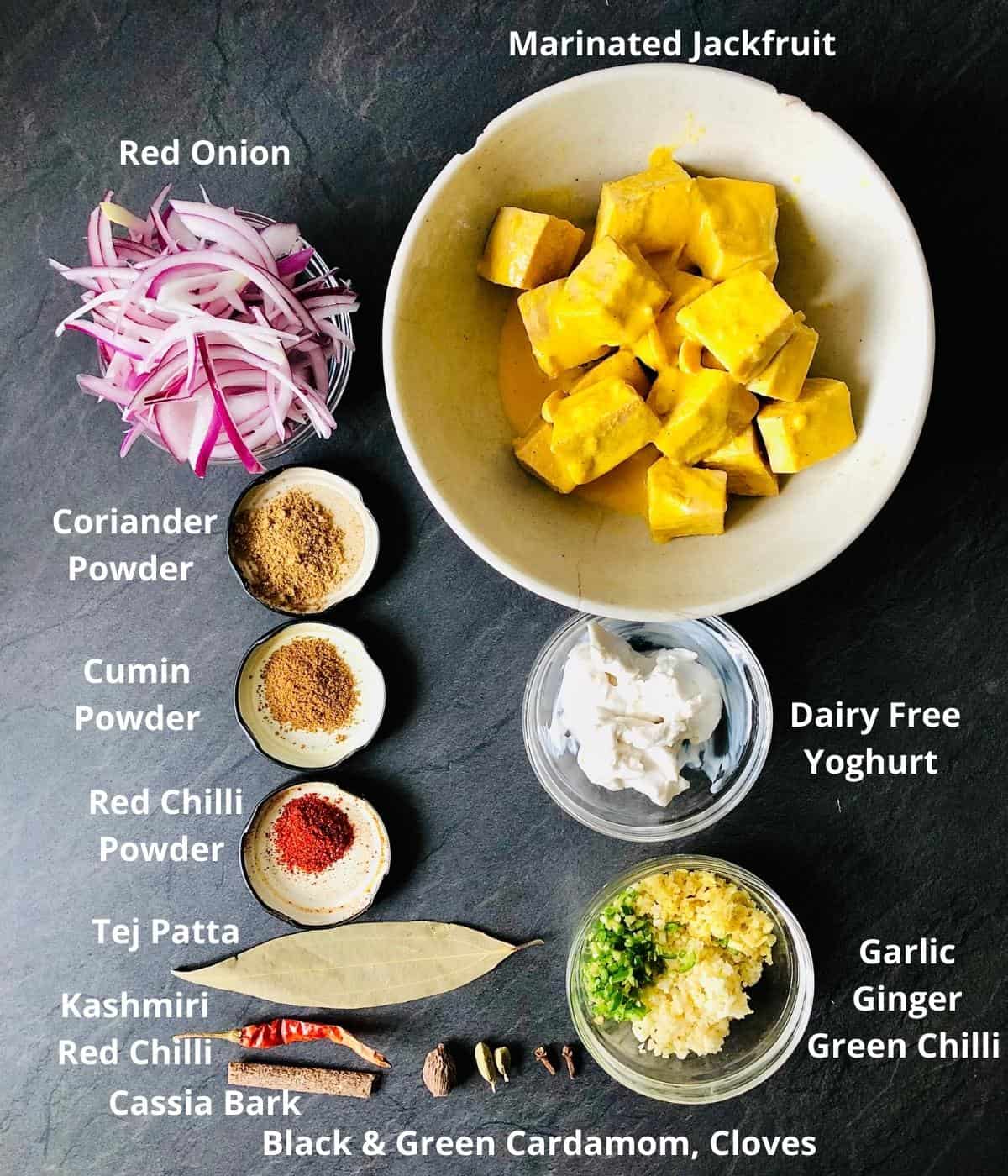 Red onions
Dairy free yoghurt
Garlic
Salt
Ginger
Green chilli
Cloves
Tej patta ( Indian bay leaf )
Cassia bark ( Indian cinnamon )
Black and green Cardamom
Coriander powder
Cumin powder
Turmeric powder
Red chilli powder
Kashmiri red chilli
Mustard oil
Instructions - Gravy
First of all, prepare your ingredients.
Cut the onions in half and cut off and remove the top end where the onion is held together. Slice the onions evenly, not too thick and not too thin. See the ingredients photo as a guide.
Finely chop the garlic, ginger and green chilli.
In a frying pan or shallow pot, heat the mustard oil. When it starts to smoke and turn pale yellow, turn the heat down and let the oil cool down a little. Add the black and green cardamom, cloves, tej patta, cassia bark, red chilli. Let the whole spices bloom and release their flavours.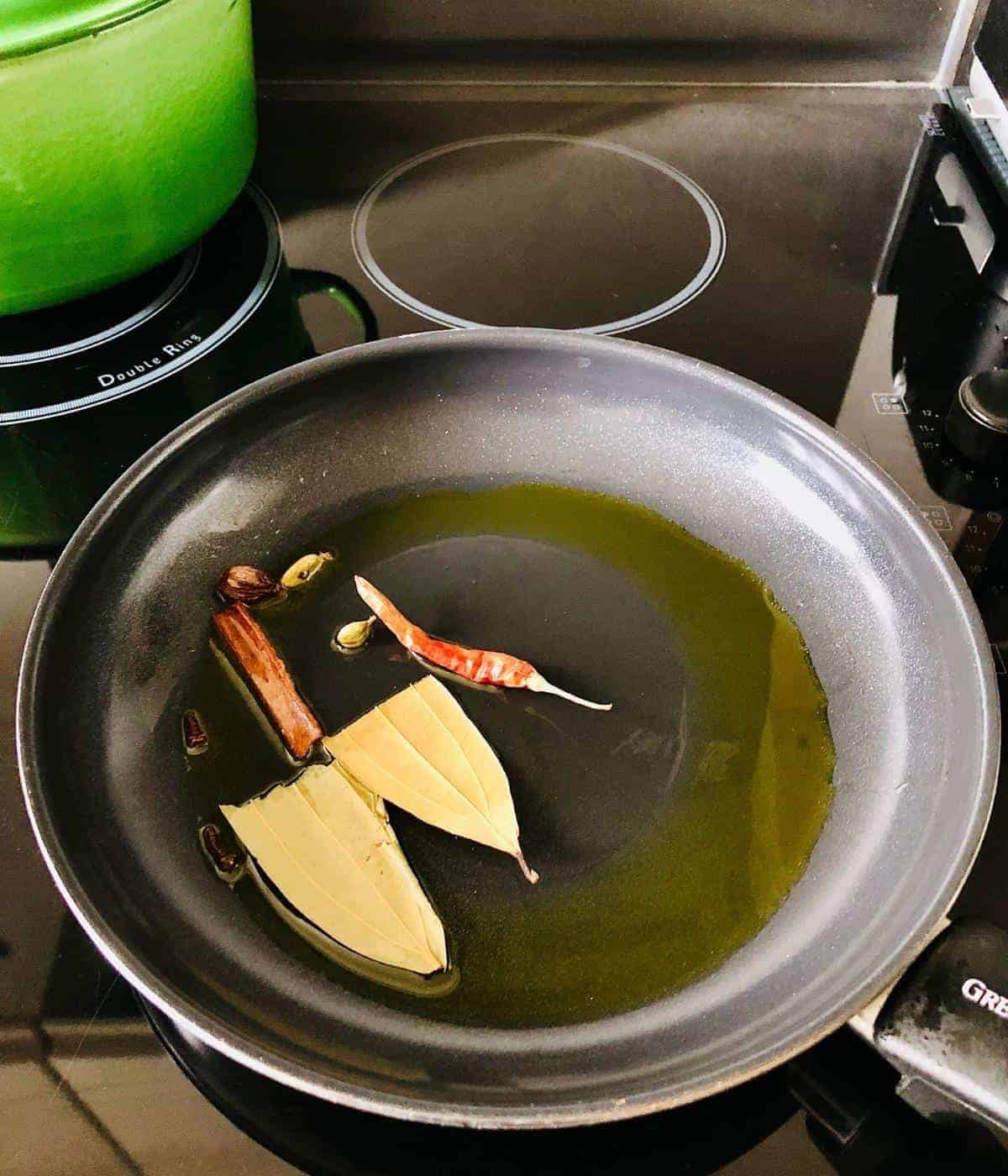 Next, add the sliced red onion to the pan and cook over a medium heat for fifteen minutes, covered with a lid. Give it a stir from time to time. Cook until the onions are golden brown.
Now add the finely chopped garlic, ginger and green chilli and cook for about three minutes. Stir often to make sure that nothing is sticking to the pan or burning.
Mix the cumin, coriander and red chilli powder in about fifty millilitres of water and add to the pan. Cook for a further three minutes, allowing the spices to release their flavours.
The three powdered spices are mixed in water before adding to the pan so that they release their flavours without roasting, as they would if added as a powder.
At this point the onions will be a reddish brown colour and the spices will have nicely released their flavours.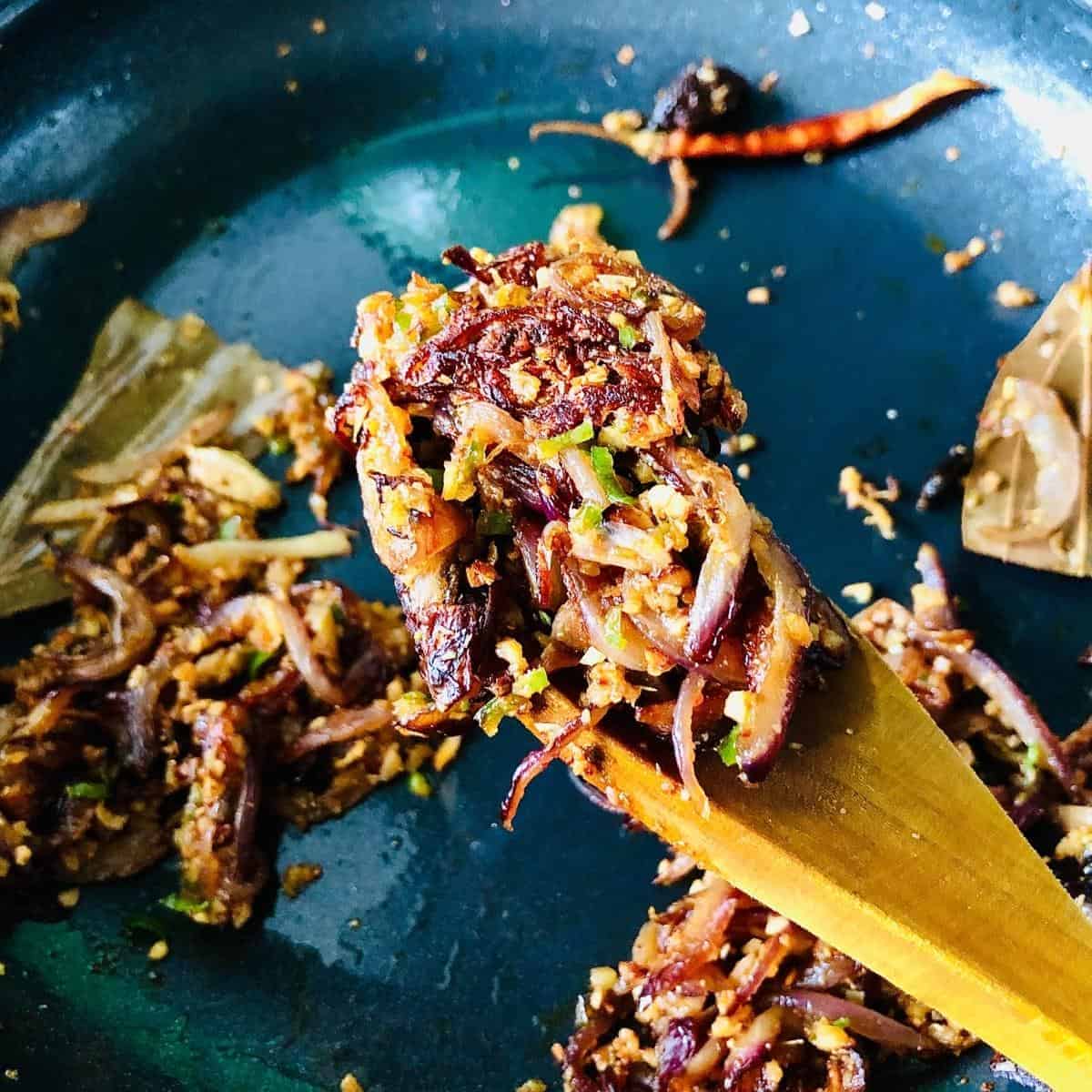 Turn up the heat to a medium-high heat and add the marinated jackfruit.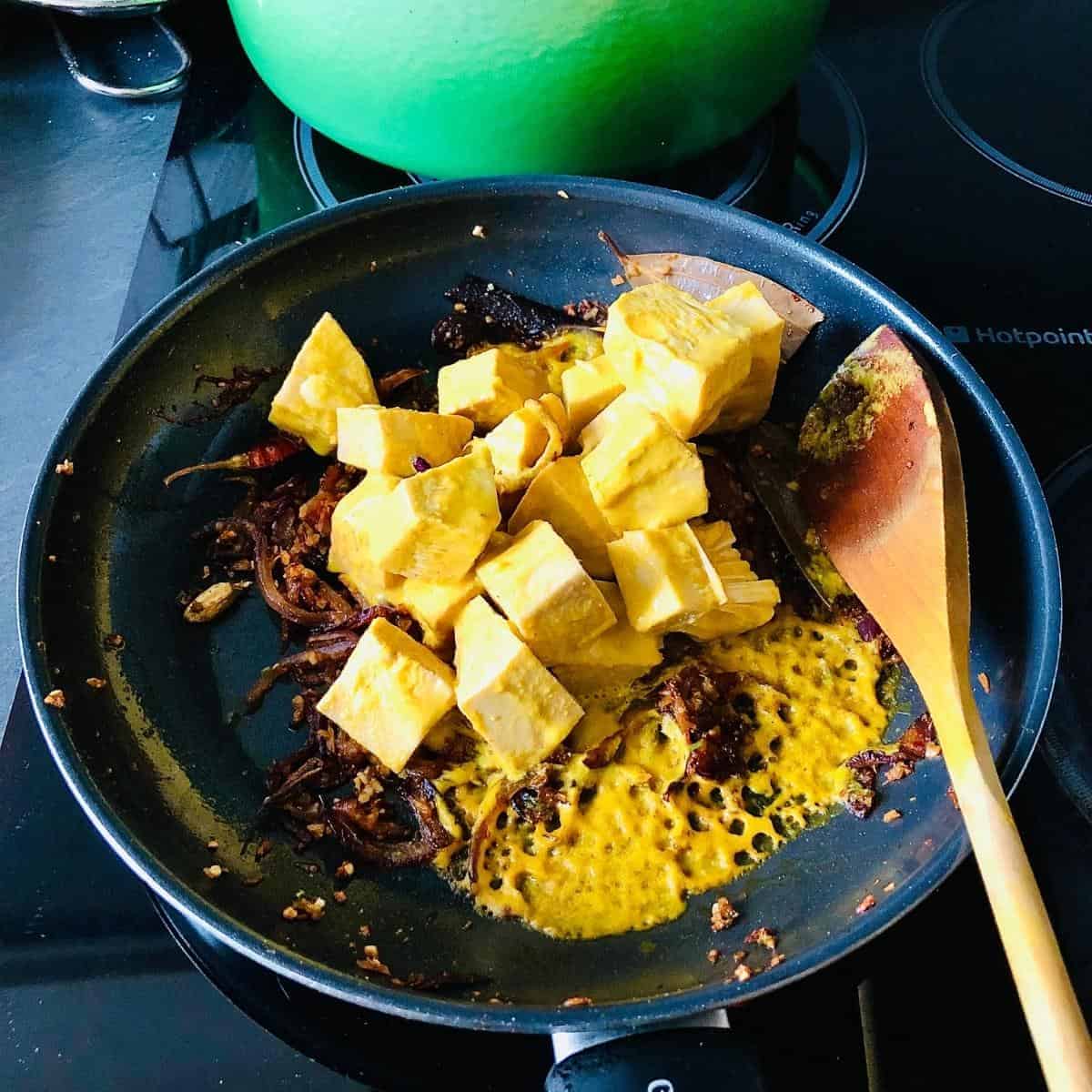 Cook until the jackfruit surface browns a little (see the video). The heat is turned up so as to sear the marinated jackfruit and give it a bit of colour.
Add about fifty millilitres of water to the dairy free yoghurt to water it down a bit, and give it a good mix to make sure there is no lumps in it. Then add it to the pan and mix in thoroughly.
Turn down to a medium heat and stir in 200 ml of hot water and some salt. Cover with a lid and cook for ten minutes. Then add another 200ml of water and cook, covered, for a further 10 minutes. Following this, add another 100 ml of water and cook, covered for 10 minutes more. Adding the water this way is a gentle, slow way to cook.
At this point, the jackfruit should have become soft and easily break down when a spoon is pushed onto it.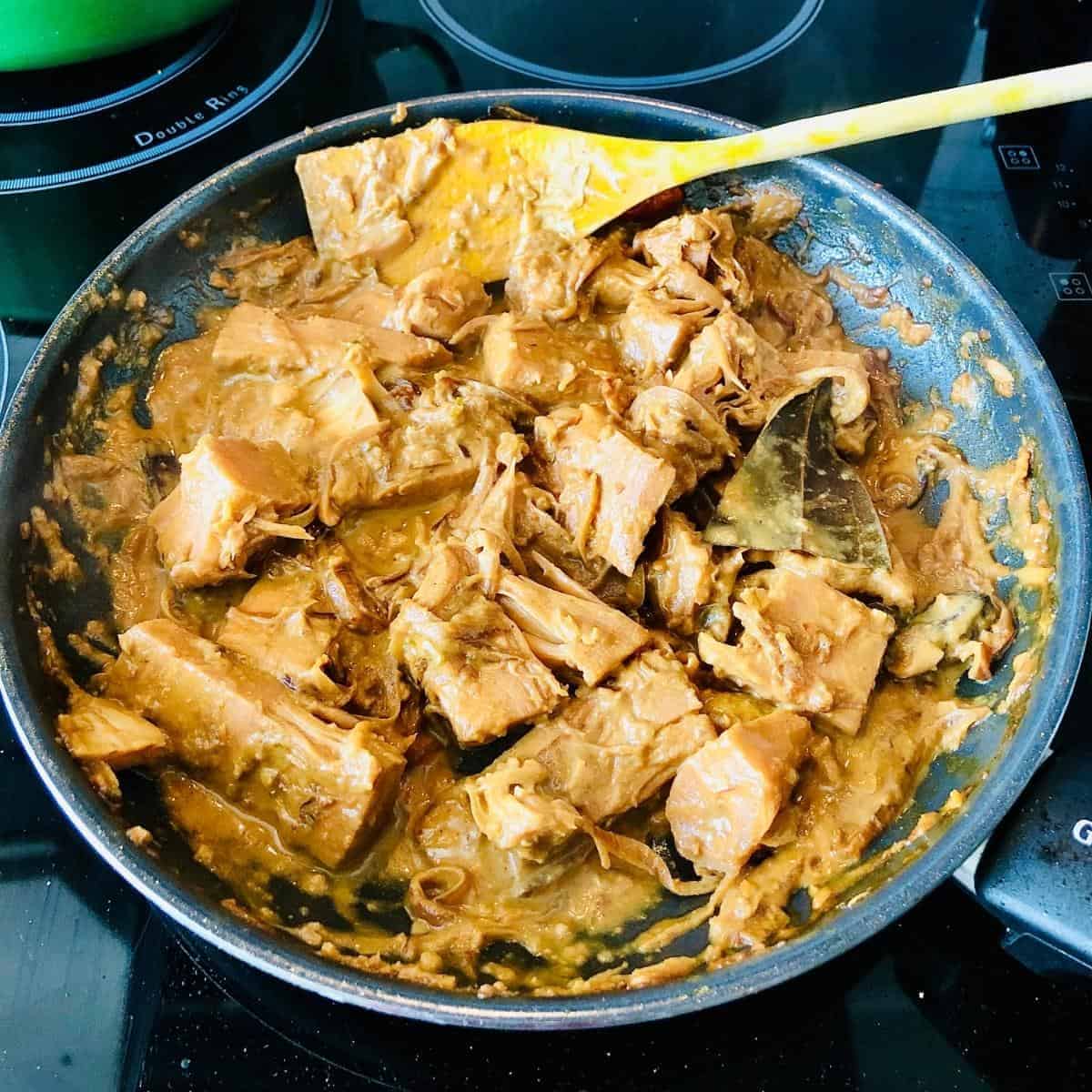 Serve with plain rice or paratha.
How-To Video
Here is a video guide to making this vegan jackfruit recipe
Substitutions
This vegan jackfruit recipe is based upon a classic mutton dish. If you are not vegan you can still use this recipe but replace the jackfruit with a meat of your choice.
I have not tried this recipe with seitan or other meat substitutes that are available, but there is no reason why it shouldn't work. You may have to alter the last part of the cooking where we add water and allow the jackfruit to cook slowly. The times may vary according to the ingredient of your choice, so keep an eye while doing the final cooking.
Mustard oil is a key ingredient in this recipe. It helps gives it its unique flavour. This oil has a distinctive warm and spicy flavor that enhances the taste of anything fried or cooked in it.
Mustard oil has been used for centuries for frying foods in India and Bangladesh, and a lot of recipes from Bengal and eastern parts of India use mustard oil for cooking. It is also used extensively for making pickles.
However, In the US, Canada and EU, mustard oil is not approved by the FDA for cooking and comes with an 'external use only' label (it is used a a massage oil as well.)
In recent times I have been seeing certain brands selling mustard oil without this warning though. However, If you are in a country where it comes with this kind of a warning, then please use your discretion, do your research and decide if you want to use it.
If you wish, you can delve a little deeper regarding mustard oil, check out the Wikipedia article
If you decide to go ahead and use it, then you need to smoke it first: Heat the oil in a saucepan on medium-high. After a few minutes, you will see that it starts smoking and its colour will change to a pale yellow. Remove the pot from the heat and wait for it to cool down to the required temperature. Now, you can go ahead and use it for cooking. This process is included in the recipe instructions.
If you choose not to use mustard oil, then replace with olive oil. Of course, you do not need to smoke olive oil. The flavour of the dish will change.
Storage
You can make this a day ahead and if I am honest, this dish actually tastes even better the next day. You can keep it in the fridge for upto three days. If all the liquid is absorbed in that time, just add a bit of water while reheating.
You can freeze this in an airtight container for upto a month. Make sure you defrost in the fridge before using and thoroughly reheat it.
Top tip
Use freshly ground coriander and cumin powder for more flavour.
Use a pestle mortar to grind the ginger, garlic and chillies for the gravy. That way the paste will be more coarse and retain all its flavours.
If your tinned jackfruit chunks are too big, cut them into smaller pieces, so that they cook evenly at the same time.
Using fresh young jackfruit will give this dish more flavour.
📖 Recipe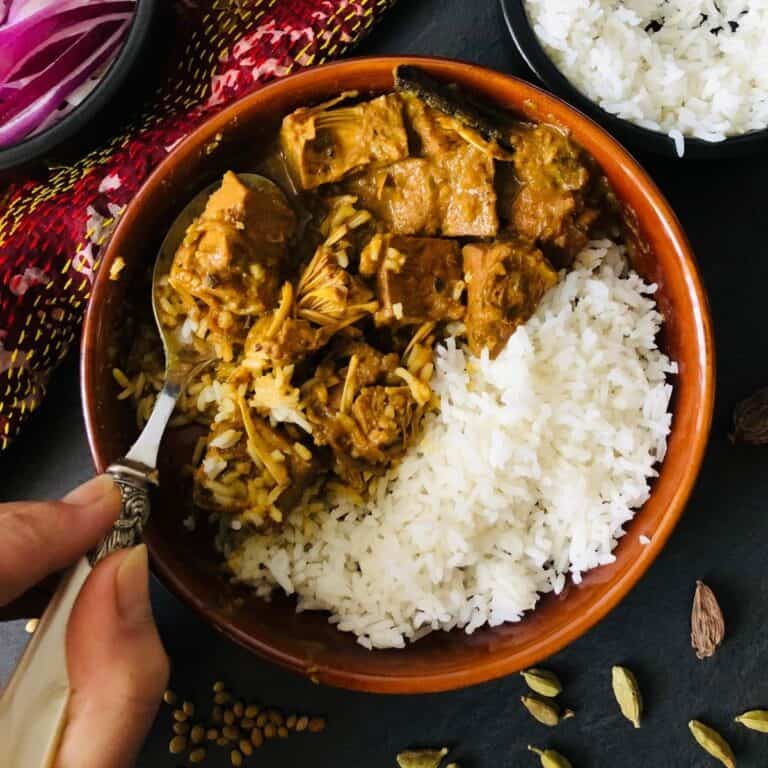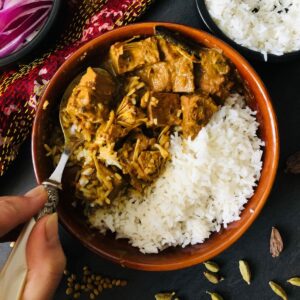 Kosha Mangsho Style Vegan Jackfruit Recipe
Vegan Kosha Mangsho inspired dish, Slow cooked unripe jackfruit in a moorish spicy sauce with mustard oil.
Equipment
Digital scales

Pan or shallow pot with lid
Ingredients
Marinade for Jackfruit
565

gms

Unripe jackfruit

Tinned. Drained weight 310 gms

30

gms

Red onion

5

gms

Garlic

30

gms

Dairy free yoghurt

I used oatly

¼

teaspoon

Turmeric

¼

teaspoon

Garam masala

½

teaspoon

Salt
Gravy
150

gms

Red onions

sliced

1

Green chilli

chopped

15

gms

Ginger

chopped

15

gms

Garlic

chopped

75

gms

Dairy free yoghurt

I used oatly

50

ml

Water

room temperature

1

Tej patta ( indian bay leaf )

cut in half or quarters, this helps while stirring.

1

Dried Kashmiri red chilli

1

nos

Cassia bark (indian cinnamon)

3

Cloves

1

Black cardamom

3

Green cardamom

¼

teaspoon

Cumin powder

¼

teaspoon

Coriander powder

¼

teaspoon

Red chilli powder

2

tablespoon

Mustard oil

500

ml

Hot water

1

teaspoon

Sea Salt
Instructions
Marinade
Open the tin and drain the brine from the jackfruit and transfer to a bowl.

Roughly dice the red onions and garlic into chunks.

Add the red onions, garlic, yoghurt, turmeric, salt and garam masala into a blender and puree into a paste.

Add the marinade paste to the jackfruit and coat well.

Set aside to marinate, while you prep for the gravy.
Gravy
Peel red onions and cut in half. Remove the top end where the onion is held together.

Slice the onions, making sure the slices are all the same size and not too fine, but not too thick.

Finely chop the garlic, ginger and green chilli.

Heat the mustard oil in a pan or a shallow pot.

Once the oil has started to smoke and the oil colour has changed to pale yellow, turn down the heat and allow the oil to cool down a bit. Now add the whole spices, cassia bark, tej patta, cloves, black and green cardamom. Give them a minute or two to bloom.

Add the sliced red onions and fry them over medium heat with the lid on, for about 15 minutes until golden brown. Stir them from time to time.

Add the chopped ginger, garlic and chilli and fry for about 3 minutes stirring often to insure nothing is getting stuck to the bottom of the pan or burning.

Next mix the coriander, cumin and red chilli in about 50 ml water and then add it to the pan. Continue stirring for about 3 minutes.

By now, the onions should be a nice deep reddish brown colour and the spices ill have released their flavour.

Turn the heat up a bit and add the marinated jackfruit chunks and mix together. Insure nothing is getting stuck on the bottom of the pot. Continue cooking on high heat till jackfruit surface starts to brown a bit.

Mix the dairy free yoghurt with 50 ml of room temperature water. Insure it is smooth and there are no lumps. Add this to the jackfruit and mix thoroughly.

Bring the heat down to medium and continue stirring. Add 200 ml of the hot water and some salt. Stir and cook covered for 10 minutes.

Add 200 ml water again, stir and cook covered for another 10 minutes.

Add 100 ml of the water, cover and cook for another 10 minutes.

Now the jackfruit should be soft and easily broken down with the back of a spoon.

Your vegan jackfruit in gravy is ready to be served. Serve with rice or paratha.
Food safety
In a professional kitchen, food hygiene and safety is a top priority and from the very beginning of training I practiced good habits and routines. Of course, it is also very, very important to practice good food hygiene and safety at home. Here are some fundamental practices to adopt in the kitchen.
Wash your hands regularly while preparing, handling and cooking food
Wipe down counter tops and high contact points regularly
If you cook meat and fish, do not use the same utensils on cooked food, that previously touched raw meat. Use separate chopping boards for meat and fish. Wash your chopping boards immediately after use.
Thoroughly cook food to a minimum temperature of 165 °F (74 °C)
Don't leave food sitting out at room temperature for extended periods (more than 2 hours)
For more details of food hygiene and safety in the home, visit the UK Government's Food Standards Agency webpage.