Bhapa Doi is the easiest three ingredient dessert to make. In Bengal, India, where I am from, this is one of the most popular desserts, even today. Think cheesecake texture but with the fresh flavour of yoghurt for this Indian dessert recipe.
Jump to: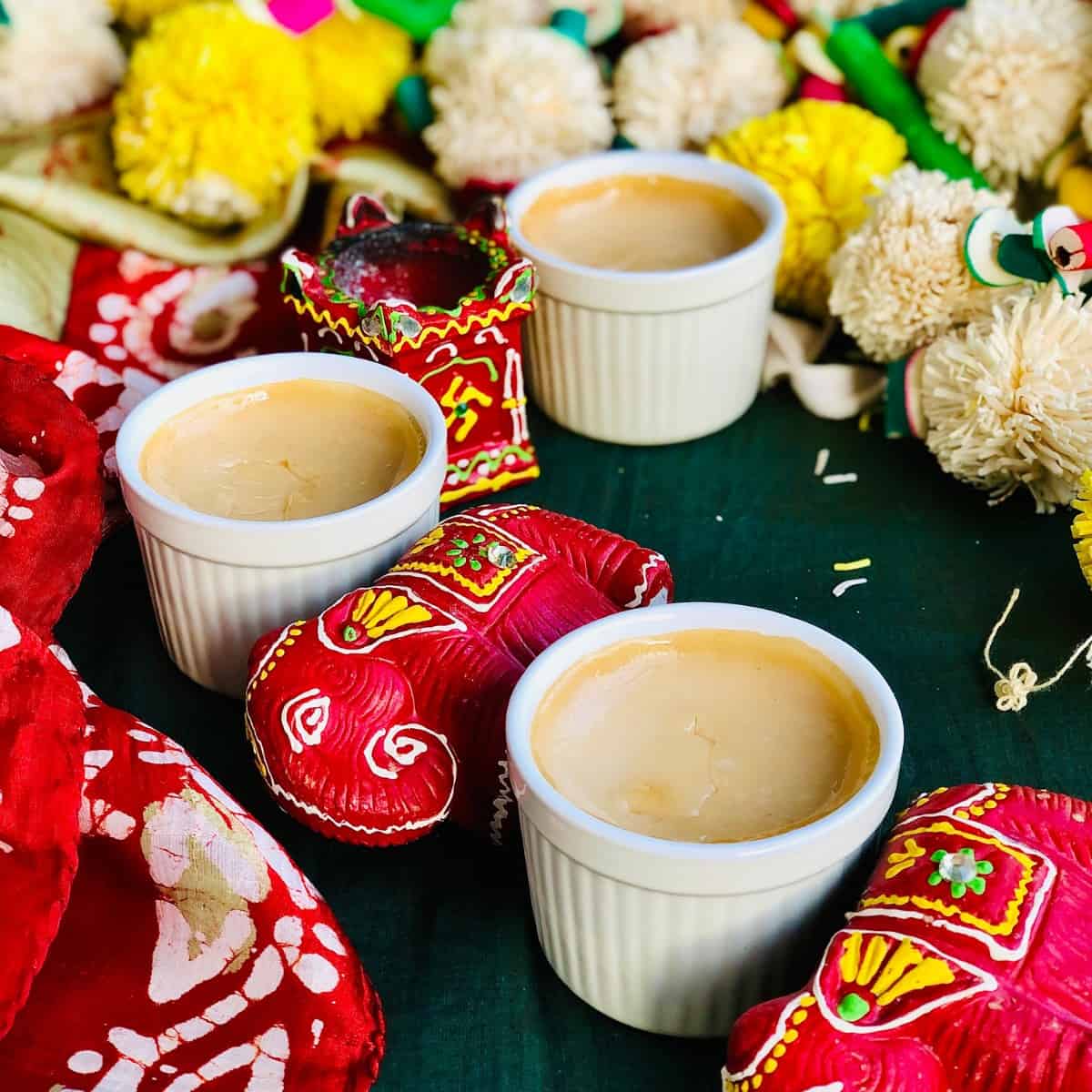 A Delicious Three Ingredient Indian Dessert
What is Bhapa Doi? Bhapa literally means steamed and Doi means yoghurt in Bengali, the local language in West Bengal. In Bengal, it is usually made with Nolin Gur which is jaggery (concentrated product of cane sugar) from the date palm tree. In the winter months, this sugary sap is harvested from the palm trees in the early hours, before sunrise. Post harvesting, it is then either sold as is in semi-liquid form, or reduced and dried to a more solid form. It is only available in the winter months, which is why it is called Nolin Gur (translated New Jaggery.) It is something people wait for all year and is considered a delicacy. This sugary sap is full of minerals and natural sugar. It has an unrefined, complex structure which insures slow release of sugar into the blood stream, unlike refined sugar.
Since this is one of the most popular Indian desserts from Bengal, I knew I had to veganise it. My recipe does not use Nolin Gur. It is quite difficult to get this here in the UK. Also, I have used vegan condensed milk which already has sugar in it and I did not want to make this Indian dessert too sweet. This is a simple, there ingredient recipe so is really easy to make. Never-the-less, it tastes heavenly. Indeed, this version of the bhapa doi is what we had on the menu in a top michelin star restaurant I once worked in.
I have flavoured this Bhapa Doi with lemon grass to maintain the fresh flavour of the yogurt. At the same time, it has the texture of a creamy cheesecake. If there is any dessert recipe of mine you should try, I highly recommend this one.
Ok then, lets bake it!
How-To Video
Here is a video guide to making your Bhapa Doi Indian dessert recipe.
📖 Recipe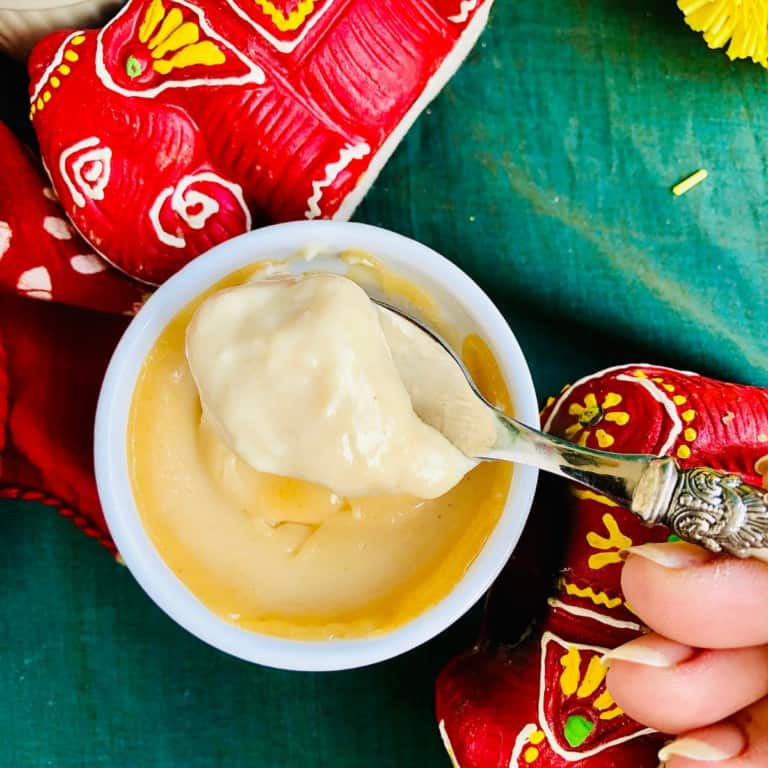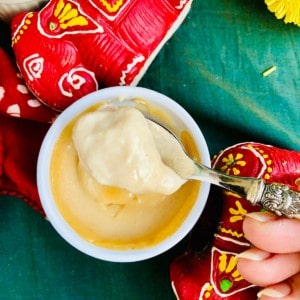 Bhapa Doi, Steamed Yoghurt Cheesecake
Bhapa Doi. Lemon grass flavoured easy three ingredient steamed yoghurt cheesecake
Equipment
Digital scales

Oven proof bowls or ramekins
Ingredients
400

gms

Dairy free Greek yoghurt

370

gms

Vegan condensed milk

1

stick

Lemon Grass
Instructions
Peel off the outer layer of the lemon grass and bruise with the back of a knife or something heavy. Cut it into three or four.

In a bowl add the yoghurt and condensed milk and give it a good mix.

Add the lemon grass and set aside to infuse for at least 6 hours. Overnight if possible.

Strain the mix, and discard the lemon grass.

Pour the infused mix into heat proof ramekins and tap on the counter top to remove air bubbles.

Transfer the ramekins to a deep baking tray and place in the oven. Pour boiling water into the tray to create a water bath.

Bake for 25 to 30 minutes

Once cooked remove ramekins from water bath and set aside to cool. They may appear a bit wobbly but don't worry, they will set further.

Once cooled down to room temperature, immediately refrigerate.

Serve the bhapa doi as it is or garnished with slivers of pistachio
Bhapa Doi, Indian Dessert, Recipe Notes
You can make this recipe with dairy yoghurt and condensed milk, just use the same amount.
You can use any flavour to infuse this yoghurt. If not using lemon grass, or something that takes time to infuse, such as saffron, you can leave the infusion time out.
Make it in advance if you wish, and store in the fridge for up to three days.
If you like the cheesecake vibes then check out my New York style baked vegan cheesecake. Or continue with the Indian dessert vibe and check out my makhana keer.