This recipe holds a special place in my heart, because grandmother used to make it for me and she still does every time I go back home to Kolkata in India. For me this recipe embodies her pure, unconditional love. Food is the love language for most Indians. It is how our elders express love - by feeding us all our favourite foods. This Makhana kheer is simply delicious and its dairy free too.
Jump to: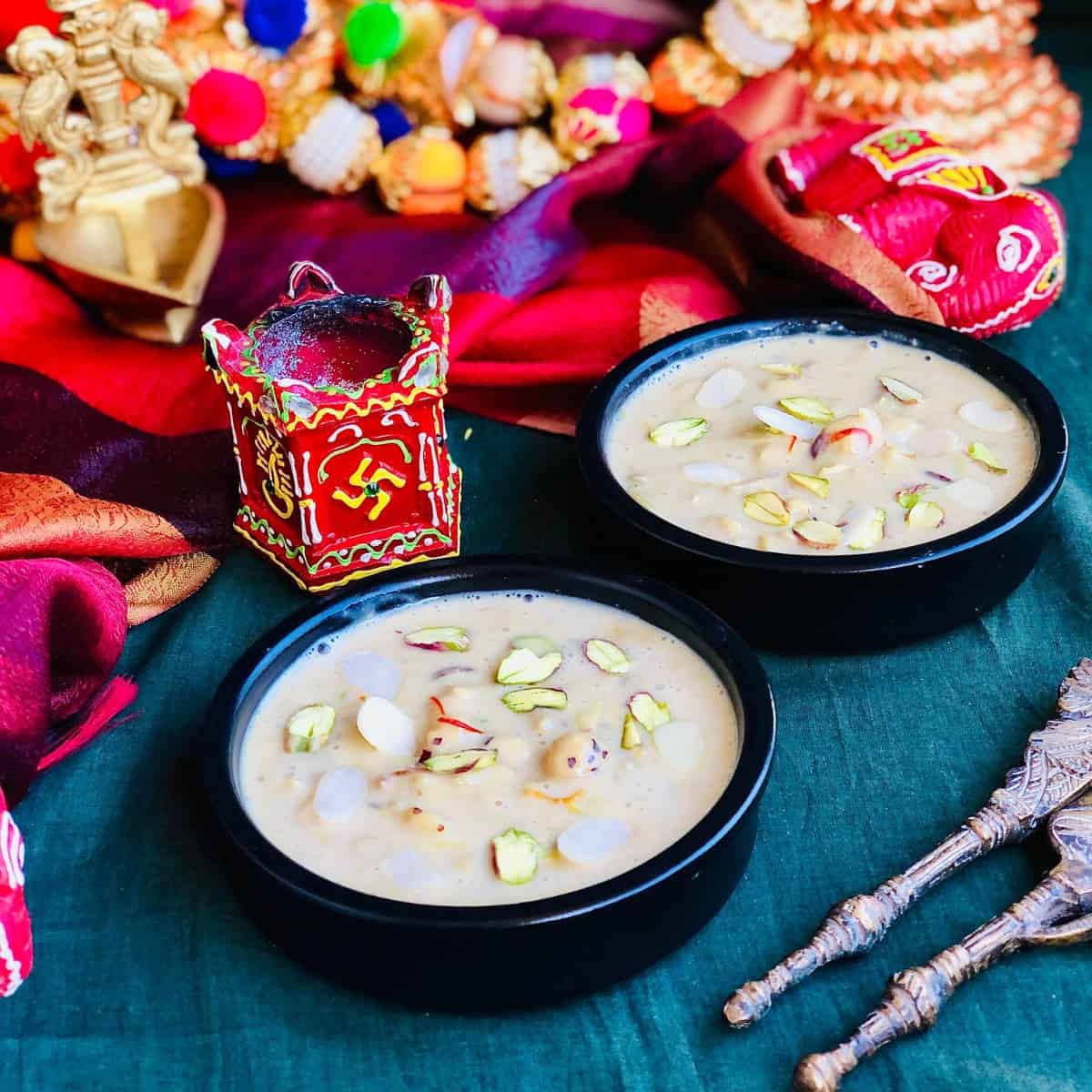 Introducing Phool Makhana, Popped Lotus Seeds
A core ingredient of this heavenly dessert is makhana. It is the seed of a flowering plant that grows in water. This plant is a member of the water lily family. In India, China and Japan you will find cultivated ponds full of the plant. When heated, the seeds pop, like pop corn, producing the white, puffy phool makhana. It is often used in sweet dishes or as a snack on its own.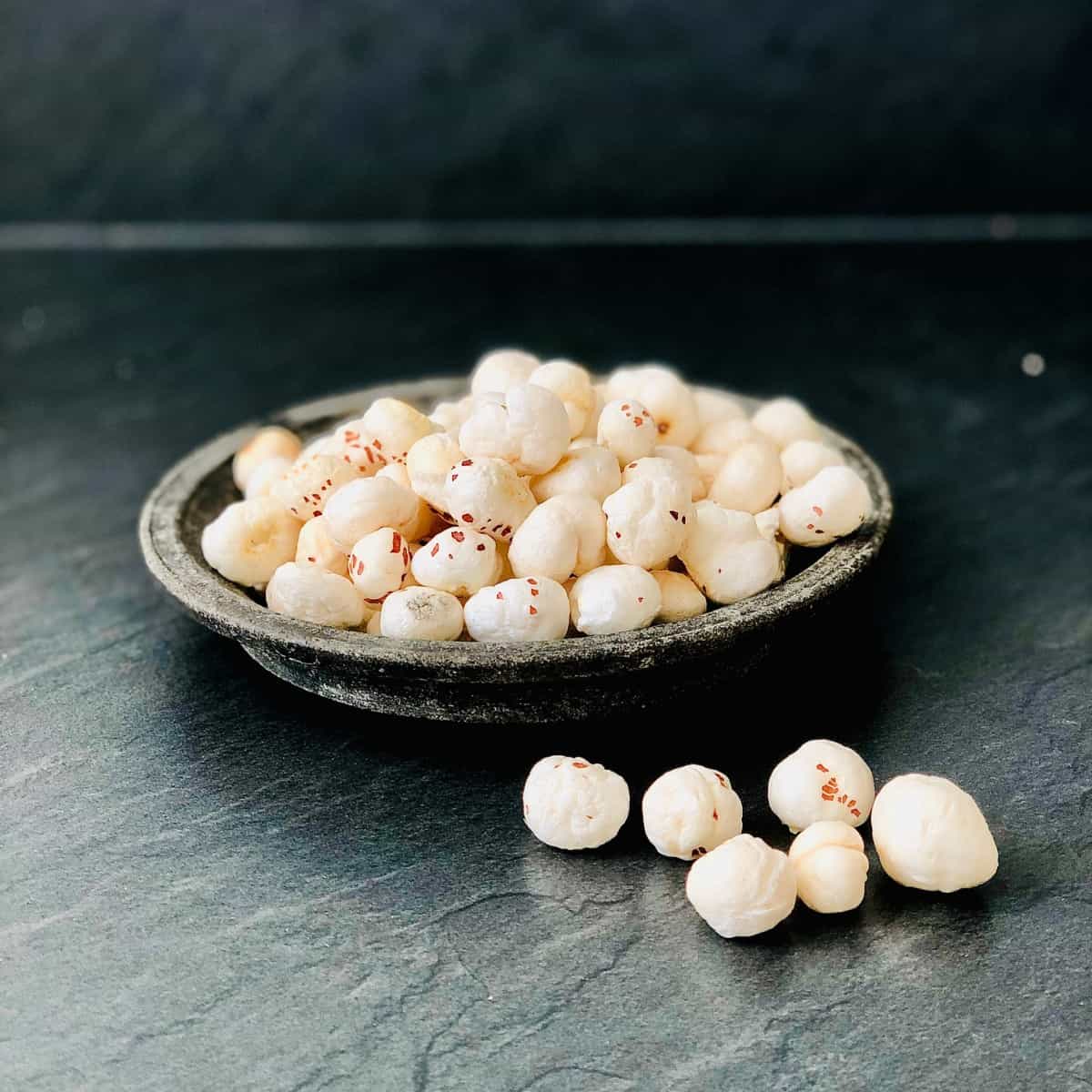 Popped lotus seeds is not something we ate on a daily basis when I was growing up. We only had it on special occasions - during festivals when fasting. One would use it as a sacred offering in religious functions, and it also holds a special place in Ayurveda because of its nutritional properties.
As a snack on its own, it is a very good choice. Being low in cholesterol, fat and calories, it can satisfy hunger pangs without the guilt trip.As well, there are other health benefits from eating this seed so there is a lot going for it. It is very delicious when flavoured with spices. So if you need a popcorn alternative, then consider phool makhana.
How-To Video
Here is a video guide to making your makhana kheer.
📖 Recipe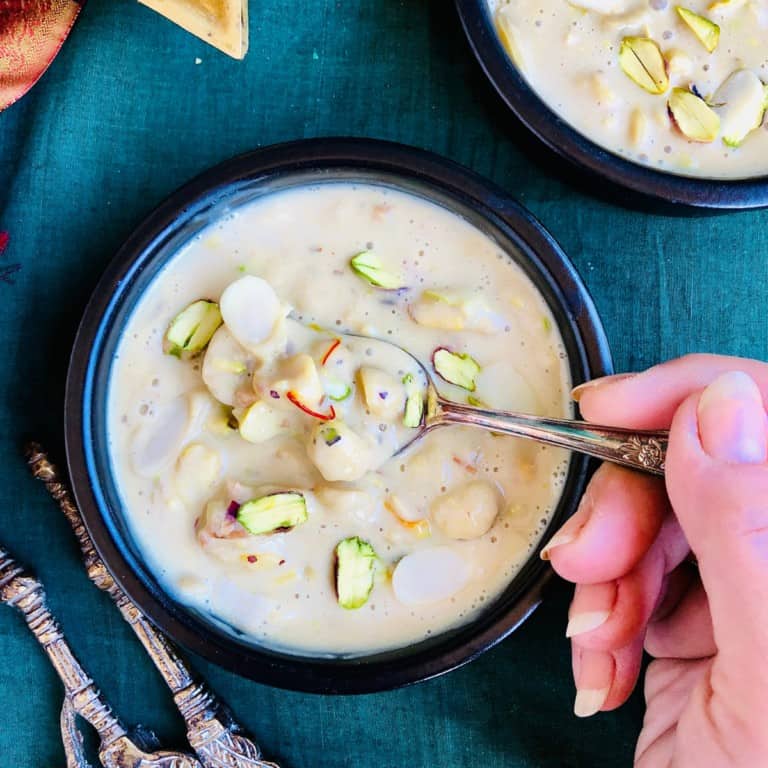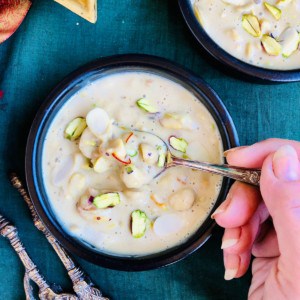 Simple Indian Dessert. Makhana Kheer
Delicious Indian dessert recipe made with phool makhana, almond milk and maple syrup.
Ingredients
500

ml

Almond Milk

20

gms

Makhana or Popped Lotus Seeds

15

gms

Almond flakes

15

gms

Pistachio

peeled

40

ml

Maple syrup

A few strands saffron
Instructions
Cut the makhana in half. Slice the pistachio into slivers.

In a saucepan add the almond milk and bring to a boil. Then lower the heat to a medium high heat and simmer for about 10 minutes. Stir continuously to ensure nothing gets stuck to the bottom of the pan.

Once the almond milk has reduced a bit, add in the makhana and continue to simmer and stir for 5 minutes.

Now the almond milk will a bit thicker. You can test by letting it flow off the spoon. If its not just rolling off the spoon (as milk does) but forming a drop as it flows, its ready.

Add the maple syrup, almond flakes and pistachio (save some nuts for garnish) and continue stirring.

Add the saffron and continue simmering and stirring for another 5 minutes.

The makhana will be soft and the almond milk should be thicker by now.

Serve hot or cold. Garnished with almond flakes and pistachio slivers.
Recipe Notes
If you liked this recipe then definitely give my bhapa doi steamed yoghurt cheesecake a go. After trying them both, you might just be in Indian dessert heaven.