Nankhatai biscuit is an Indian sweet originally from the state of Gujarat. It is a very popular teatime biscuit all over India. I just had to make a vegan version of this sweet treat. Nankhatai is similar to a shortbread biscuit- crumbly and melt-in-the-mouth. Traditionally made with ghee, I have used coconut oil to make my recipe vegan friendly. If coconut oil is not to your taste, don't worry, you will not taste the coconut oil because the cardamom flavour is strong enough to disguise the coconut oil flavour, and you will still achieve that characteristic nankhatai biscuit texture.
Preparation and cooking time is only thirty minutes, so these biscuits are relatively quick and easy to make.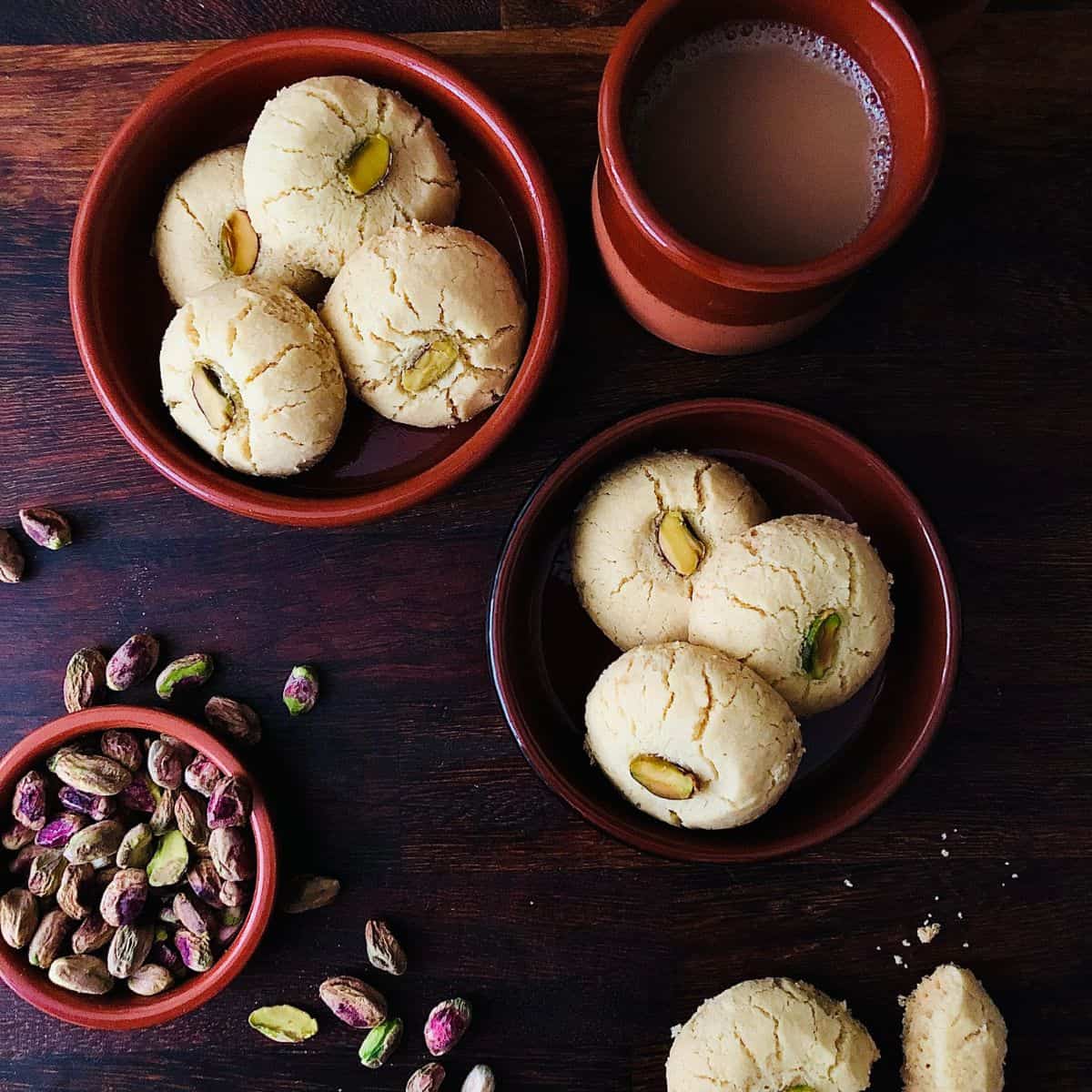 I am posting this recipe for Diwali, the festival of lights, and the Hindu New Year. During Diwali, families and friends visit each other and offer tea and sweets. This biscuit is perfect for those daytime visits. Nankatai is a Persian word meaning bread (nan) biscuit (khatai).
My deliciously chocolaty rocky road recipe makes use of this nankhatai biscuit.
If you enjoy this sweet Indian biscuit, then you may like to try some of my Indian desserts. They are all vegan too. Please look at my healthy thandai flavoured bliss balls, or perhaps my simple makhana kheer recipe. Fancy a steamed yoghurt cheesecake? Then try my bhapa doi recipe.
Jump to:
Ingredients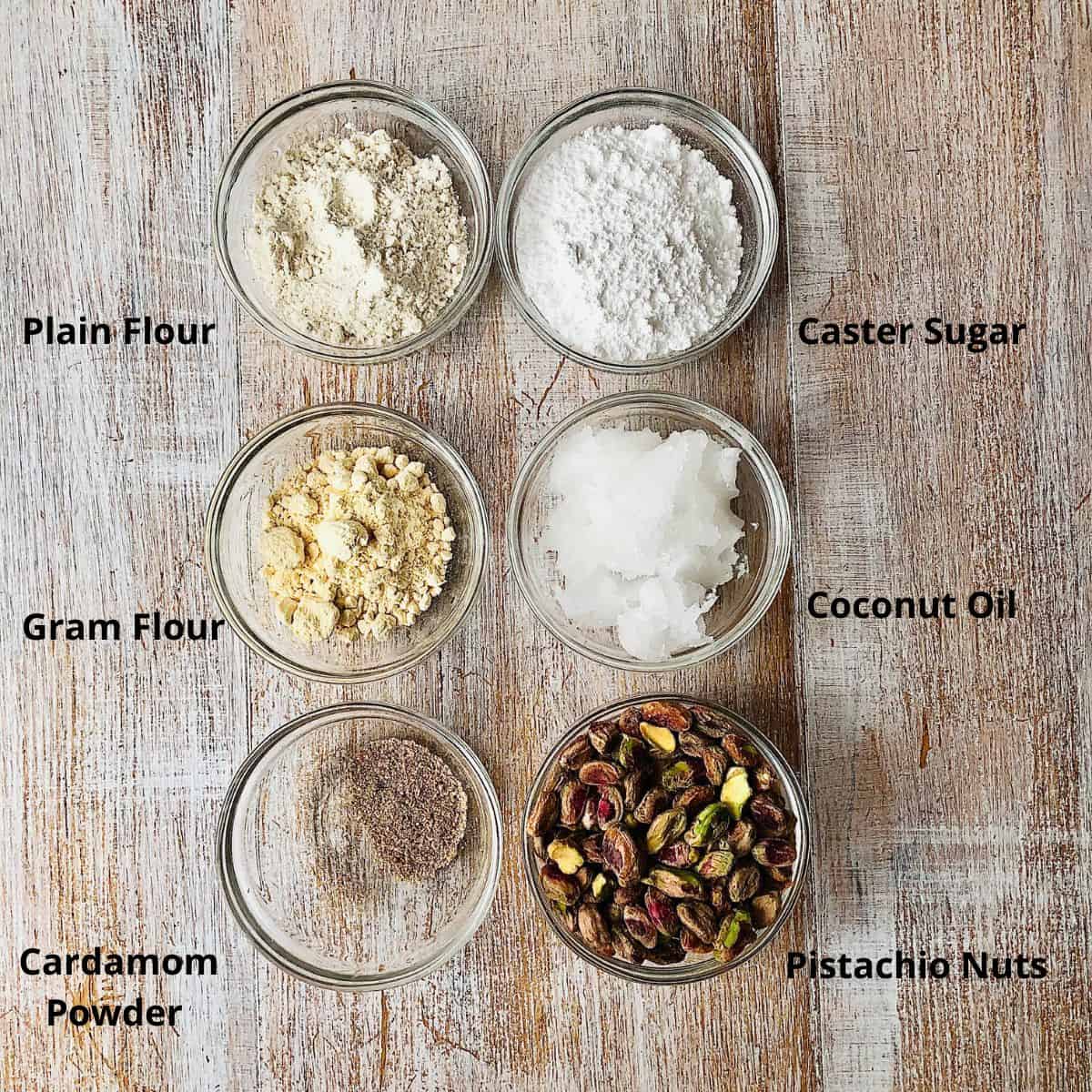 Plain flour
Gram flour
Icing sugar
Cardamom powder
Coconut oil
Pistachio nuts
See the recipe card for quantities.
Instructions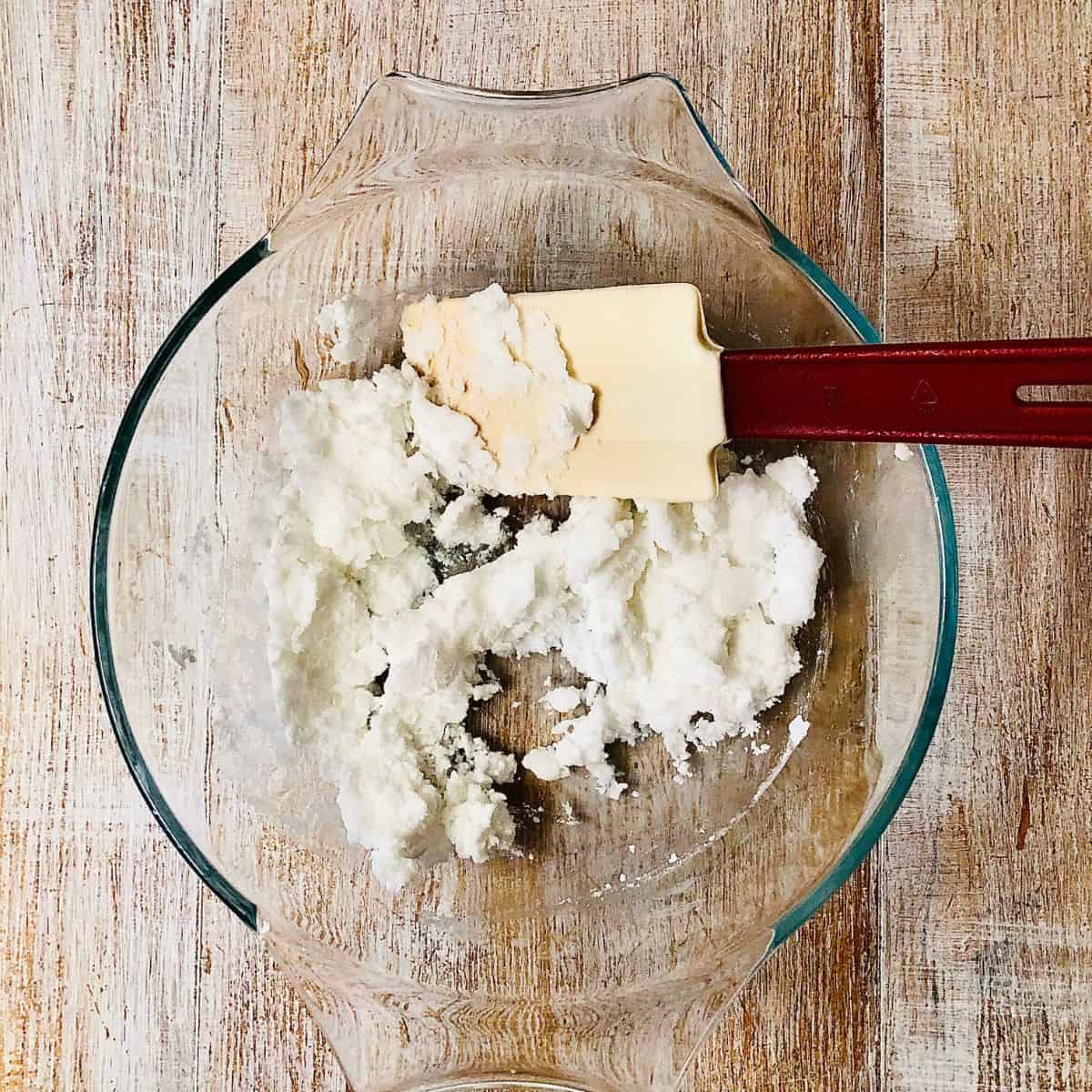 Sieve the icing sugar into a bowl. Add the solid coconut oil and mix to combine using a spatula.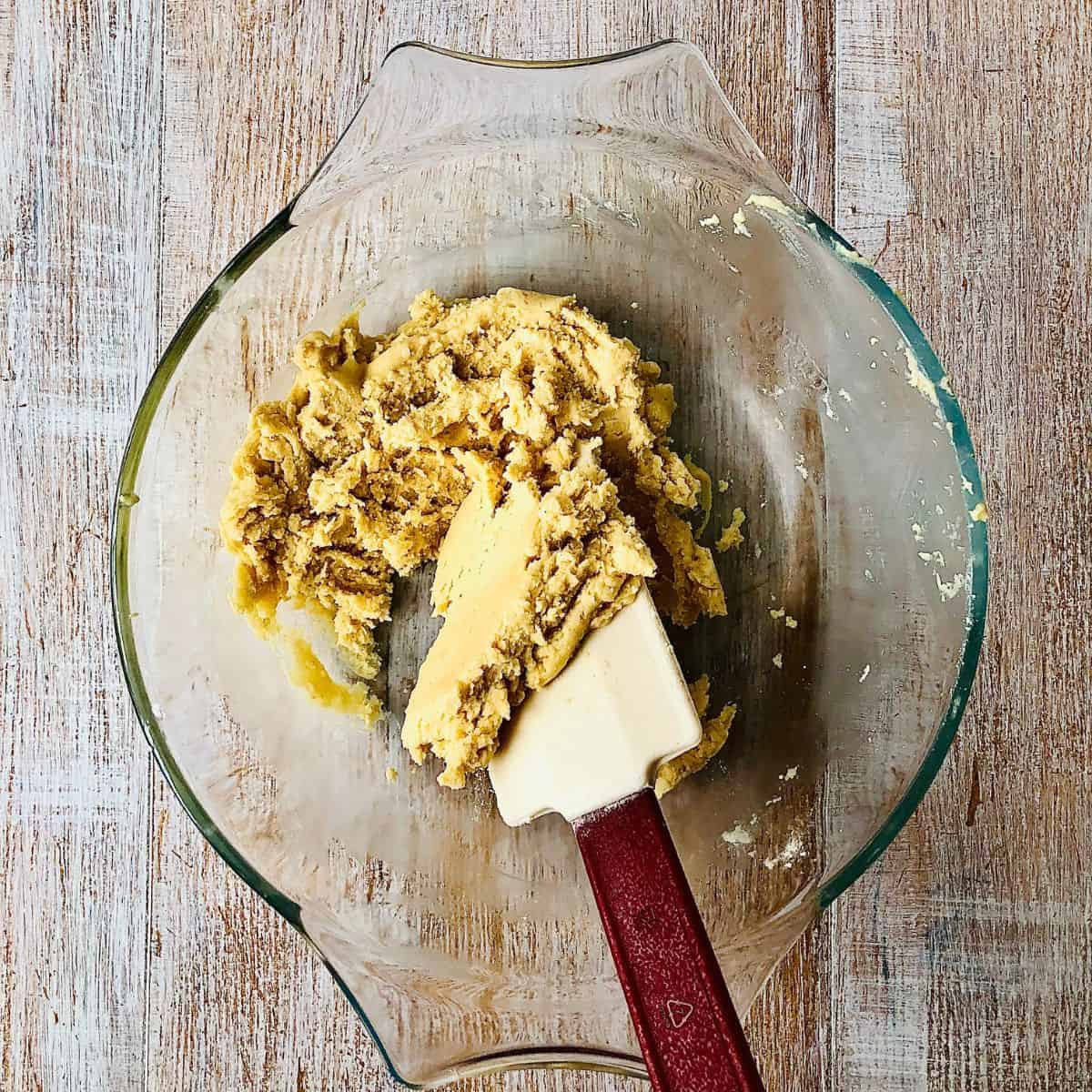 Sieve the plain flour and the gram flour into the bowl, add a pinch of cardamom powder and gently mix to combine. Do not over-mix. If you want to add other flavours, add them at this stage.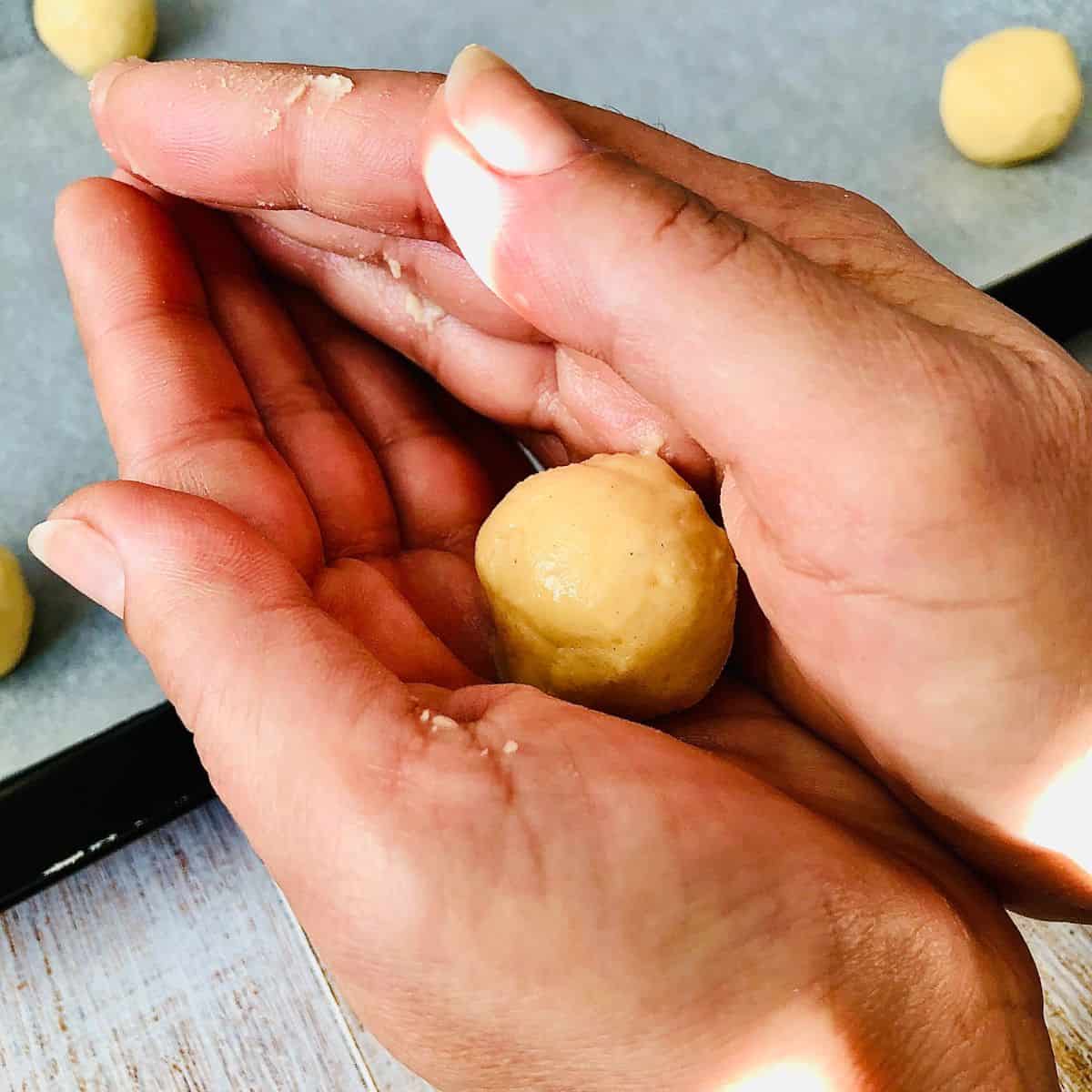 Divide the dough into ten equal portions and quickly roll them into a ball with your hands. Do this quickly because the coconut oil melts with the heat of the hands and will make the dough too wet.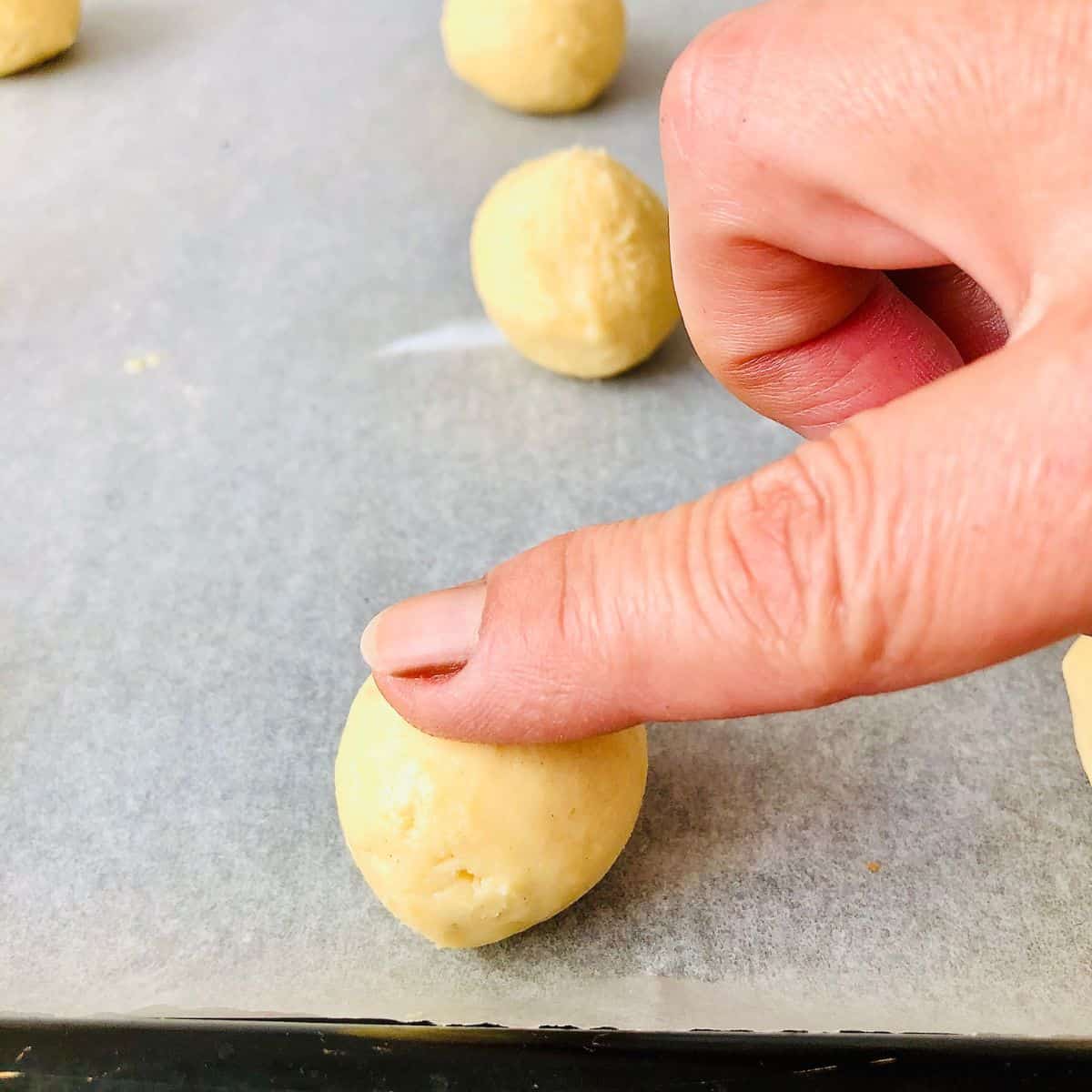 Place the dough balls onto a baking tray. Make a little indentation on the top of the ball using your finger.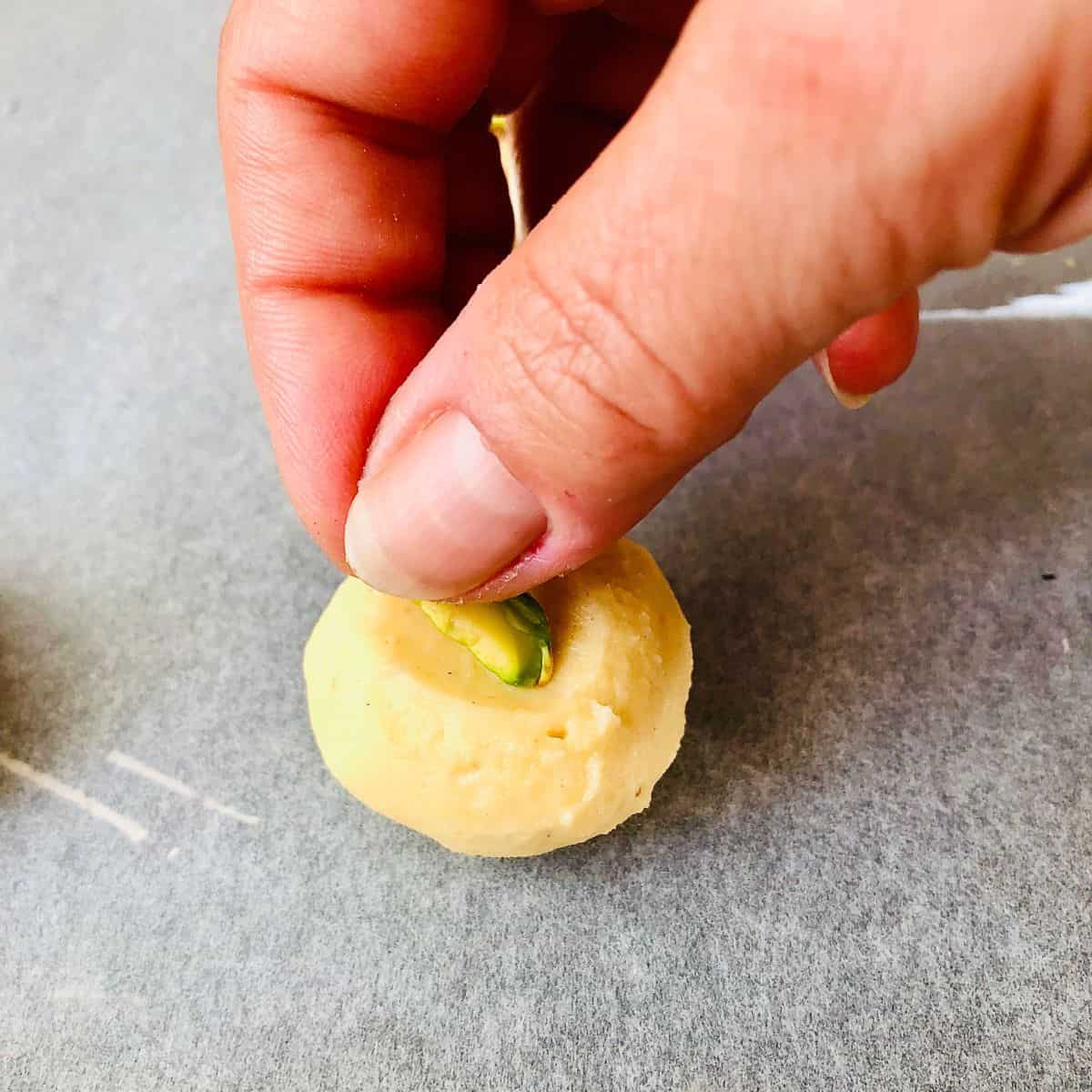 Place half a pistachio nut into the indentation.
Refrigerate for twenty minutes before cooking.
Preheat the oven to 150ºC.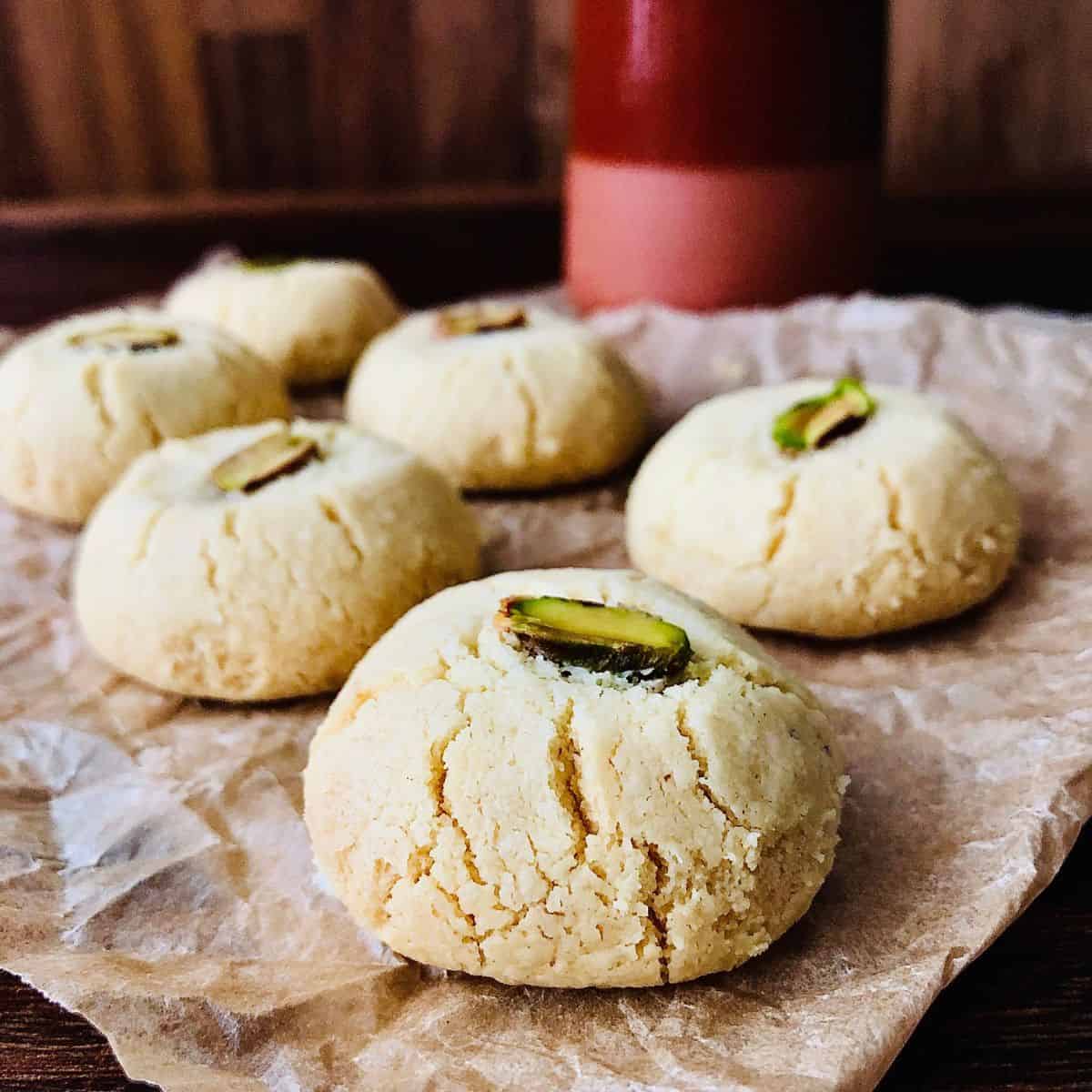 Bake the biscuits for 15 minutes or until pale golden. Another sign to know they are done is you will see cracks in the biscuit. Once cooled completely, transfer to an airtight container.
Substitutions
If you are not vegan, you can try the recipe with ghee or vegan butter in the same quantities as the coconut oil. I have tested the recipe with ghee but not vegan butter; however, there is no reason why it should not work with vegan butter.
Variations
As with much Indian food, nankhatai has many variations. All you need to do is add your flavour to the dough and mix evenly. Some suggestions include saffron, cinnamon powder, or chocolate powder. Don't add water-based ingredients, as it will make the dough too wet. If you make nankhatai with another flavour, please tell me about it in the comments!
Storage
The nankhatai biscuits can be stored in an airtight container for a week or more at room temperature.
Top Tips
The coconut oil must be solid for this recipe so you can work the dough effectively.
Don't overwork the cookie dough after you add the coconut oil. Just bring it all together. If the dough is too soft, rest it at room temperature for ten minutes, then shape them into the individual balls.
Before placing it in the oven, make sure that you refrigerate the nankhatai for at least twenty minutes. If you put it straight into the oven, the coconut oil has already started to melt, and it will cause the cookie to spread very quickly. We want the cookie to hold its shape.
📖 Recipe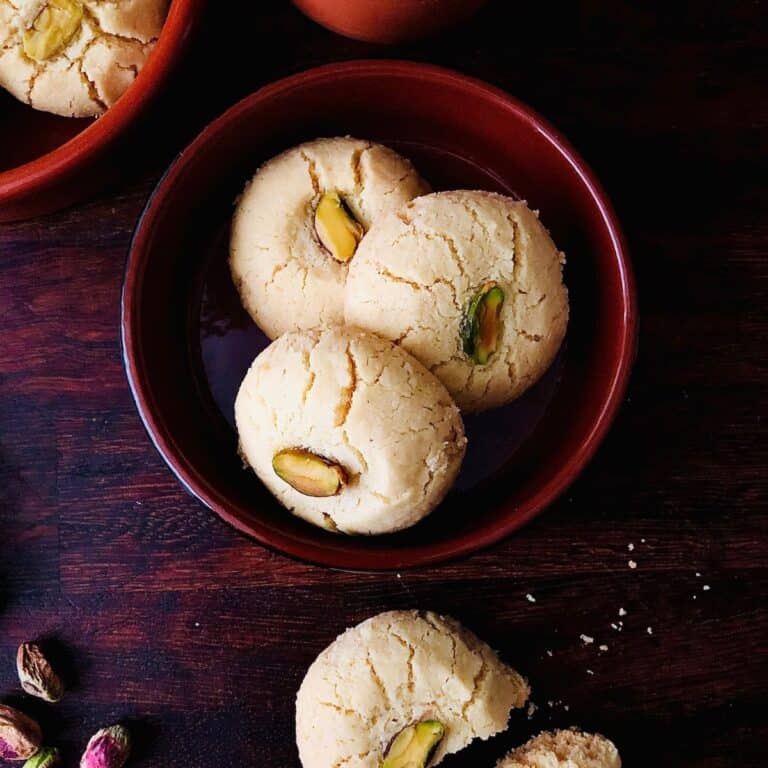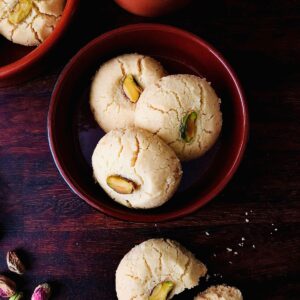 Nankhatai Biscuit Recipe
A delicious, soft, crumbly Indian shortbread biscuit. Vegan friendly.
Ingredients
75

g

Icing Sugar

75

g

Coconut oil

40

g

Plain flour

40

g

Gram flour

1

pinch

Cardamom powder

5

Pistachio nuts - shelled
Instructions
Line a baking tray with parchment paper.

Remove the cardamom seeds from the pods and grind them into powder.

Sieve the icing sugar in a bowl. Add the coconut oil and use a spatula to mix.

Pass the flour and gram flour through a sieve to remove any lumps. Add the sieved flour to the icing-coconut oil mix

Add a pinch of cardamom powder and gently mix it into a dough.

Divide the dough into ten equal portions. Quickly roll it into a ball and set it on a tray. This step has to be done quite quickly as the heat from your hands will melt the coconut oil, creating a very wet mix.

Once all the balls are ready on the tray, use your fingertip to press from the top to create an indention. Place half a pistachio into the indentation.

Refrigerate the dough balls for at least twenty minutes. Refrigeration helps the coconut oil set, preventing the biscuit from spreading too much during baking.

Preheat the oven to 150ºC. (Fan-assisted oven)

Bake the biscuits for

15 minutes

or until pale golden. Another sign to know they have cooked is that you will see cracks in the biscuit.

Once cooked, remove the tray from the oven and leave to cool. Please don't be tempted to touch the biscuits; they will be very soft to the touch.

Once cooled, transfer to an airtight container.
Nutrition
Calories:
125
kcal
(6%)
Carbohydrates:
13
g
(4%)
Protein:
1
g
(2%)
Fat:
8
g
(12%)
Saturated Fat:
6
g
(38%)
Polyunsaturated Fat:
0.3
g
Monounsaturated Fat:
1
g
Sodium:
3
mg
Potassium:
43
mg
(1%)
Fiber:
1
g
(4%)
Sugar:
8
g
(9%)
Vitamin A:
3
IU
Vitamin C:
0.02
mg
Calcium:
3
mg
Iron:
0.4
mg
(2%)
NOTES
Nutritional information is for guidance only, generated by the Spoonacular API.
Food Safety
In a professional kitchen, food hygiene and safety are top priorities, and from the beginning of my training, I practised good habits and routines. Of course, practising good food hygiene and safety at home is also essential. Here are some fundamental practices to adopt in the kitchen.
Wash your hands regularly while preparing, handling and cooking food.
Wipe down countertops and high-contact points regularly.
If you cook meat and fish, do not use the same utensils on cooked food that previously touched raw meat. Use separate chopping boards for meat and fish. Wash your chopping boards immediately after use.
Thoroughly cook food to a minimum temperature of 165 °F (74 °C).
Don't leave food at room temperature for extended periods (more than 2 hours).
For more details regarding food hygiene and safety in the home, visit the UK Government's Food Standards Agency webpage.