Marrow is the vegetable everyone likes to grow in UK but, dare I say, it is not so popular as an actual ingredient. If, like me, you see a marrow and run or just don't know what to do with it beyond stuffing it, then this marrow recipe is for you.
My mother-in-law's neighbour kindly gave me a huge marrow from his vegetable patch. Although the initial internal dialogue was what on earth am going to do with it and I'm not keen on it, I was very grateful for the gift and determined to work some magic with it, and this ghutva marrow recipe is the result.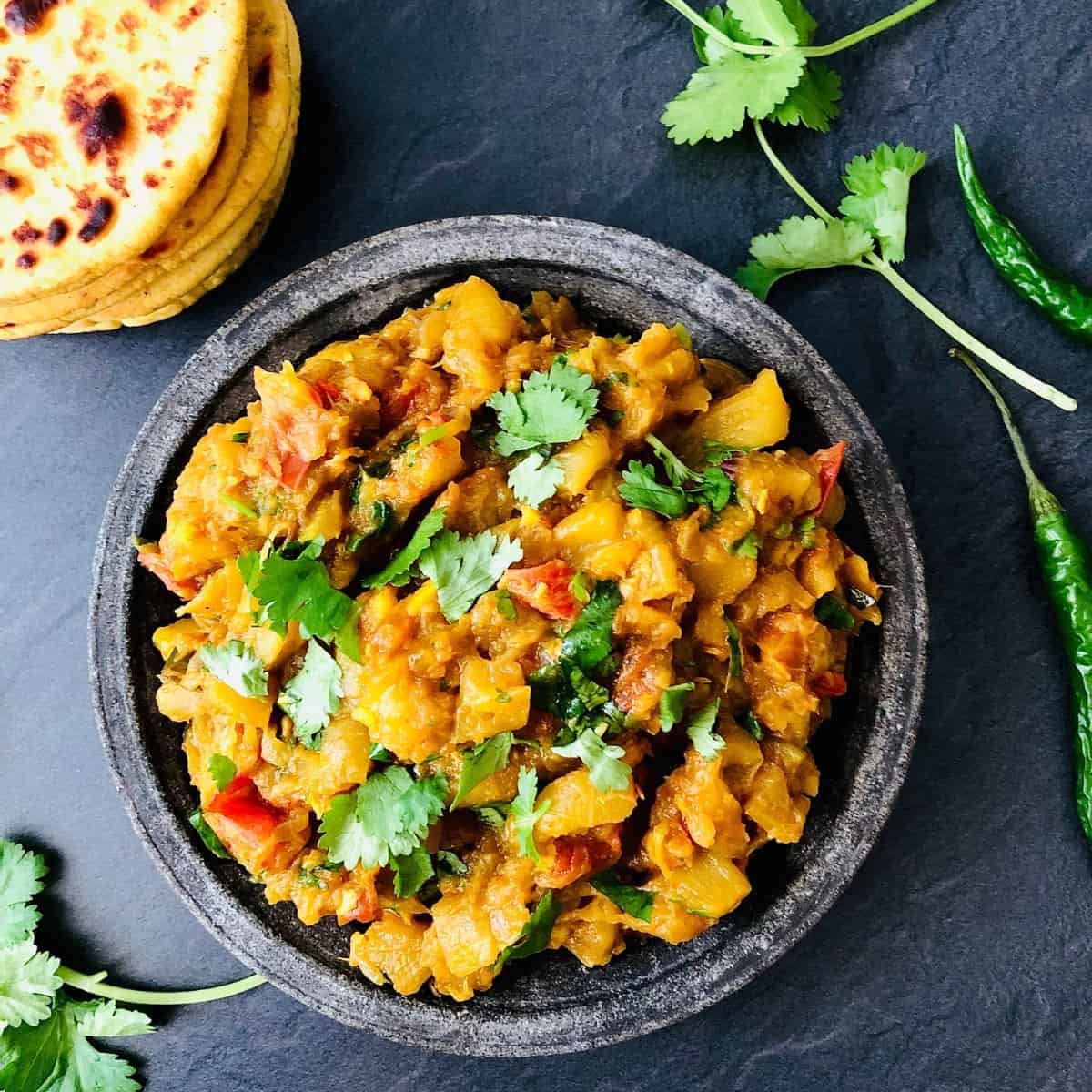 A bit of back story first.
I was an extremely fussy eater as a child. In fact, potatoes were the only vegetables I ate, and I have only started to experiment with vegetables in earnest over the past decade. This was motivated by a decision to try and eat more healthily and focus on a plant based diet with different seasonal vegetables. I very soon discovered that it is not that I didn't like vegetables, I just didn't like the way they were cooked. So, with a little creativity and the addition of textures and flavours I have been able to transform what I saw a boring and tasteless into something to really tickle the taste buds. The experimentation continues. Follow me on this journey in my blog.
Marrow Cooked Indian Style.
Back to the marrow recipe.
There was no way I was going to stuff it or eat it sautéed. My partner is a vegetarian but his heart sinks at the sight of stuffed marrow. I knew I had to cook it with spices to bring life to this bland vegetable and win him over.
So growing up in India, the one recipe that almost every member in my family loves to this day is ghutva baigan. This is roasted aubergine cooked further in spices. Ghutva, means mashed. Ghut means to suffocate, so ghutva means to cook till its like a mash.
In this marrow recipe, it is roasted and cooked in a similar fashion to the ghutva baigan recipe. Roasting the marrow adds so much flavour to the humble marrow. Cooking it further in spices and the masala gives it layers of flavours. It is moreish, smoky and tangy.
Serve this with a simple tidka flat bread.
How-To Video
Here is a video guide to making your Ghutva marrow recipe.
📖 Recipe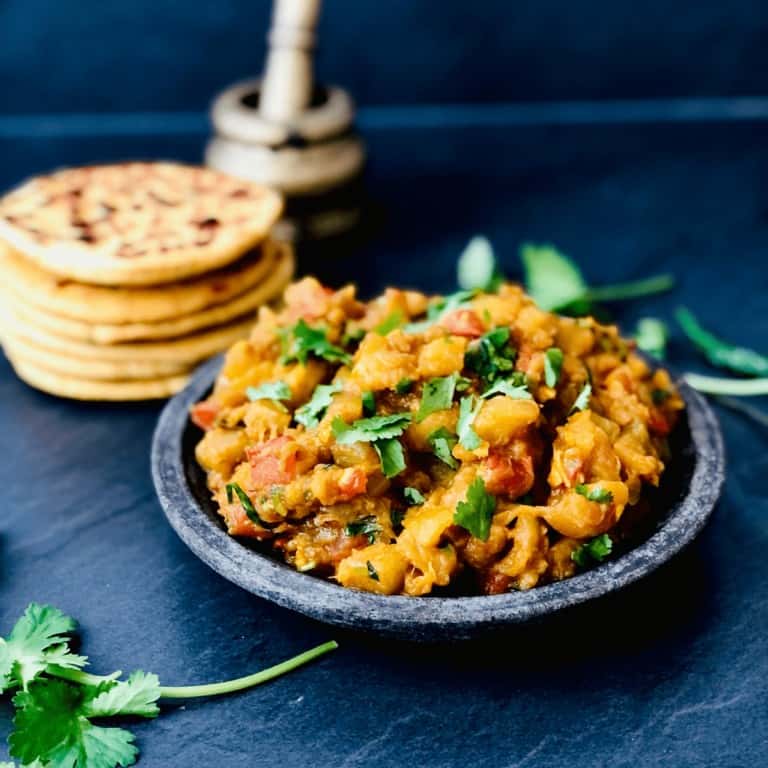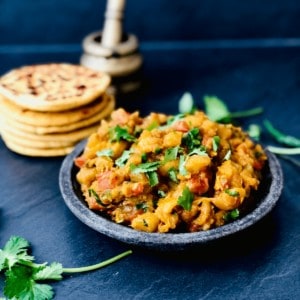 Ghutva Marrow
Roasted marrow cooked in a classic indian recipe with spices
Ingredients
1360

gms

Marrow

80

gms

Red onion

20

gms

Garlic

13

gms

Ginger

165

gms

Tomatoes

1

Green chilli

Rocket chilli

2

tablespoon

Mustard oil

¼

tsp

Asafoetida

½

tsp

Cumin seeds

½

teaspoon

Coriander powder

¼

teaspoon

Turmeric

¼

tsp

Red chilli powder

¼

teaspoon

Amchur

raw mango powder

½

tsp

Kala namak

11

gms

Fresh coriander
Instructions
Cut the marrow into half horizontally and scoop out the seeds

Rub in some oil and salt and roast it in the oven for about 30 mins.

Chop the onions, garlic, ginger, green chilli, coriander and tomatoes and set aside.

Once the marrow is roasted, peel off the skin while hot.

Roughly chop the marrow and set aside.

Heat the mustard oil in a pot over a medium heat. Add cumin seeds and asafoetida and allow it to bloom (cook in the oil) for a minute or so. Be careful here we don't want to burn it.

Add the chopped red onions and sauté for five minutes till soft.

Add the chopped garlic and ginger and sauté for another couple of minutes.

Add the green chilli, turmeric, coriander and chilli powder. Fry it for a few minutes till you can smell the fragrance the spices.

Add the chopped tomatoes and cook until the tomatoes are soft and mushy and have changed colour.

Now add the chopped marrow and all the juices from the marrow, and add kala namak. Continue cooking over a medium heat for about 20 minutes, stirring often to insure nothing gets stuck in the bottom.

Once the marrow is soft and breaking easily with the back of a spoon, add the amchur. Mix and remove from the heat.

Garnish with chopped coriander and serve with Tikda. ( gram flour flat bread )
Marrow Recipe Notes
You can replace marrow with aubergine. Cooking time may vary.
If you do not wish to roast, you can also boil the marrow. However, roasting adds more flavour.
If you are gluten free, insure that the asafoetida is gluten free. They tend to have gluten. Look for the one made with rice flour
The mustard oil can be replaced with any oil. Mustard oil does add flavour to this recipe, so highly recommend it.