Watermelon is a very refreshing fruit in the summertime. Did you know that all parts of the watermelon are edible, including the seeds? We all love and enjoy the red flesh of the watermelon and discard the rest. Get more from your watermelon and reduce food waste with this watermelon rind recipe - Tarbooz ki sabzi. Once cooked, the watermelon's light green rind flesh tastes like zucchini or bottle gourd.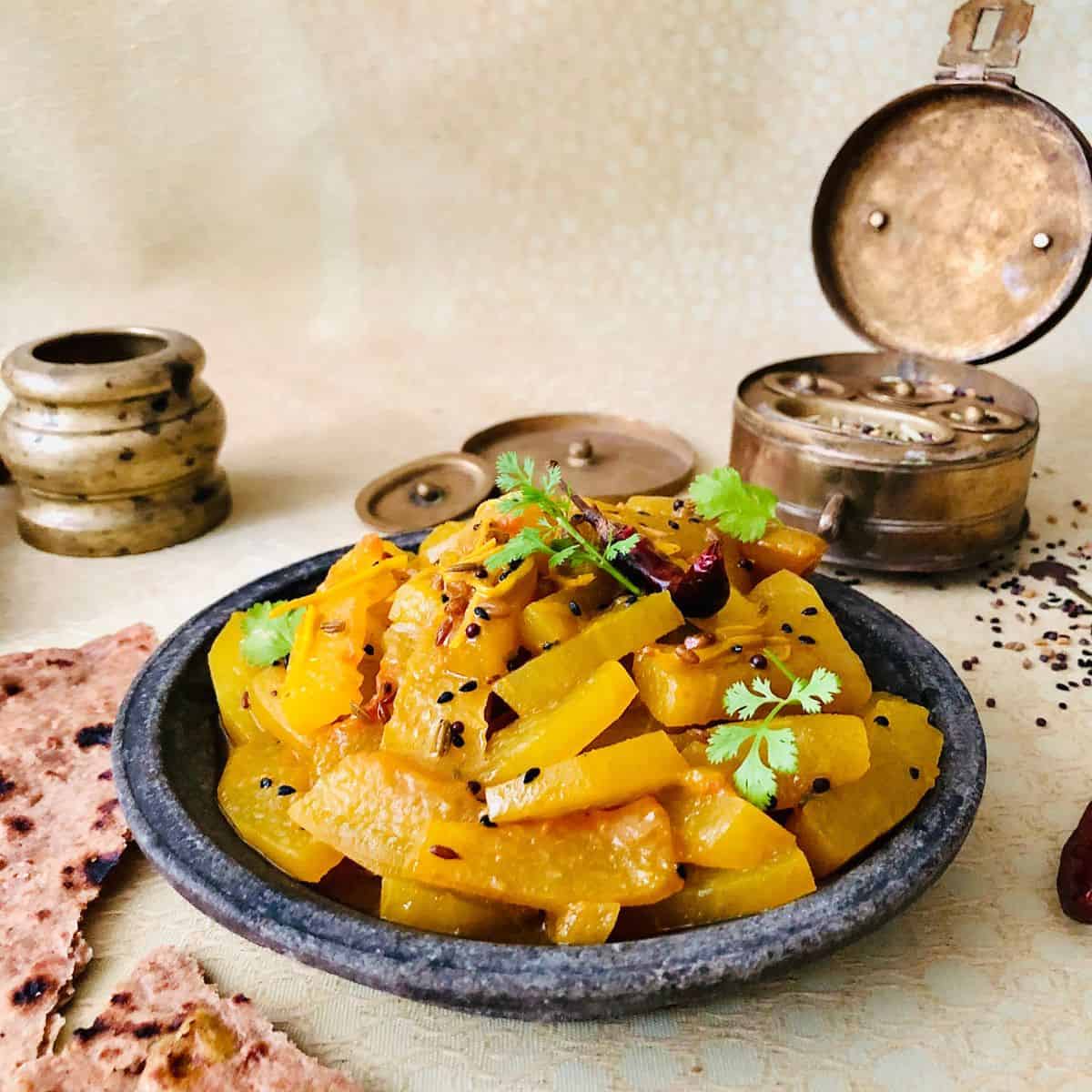 This watermelon rind recipe is from my mum, the queen of zero food waste. Her philosophy was to starve the bin; now that's mine too.
Jump to:
Ingredients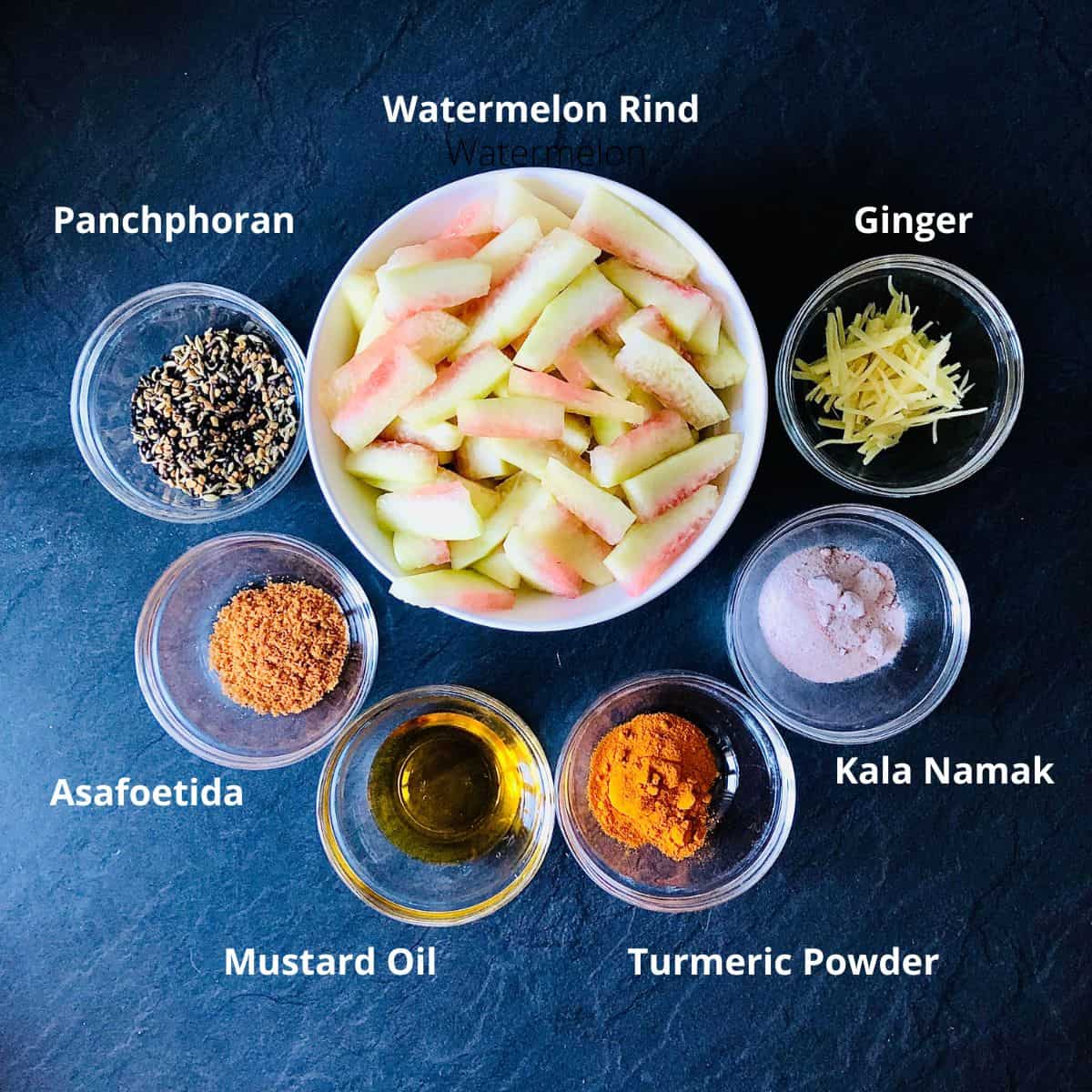 Watermelon rind
Julienne ginger
Kala namak
Turmeric powder
Mustard oil
Asafoetida
Panchphoran
See the recipe card for quantities.
Here are a few notes about the ingredients.
Julienned ginger is ginger cut into thin strips.
Panchphoran is a traditional spice mix from Bengal, India. It means "five spices". Panchphoran contains fenugreek, nigella, cumin, black mustard, and fennel seeds in proportion. Whole seeds are used, as opposed to mixing them powdered.
Mustard oil is a common ingredient in Asian cooking but is not so common in the west. Food regulations in western countries state for external use only (such as massage). Do your research to decide if you want to use it.
Instructions
To begin, prepare the watermelon rind. First, peel off the green outer skin of the watermelon and discard it. Cut the inner rind part into bite-sized chunks.
Peel and julienne the ginger.
See the ingredients photograph above.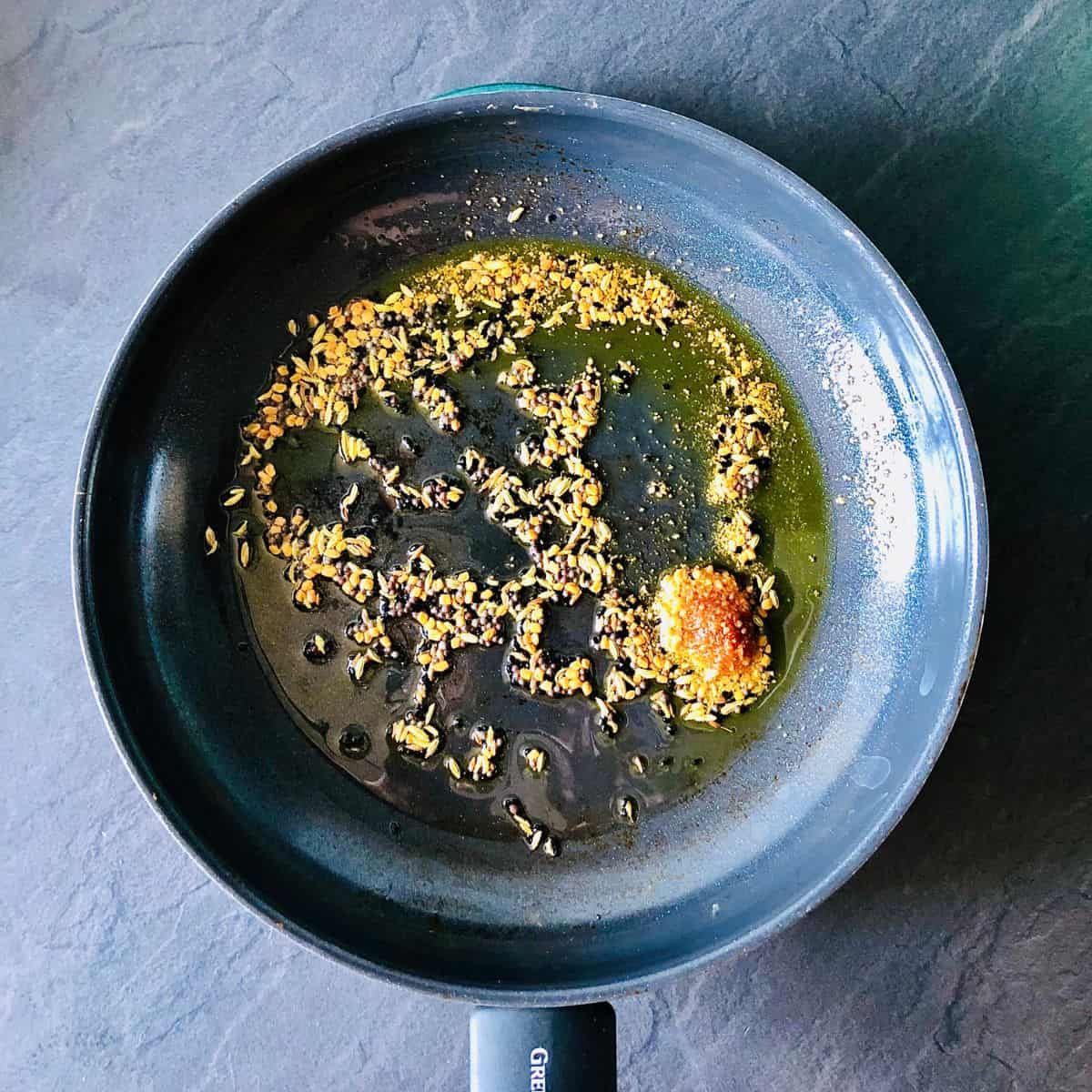 Heat the mustard oil over medium heat and bloom the Panchphoran for about 30 seconds until it sizzles to release its fragrance. Then add the asafoetida.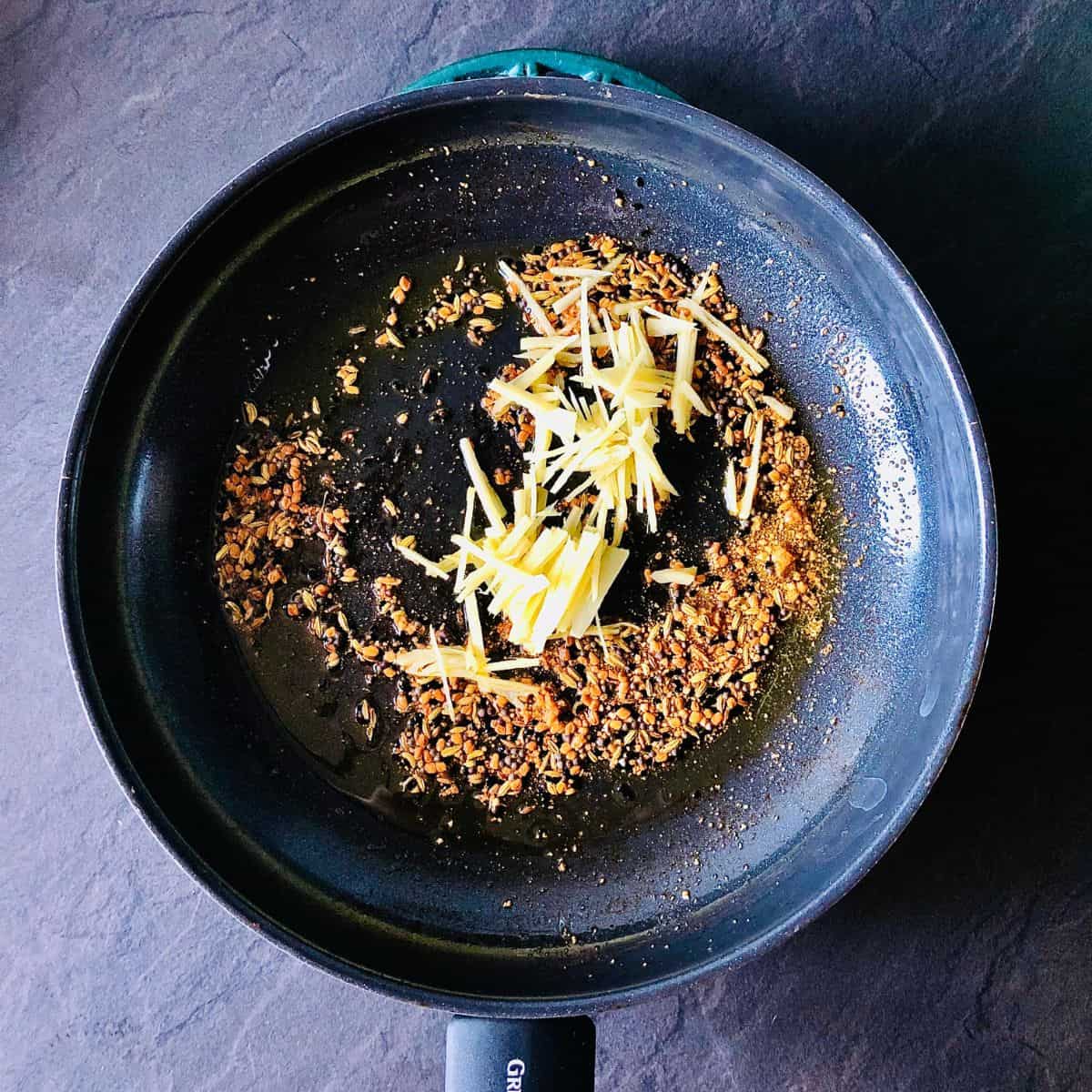 When the asafoetida starts to sizzle, immediately add the julienned ginger.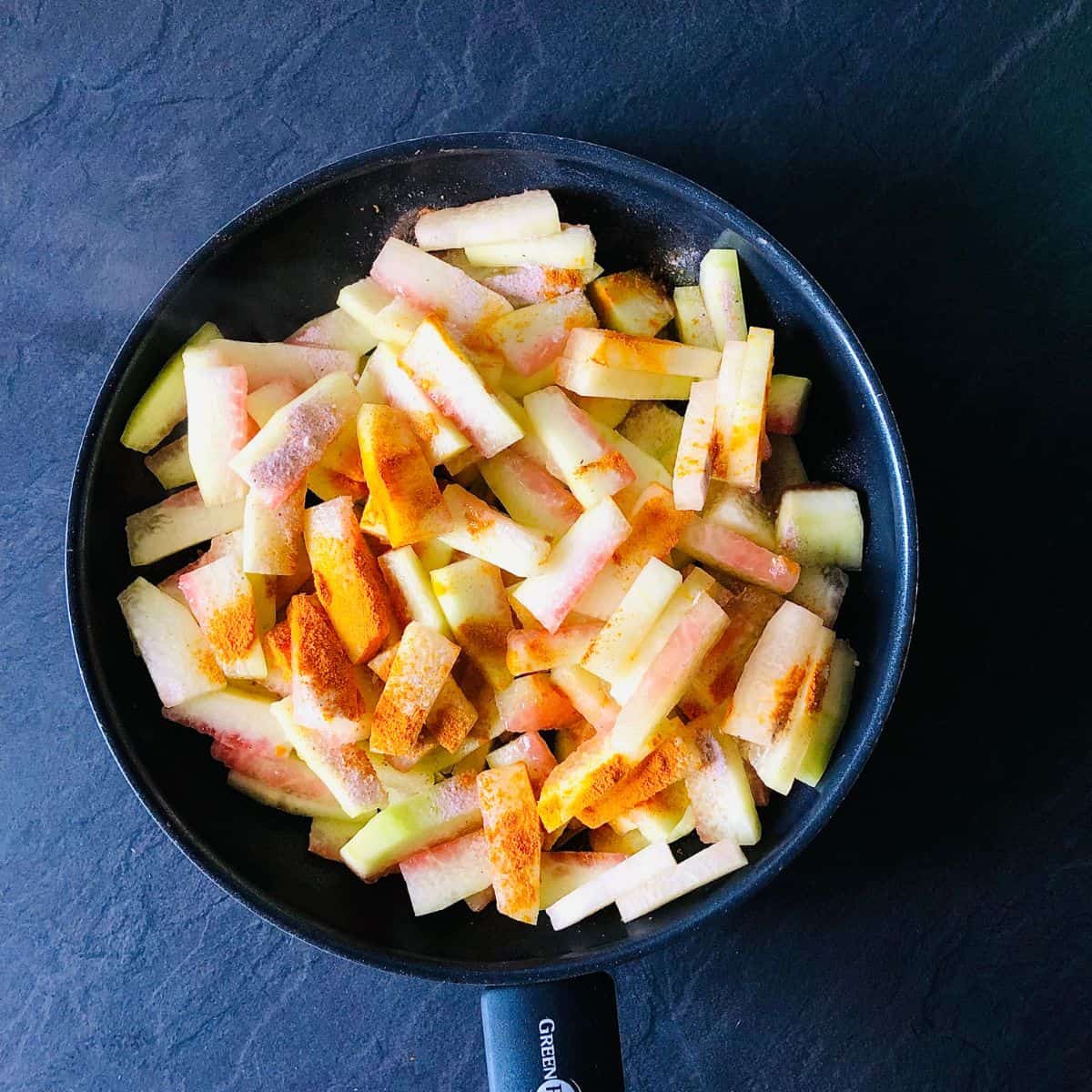 Immediately follow this with the prepared watermelon rind, the kala namak and the turmeric powder.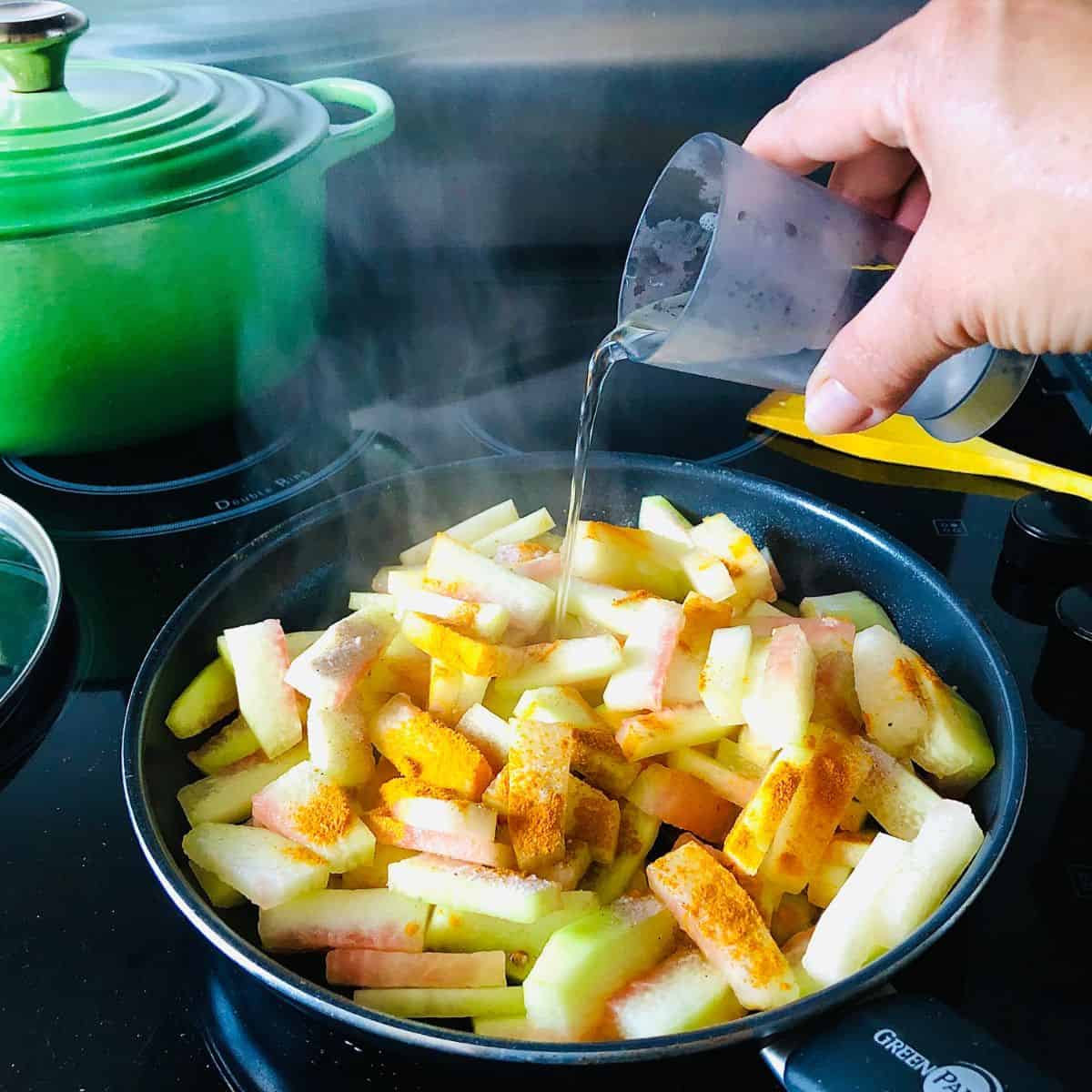 Add a dash of water (about 25ml), cover and cook over medium heat for 15 minutes (If you want to add the chilli powder, add it after 10 minutes.)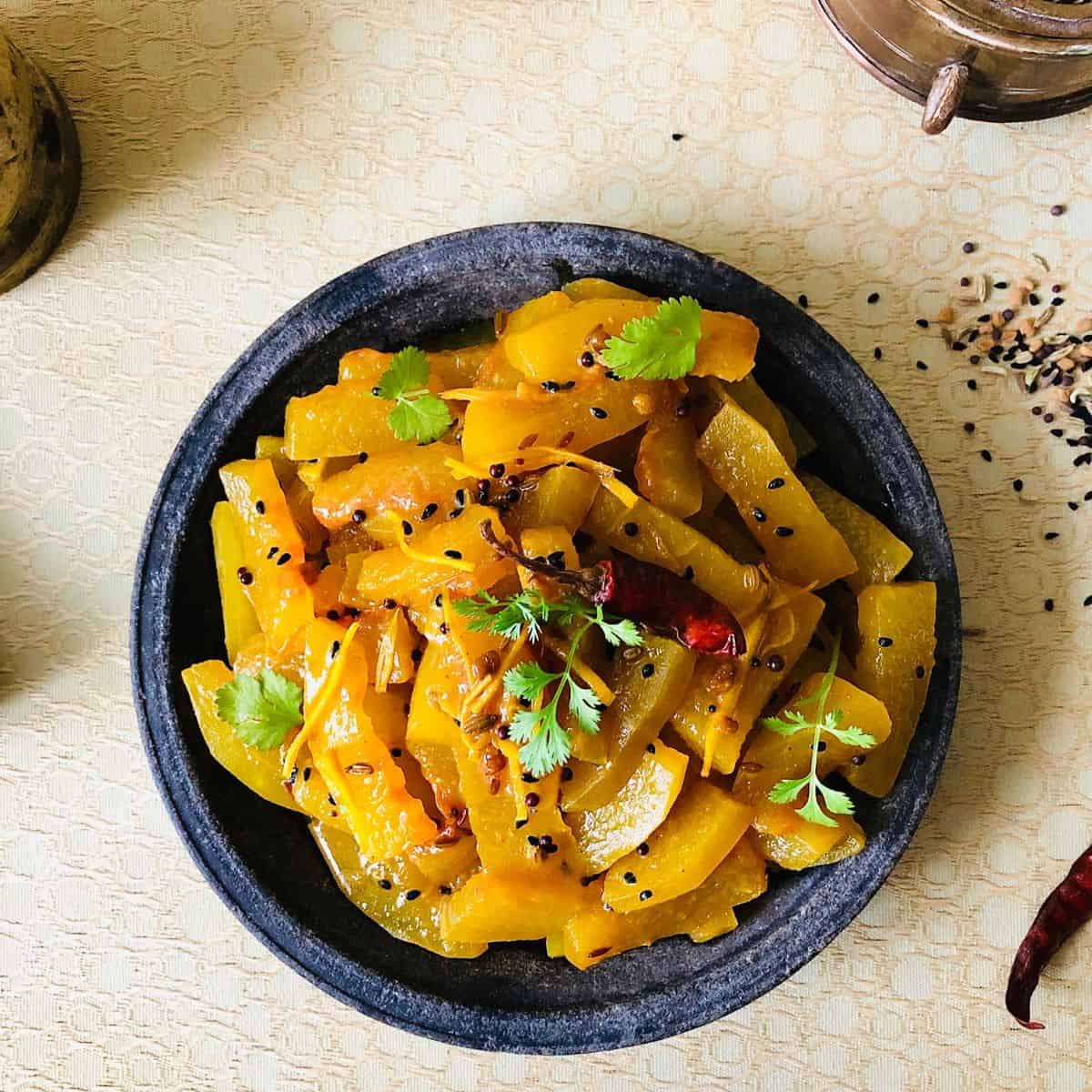 The cooked rind is ready when it is tender with a slight crunch. Garnish with coriander sprigs and serve with a flatbread such as tikda.
How-To Video
Here is a video guide to making the watermelon rind recipe, Tarbooz Ki Sabzi.
Substitutions
You can substitute mustard oil with any oil; there will be a loss of flavour; however, it will still be delicious!
Substitute panchphoran with cumin and mustard seeds if you wish.
Variations
You can have the watermelon rind in a sauce by adding it to my basic Indian gravy sauce. First, cook the gravy, add the chopped watermelon rind and cook in the sauce until tender.
Storage
Store the sabzi in the fridge in an airtight container for up to three days.
I do not recommend freezing this, as watermelon has high water content, which results in a mushy texture after defrosting.
Before you heat the oil to temper the spices and start cooking, ensure you have everything at hand. Tempering spices is swift; any delay will result in the spices and ginger getting burnt.
📖 Recipe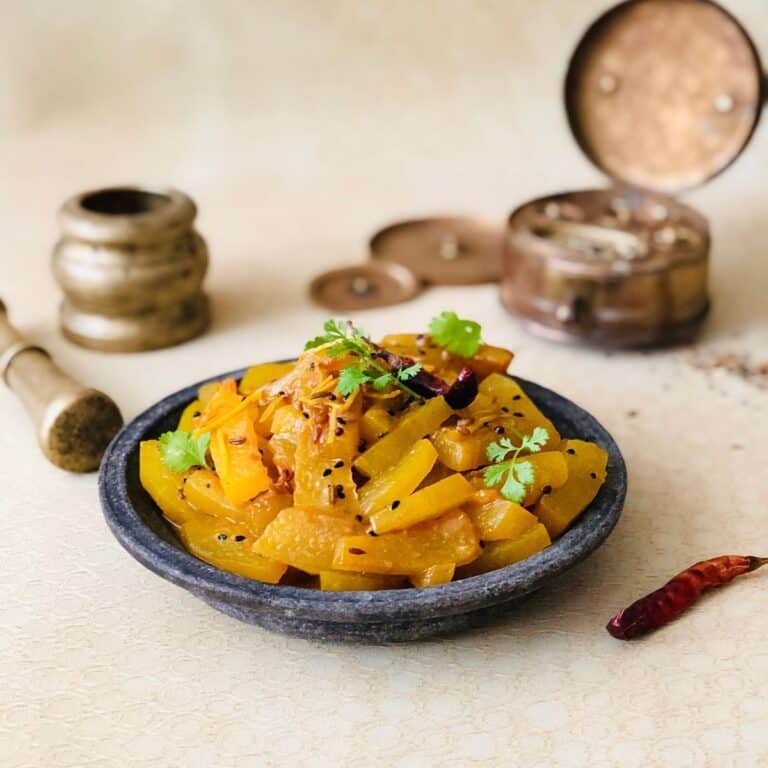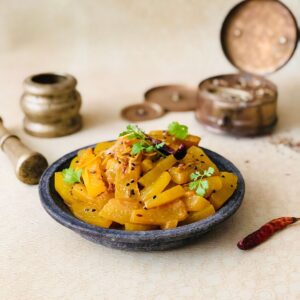 Watermelon Rind Recipe - Tarbooz Ki Sabzi
Indian style saute vegetable made with watermelon rind.
Ingredients
570

gms

Watermelon rind

Approximately the skin of one medium sized watermelon

15

gms

Ginger

2

tablespoon

Panchphoran

½

teaspoon

Turmeric powder

1

teaspoon

Kala namak

1

tablespoon

Mustard oil

½

teaspoon

Red Chilli powder

optional

1

teaspoon

Asafoetida

Fresh coriander for garnish

optional
Instructions
Peel the green outer skin of the watermelon and discard. Cut the light green inner flesh into bite size pieces.

Peel and julienne the ginger.

Heat the mustard oil in a pan over medium heat and add the panchphoran. Once it starts to sizzle, add the asafoetida. This process is called blooming the spices and takes no longer than 30 seconds.

Once the asafoetida starts to sizzle, add the julienned ginger immediately, followed by the watermelon rind slices.

Add the kala namak and turmeric powder and mix.

Add a dash of water and cover and cook over medium heat for about 15 minutes.

Adding chilli powder is optional. If you wish to, add it after 10 minutes and continue to cook for the remaining 5 minutes.

When cooked, the watermelon rind will be soft and tender, but still a bit crunchy.

Garnish with coriander sprigs (optional) and serve hot with flat bread.
Food Safety
In a professional kitchen, food hygiene and safety are top priorities, and from the beginning of my training, I practised good habits and routines. Of course, practising good food hygiene and safety at home is also essential. Here are some fundamental practices to adopt in the kitchen.
Wash your hands regularly while preparing, handling and cooking food.
Wipe down countertops and high-contact points regularly.
If you cook meat and fish, do not use the same utensils on cooked food that previously touched raw meat. Use separate chopping boards for meat and fish. Wash your chopping boards immediately after use.
Thoroughly cook food to a minimum temperature of 165 °F (74 °C).
Don't leave food at room temperature for extended periods (more than 2 hours).
For more details regarding food hygiene and safety in the home, visit the UK Government's Food Standards Agency webpage.