Beetroot's vivid colour provides a dramatic addition to any plate. In this healthy salad recipe, I have combined it with peaches and feta to give an earthy, sweet, and salty flavour experience.
I want to show you how easy it is to make flavourful and healthy salads at home and save you money with each of my salad recipes. Like all my healthy salad recipes, this is simple and quick to make. For the price of one shop-purchased salad, you can get two or even three portions of homemade salad if you make it at home. Nothing can stop you from enjoying all those glamorous salads on a budget.
Planning a party or barbecue? Why not create a sunshine spread with these other healthy salad recipes: Kohlrabi, Grapefruit and baked feta; heirloom tomato, strawberry and feta; and heirloom tomato Panzanella. Or, perhaps, give my vegan duck salad a go.
Jump to: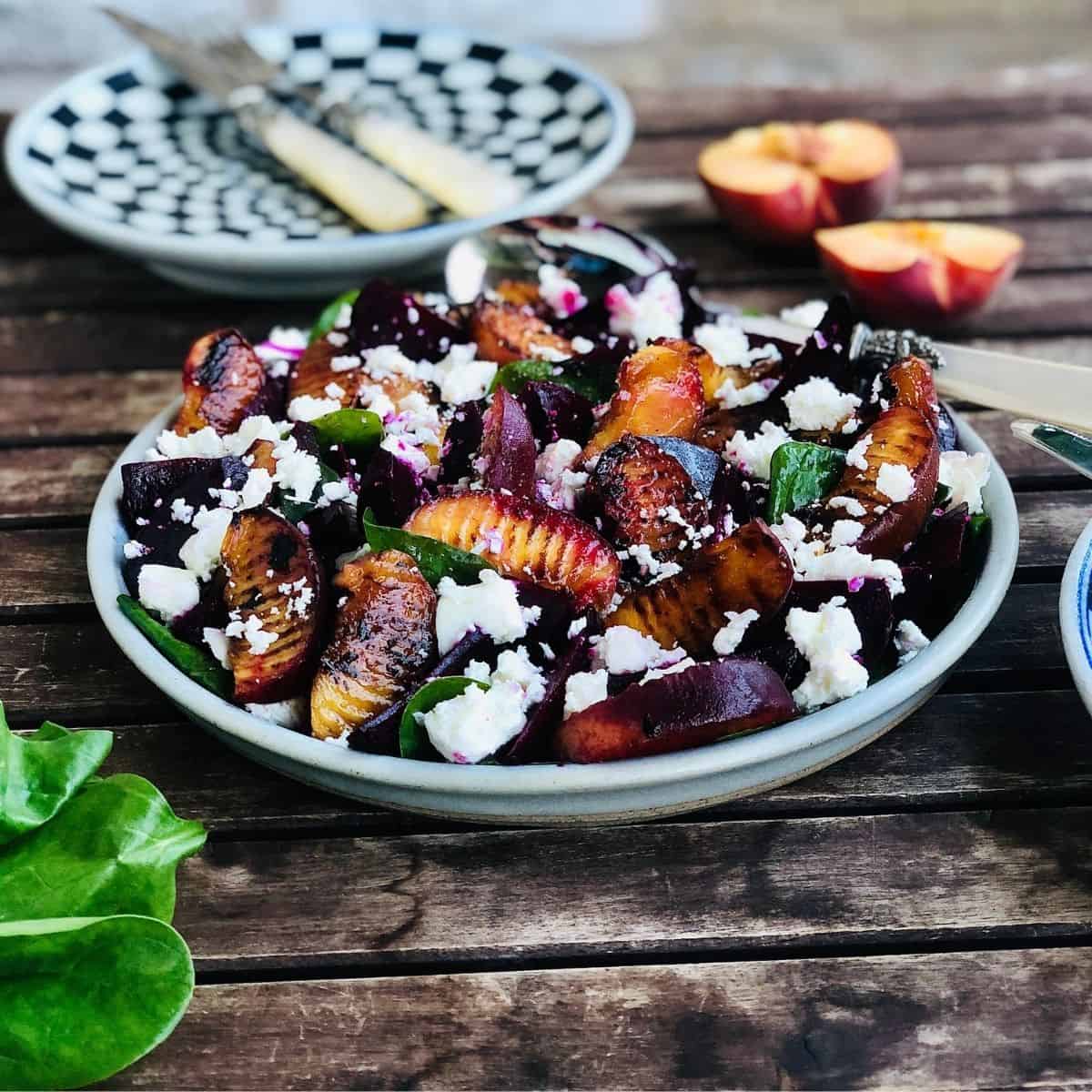 The beetroot not only looks good but also packs a high nutritional punch. Amongst its various health benefits are potential anti-cancer properties, support for digestive health, and good for blood pressure.
I decided to roast the beetroot in this healthy salad recipe to preserve its nutritional benefits as far as possible and to give an earthy flavour. Cook times may vary depending on the size of the beetroot. When a knife slides easily into it, then it is cooked. Not too soft, though. We are aiming for a little bite to it.
Grilling enhances the sweetness of the peaches.
Adding the feta cheese helps to balance the flavours. Feta is quite a salty cheese and fresh tasting. I used the vegan feta from Violife (this is not a product placement!). I can honestly say it is just like the dairy feta, so there is no compromise on the flavour. The texture is a little different, but that's OK.
How-To Video
Substitutions
You can substitute vegan feta cheese for dairy feta cheese.
Storage
Can I prepare this salad in advance? Absolutely! I would not recommend mixing everything until you are ready to serve. Store your prepared ingredients in the refrigerator in an airtight container.
Top Tips
Can I cook the peach in the oven or a pan? Cooking the peaches in the oven doesn't work because the heat is drying and will cause the peach to lose a lot of moisture. However, you can sear it on a pan if you don't have a griddle pan or barbecue. My way to get those sear marks on the peach while using a pan is to cut the peaches with a crinkle cutter or knife. Please have a look at my video.
Can I cook the beetroot another way? You can cook beetroot in many ways. Another suitable method to retain the nutrients is to steam them. Steaming can take up to 30 minutes to make them fork tender. You can be sure that this remains a healthy salad recipe.
Food Safety
In a professional kitchen, food hygiene and safety are top priorities, and from the beginning of my training, I practised good habits and routines. Of course, practising good food hygiene and safety at home is also essential. Here are some fundamental practices to adopt in the kitchen.
Wash your hands regularly while preparing, handling and cooking food.
Wipe down countertops and high-contact points regularly.
If you cook meat and fish, do not use the same utensils on cooked food that previously touched raw meat. Use separate chopping boards for meat and fish. Wash your chopping boards immediately after use.
Thoroughly cook food to a minimum temperature of 165 °F (74 °C).
Don't leave food at room temperature for extended periods (more than 2 hours).
For more details regarding food hygiene and safety in the home, visit the UK Government's Food Standards Agency webpage.