Continuing the summer salad vibe, I present to you this heirloom tomato and strawberry salad. Just look at those colours! OK, the combination may sound a bit wacky but I urge you to give this easy salad a try.
Off to a barbeque and need to take an offering? Need a quick picnic bite? Look no further!
It's refreshing, it's simple, and only contains a few ingredients.
Jump to: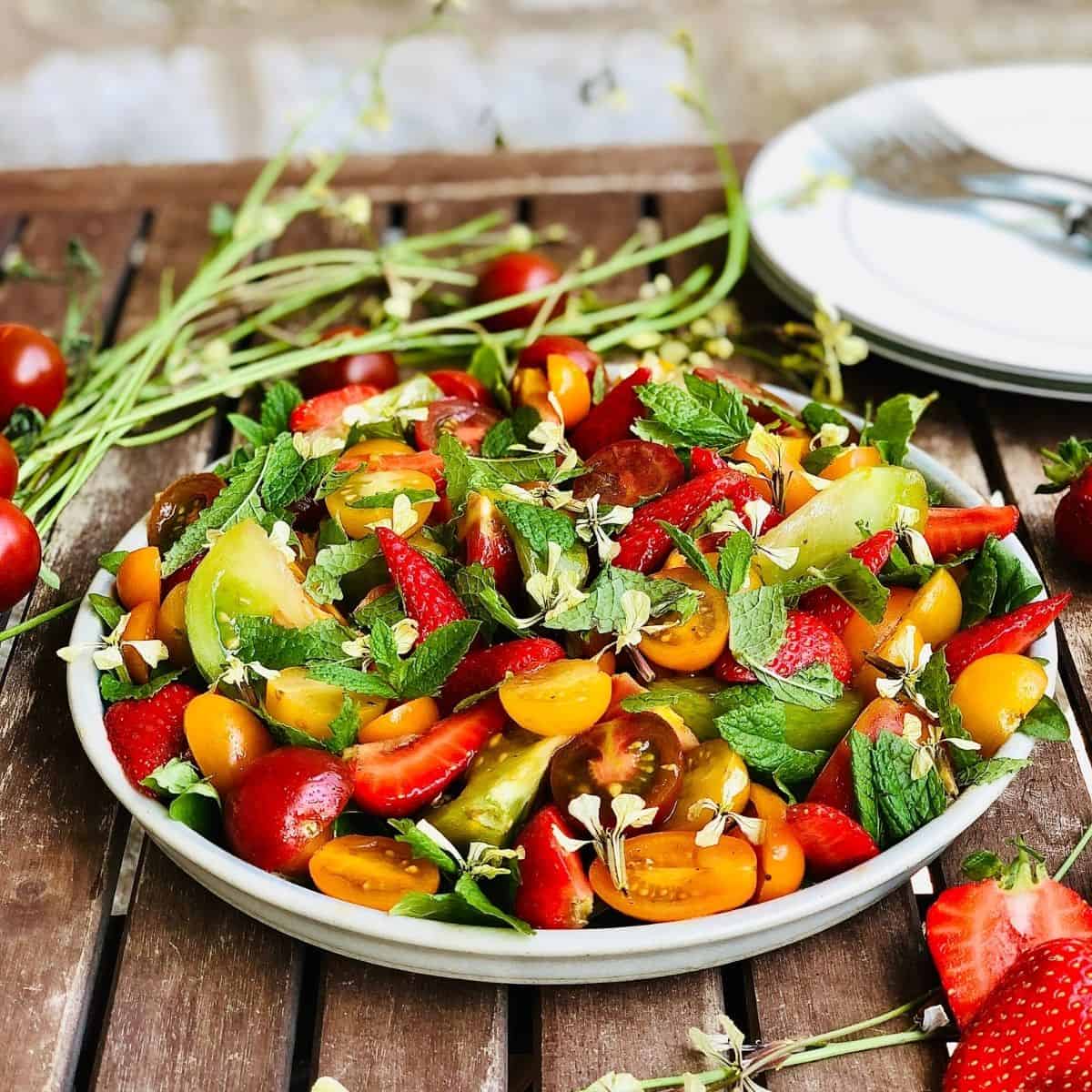 Tomatoes and Strawberries: Powerful Flavours For This Deceptively Easy Salad
First thing to say: We are dealing with two fruits here. In most peoples minds, the tomato does not register as a fruit. However, it is a berry, but a strawberry is not (a berry!)
The taste combination in this salad is all about balance: The sweetness of the strawberry and the acidity of the tomato. What l love about both of these is the flavour explosions they both produce when I bite down on them. Argula or rocket adds a pepperiness to the salad and a simple dressing of balsamic vinegar and olive oil marries all the flavours together. I used mint as the garnish, instead of going for the traditional basil. It brings with it a freshness that is perfect for a summer salad. Amazing payback from this easy salad!
The heirloom tomatoes provide a more vivid flavour than ordinary hybrid tomatoes. Head on over to my heirloom tomato Panzanella recipe to see more information on heirloom tomatoes
I have read elsewhere that tomatoes and strawberries are actually quite interchangeable in recipes (I must give a cheese and strawberry sandwich a go sometime). They both share many flavour chemical compounds.
Instead of interchanging though, here, I wanted to bring them together to experience their individual powerful flavours together.
These sunshine fruits are currently in season so let's make the most of them now in this summer salad.
📖 Recipe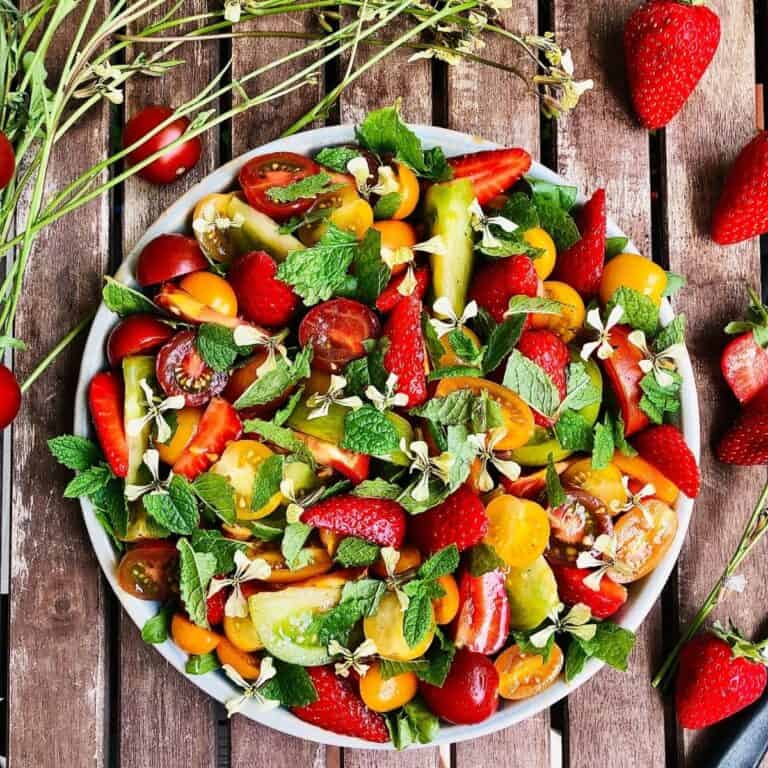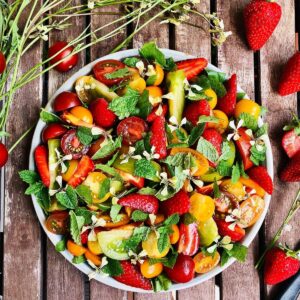 Heirloom Tomato and Strawberry Salad
Treat you taste buds with this easy summer salad that explodes with flavour.
Ingredients
500

gms

Heirloom Tomatoes

100

gms

Strawberries

30

gms

Argula or Rocket leaves

5

gms

Mint leaves

1

tablespoon

Olive oil

1

tablespoon

Balsamic Vinegar

salt and pepper to taste
Instructions
Wash and dry tomatoes, strawberries and rocket leaves.

Cut tomatoes and strawberries into bite sized wedges.

Transfer into a bowl and season with salt and pepper.

On a plate add washed and dried rocket leaves.

Mix olive oil, balsamic, salt and pepper in a glass jar and shake to emulisify.

Transfer tomatoes and strawberries on top of the rocket salad and por over the dressing.

Tear mint leaves by hand and garnish the salad.
How-to Video
Ingredient Substitutions
I have used heirloom tomatoes due to their superior taste. However, you can, of course use ordinary hybrid tomatoes. This summer salad will be just as wonderful.
An alternative to the mint garnish cold be basil. Basil goes very well with tomatoes.
If balsamic vinegar does not tickle your fancy, try red wine vinegar. Actually, why not experiment with your vinegar dressing flavour to see what excites your palette.
Storage
Sadly this salad doesn't hold well. The strawberries are too fragile and end up mushy. However, it can be made a couple of hours in advance, just leave adding the dressing until just before serving.