I have many wonderful friends who often give me homegrown ingredients to create a dish with. This year, they have given lots of apples and pears. I love a challenge, it's my thing. So with the pears, my mind went to turning a french classic confectionary, pear tarte bourdaloue into a vegan and gluten free delight. However, baking is a science and can sometimes be unforgiving. Each ingredient plays a crucial role in the final product. Then there are things like temperature, moisture and humidity to think about. Baking is not my area of expertise so this was indeed a bit of a challenge. On the back of the success of my New York style baked vegan cheese cake I was ready for the challenge with this classic pear tart though.
Jump to: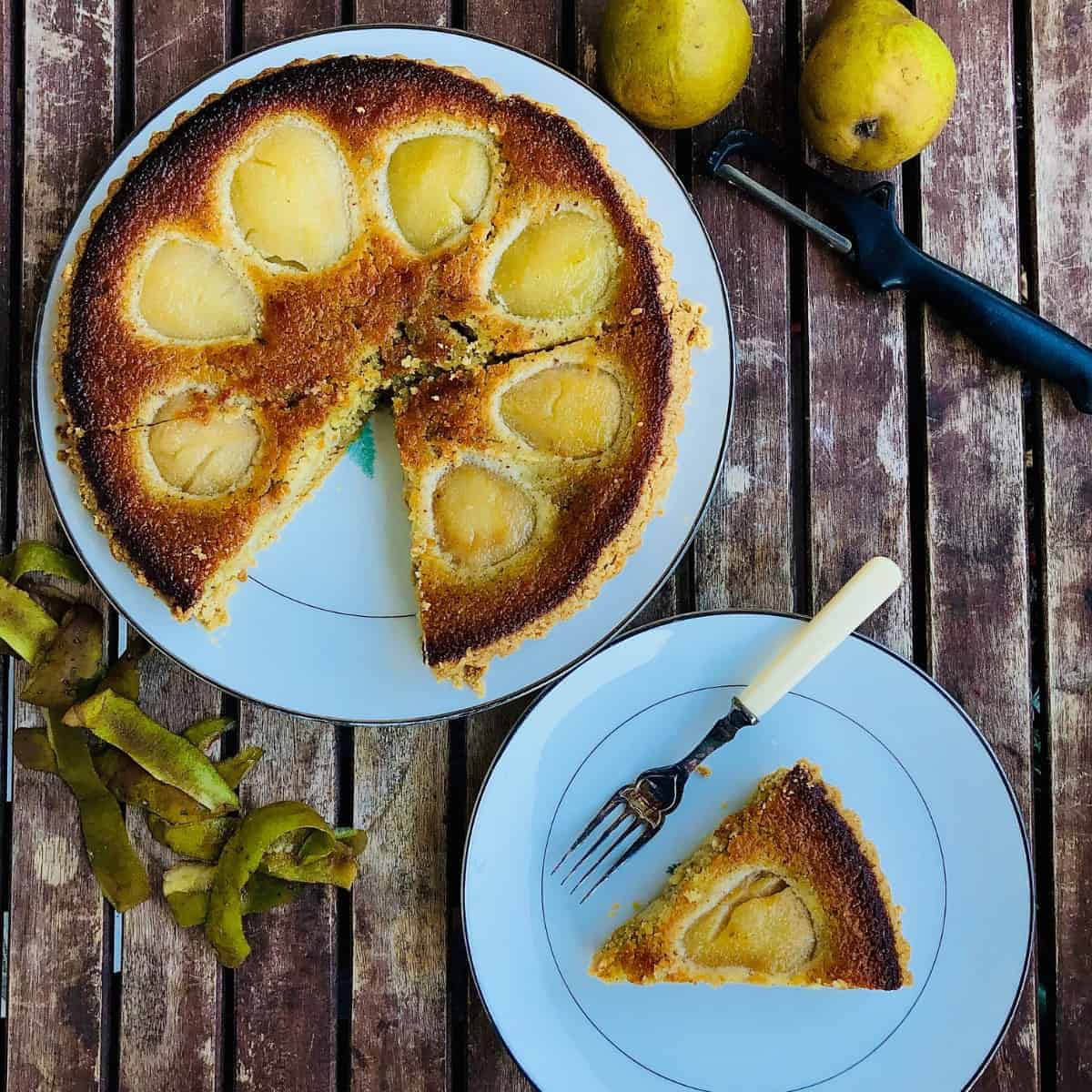 Vegan Tarte Bourdaloue - A Parisian Classic Reborn.
Tarte Bourdaloue is a classic french pear tart from Paris. Indeed, you would find it almost everywhere in the French capital. It has its origins in a pastry shop located on Rue Bourdaloue in Paris, where it was created by a Parisian pastry chef in the 19th century.
Tarte bourdaloue consists of pears and frangipane or almond cream. The tart base is usually sweet pastry. However, in order to make my base gluten free I have used gluten-free oat flour.
The poached pears cooked to perfection makes this pear tart over the top delicious and luxurious. To begin with, the pears should be just ripe, not under ripe or over ripe. To enhance the flavour of the pears after poaching, leave them in the syrup overnight. Then we make our tart.
Getting the poaching just right is important because we cook them again when baking the pear tart. Under poached pears means they will remain hard in the tart, and over poached pears will become mushy while baking.
Vegan block butter and flax egg replace eggs and butter to make this vegan.
OK then, let's bake!
How-To Video
Here is a video guide to making your vegan and gluten free tarte bourdaloue.
📖 Recipe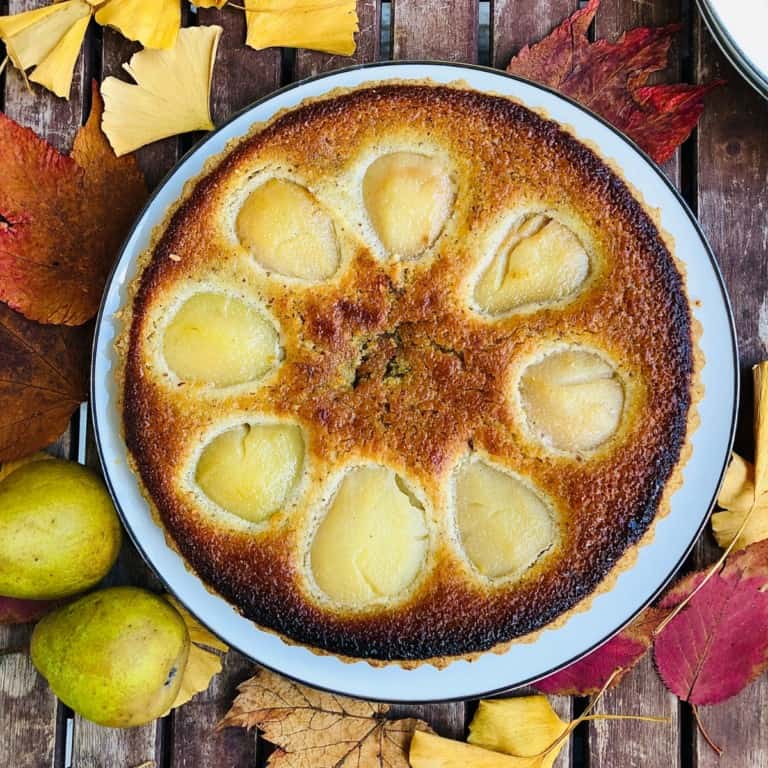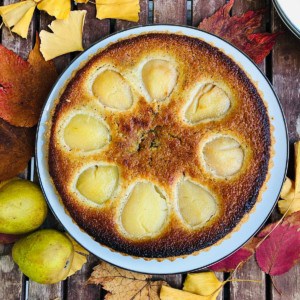 Pear Tart - Tarte Bourdaloue
French Classic Pear Tarte Bourdaloue. Vegan and gluten free.
Equipment
Fluted Tart tin with removable base 23cm ( 9 inch )

Digital scales
Ingredients
Poached Pears
600

gms

Large pears

4 in number

100

gms

Castor sugar

750

ml

Water

Juice of half a Lemon

1

pod

Vanilla
Almond Cream
100

gms

Ground almond

80

gms

Icing sugar

100

gms

Vegan butter block

melted

10

gms

Cornflour

1

teaspoon

Flaxmeal

59

gms

water

20

gms

Rum
Instructions
Poached Pears
In a large pot add the water, sugar and vanilla pod and bring to a boil.

Wash, peel and cut the pears in half length-wise. Then remove the core and the part where the stem is. See the video guide for how to prepare the pears.

Add the pear to the pot with the core side facing upwards, and simmer for 15 minutes.

Take off the heat and cover with a cartouche (see recipe notes for an explaination) and leave the pears overnight to infuse.
Almond Cream
Pre heat the oven to 180ºC. ( fan assisted oven )

In a bowl mix the flaxmeal and water ( making flax egg). Set aside.

Melt the butter and set aside.

In another bowl, add the ground almond and cornflour. Add icing sugar, passed through a sieve, to insure there are no lumps.

Scrape out the vanilla from the vanilla pod and add to the bowl.

Add melted butter and the flax egg and mix.

If using rum or any other alcohol, add now and mix.

Pour the mixture into a pre-prepared tart base. Follow the link in the recipe for my plum tart for a vegan tart base recipe.

Remove the pears, drain, and place them on the top of the almond cream.

Bake in the oven for 30 minutes.

After 30 minutes check if the tart is ready. It should be a nice golden brown colour and a skewer should come out clean.

Remove from the oven and let it cool down.

Once cooled down, carefully remove from the tart tin.

If you are looking for a beautiful glaze, you can warm some apricot jam and brush it on. This will give it a nice shine. Or dust with icing sugar and sprinkle some flaked almond.

Serve warm or at room temperature.
Vegan Pear Tart Recipe Notes
The recipe requires you to cover the pears with a cartouche while poaching. A cartouche is grease-proof paper placed over the pears in the pot to keep them submerged and allow for evaporation whilst poaching.
For the vegan oat flour base, please see the recipe card for my plum tart. You can make the pear tart base a day in advance and store in the fridge. The cooked tart stores at room temperature for up to three days.
Using alcohol is optional, although highly recommended.
If you don't have access to vanilla pods you can use vanilla essence.
If not making this pear tart vegan, you can replace the flax egg with one whole egg. With regard to the tart base, you can use store bought sweet pastry. The texture of the tart will change and you may need to cook for a bit longer.
If you don't have a melon baller or a scooper, use a small tea spoon to remove the core of the pears.
Why not try this delicious pear tart with a scoop of my spiced vegan ice-cream?
Do you fancy a savoury tart? Then try my vegan tomato and rose harissa tart.