The Elder tree is a favourite with foragers. Well, it is with me! Its flowers and berries provide ingredients for many recipes from late spring into summer. A classic way to use elderflowers is to make elderflowers cordial. It is a refreshing drink that tastes like summer, and what's more, it is straightforward to make. By making your refreshing elderflower cordial with just the elderflowers, sugar and lemons, you can be sure it is free from the nasties often found in supermarket soft drinks. Without any citric acid, I find that just the lemons work fine. Once you successfully make your first batch, I'm sure you will be making it year after year. Use this homemade Elderflower cordial to make your iced lollies too. If you fancy a sweet treat with your Elderflower cordial, make my no-bake Elderflower and Strawberry cake!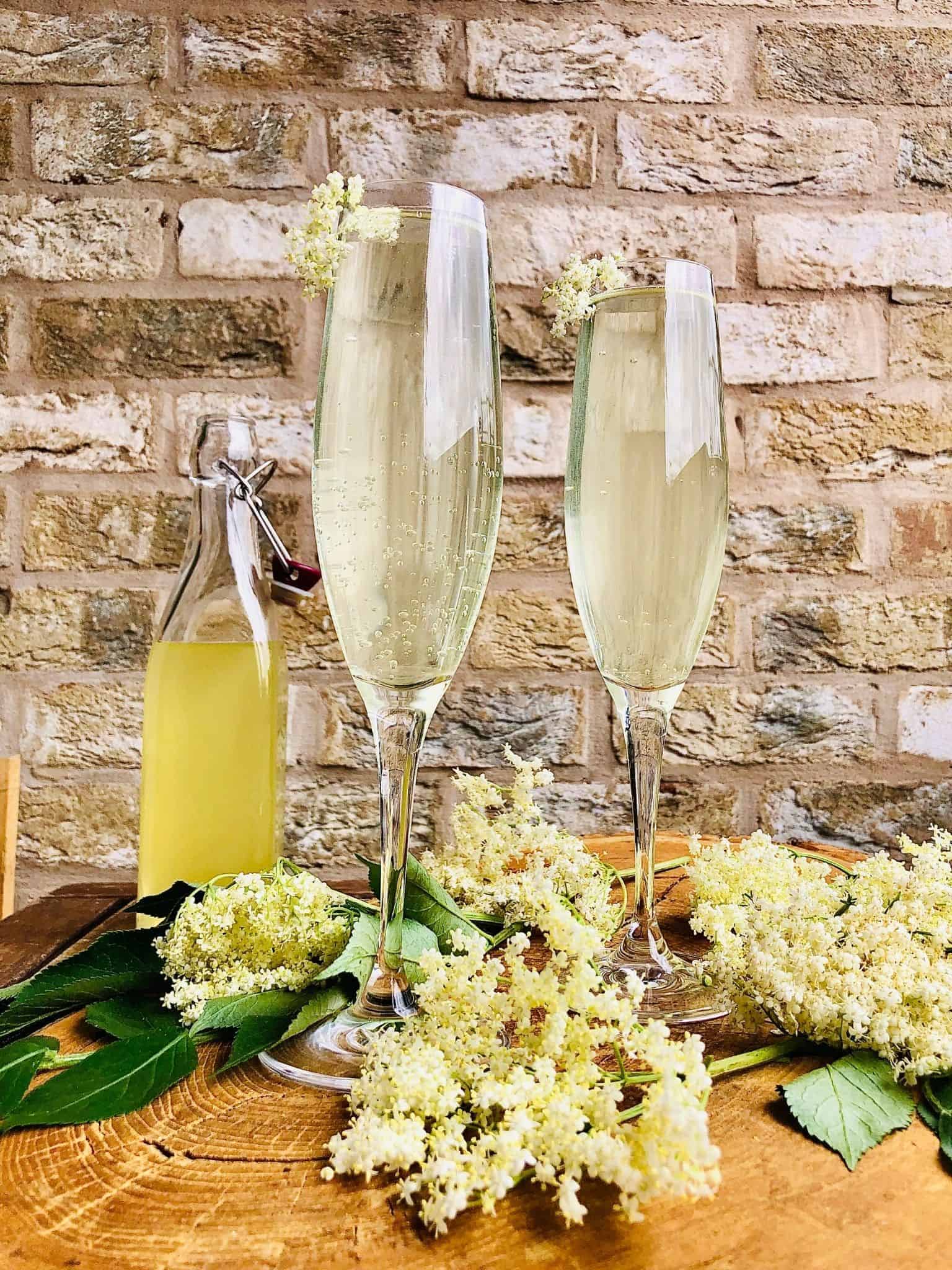 Jump to:
Identifying The Elderflower To Make Elderflower Cordial
Elder grows as a shrub or a small tree. When mature, its bark is corky and ridged. It is widespread in woodlands and hedgerows. In late May in the UK, it becomes very conspicuous with its display of densely packed flat-topped white or cream-coloured flower clusters. Later in the year, these are replaced by small dark purple berries. You can also use these tiny berries to make a cordial or syrup. Please visit my elderberry syrup recipe.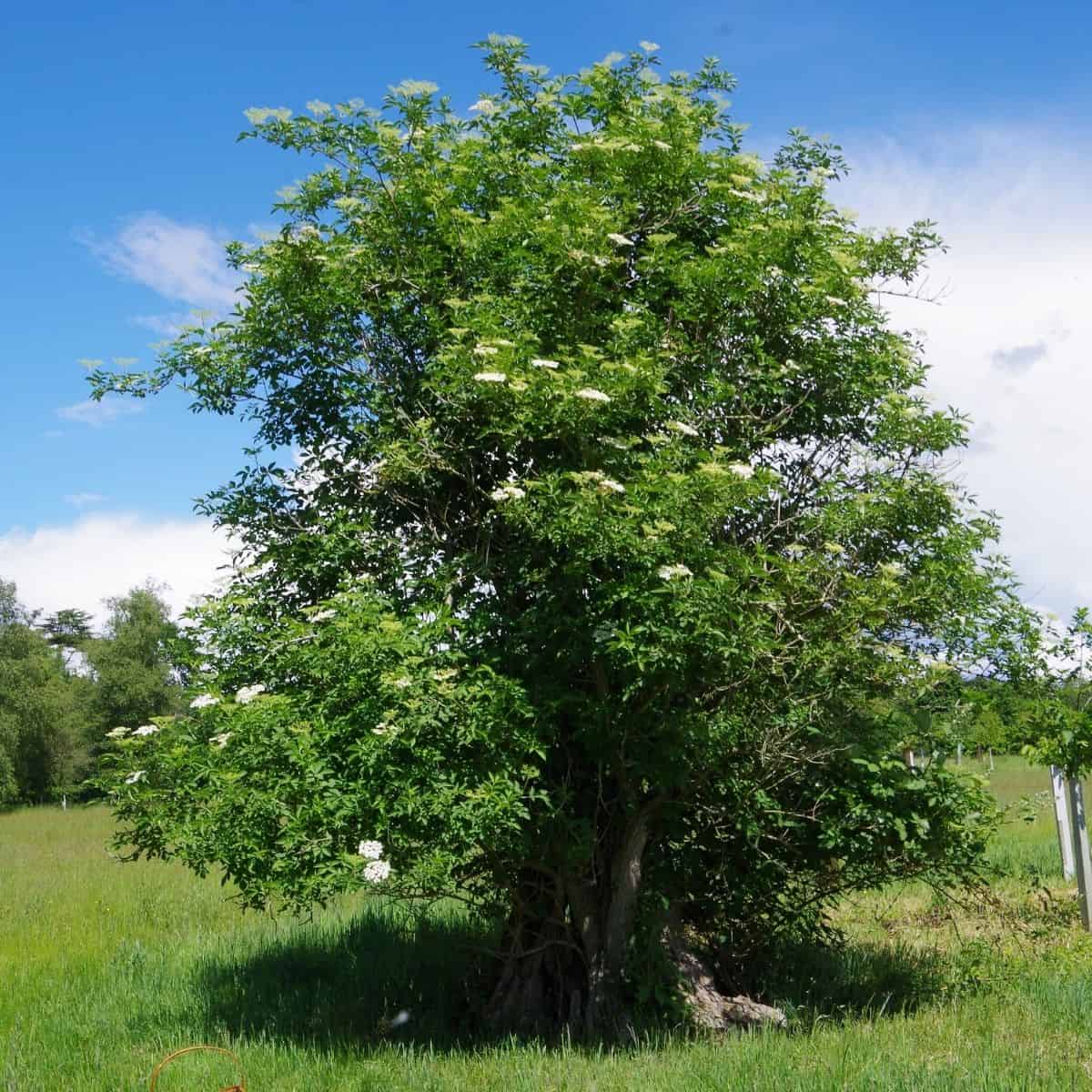 For this elderflower cordial, we are interested in the flowers. The flowers are tiny and clustered atop their stems, forming an umbrella of densely packed flowers. They first appear in late May / early June. It is best to pick the flowers when they are freshest, full of pollen, and smell sweet. It is best to gather them on a warm sunny day, preferably early morning.
Elder has compound and pinnate leaves, 5 to 7 leaflets joined opposite each other. The elder compound leaf has a terminal leaflet, hence the odd number of leaflets.
Make sure you identify elderflower correctly. Please do not ingest it unless you are 100% sure you have identified it correctly. Take a good foraging guide and perhaps invest in a plant ID app. Please don't rely on the app 100%, as they sometimes misidentify. Foraging courses run by experts are an excellent way to learn.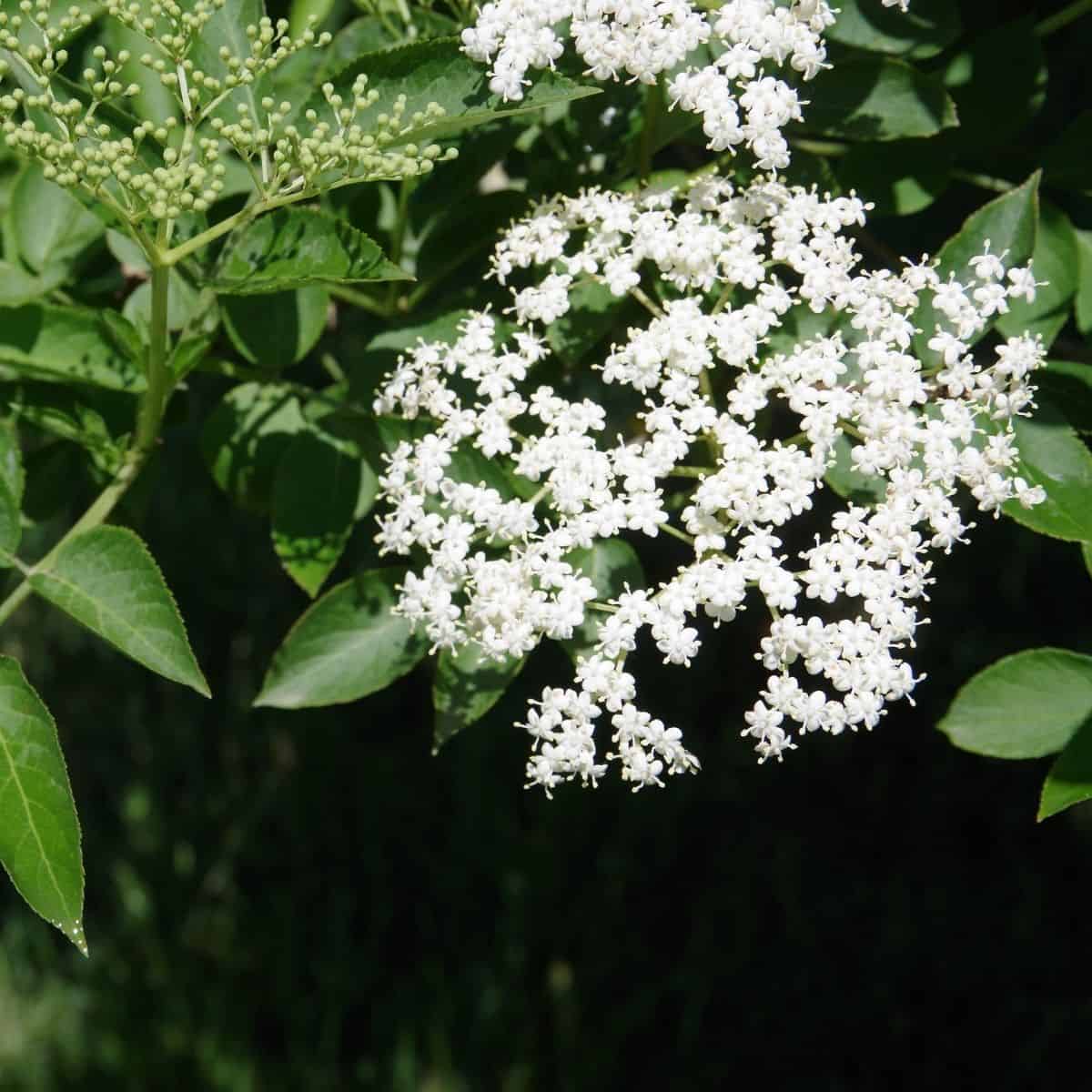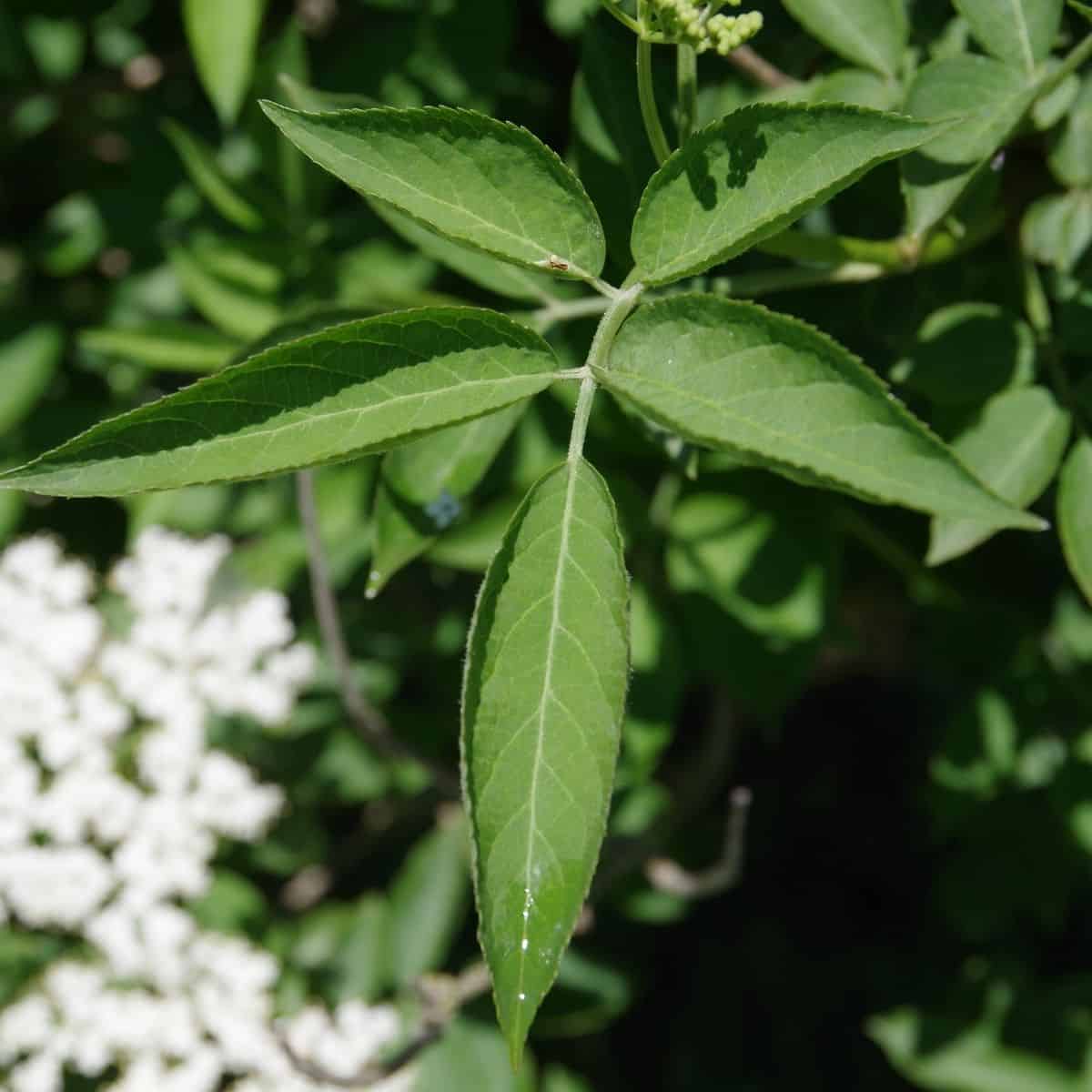 Ingredients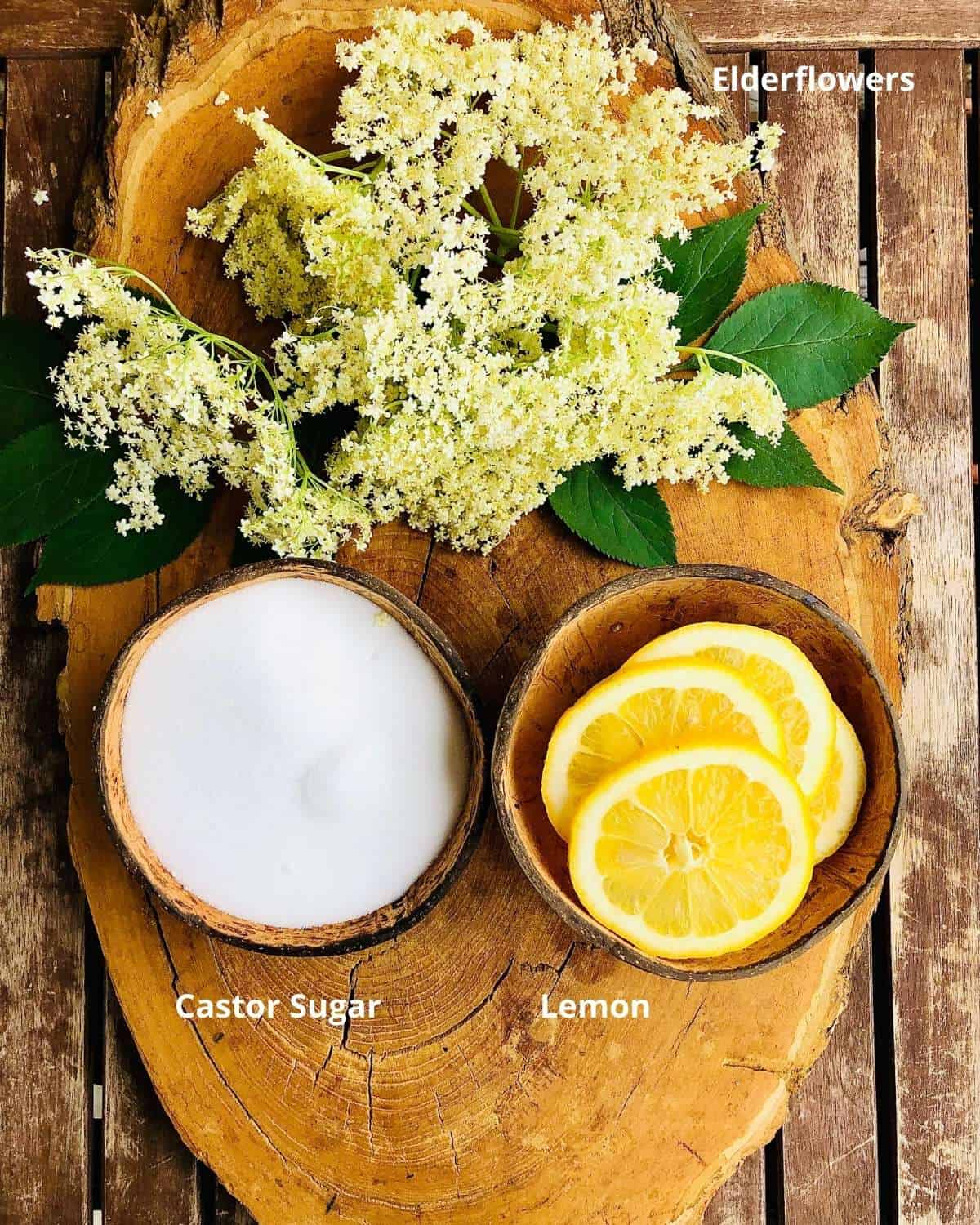 Elderflower heads
Castor sugar
Unwaxed lemons
See the recipe card for quantities.
Instructions
Your first task in making elderflower cordial is to go out and find an elder tree and collect the flowers. Only collect ones that are a white/cream colour and full of pollen. If they are yellow, leave them alone. As you gather the flower clusters, please gently shake them to remove insects.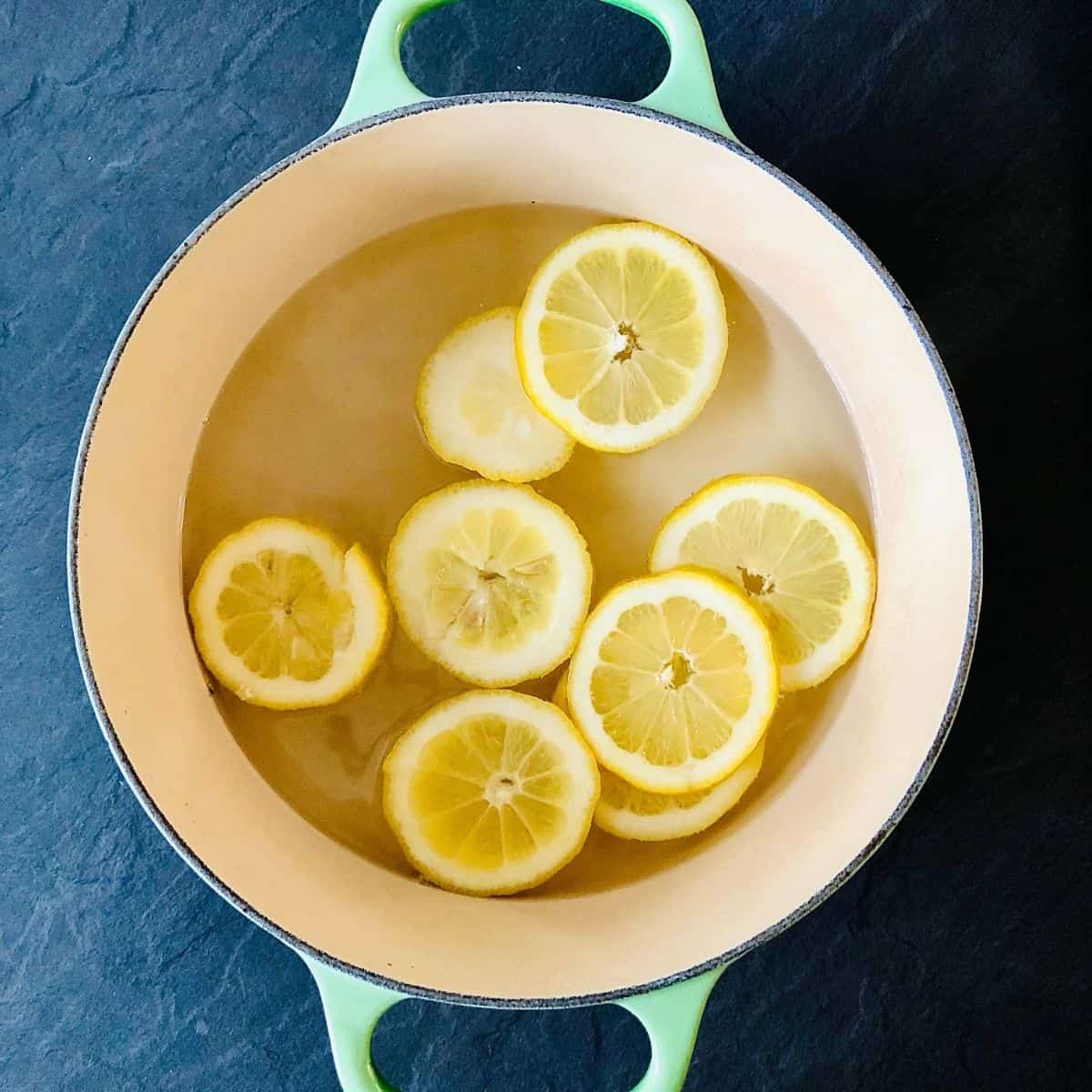 Add the water and castor sugar to a pot and boil. Then add the sliced lemons and reduce the heat. Simmer for five minutes. Then take off the heat to cool down.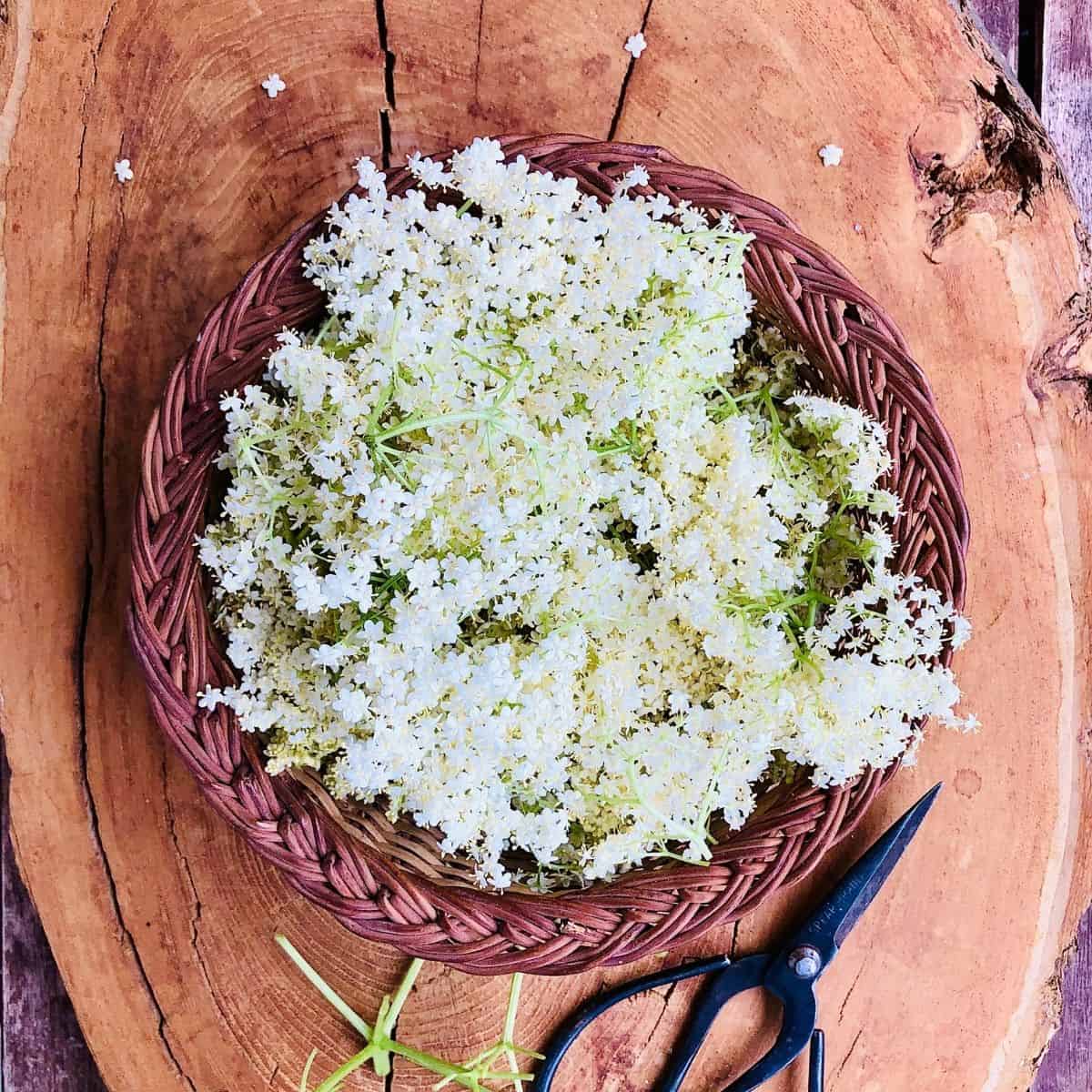 Take each elderflower cluster and snip off the stems, ready for the infusion process.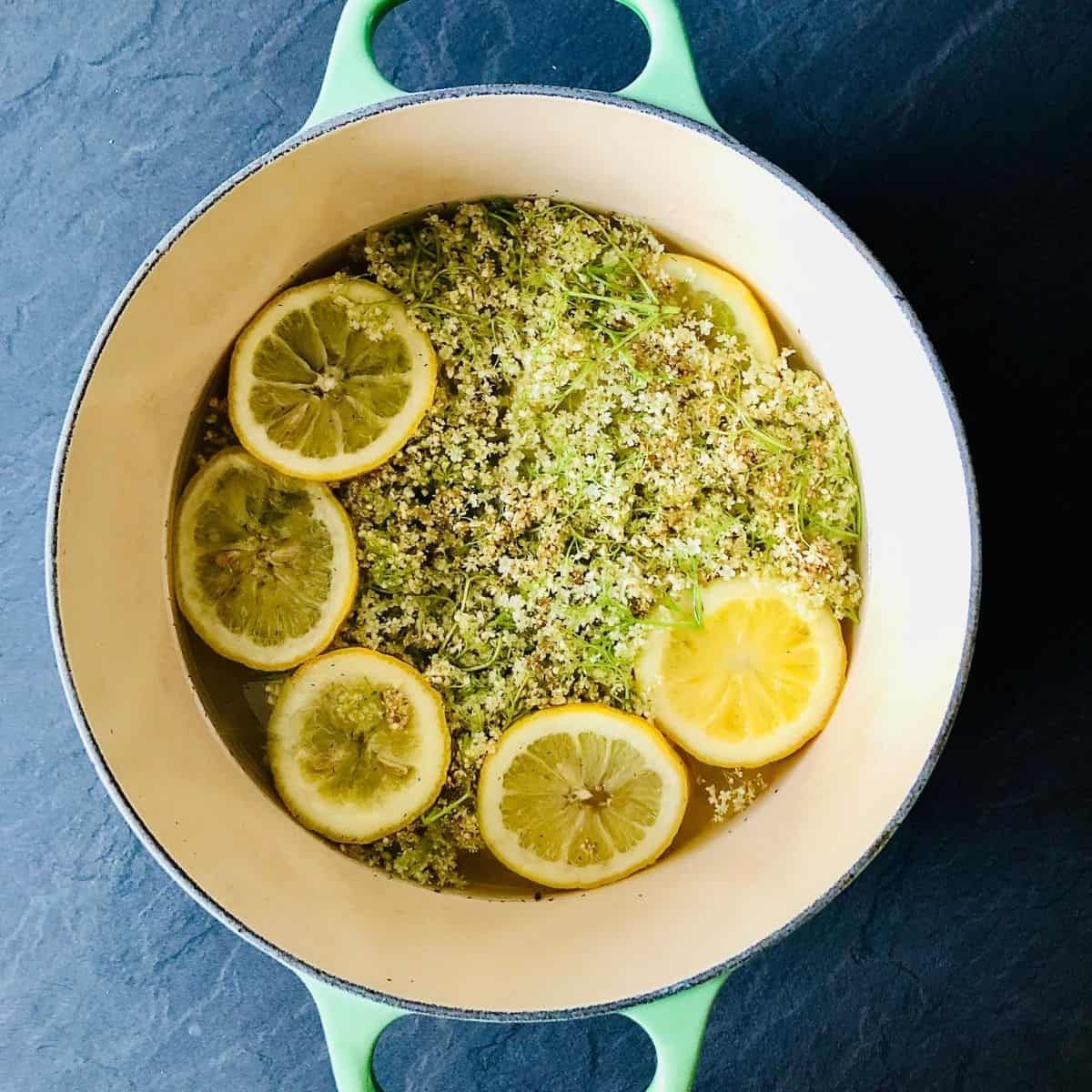 Put the elderflowers into the pot and allow them to infuse in the syrup at room temperature for 24 hours.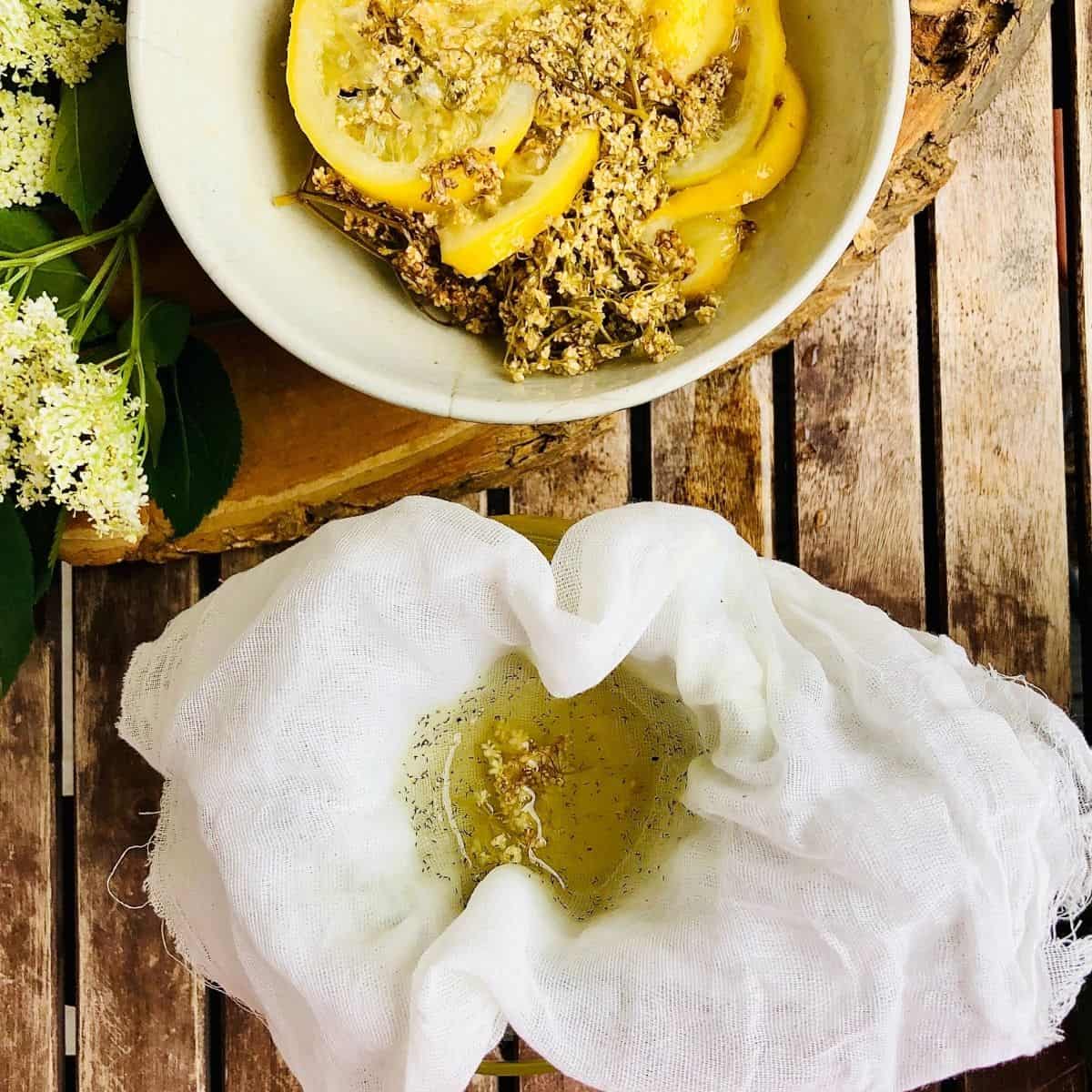 After 24 hours, remove the lemons and elderflowers and strain the liquid through a muslin cloth.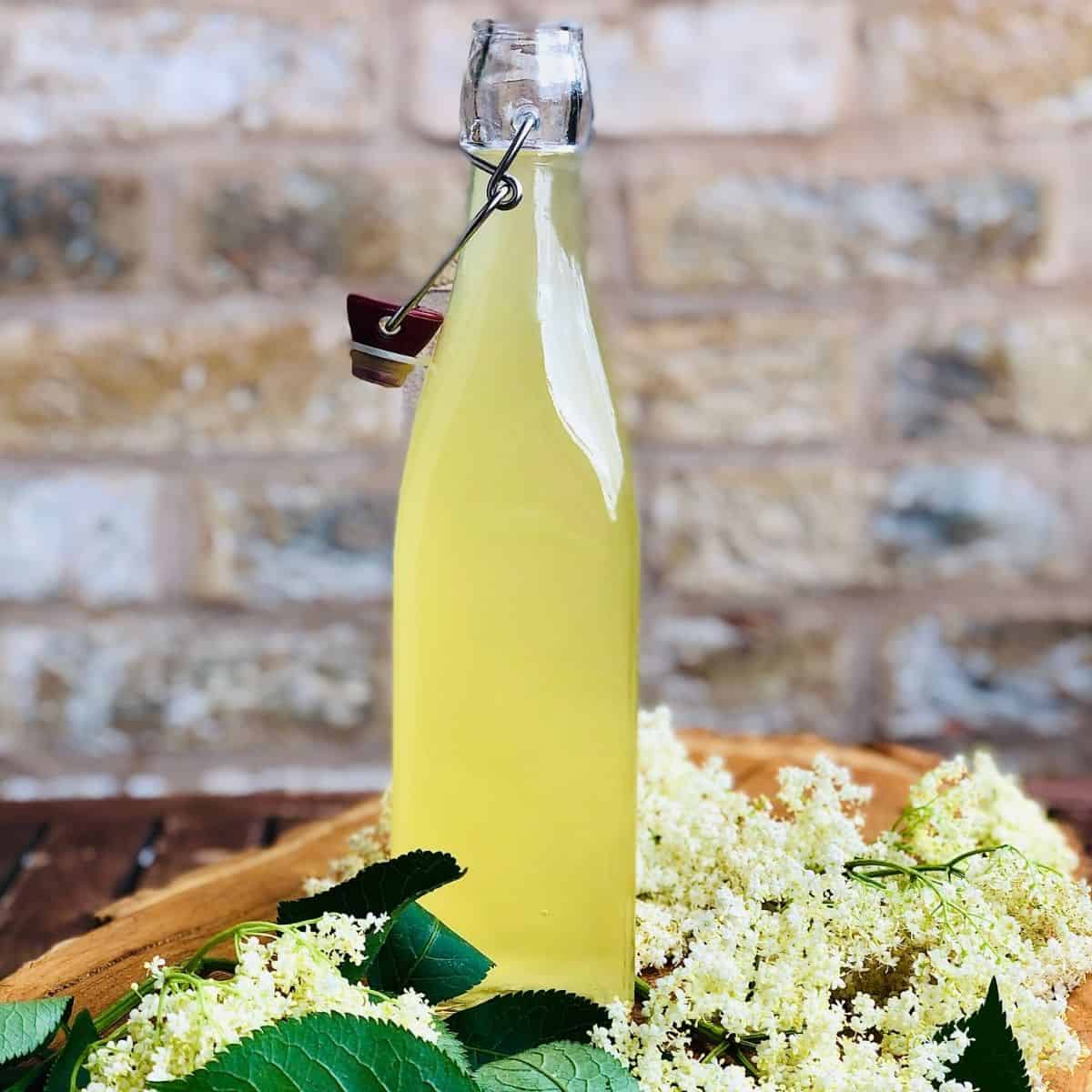 Your elderflower cordial is ready. Dilute with still or sparkling water.
Equipment
A muslin cloth or a nut milk bag is essential for straining the elderflower cordial.
A fine-mesh sieve also helps to ensure the cordial is free of any debris.
Storage
The elderflower cordial will keep in the fridge for up to a month. Please ensure that the bottle where you store the cordial is sterilised correctly. You can do this by washing it in warm soapy water and then placing it in the oven for 30 minutes at 100ºC.
Freeze the elderflower cordial in ice cube trays, then remove and store it in silicon bags. You can keep this in the freezer for a year.
Top Tips
Pick your elderflower on a warm sunny day; the pollen on the flowers gives it its fragrance. Picking early in the morning, in my experience, is the best as there are fewer bugs on it then.
Do not wash the flowers, as you will lose the pollen. Just scan each head for bugs and remove or cut it off.
Remove as much of the stems from the heads as possible when prepping.
The sugar syrup must not be hot before adding the flowers. A good way to check is if you can dip a finger into it, the flowers can go in.
Freezing the cordial is a better option than storing it in a bottle; that way, there is no chance of it going mouldy, and you have an ice-cold drink whenever you want.
Related Recipes
Here are more delicious drink recipes that use foraged ingredients:
📖 Recipe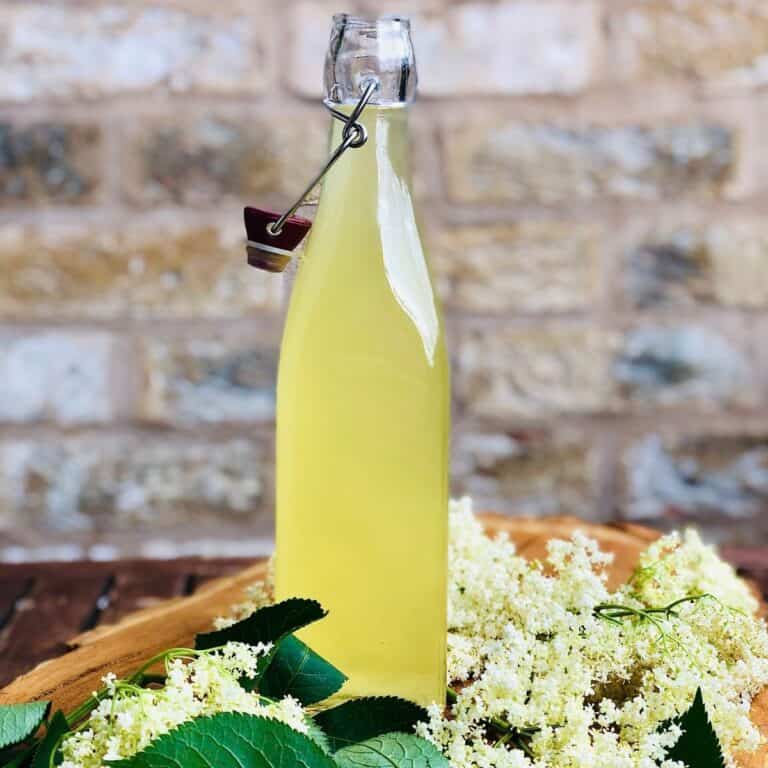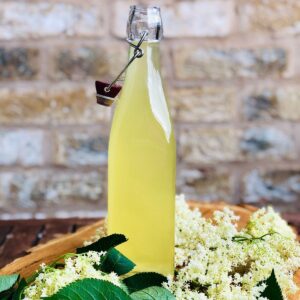 Elderflower Cordial
Homemade Elderflower Cordial Recipe
Equipment
Muslin cloth

Sieve

1 Litre Glass bottle
Ingredients
15

Elderflower heads

400

gms

Castor Sugar

1

Unwaxed Lemon

1

litre

Water
Instructions
In a pot, add the sugar and water and bring to a boil. Once it comes to a boil, turn it down to a simmer.

Slice the lemons and add to the sugar syrup. Simmer for five minutes.

Take the syrup off the heat and set it aside to cool.

Remove the stems from the elderflower heads and add the flowerheads to the sugar syrup. The syrup still needs to be warm but not hot; if it is too hot wait for it to cool.

Cover the pot with a lid and set aside for 24 hours to allow the elderflower to infuse.

Once the elderflower has infused, remove the lemon slices and flowers and strain the cordial using a muslin cloth.

Transfer the cordial into a sterilised bottle and refrigerate or freeze.

To make a drink, simply pour some cordial into a glass and add soda water or plain water. Adjust the sweetness to your liking by adding more cordial or water.
Nutrition
Calories:
40
kcal
(2%)
Carbohydrates:
10
g
(3%)
Protein:
0.03
g
Fat:
0.01
g
Saturated Fat:
0.001
g
Polyunsaturated Fat:
0.003
g
Sodium:
2
mg
Potassium:
4
mg
Fiber:
0.1
g
Sugar:
10
g
(11%)
Vitamin A:
1
IU
Vitamin C:
1
mg
(1%)
Calcium:
2
mg
Iron:
0.02
mg