The aroma of freshly baked bread always brings a smile to my face. Making homemade bread may appear to be quite daunting. However, this no-knead focaccia requires no specialist knowledge of baking. My method is foolproof. This focaccia recipe is one that I learned from a Sicilian chef I worked with, and we would make it fresh, every day. I can guarantee you can make it successfully; it's been tried and tested for years. I have added my twist to this bread by using wild garlic to flavour it; the result is this beautiful colour and a subtle garlic flavour.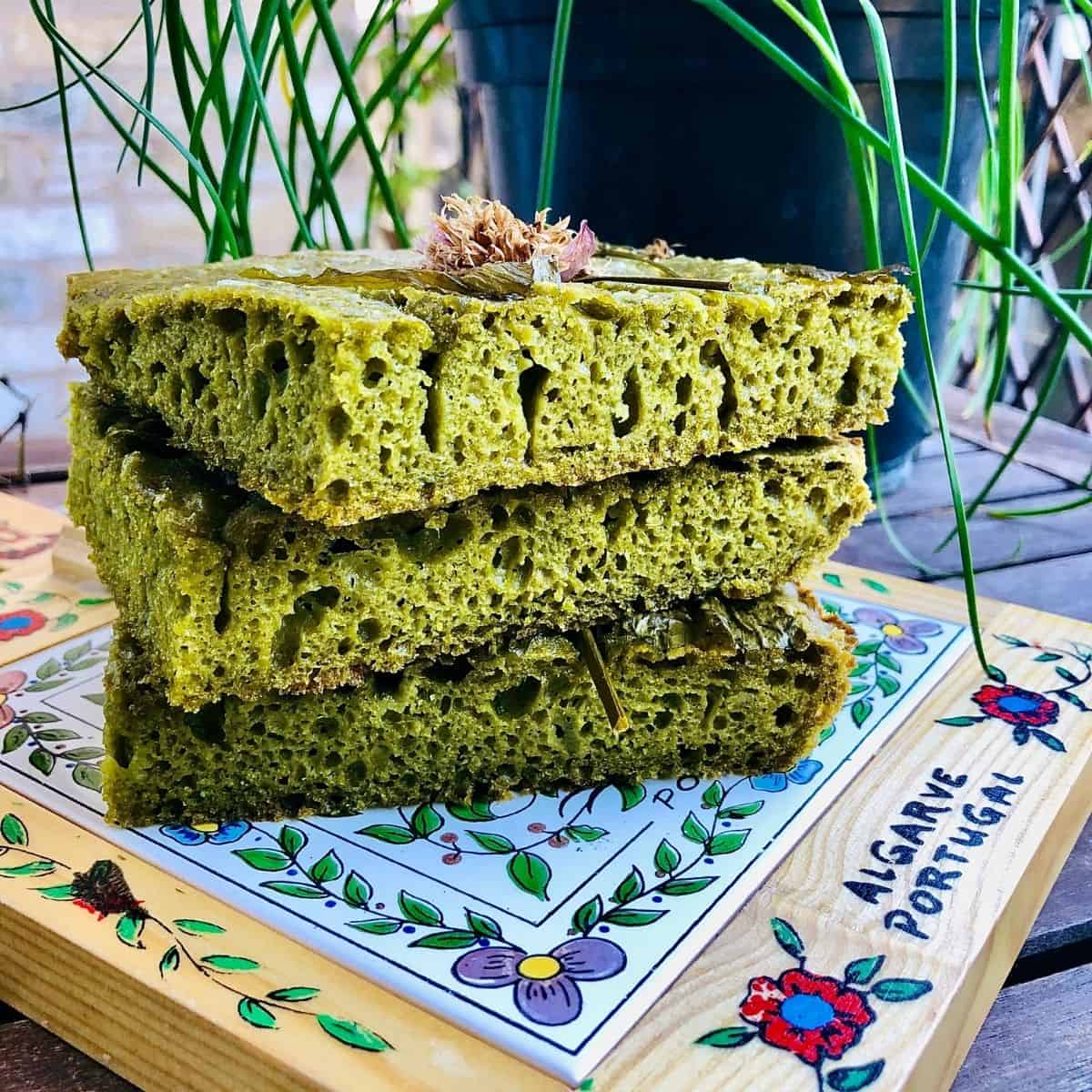 The wild garlic used in this recipe is widely available (UK Springtime). It is a relatively easy plant to identify and has so many uses. You will find it in wet woodlands. Food for free! Please find out about wild garlic in my noodle soup with wild greens recipe.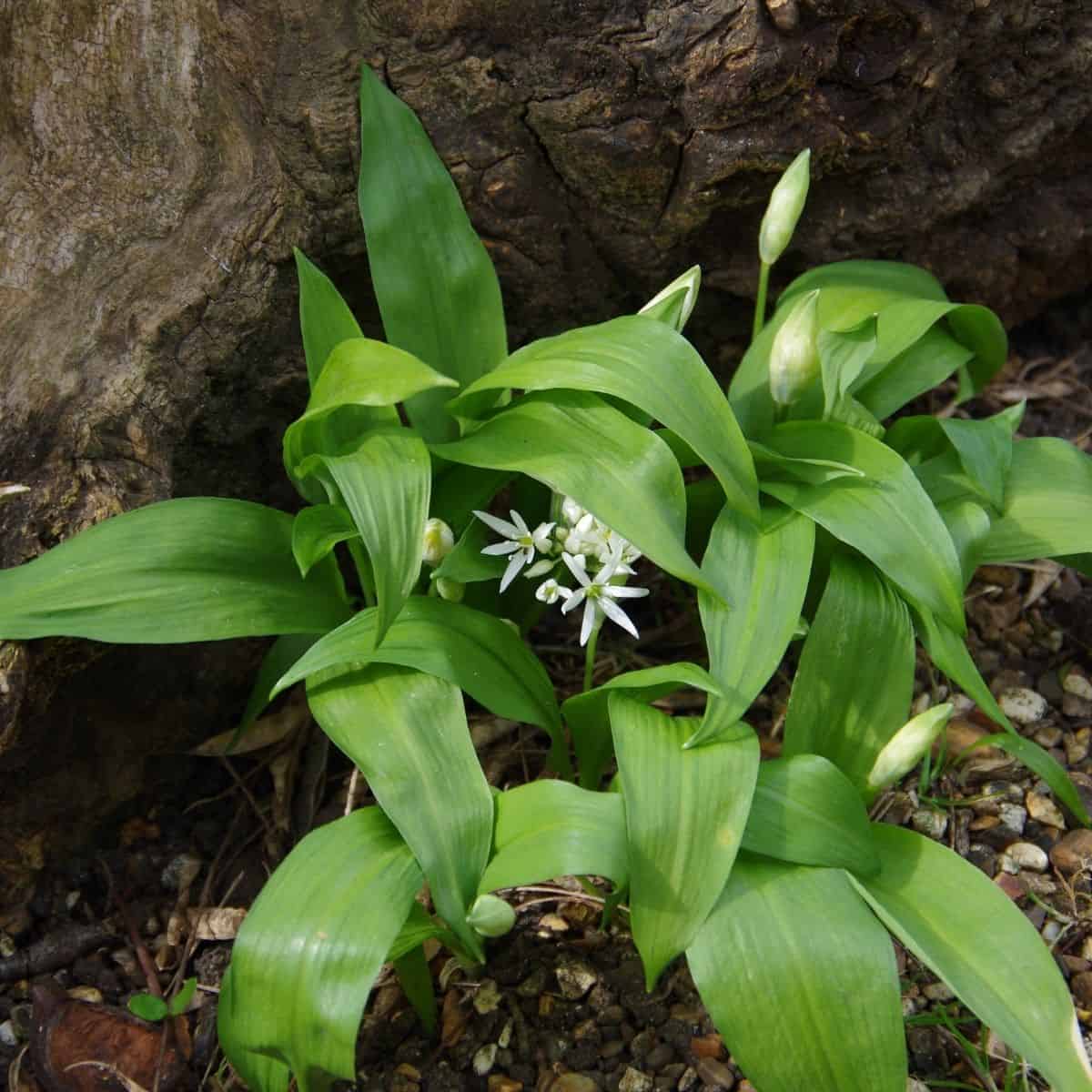 Please have a look at my recipes that use wild garlic:
Jump to:
Ingredients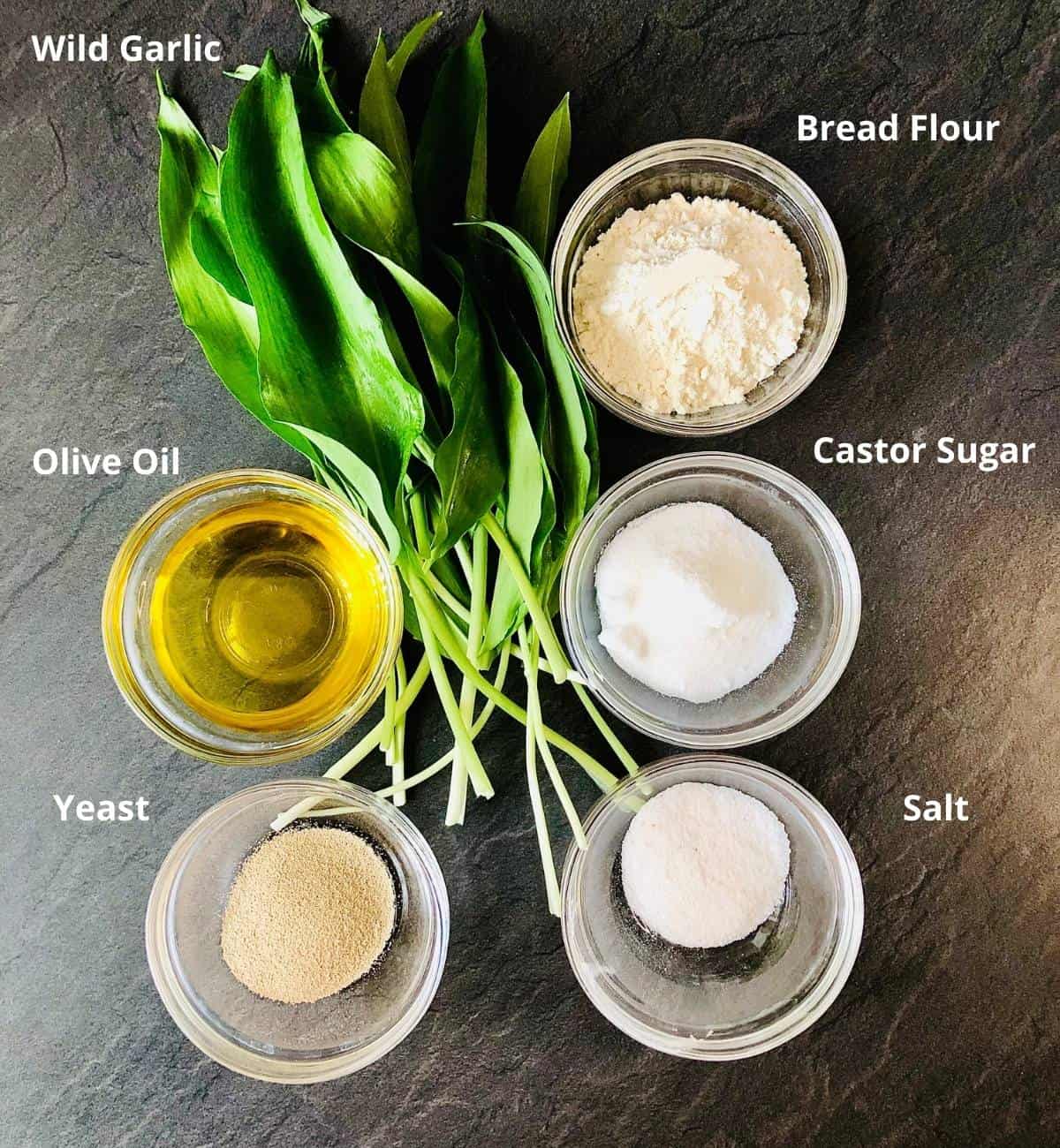 Wild garlic
Bread flour
Castor sugar
Salt
Dry yeast
Olive oil
See the recipe card for quantities.
Instructions
This no-knead focaccia is a simple bread to make.
Firstly, wash and pat dry the wild garlic. Make sure it is free from dirt and any lingering bugs. Put 200 ml of water into a blender, add the wild garlic and blend to a puree.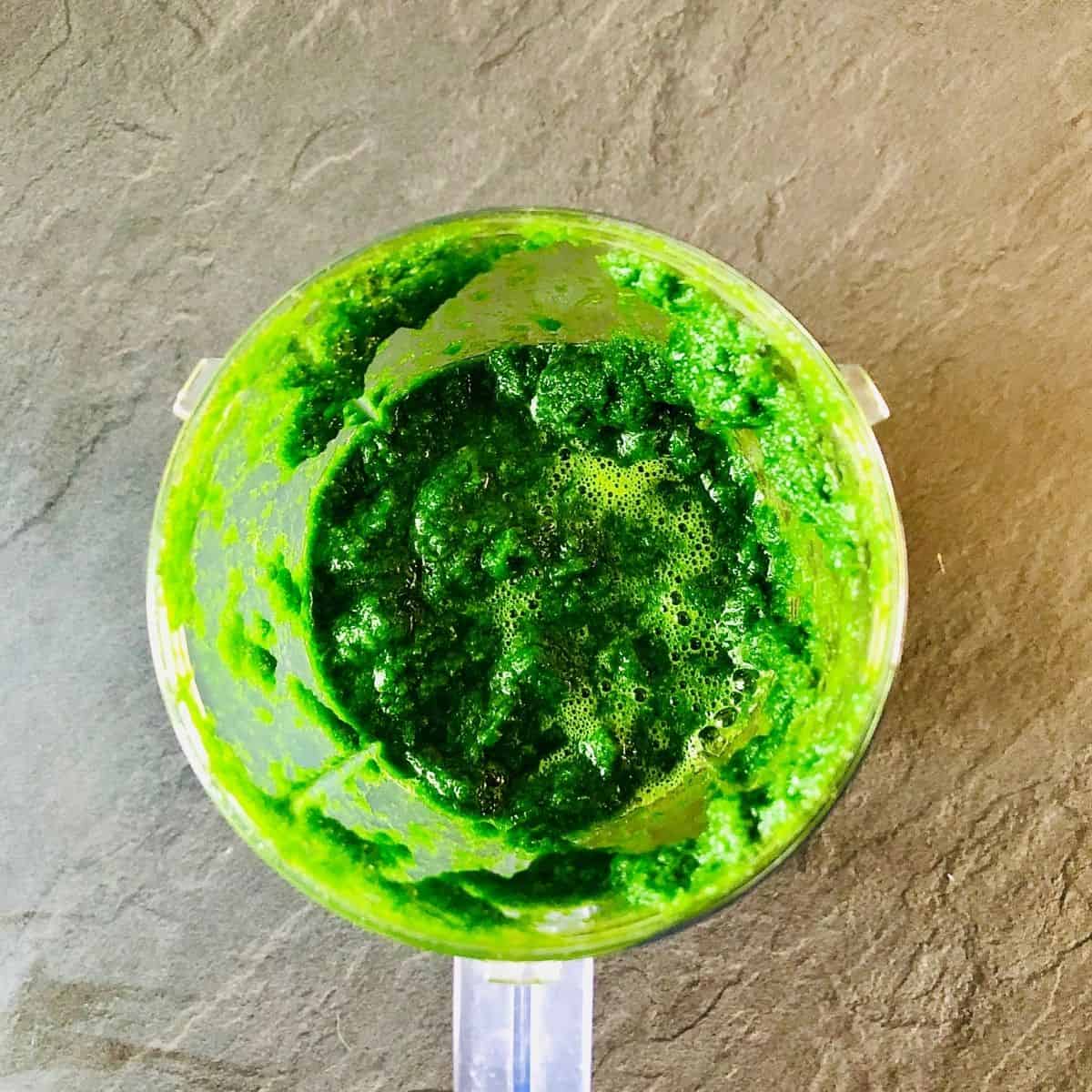 Put 200ml of warm water into a bowl and add the yeast and castor sugar.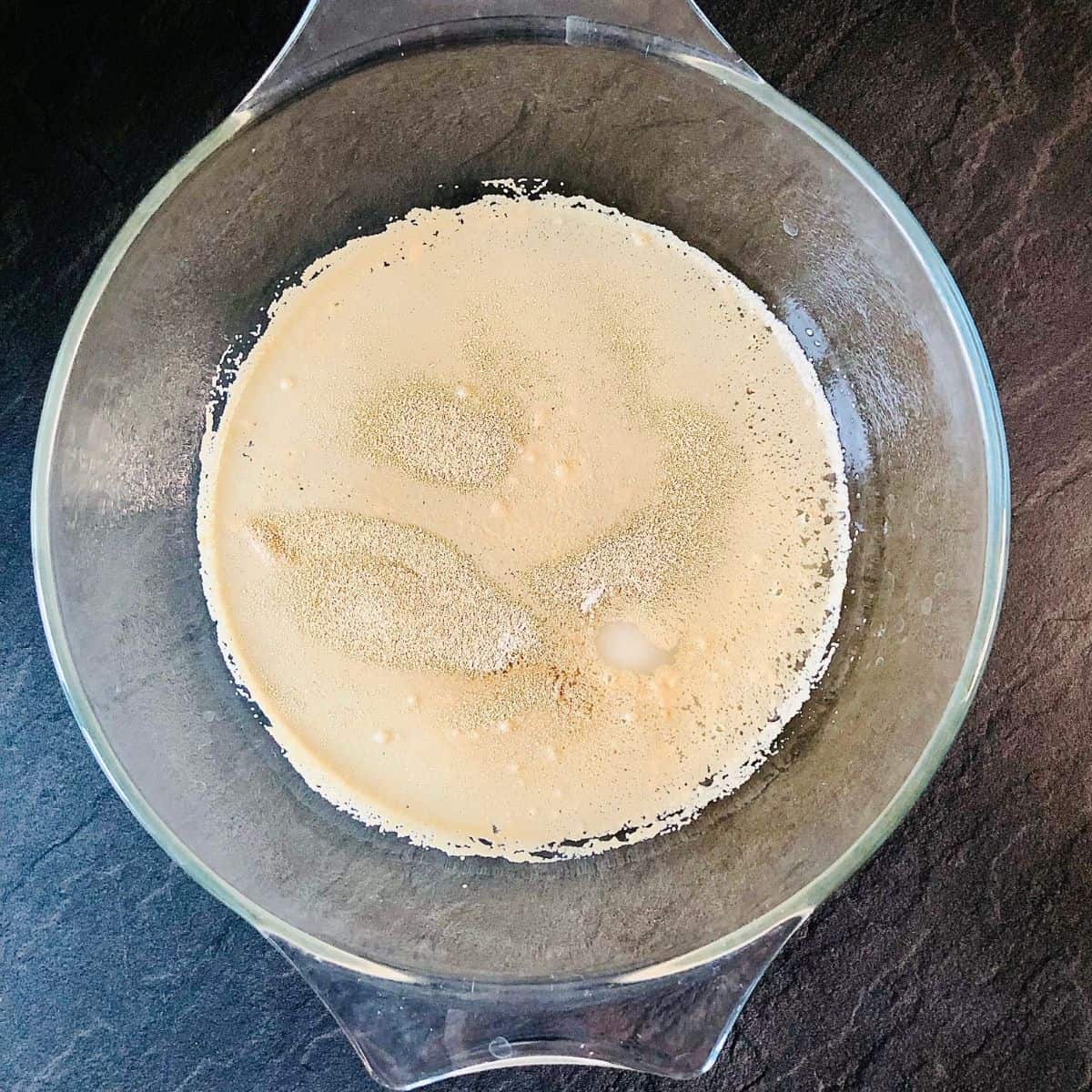 Mix until the yeast and castor sugar have dissolved.
Add the wild garlic puree, salt and 25ml of olive oil and mix.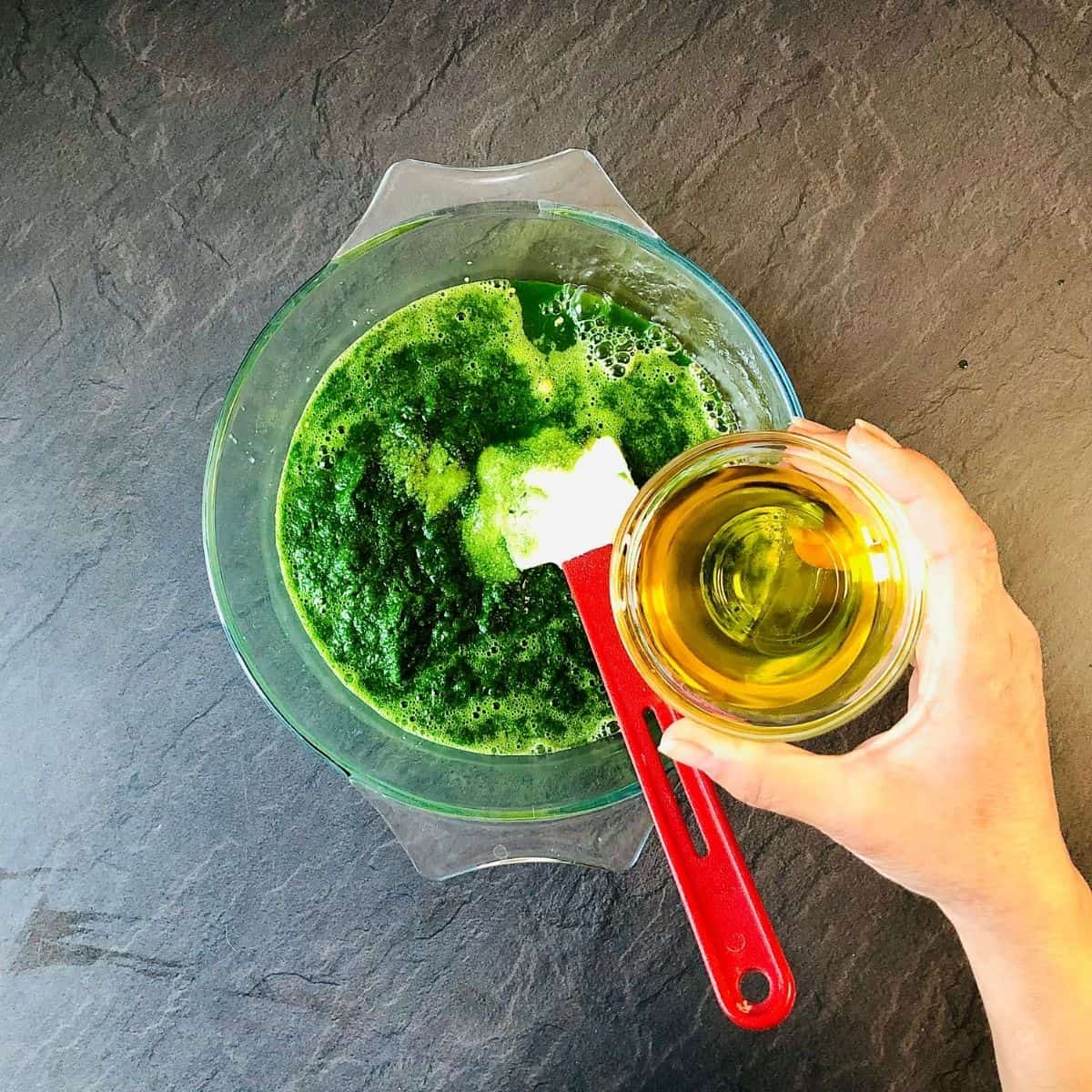 Add the flour to the bowl and mix it into a dough, ensuring no dry spots of flour remaining.
Bring the dough into the centre of the bowl, making sure the inner bowl surface is clean of dough. Wipe some of the olive oil onto the top surface with your hand.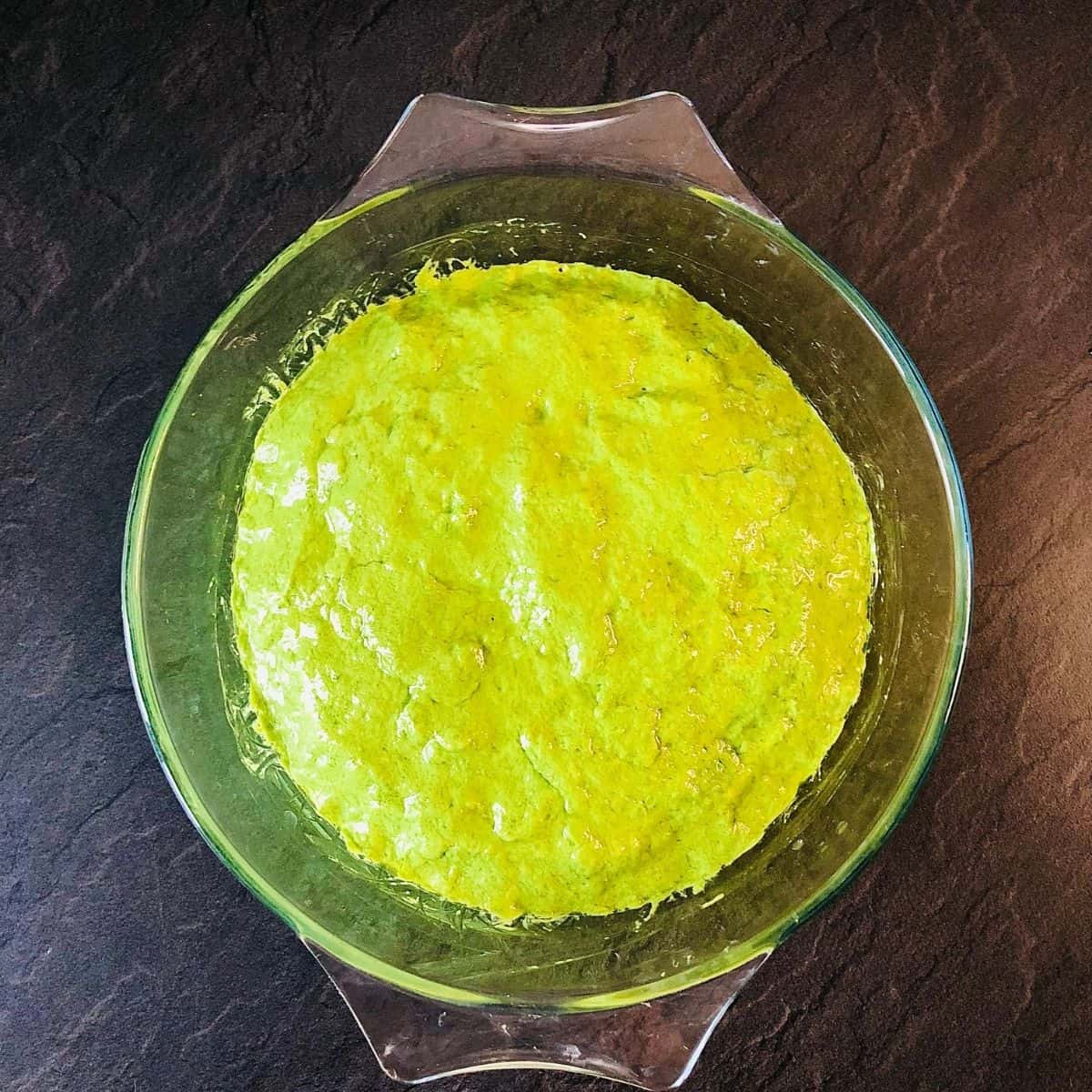 Cover the bowl and place it in the refrigerator overnight, for eight hours or so, to prove slowly. Proving allows the dough to rest and rise via the fermenting yeast that produces gasses.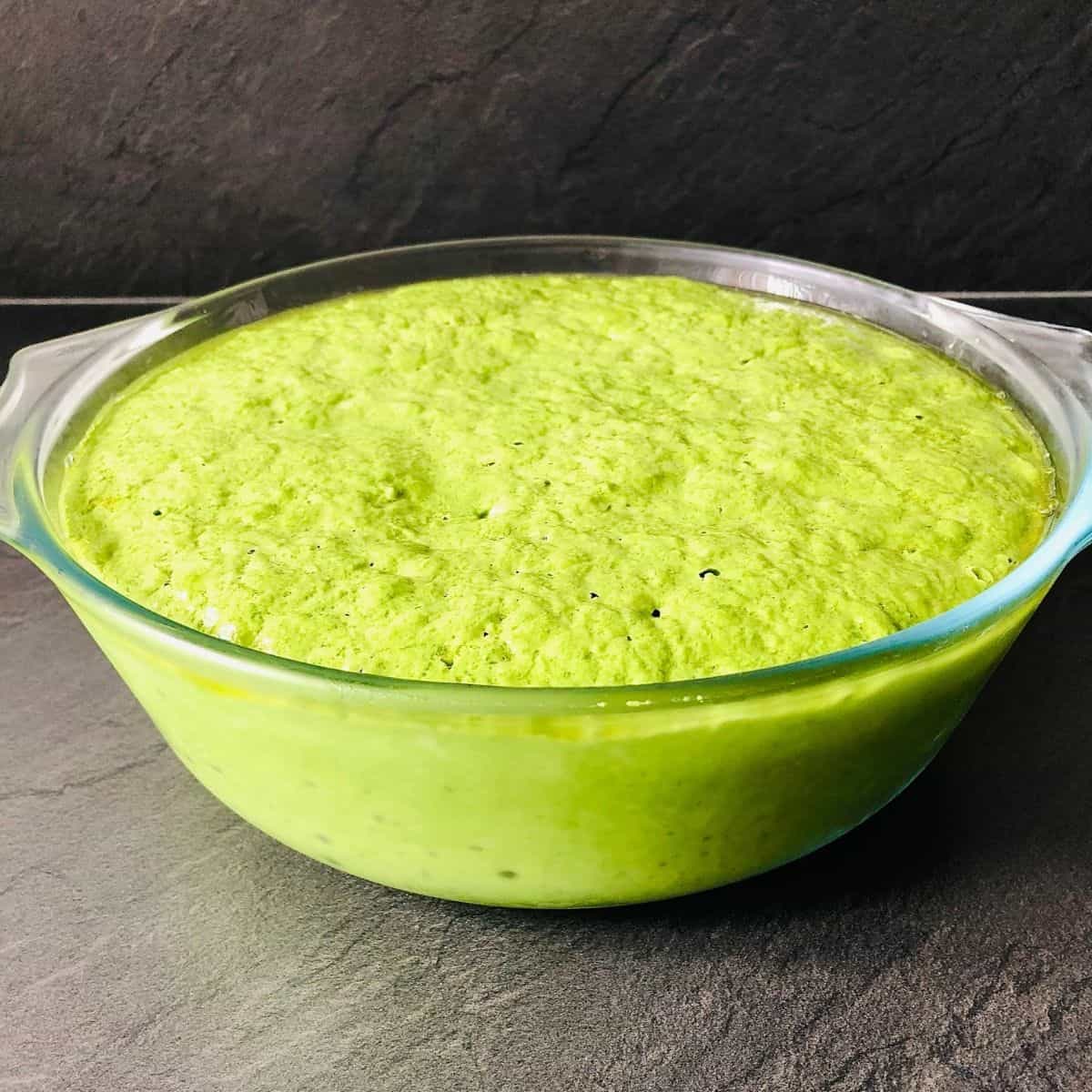 The next day, remove it from the refrigerator and "punch down" the dough with your fist by pressing it into the centre. You will see air come out of the dough (watch the video)
Oil the baking tray with some of the olive oil, and cover with parchment paper. Pour in the dough.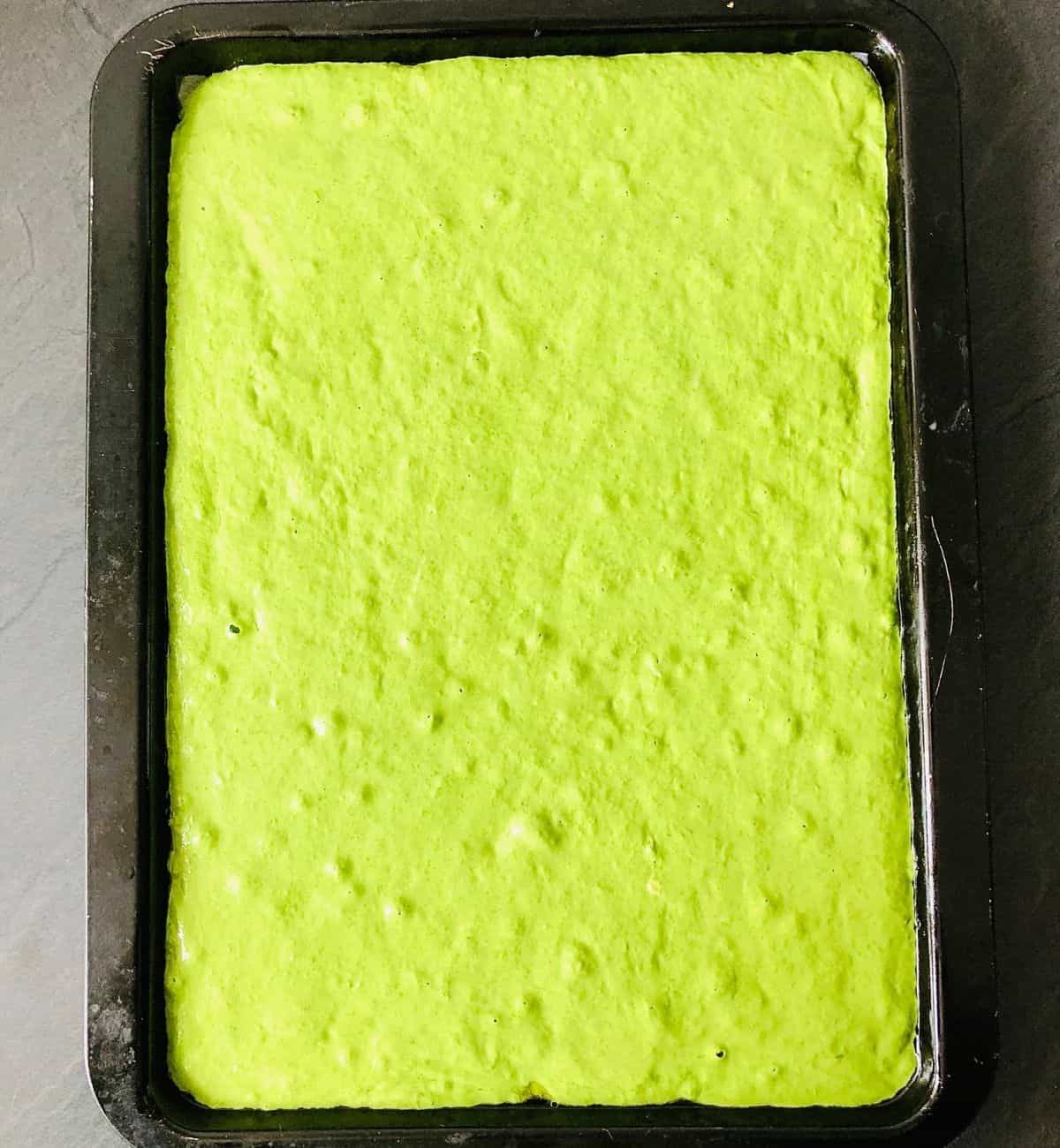 Cover the baking tray with a similar-sized tray. Make sure it has space to rise underneath.
Set aside and let it prove again. Keep an eye on the dough; it will have proven when it has doubled in size and appears bubbly. This second proving will take two hours or more. The duration will vary according to the room temperature.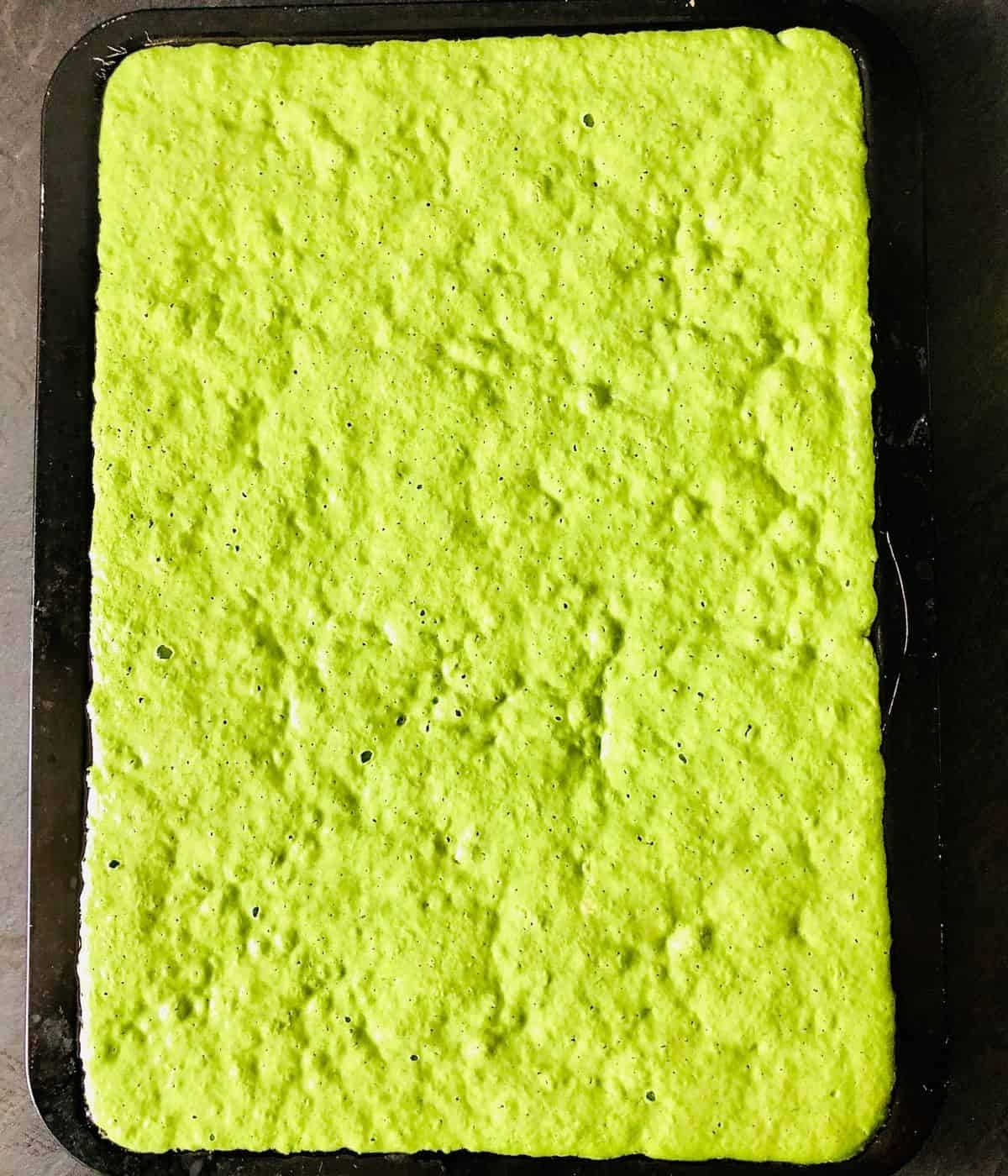 Drizzle 25ml of the olive oil over the surface of the dough and dimple the surface by poking wet fingers into the top of the dough (see video). Sprinkle over flakey sea salt if you wish. I decorated my focaccia with chive flowers, wild garlic leaves, and ground ivy in the photograph. Of course, this is an optional extra.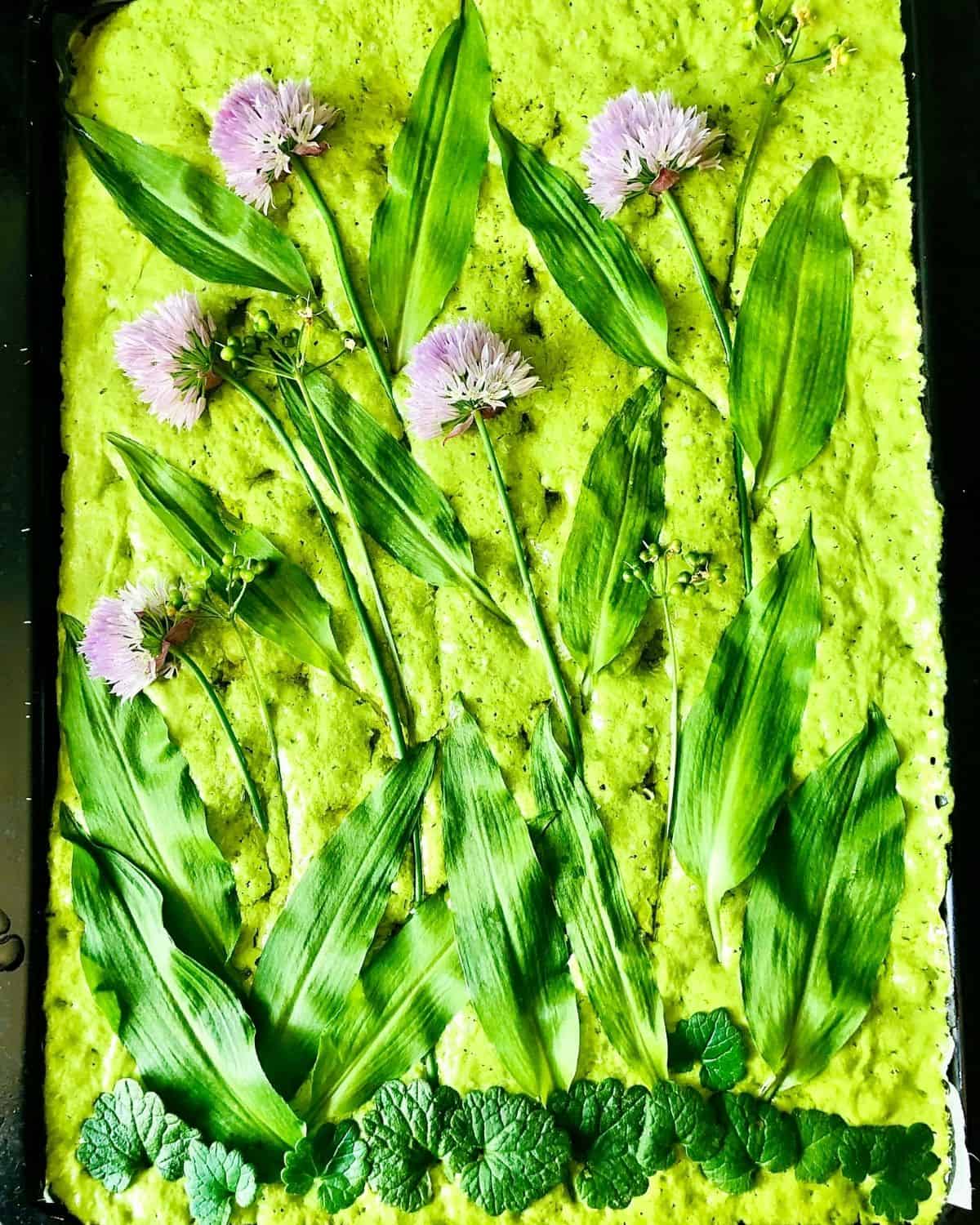 Preheat your oven to 220ºC. Bake in the oven, covered by a tray, for twenty-five minutes. After twenty-five minutes, bake uncovered for five minutes.
Once baked, remove from the oven and leave to cool for thirty minutes before cutting.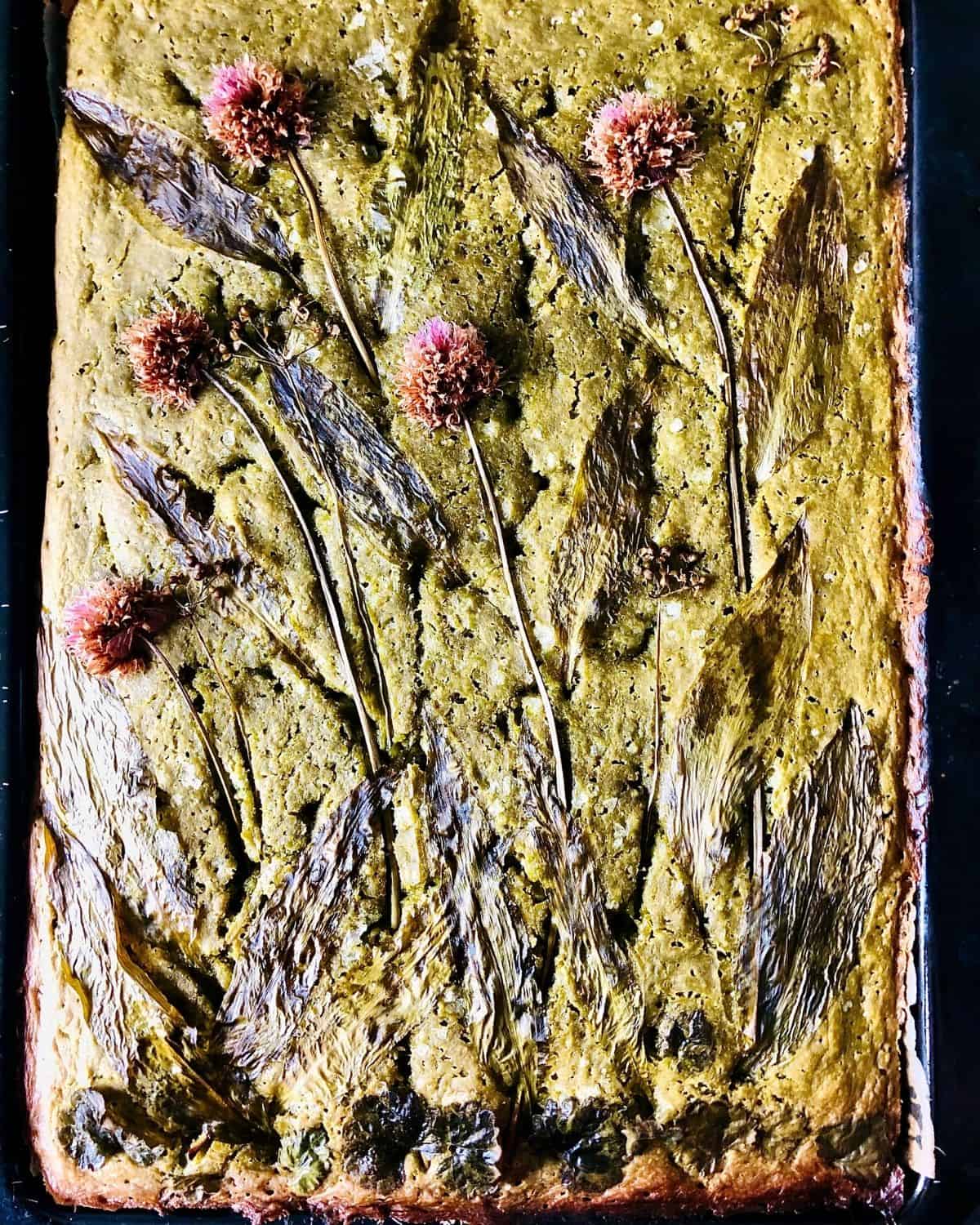 Please do take a look at the how-to video to get a better idea of the process of making this no-knead wild garlic focaccia.
How-To Video
Here is a video guide to making no-knead wild garlic focaccia.
Substitutions
If you don't have access to wild garlic, you can replace it with either the greens part of spring onions or spinach. uree it in the same way and add it to the dough in the same way.
Variations
You can use this recipe to make plain focaccia as well. Leave out the puree and add the full amount of water. You can flavour it with a choice of herbs like rosemary or thyme.
To decorate the bread, you can use tomatoes, edible flowers or any vegetables.
Equipment
You will need two baking trays measuring 12 x 15 ½ inches for this recipe. They should be an inch deep as well. One will be used as a cover, so the inch space is needed to allow the bread to rise during its second proving.
Storage
For about three days, you can store this bread in an airtight container at room temperature. If you live in a hot country, then I would advise you to keep it in the fridge.
You can freeze this focaccia for up to a month. Cut into smaller portions, separate each piece with parchment paper, and freeze in an airtight container.
Top tip
When mixing the yeast with warm water, make sure it is fully dissolved, and there are no lumps.
Don't rush the second proving; allow the bread to rise and double. You will see the air bubbles when it has risen enough.
If you want to retain the colour of the bread when baking, then cover the baking tray containing the dough with another baking tray of the same size so that the decorations don't get burnt and the bread doesn't brown.
📖 Recipe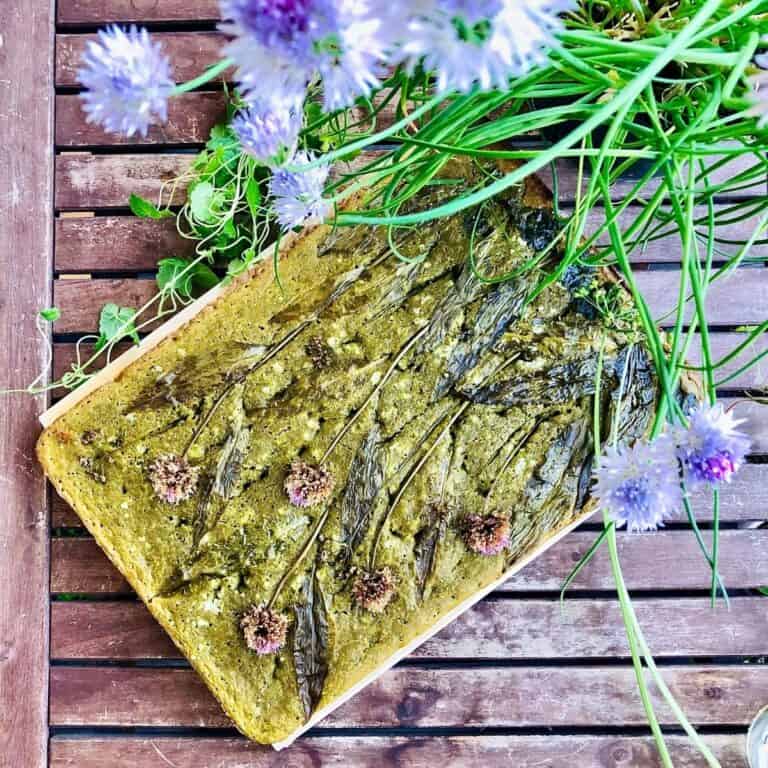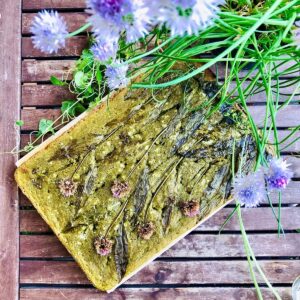 No-Knead Wild Garlic Focaccia
Easy to make no-knead focaccia with wild garlic
Equipment
Blender

2 Baking tray 12X15 ½ inches
Ingredients
200

gms

Wild garlic

540

gms

Bread flour

200

ml

Water

200

ml

Lukewarm water

7

gms

Dry yeast

25

gms

Castor sugar

12

gms

Salt

10

gms

Flaky sea salt

100

ml

Olive oil
Instructions
Wash and pat dry the wild garlic. Roughly chop and add to a blender with 200ml of cold water and puree.

In a bowl add the dry yeast, 200 ml of warm water, sugar, and mix until the yeast and sugar are dissolved.

Add the wild garlic puree, salt and 25 ml of olive oil and mix.

Add the bread flour to the bowl and mix until thoroughly combined and there are no dry spots of flour.

Bring the dough right into the centre to facilitate easy rising. Coat the top with olive oil using your hand. Cover and refrigerate overnight or at least 8 hours for slow proving.

The next day, punch down the dough and transfer it onto a well-oiled baking tray lined with parchment paper.

Cover with another tray of a similar size. Make sure it's not a flat tray as the dough will rise and we don't want it to get stuck. Leave to prove for 2 hours or more. The proving time will depend on the room temperature of where you are.

The dough will double its volume and will be bubbly. Then drizzle 25 ml of olive oil and dimple down the dough.

Sprinkle flaky sea salt over the dough and decorate if you wish. I used chive flowers, wild garlic leaves, and ground ivy leaves to decorate. The decoration is optional.

Bake in the oven covered with another baking tray for 25 minutes, then cook uncovered for 5 minutes. Covering will ensure that the bread retains some green colour and the leaves don't burn.

Once baked, remove it from the oven and allow it to cool for 30 minutes before cutting.
Food Safety
In a professional kitchen, food hygiene and safety are top priorities, and from the beginning of my training, I practised good habits and routines. Of course, practising good food hygiene and safety at home is also essential. Here are some fundamental practices to adopt in the kitchen.
Wash your hands regularly while preparing, handling and cooking food.
Wipe down countertops and high-contact points regularly.
If you cook meat and fish, do not use the same utensils on cooked food that previously touched raw meat. Use separate chopping boards for meat and fish. Wash your chopping boards immediately after use.
Thoroughly cook food to a minimum temperature of 165 °F (74 °C).
Don't leave food at room temperature for extended periods (more than 2 hours).
For more details regarding food hygiene and safety in the home, visit the UK Government's Food Standards Agency webpage.