Wild garlic season is short, and if you would like to enjoy the incredible flavour later in the year, these pickled wild garlic buds are something you need to make. Before the wild garlic bursts into flowers, the buds can be picked and preserved in a pickling liquor. These pickled wild garlic buds are easy to make and packed with flavour, the perfect addition to your salads, pasta or even toast.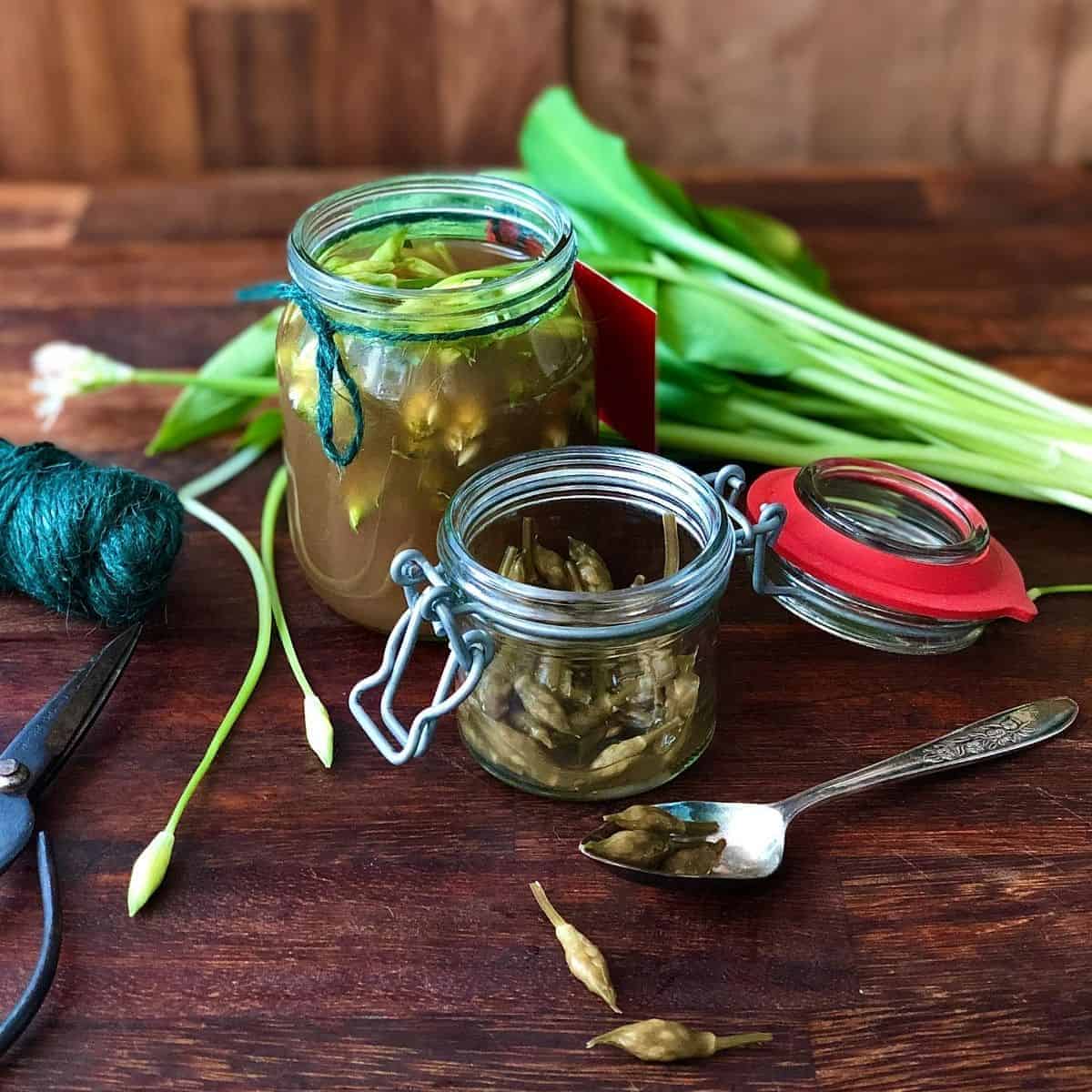 Wild garlic is an ingredient that you can forage. It grows in wet woodland areas.
Here are some identification features for wild garlic:
Smells of garlic
Elongated, spear-shaped leaves, 5 to 15cm long
Small, 6-petaled white flowers grow on a single stem extending from the centre of connecting leaves when flowering.
As with all wild food foraging, you must be very confident with your identification. Do not ingest anything that you are not 100% confident with identifying. Better to be safe than sorry!
Here are more of my wild garlic recipes to try: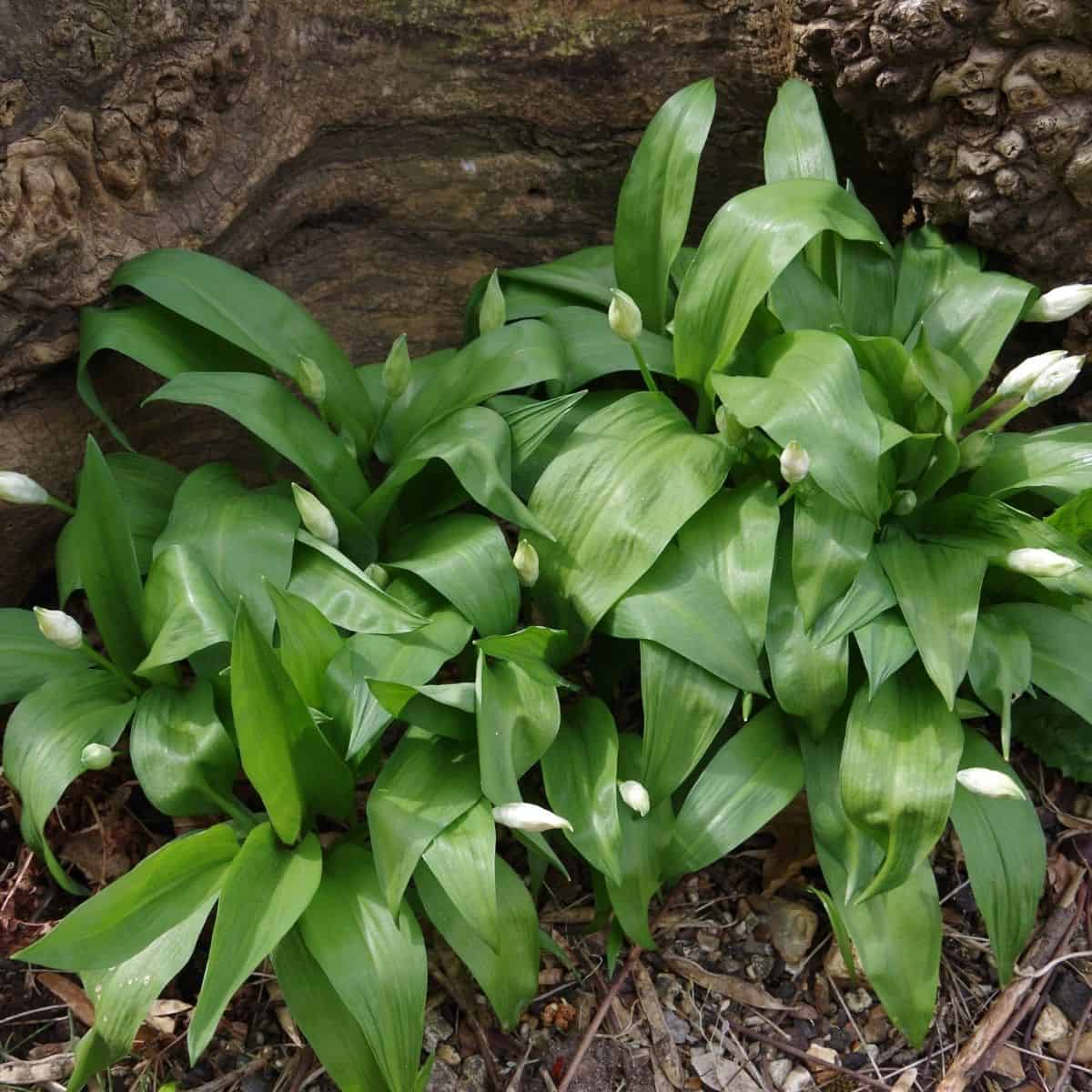 Jump to:
Ingredients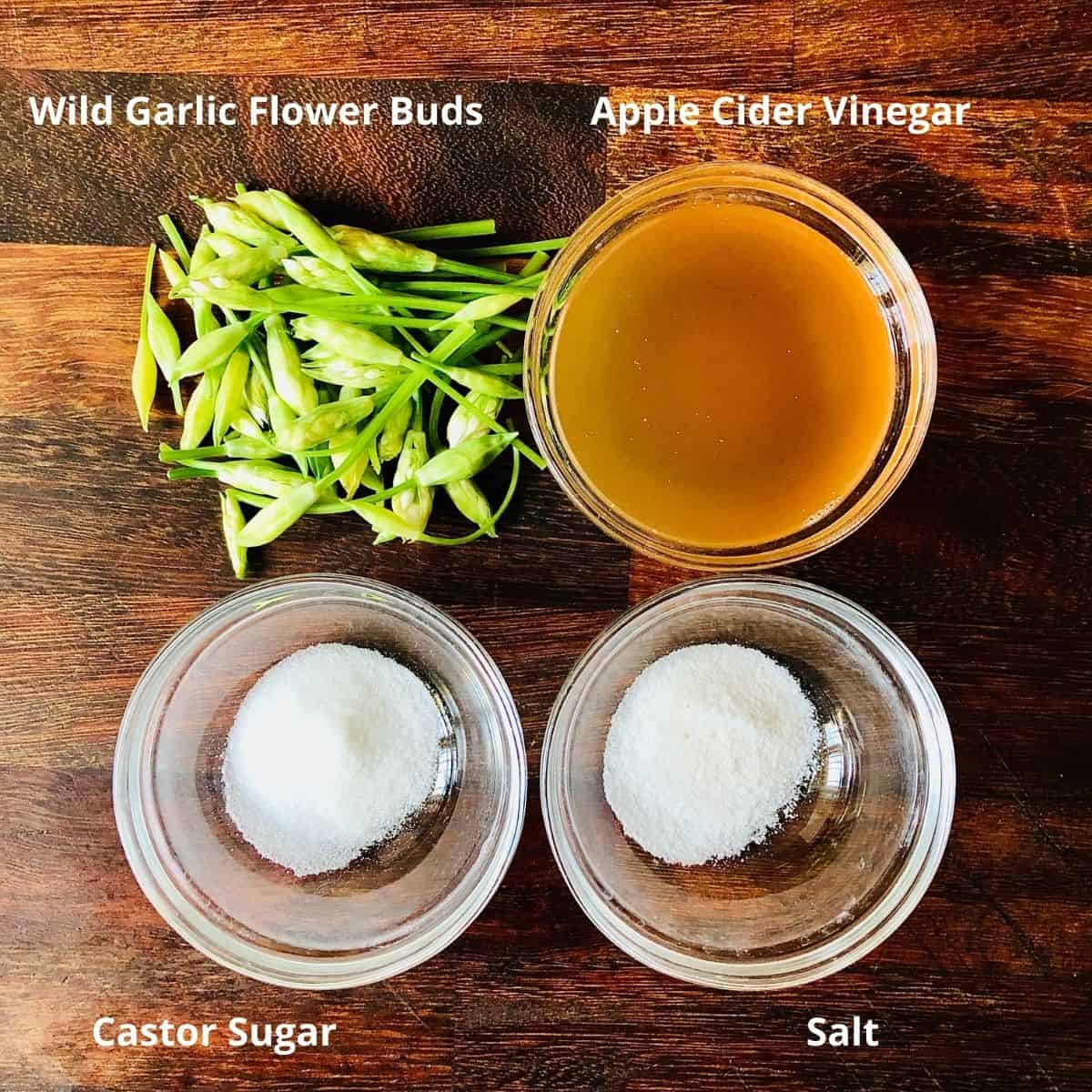 Wild garlic flower buds
Salt
Castor sugar
See the recipe card for quantities.
Instructions
Before pickling the wild garlic buds, sterilise the jar in which you will be storing the buds. Please do this by washing the jar in warm soapy water and then placing it in an oven at 100ºC for thirty minutes.
Prepare the wild garlic buds by washing them and patting them dry. You can leave them on the stem to pickle or pickle the bud heads only.
Add the apple cider vinegar, salt, and castor sugar in a saucepan and bring to simmer. Stir to dissolve the sugar and salt. Set this aside to cool.
Fill your sterilised jar with the wild garlic flower buds and pour over the cooled apple cider vinegar. Place the jar in the refrigerator for a week to let the flower buds pickle.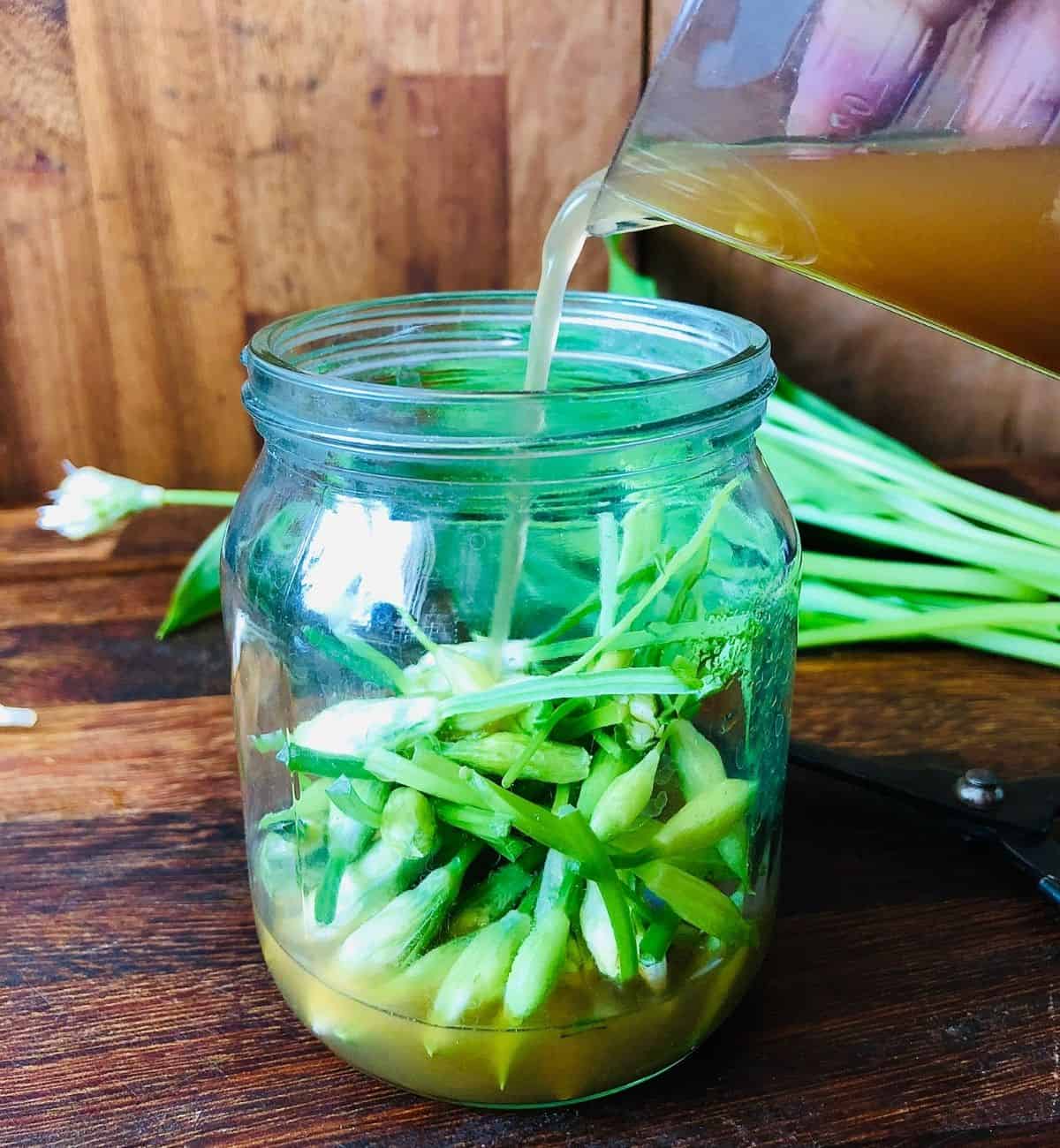 How-To Video
Here is a video guide to making picked wild garlic buds.
Substitutions
Instead of apple cider vinegar, you can use any white vinegar, like white wine vinegar or white synthetic vinegar, or even rice vinegar.
Equipment
Use a jam jar or any 300 ml glass bottle with a non-metallic lid
Storage
If you sterilise the jars properly, the pickled wild garlic flower buds should last for over a year. Be sure to use a clean, dry spoon to not contaminate the pickled buds.
📖 Recipe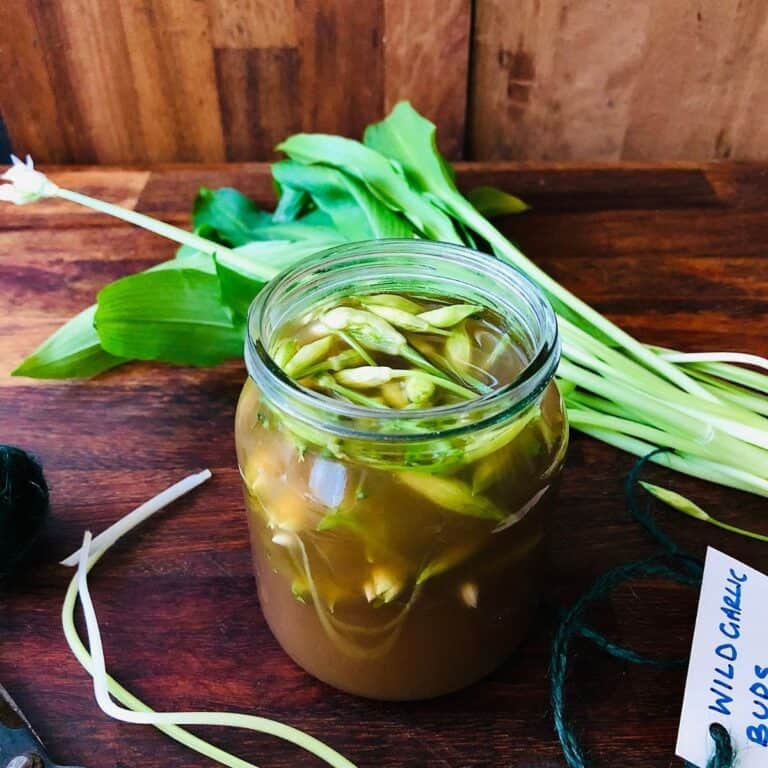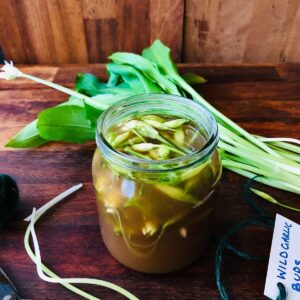 Pickled Wild Garlic Flower Buds
Wild garlic flower buds/capers pickled in apple cider vinegar
Ingredients
70

Wild garlic flower buds

300

ml

Apple cider vinegar

1

teaspoon

Salt

1

teaspoon

Castor sugar
Instructions
Wash the jar and lid in hot soapy water and sterilise in the oven for 30 minutes at 100ºC.

Wash and pat dry the wild garlic flower buds. You can keep the stems or remove them.

Heat the apple cider vinegar, sugar and salt. Mix until the sugar and salt have dissolved. Set aside to cool.

Fill the jam jar with the garlic flower buds. Pour over the cooled vinegar and seal shut.

Refrigerate for a week before using.
Food Safety
In a professional kitchen, food hygiene and safety are top priorities, and from the beginning of my training, I practised good habits and routines. Of course, practising good food hygiene and safety at home is also essential. Here are some fundamental practices to adopt in the kitchen.
Wash your hands regularly while preparing, handling and cooking food.
Wipe down countertops and high-contact points regularly.
If you cook meat and fish, do not use the same utensils on cooked food that previously touched raw meat. Use separate chopping boards for meat and fish. Wash your chopping boards immediately after use.
Thoroughly cook food to a minimum temperature of 165 °F (74 °C).
Don't leave food at room temperature for extended periods (more than 2 hours).
For more details regarding food hygiene and safety in the home, visit the UK Government's Food Standards Agency webpage.