Wondering what Pachadi is? It is a kind of south Indian pickle, and in some instances is also referred to as a chutney
Usually it is made with yoghurt, coconut and tempered mustard seeds, curry leaves and red chillies.
In this post, I present to you a cucumber pachadi that is the result of a suggestion on how to use up some loverly organic cucumber given to me by a friend from her vegetable patch.
Jump to: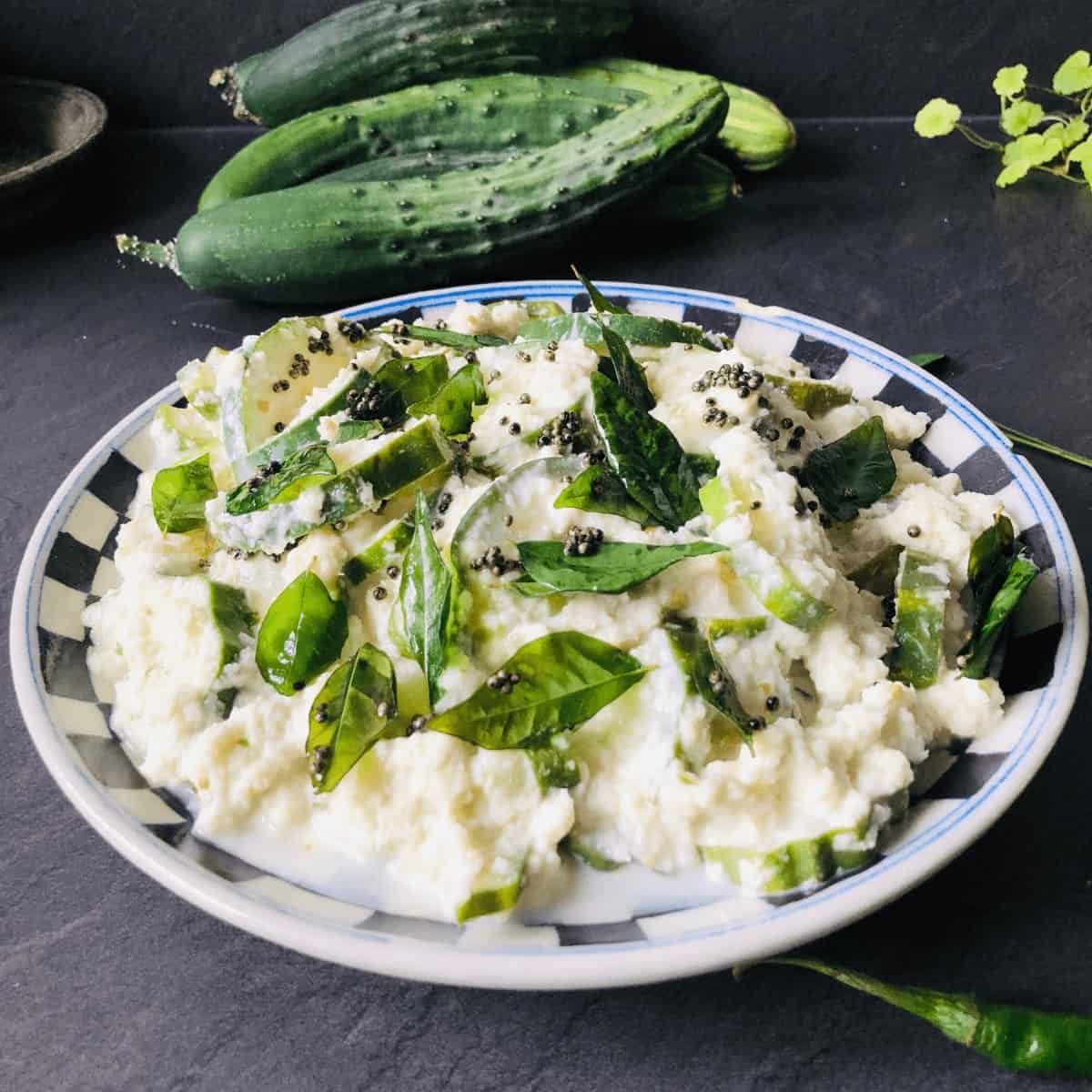 Pachadi, A Dish From South India
Most westerners are familiar with north Indian cooking, but South Indian cooking is quite different.
Generally speaking, south Indian cooking uses a lot of rice, coconut and tamarind. Tamarind is a souring agent used in sambar, chutneys and pickles. Personally, I find south Indian food milder (there are few dishes from the Chettinad region that are very spicy though) easier to digest and fresher than north Indian food. So, whereas north Indian food has a lot of islamic influence, south Indian food is influenced by ayurvedic principles to a large extent. Even the choice of spices differ. A lot of south Indian food has mustard tempering in it.
This cucumber pachadi, is refreshing and light, perfect as a side dish. Saying that, you can eat this pachadi as a main dish with rice also. I guess you could say it is south India's answer to the north Indian raita. It is really easy to make, so let's cook it!
How-To Video
📖 Recipe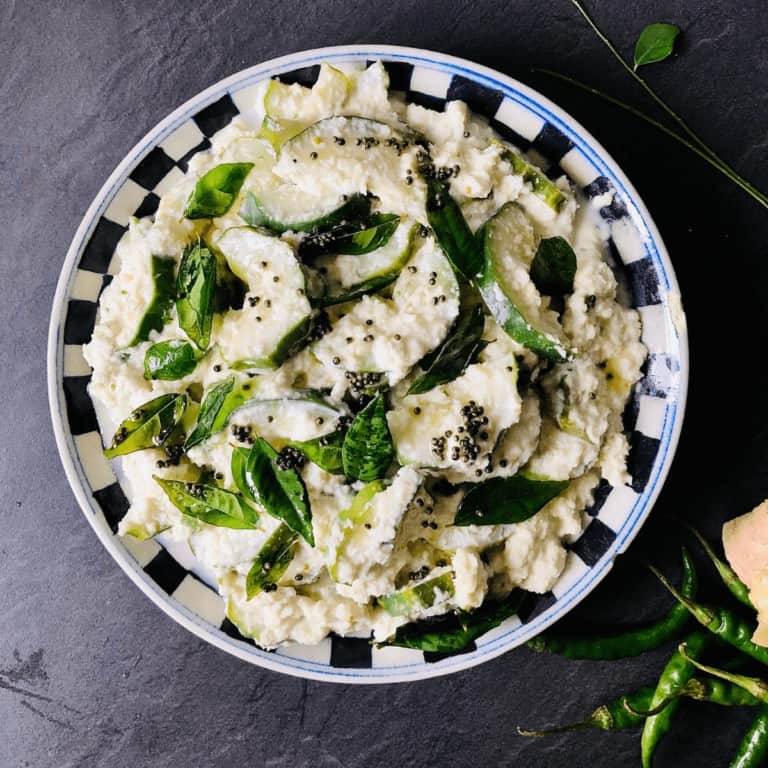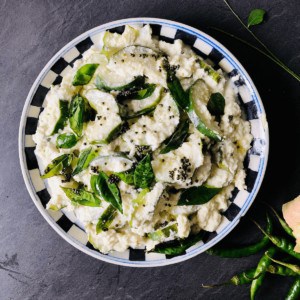 Cucumber Pachadi
Cucumber Pachadi, simple refreshing cucumber, yoghurt and coconut side dish
Ingredients
480

gms

Cucumber

½

teaspoon

Salt
Coconut paste
10

gms

Ginger

2

Green chilli

89

gms

Desiccated coconut

100

gms

Dairy free yoghurt

½

teaspoon

Yellow mustard seeds

½

teaspoon

Kala namak
Tadka or Tempering
2

stems

Fresh curry leaves

1

tsp

Coconut oil

½

teaspoon

Black mustard seeds
Instructions
Coconut paste
In a bowl add desiccated coconut and two tablespoons of hot water and set aside for it to soften.

In a blender add the peeled and roughly chopped ginger, roughly chopped chillies, mustard seeds, yogurt and soaked coconut and blend till you have a rough paste.
Cucumber
Wash and pat dry the cucumber.

Cut the cucumber in half length-wise and slice diagonally. The thickness should be about ¼ of an inch.

Heat a pan over a medium heat and cook the cucumber with the salt in a little water until it becomes soft.

Turn the heat to medium-low and stir in the coconut paste. Stir for a few minutes until the cucumber is coated in paste. Turn off the heat and set aside to cool.
Tadka or tempering
Heat the coconut oil in a small frying pan. Add the curry leaves and mustard seeds.

As soon as the mustard seeds start to pop, add the tadka to the pachadi and mix well.

Serve with steamed rice or enjoy with flatbread.
Cucumber Pachadi Recipe Notes
Fresh curry leaves are an essential part of this recipe. In case you do not have access to fresh leaves, you can use dried ones. Note though, that the texture and flavour will change. So why not get yourself a curry plant? My plant came from The Citrus Centre and it is thriving on my sunny window sill.
You can use dairy yoghurt as a substitute for dairy-free yoghurt in this recipe.
Also, fresh coconut can be used. Skip the soaking process.