Kheere ka raita, or cucumber raita, is a very common yoghurt based side dish from various regions of India.
During the hot summer months, anything that cools and refreshes is very welcome. So I present to you this delicious combination of cucumber, yoghurt and herbs.
Although normally served as a side dish, I like to serve cucumber raita as a dip.
Need more dip ideas? Check out my Labneh with baby carrots and walnuts recipe. Also, perhaps you need something to dip into your dips? Then, take a look at my spiced potato wedges recipe.
Jump to:
Cooling And Refreshing Cucumber Raita For Summer Days and Fiery Foods
Here in the west a classic cucumber based side dish is tzatziki from Greece. Tzatziki is a delicious dip. However, in this post, I want to shine the spotlight on tzatziki's Indian equivalent: Kheera ka raita (cucumber raita). Both have similar ingredients but the tzatziki tends to be thicker.
There are lots of variations for raita using different vegetables and even fruits. Take a look at this Wikipedia page to discover just how many variations there are.
This basic cucumber raita is a cooling side dish to accompany fiery foods so as to create some balance. Also, as I said, it also makes a great refreshing dip for these late summer days. And It is very easy to make. So what is there not to like!
The water from the cucumber thins down the yoghurt.
What about the vivid topping added before serving? This is Tadka made with cumin and chilli powder. I like my dishes to have a bit of oomph. See the recipe notes for an explanation of tadka.
Garnish your cucumber raita with a choice of herbs. My favourites are mint or coriander.
In this recipe I use cumin twice. Firstly, roasted and ground into a powder and added directly to the raita, and secondly, seeds bloomed in the tadka. Why have I done this? Well, cumin is a great spice which aids digestion. Also the roasted ground cumin powder has a slightly different flavour to the seeds bloomed in the hot oil, and the whole cumin seeds add some texture. See the recipe notes for instructions on how to make roasted ground cumin.
How-To Video
Here is a video guide to making your cucumber raita.
📖 Recipe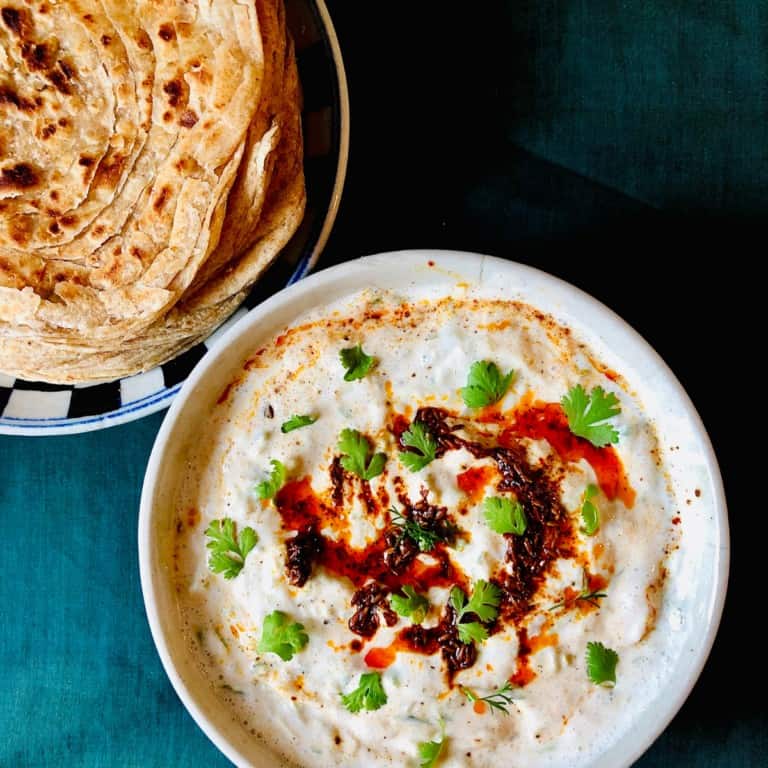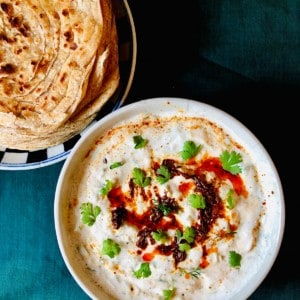 Kheera Ka Raita. Cucumber Raita
A cooling and refreshing side dish from India to balance fiery foods. Also a perfect dip for a summers day.
Ingredients
500

gms

Cucumber

200

gms

Dairy free greek style yoghurt

I use Oatly

¼

teaspoon

Roasted cumin powder

1

teaspoon

oil

¼

teaspoon

Cumin seeds

¼

tsp

Red chilli powder

½

teaspoon

kala namak
Instructions
Wash and grate the cucumber. Transfer into a sieve over a bowl to drain.

In a bowl add the yoghurt and give it a mix. Then add in the grated cucumber.

Season with Kala namak, You can adjust the salt to your taste. Add roasted cumin powder and give it a good mix.

In a small pot or pan, heat the oil. Bloom the cumin seeds and then add chilli powder. As soon as you add the chilli powder, remove from heat and pour the tadka on top of the cucumber-yoghurt mix.

Serve with naan bread, paratha or as a side.
Cucumber Raita Recipe Notes
You can use dairy yoghurt if you wish. Use the same weight.
To make roasted cumin powder, heat oil in a pan at medium high heat. Add cumin seeds and allow them to roast. When you see the colour change and you notice the fragrance of cumin, take it off the heat and transfer to a plate to cool. Once cooled, grind in a coffee grinder or dry ingredient grinder.
Tadka is oil infused with cooked spices. Also, it refers to the technique of cooking spices in oil in order to enhance their flavour by releasing their essential oils. In this recipe you bloom the cumin seeds, that is, cook them in the oil, and add the chilli powder to produce the tadka.