If you think all Indian food is spicy hot curries, this simple Indian home-style mixed vegetable recipe, known as charchari, will change that. It is the kind of food we would eat during the hot Indian summer months. My recipe is a simple recipe with simple flavours; and is not overpowering. Traditionally in charchari, one would add fried gram flour dumplings to the sauce. I omitted them and used butternut squash to add sweetness and rocket for its peppery flavour.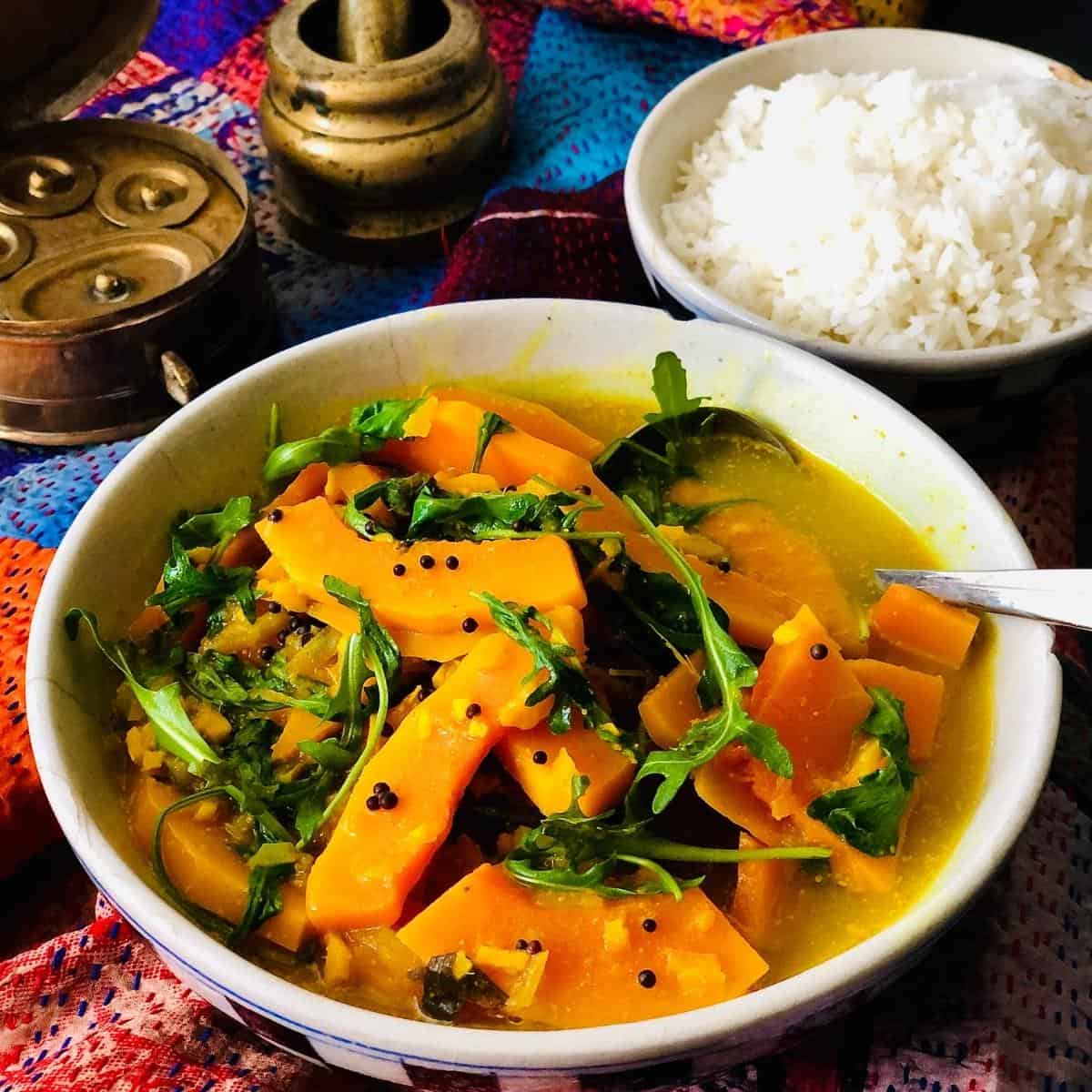 Sometimes we need a light meal that is easy on the tummy but nourishing and flavourful. This mixed vegetable recipe achieves that.
Traditionally, families make charchari with leftover vegetables. There are many versions of charchari, and each family has its unique variation. The local version in Calcutta, where I grew up, inspired my recipe, but it is very different. I love this rich diversity of Indian dishes, and this is why I feel it is important not to put Indian food into oversimplified categories like "curry."
If you like stews then have a look at my pachakari ishtew and butterbean and baby spinach stew.
Right then, let's cook.
Jump to:
Ingredients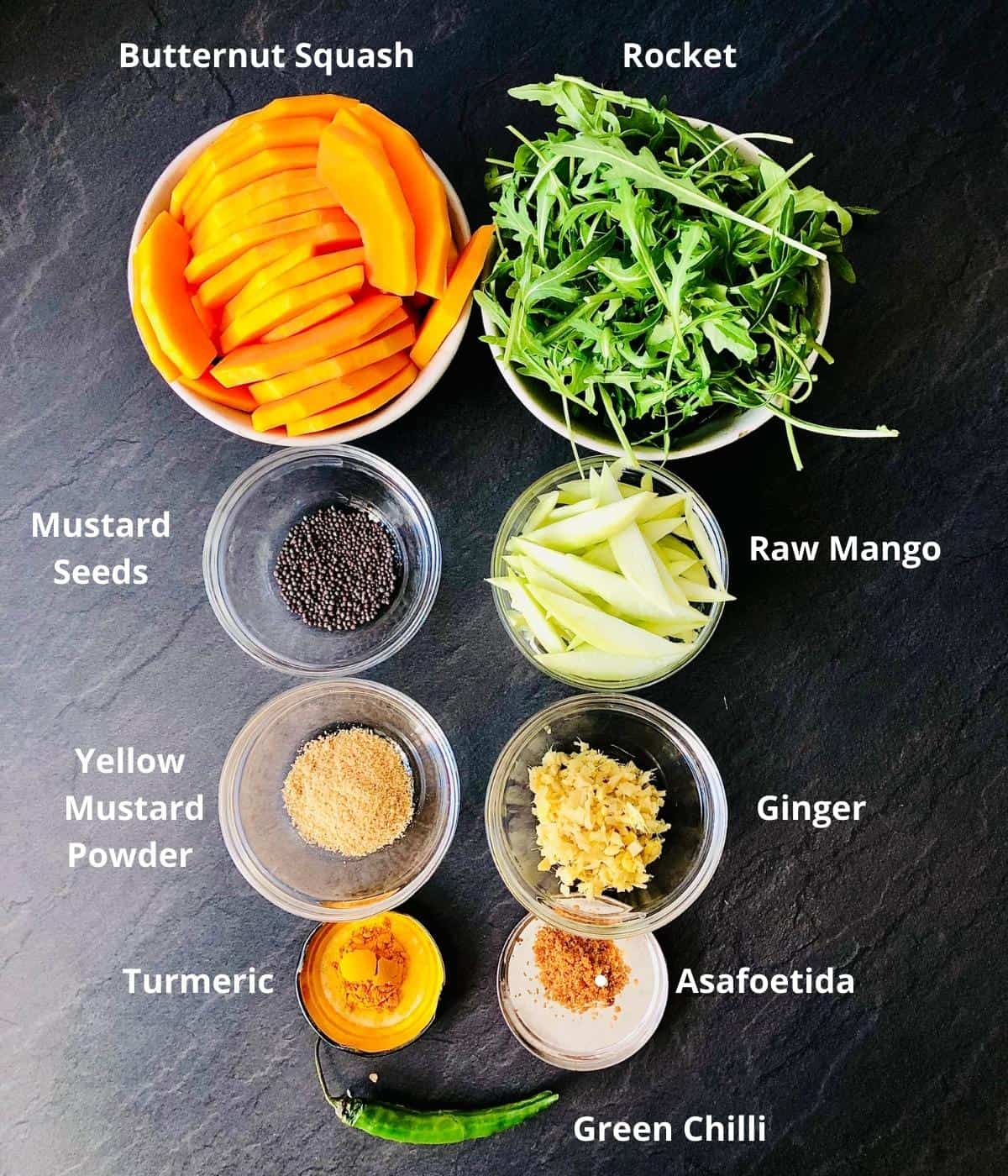 Butternut Squash
Raw Mango
Rocket leaves
Ginger
Asafoetida
Turmeric
Black mustard seeds
Yellow mustard powder
Green chilli
See the recipe card for quantities.
Instructions
To begin, prepare the ingredients.
Wash the rocket.
Finely chop the ginger.
Split the green chilli down the middle but do not cut it in half.
Peel the butternut squash. Cut it in half lengthwise and remove the seeds. Cut each half in half again lengthwise. Then cut into even slices as shown in the ingredients photograph.
Peel the raw mango and remove the seed. Cut into batons.
Heat the oil in a pan over medium/high heat. Add the mustard seeds and asafoetida.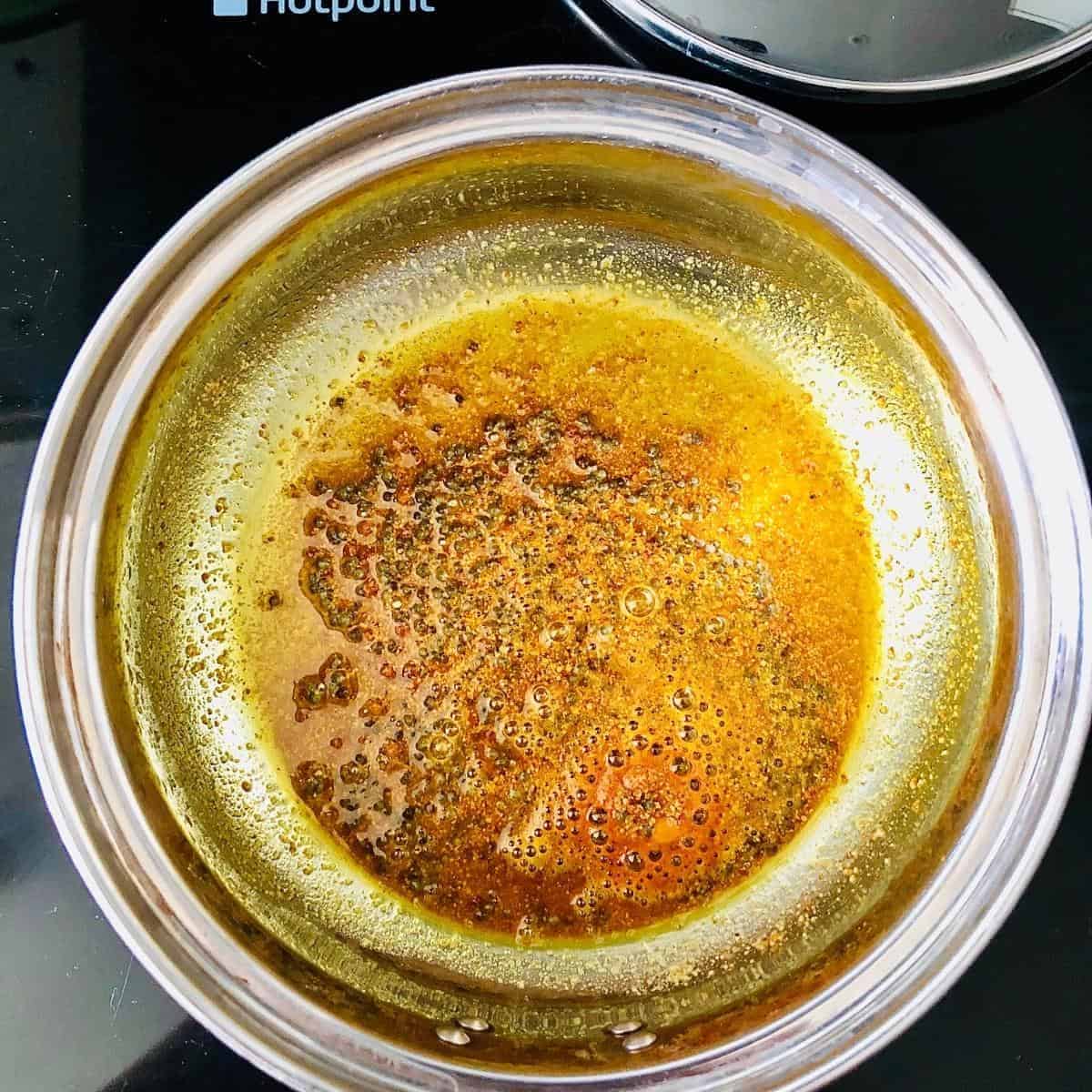 Add the turmeric, mustard powder, and green chilli once the mustard seeds pop. Then add the finely chopped ginger and cook for a minute.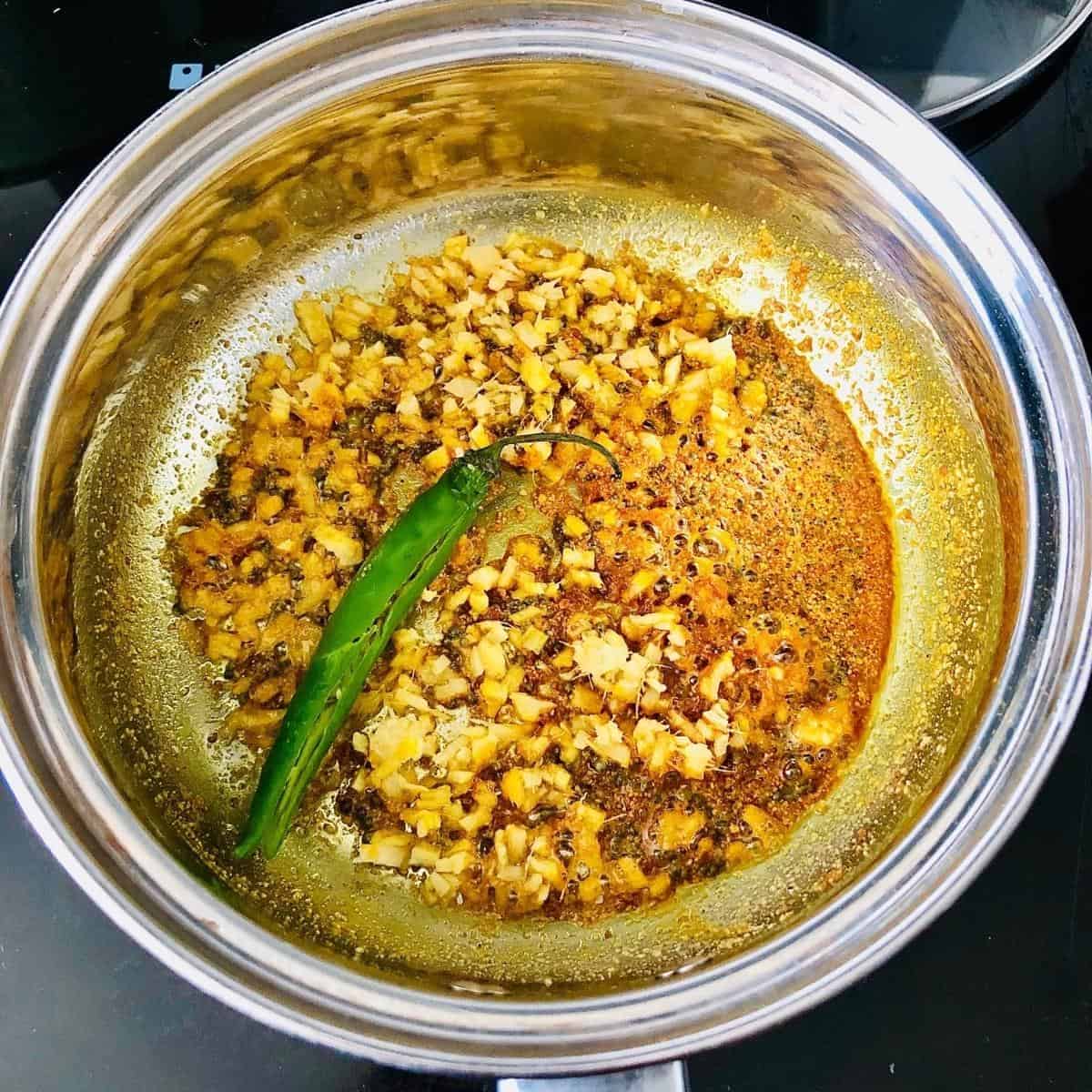 Add the raw mango batons and saute for a further minute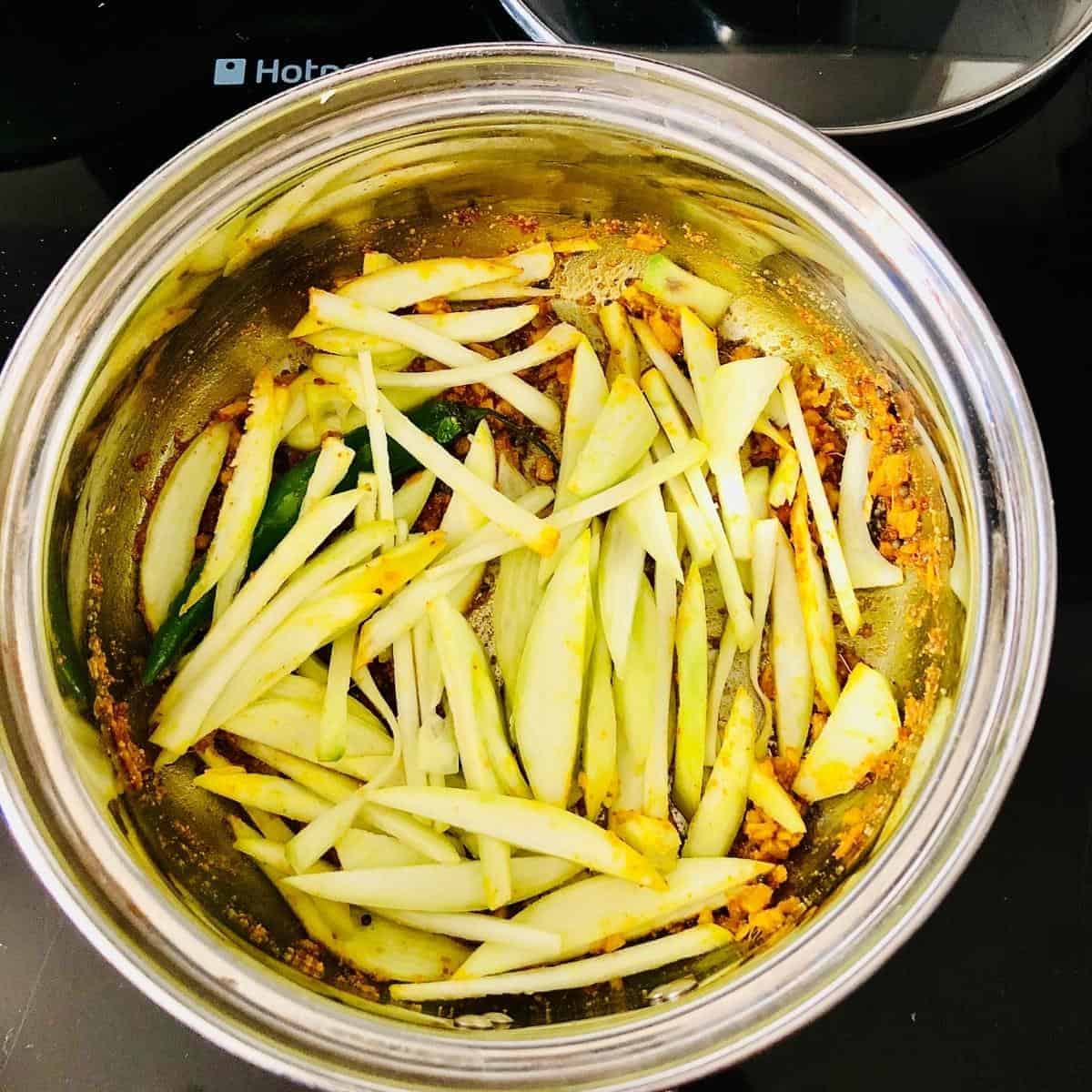 Add the sliced butternut squash and the water and season with salt to taste. Turn up the heat and bring it to a boil. Once boiling, turn down the heat and simmer until the butternut squash has cooked. The butternut squash has cooked when you can easily pass the end of a knife through it.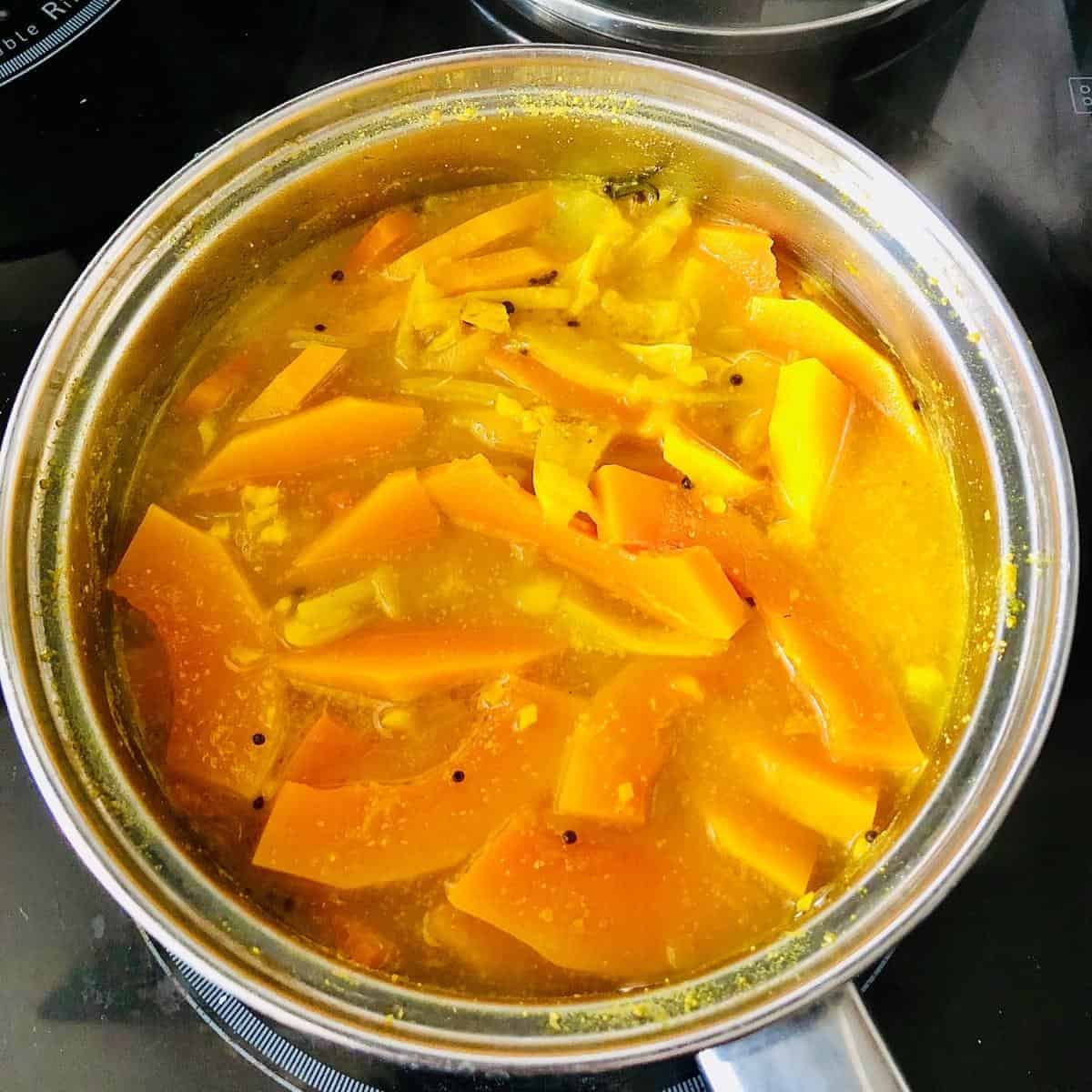 Once the butternut squash has cooked, add the rocket and cook for a final two minutes.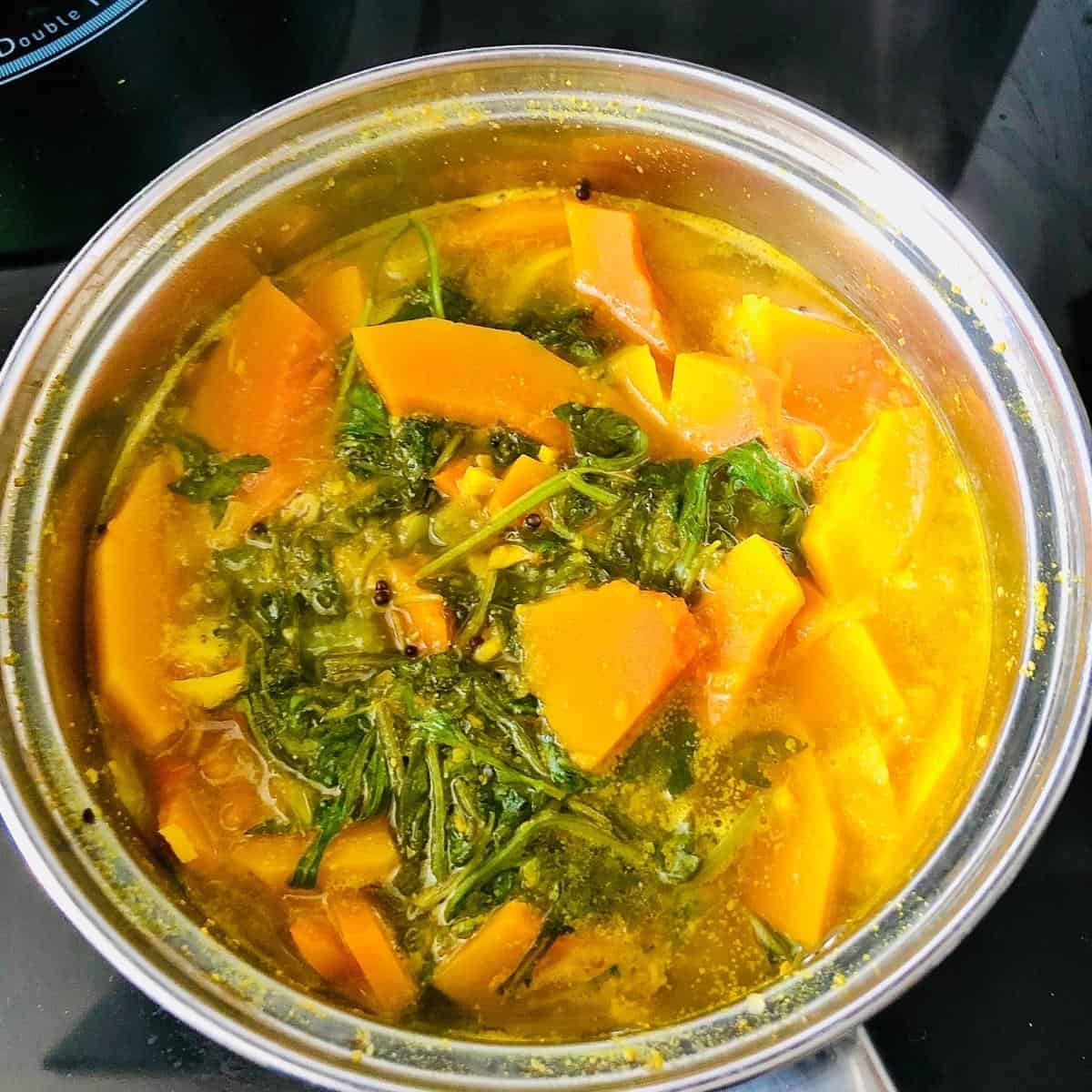 Serve the charchari with plain rice or even a flatbread like a paratha.
How To Video
Here is a video guide for the charchari mixed vegetable recipe.
Substitutions
I have used Butternut squash and rocket for this version. Feel free to use any vegetable of your choice.
Storage
This mixed vegetable recipe is always best eaten fresh; however, you can store it in the fridge for up to three days in an airtight container. Reheat by bringing to a boil and then simmer. Please note that if you have already added the rocket, it will change colour when you reheat.
Top tip
Cooking of the spices at the beginning is known as tadka. This releases the flavours of the spices. Ensure all the spices are at hand when adding the spices to the oil. Be aware that this process of "blooming" the spices is relatively rapid, so don't let them burn.
📖 Recipe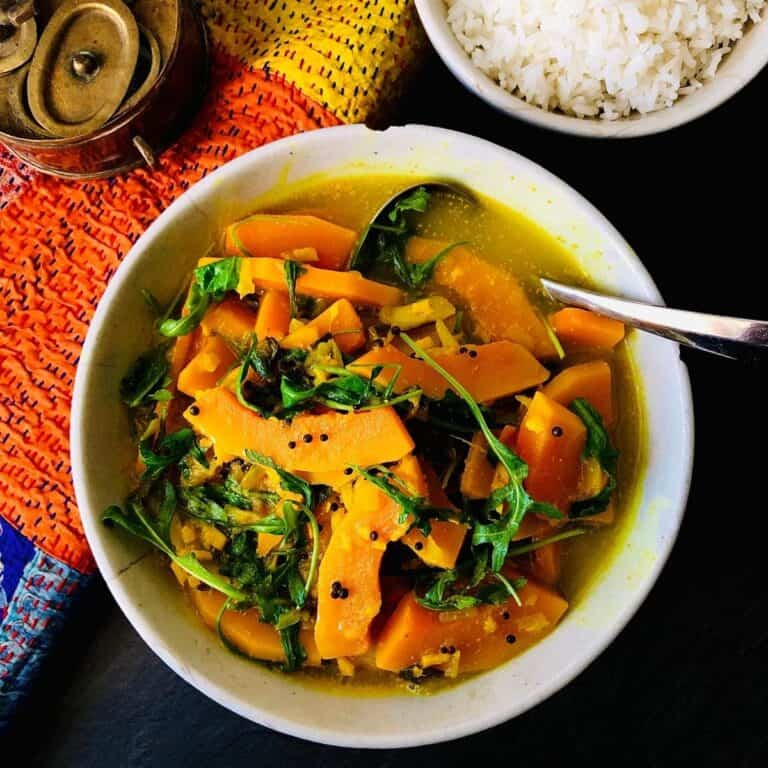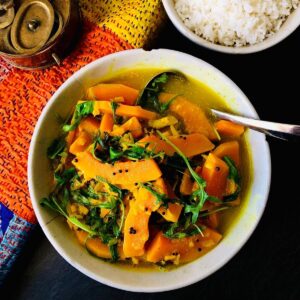 Raw Mango, Butternut Squash and Rocket Charchari
Mixed vegetable recipe. Raw mango, butternut squash and rocket in a spiced stew.
Ingredients
270

gms

Butternut squash

95

gms

Raw mango

30

gms

Rocket leaves

1

Green chili

15

gms

Ginger

1

teaspoon

Black mustard seeds

1

teaspoon

Yellow mustard powder

½

teaspoon

Asafoetida

½

teaspoon

Turmeric powder

2

teaspoon

Salt

300

ml

Water
Instructions
Wash the rocket leaves and set them aside.

Peel the butternut squash. Cut in half, remove the seeds, cut each side in half, and slice evenly.

Peel the mango, remove the seed, and cut it into batons.

Heat the oil in a pot over medium heat. Add the asafoetida and black mustard seeds. Once the seeds pop, add the yellow mustard powder, turmeric and green chilli.

Add the chopped ginger and fry for a minute, then add raw mango and sauté for another minute

Add the sliced squash, season with salt, and add the water. Cover and bring to boil. Once it comes to a boil, turn the heat down and simmer until the squash has cooked.

Add the rocket leaves once the squash is tender and stir to mix. Cook for two minutes and then take off the heat.

Serve hot with steamed rice or flatbread
Food Safety
In a professional kitchen, food hygiene and safety is a top priority, and from the very beginning of training, I practised good habits and routines. Of course, it is also very, very important to practice good food hygiene and safety at home. Here are some fundamental practices to adopt in the kitchen.
Wash your hands regularly while preparing, handling and cooking food
Wipe down counter tops and high contact points regularly
If you cook meat and fish, do not use the same utensils on cooked food, that previously touched raw meat. Use separate chopping boards for meat and fish. Wash your chopping boards immediately after use.
Thoroughly cook food to a minimum temperature of 165 °F (74 °C)
Don't leave food sitting out at room temperature for extended periods (more than 2 hours)
For more details of food hygiene and safety in the home, visit the UK Government's Food Standards Agency webpage.