Weekday meals need not be bland. This creamy Thai red curry with chickpeas, potatoes, and hispi cabbage delivers on many fronts, whether it is the flavour, nutritional value, or a big food hug. I have spent years as a chef making fresh Thai curry paste, and although it is possible to make it at home from scratch (if you have an excellent blender), we will use the ready-made one for this recipe. And why not? I have worked in a Thai restaurant (with chefs from Thailand) that only used these pre-made ones to maintain consistency in flavour.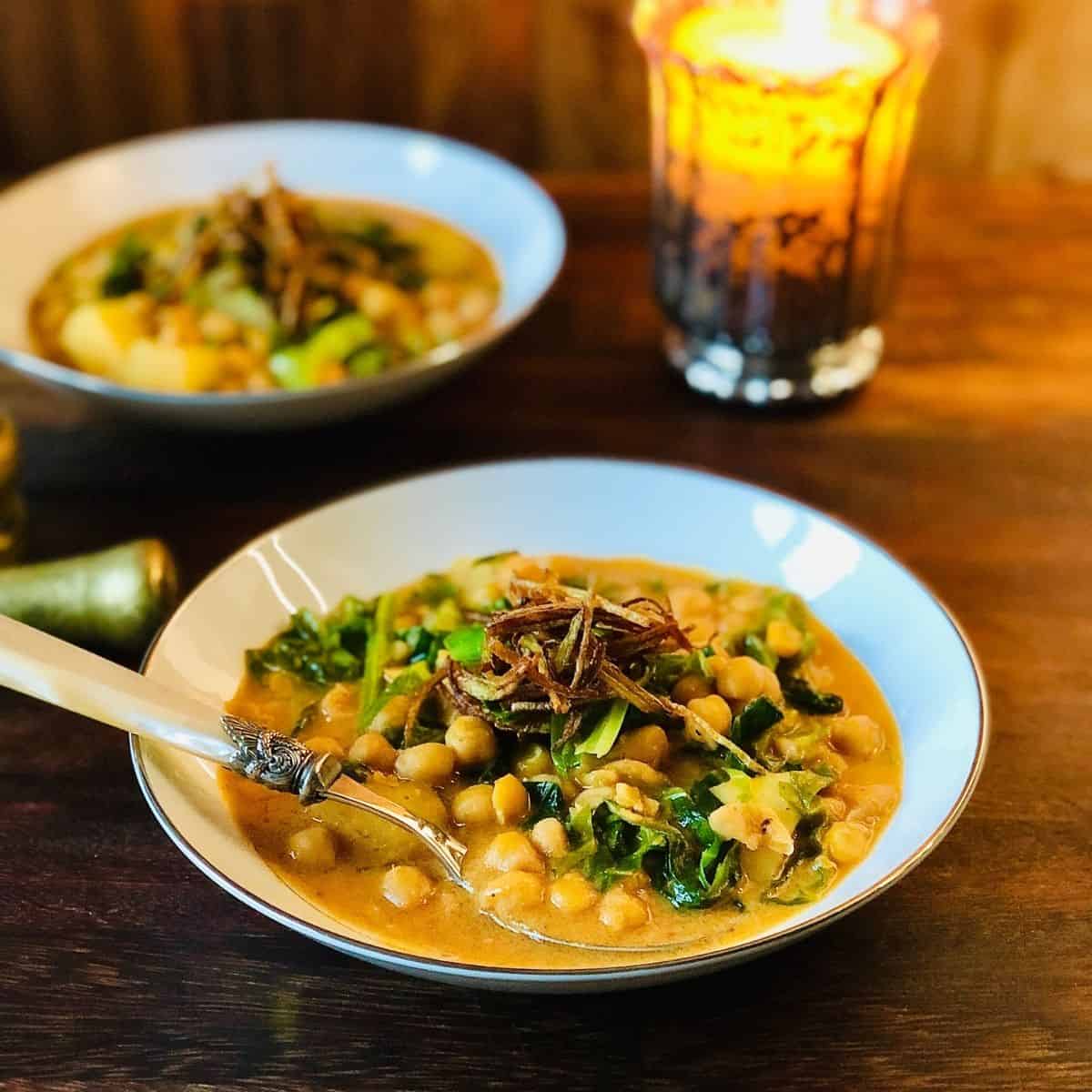 Red Thai curry is a popular Thai dish made with a curry paste consisting of fresh lemongrass, galangal, lime leaves, coriander, red chilli, and the bird's eye chilli, amongst other ingredients. These ingredients, along with coconut milk and palm sugar, gives this curry its sweet yet fiery flavour. If you want to elevate your midweek meals, the flavour is what this simple curry is all about.
Need more comfort food hugs? Try my ghugni, one-pot spicy mashed white peas or one-pot butterbean and spinach stew.
Lets cook!
Jump to:
Ingredients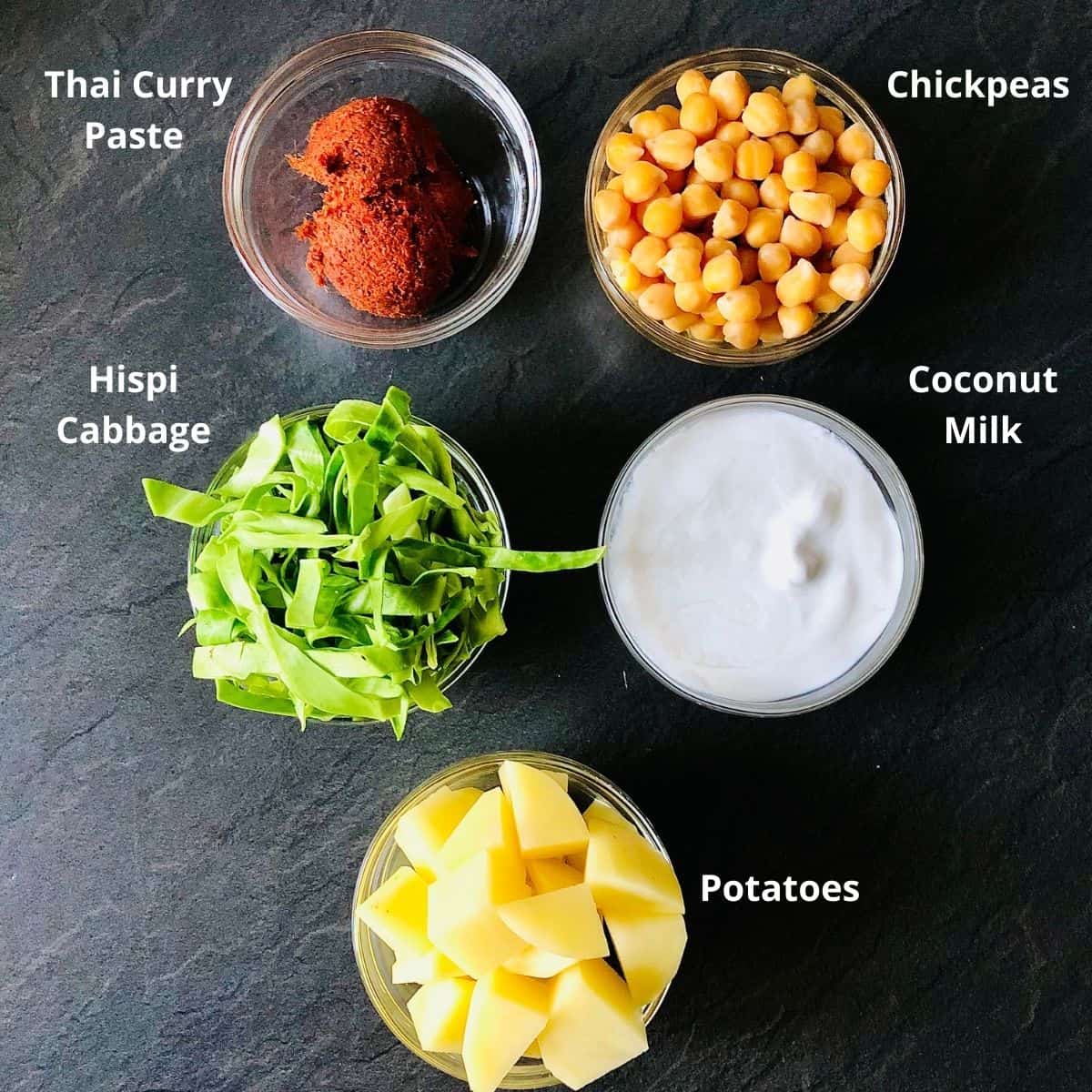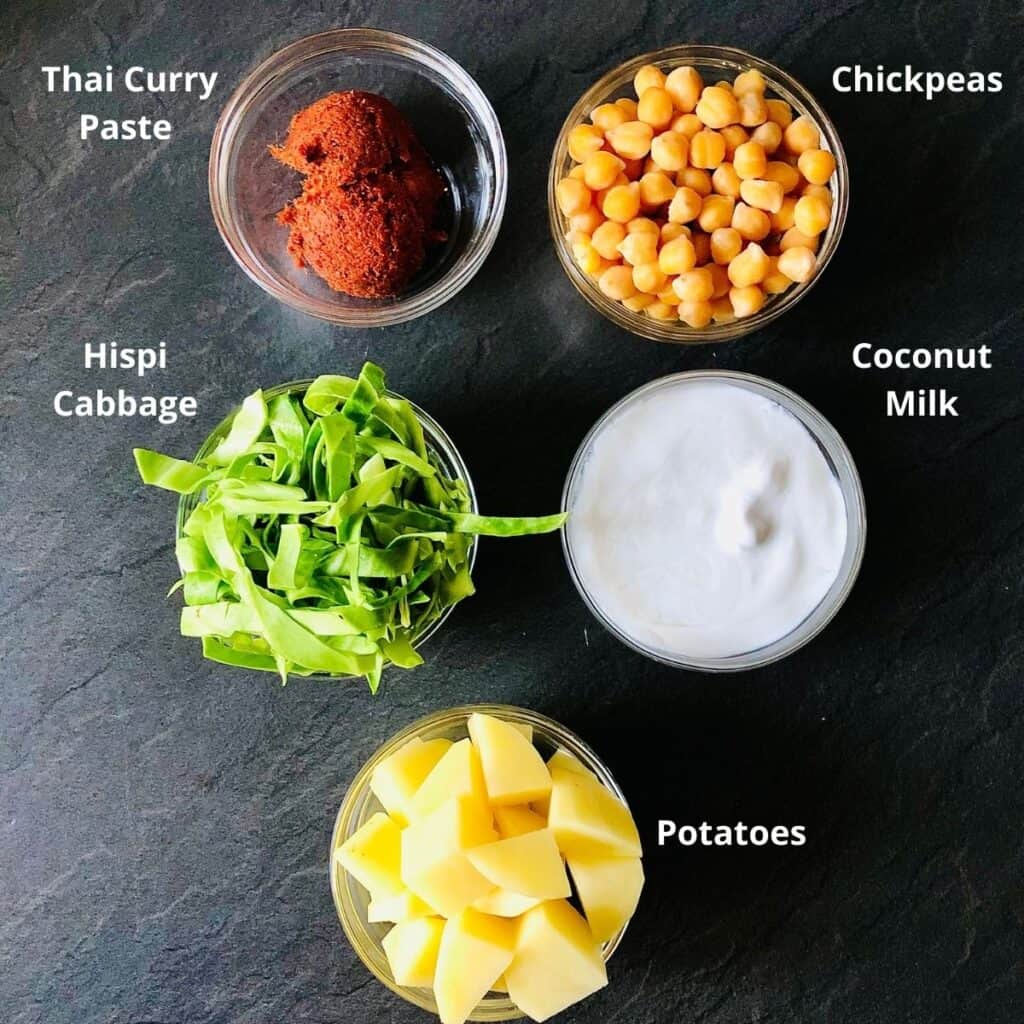 Thai red curry paste
Chickpeas
Coconut milk
Potoatoes
Hispi cabbage
Maple Syrup
See the recipe card for quantities.
Instructions
If you are using dried chickpeas, soak them overnight in water to hydrate them. Soaking the chickpeas will reduce cooking time and will help prevent bloating. The following day, drain the chickpeas and when you are ready to make the curry, boil them in a fresh pot of water for twenty minutes. Please don't throw away the chickpea water when it has finished cooking; you will use it in the recipe.
While the chickpeas are boiling, prepare your ingredients.
Peel and dice the potoates. If you would like to create a garnish, then save the skins for later.
Cut the hispi cabbage into ribbons about half a centimetre wide.
Over medium-high heat, fry the Thai curry paste for approximately three to four minutes until it is fragrant.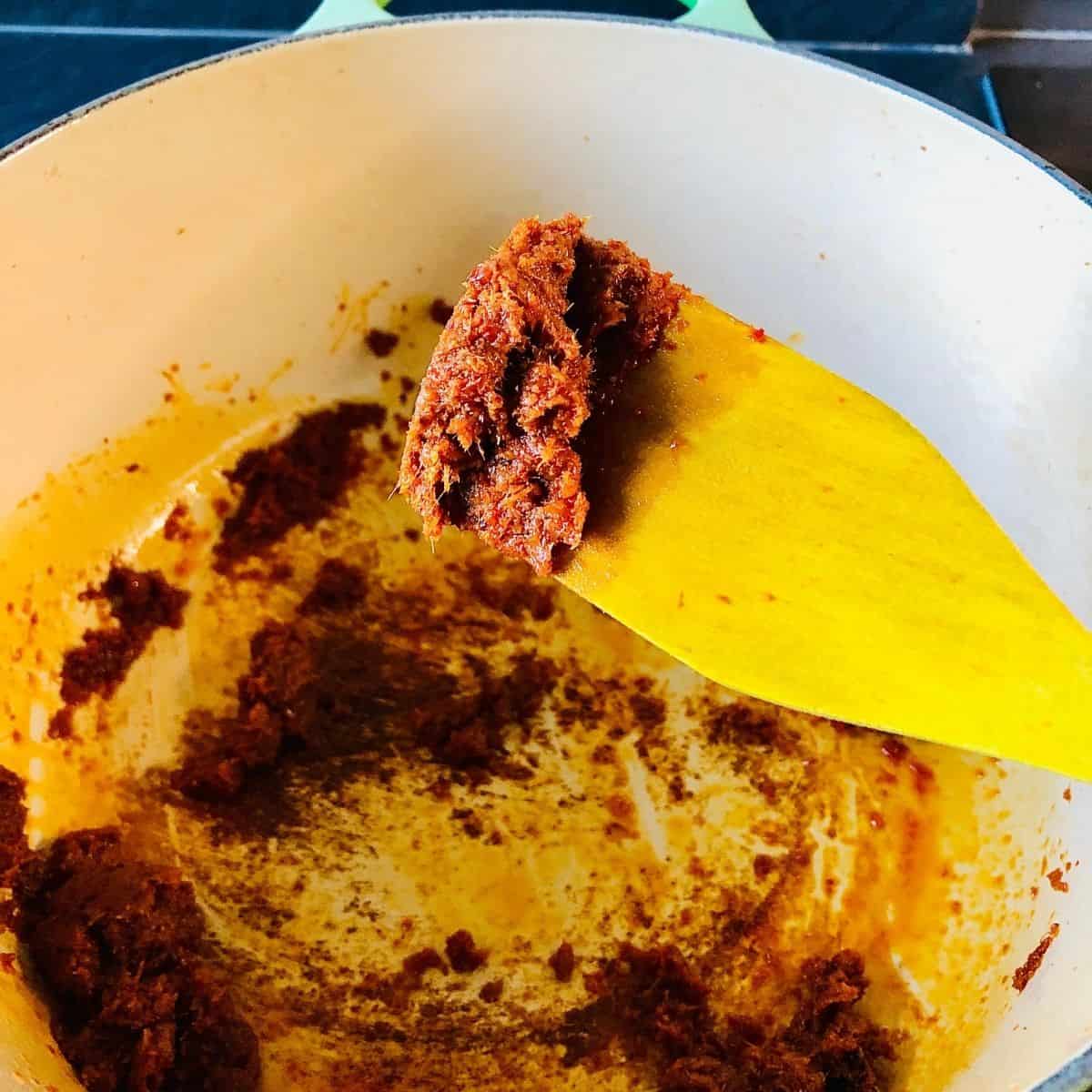 Then add the chickpeas and two hundred millilitres of the chickpea water.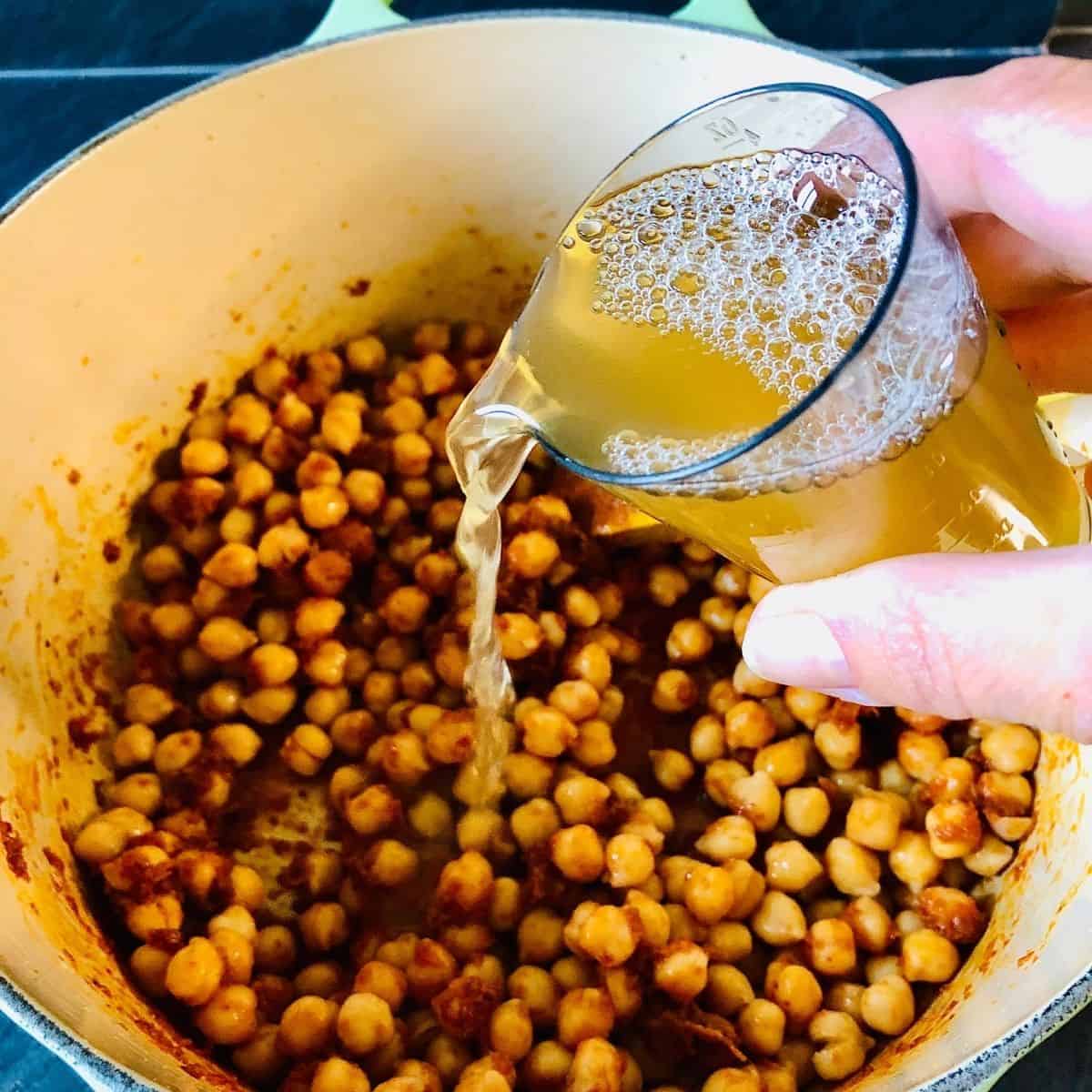 Also, add the diced potatoes. Cover the pot and cook for twenty minutes at a simmer.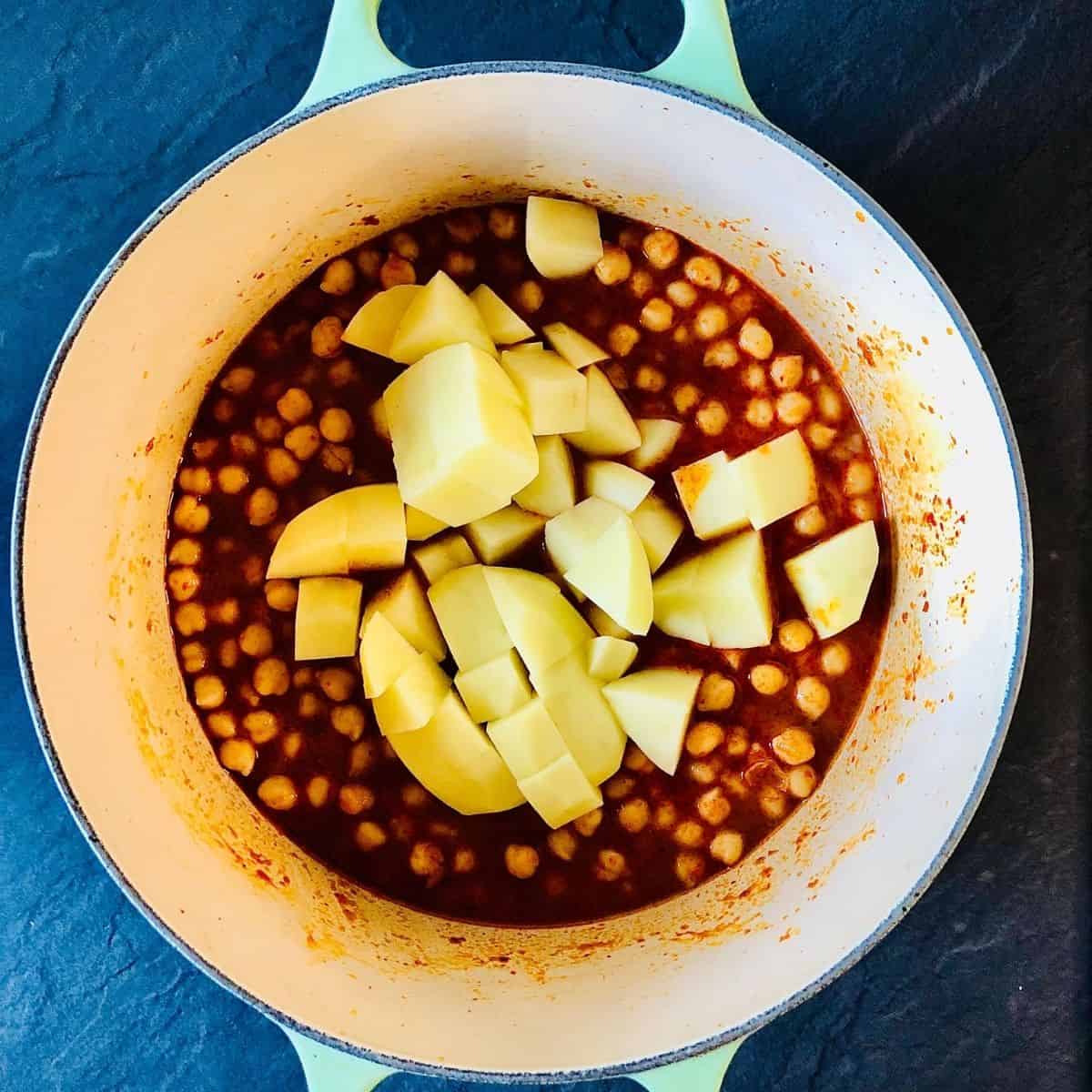 Check the chickpeas and potatoes are cooked with a knife (it will easily pass through them). Crush quarter to half the chickpeas against the pot's side using the back of a spoon to thicken the gravy.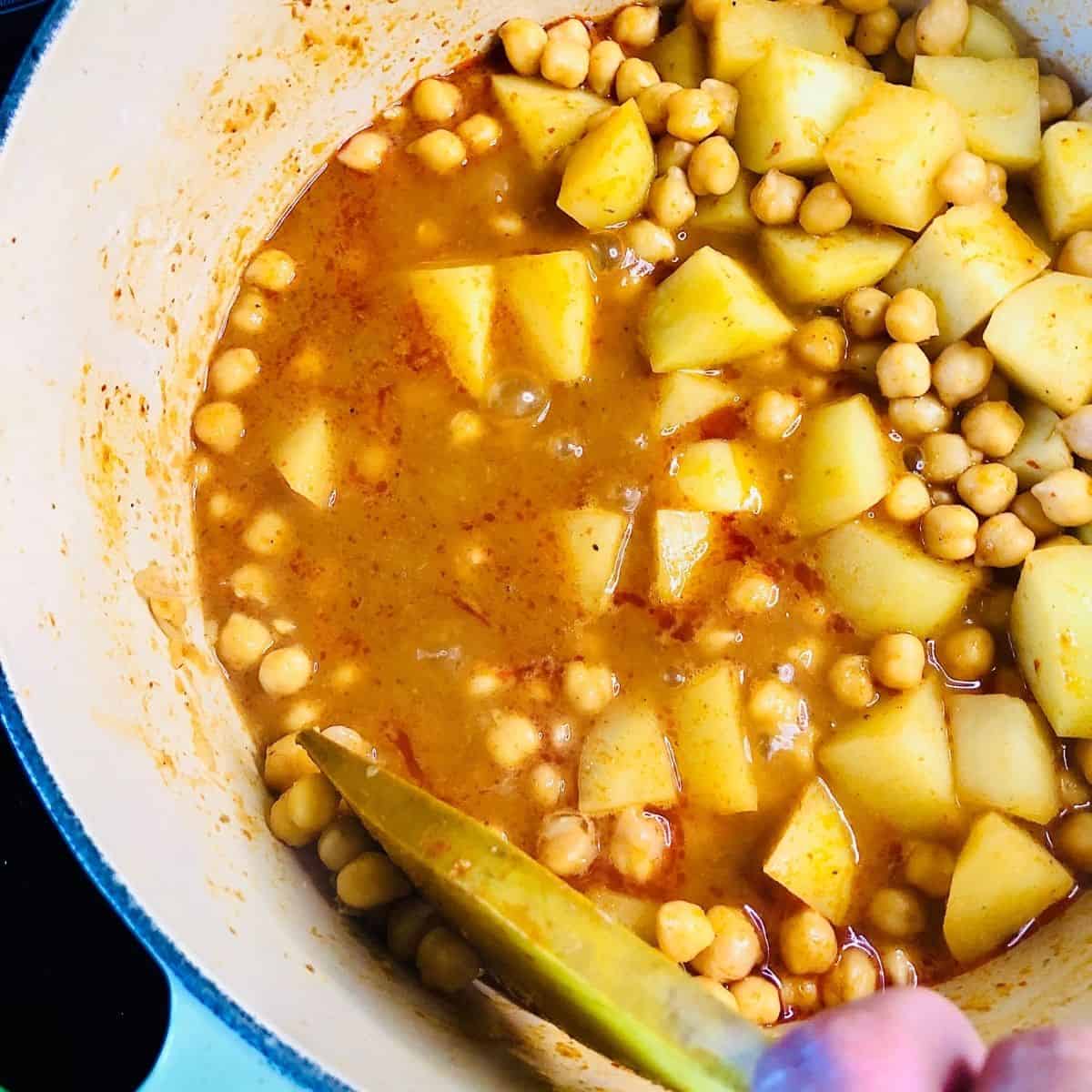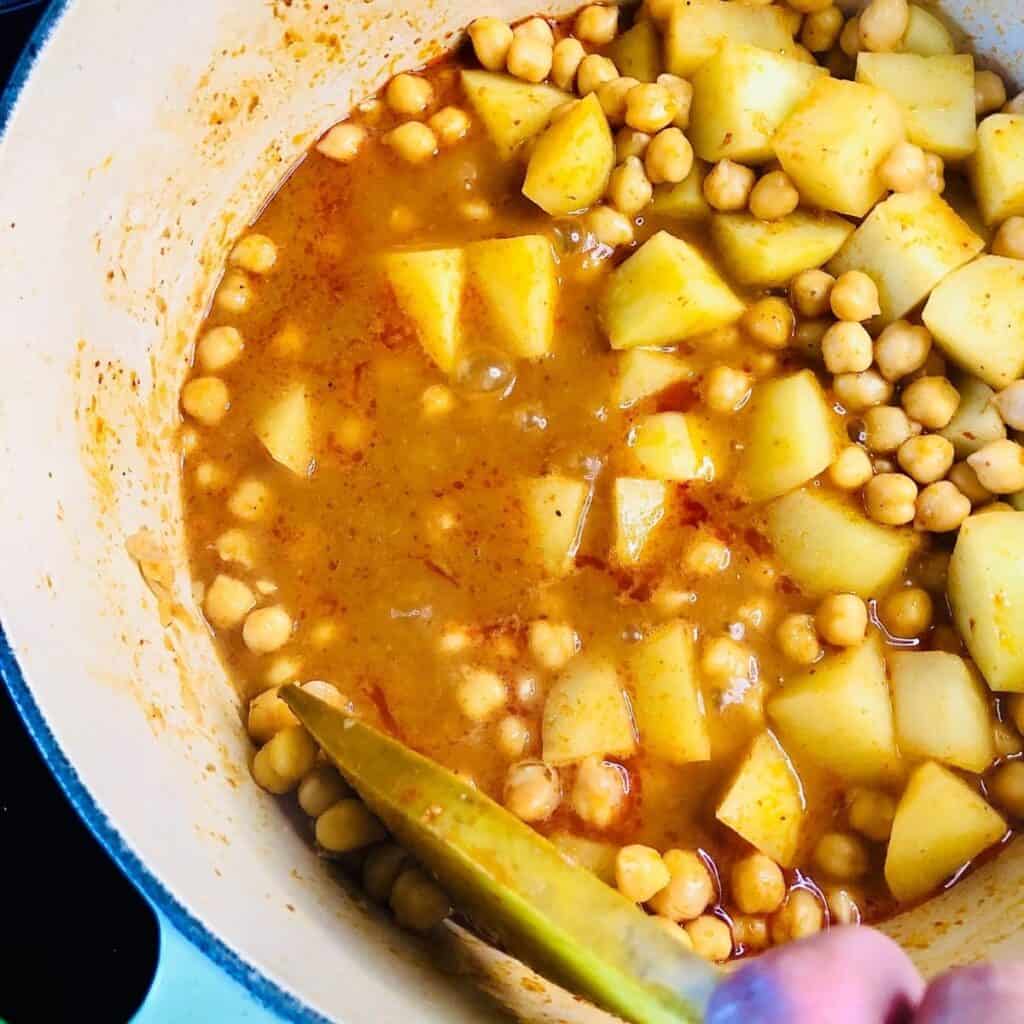 Next, add the coconut milk and bring it to a boil. Immediately when it starts to boil, turn down the heat to medium, add the hispi cabbage and maple syrup and stir whilst cooking for five minutes.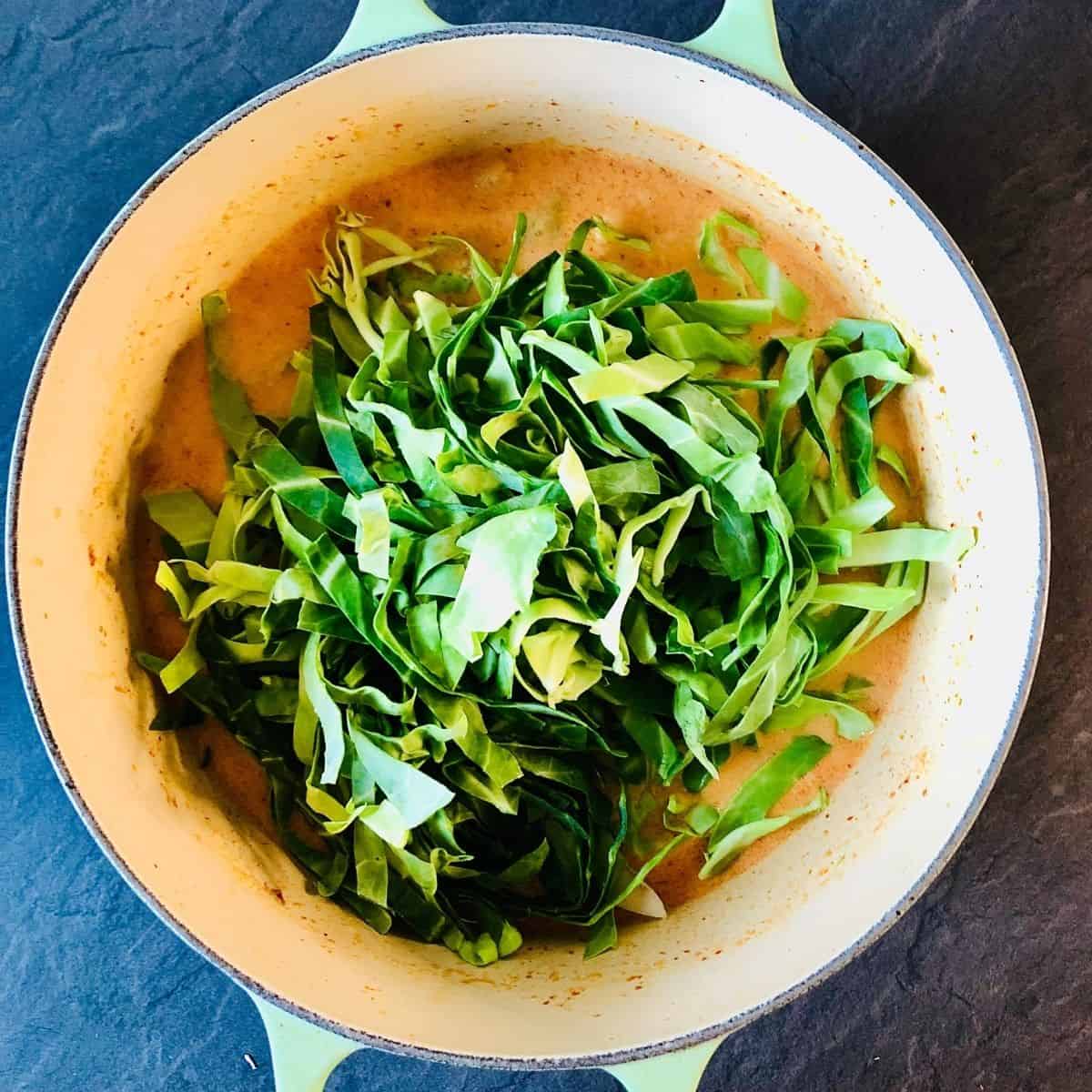 If you saved the potato skins for a garnish, cut them into strips (julienne) and fry them in a pan in a tablespoon of oil until golden brown. Transfer to a paper towel to remove excess oil.
Serve this Thai chickpea curry with rice or bread. You can make a flaky flatbread by following my pararta recipe.
How To Video
Here is a video guide to making Thai chickpea curry with hispi cabbage.
Substitutions
If the red curry paste is too spicy for you, you can replace it with green curry paste.
You can use sweet potatoes instead of regular potatoes. The cooking time may differ, so keep an eye on it.
You can substitute any cabbage, cavalo nero or kale instead of Hispi cabbage.
You can also use canned chickpeas for this recipe to save time. Remember that dried chickpeas usually double in weight after soaking and cooking, so you would need a 400gm tin of chickpeas for this recipe.
Variations
This recipe also works very well with white beans of your choice or even black-eyed peas.
Storage
You can store this curry in an airtight container for three days. The cabbage may lose its bright green colour when reheating. Please remember not to bring it to a quick boil; this may split the coconut milk.
Top tip
Always add the coconut milk right at the end to ensure it doesn't split.
If you are batch cooking this recipe, I would advise you not to add the cabbage. Add it fresh when ready to reheat to eat, so it is at its best.
📖 Recipe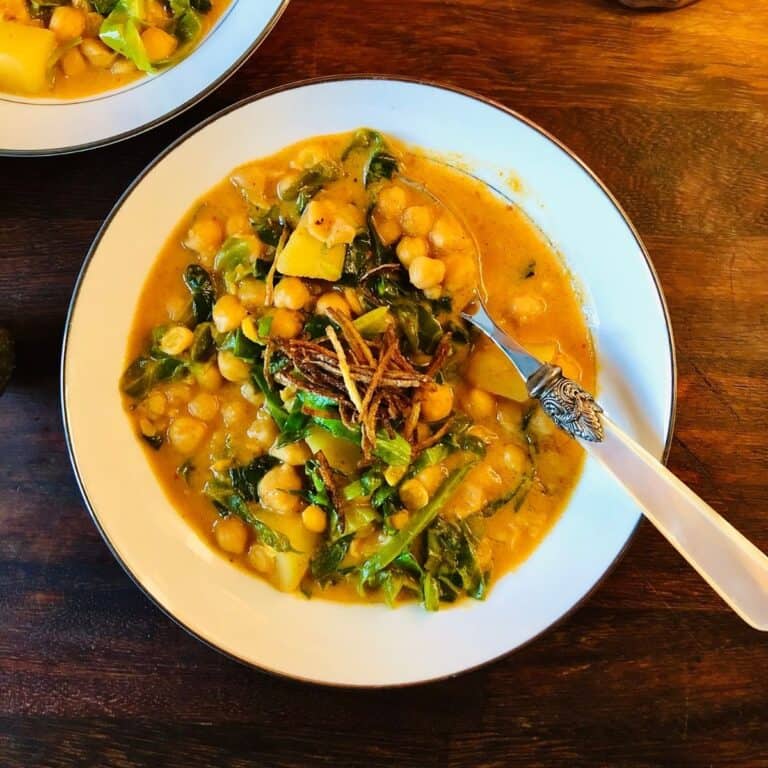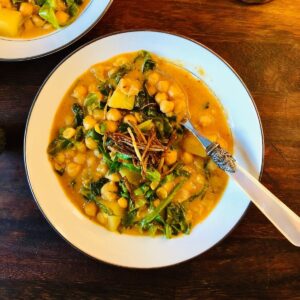 Chickpea and Hispi Cabbage Thai Curry
Creamy coconut and chickpea thai red curry with hispi cabbage and potato
Ingredients
200

gms

Dried chickpeas

3

tablespoon

Red Thai curry paste

400

gms

Potatoes

200

gms

Hispi cabbage

2

tablespoon

Olive oil

2

tsp

Sea salt

1

teaspoon

Maple syrup

400

ml

Coconut milk
Instructions
Soak the chickpeas overnight. The following day, drain the water, rinse and set to boil for about 20 minutes. Skim off any foam that develops.

While the chickpeas are boiling, peel and dice the potatoes. Save the skin for the garnish if you wish.

Cut the hispi cabbage into thick ribbons. (about ½ cm wide)

Heat the oil in a large heavy-bottomed pot. (a dutch oven or similar)

Fry the Thai curry paste for a couple of minutes, until you can smell the fragrance of the herbs and spices. Usually two to three minutes.

Add the boiled chickpeas and 200 ml of the chickpea water.

Add the diced potatoes and cover and cook for 20 minutes at a simmer.

After the chickpeas and potato have cooked, use the back of a spoon to crush some of the chickpeas (a quarter to a half of them.) This helps to thicken the gravy.

Finally, stir in the coconut milk and bring to a boil. Turn down the heat immediately it comes to a boil. Add the hispi cabbage and maple syrup and stir for five minutes.

If you saved the potato skin to use as a garnish, cut the skin into fine julienne (strips) and pan-fry until golden brown. Remove from the heat and transfer onto a paper towel to remove excess oil.

Serve the curry hot, garnished with the crispy potato skin and with rice or bread
Food Safety
In a professional kitchen, food hygiene and safety is a top priority, and from the very beginning of training, I practised good habits and routines. Of course, it is also very, very important to practice good food hygiene and safety at home. Here are some fundamental practices to adopt in the kitchen.
Wash your hands regularly while preparing, handling and cooking food
Wipe down counter tops and high contact points regularly
If you cook meat and fish, do not use the same utensils on cooked food, that previously touched raw meat. Use separate chopping boards for meat and fish. Wash your chopping boards immediately after use.
Thoroughly cook food to a minimum temperature of 165 °F (74 °C)
Don't leave food sitting out at room temperature for extended periods (more than 2 hours)
For more details on food hygiene and safety in the home, visit the UK Government's Food Standards Agency webpage.